Let your creation catch up with your imagination via iMovie's green screen effect. Simply find a green screen footage and replace the background with any video clip as you like, then magical videos are within reach!
Ready to know how to use the green screen effect on iMovie now? Here we've gathered three ways to do green screen effect with iMovie. Let's dive in!
There are some stunning video templates for you: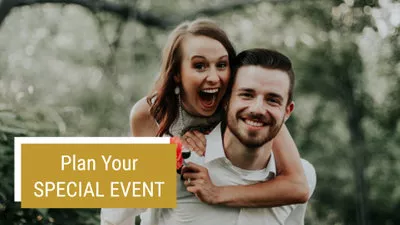 YouTube Talking Head Video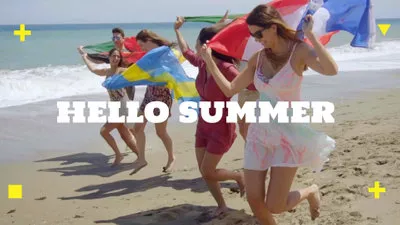 YouTube Talking Head Video
Can't Miss: How to Use Green Screen on CapCut>
Part 1. How to Do Green Screen with iMovie 11 on Mac
Don't know how to apply Green Screen effect with iMovie 11? Never mind. Just follow the steps below and you'll learn how to combine it with your video creation.
Step 1: Launch the iMovie 11 Application
Firstly, you need to launch the iMovie 11 program and enable the Green Screen effect. Go to iMovie > Preferences > Show Advanced Tools to activate this effect.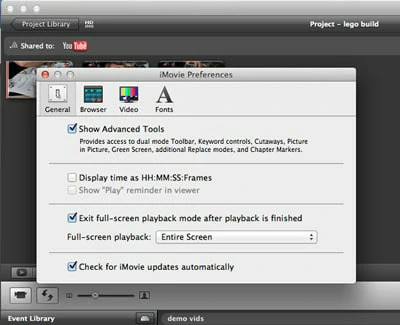 iMovie Green Screen: Enable Show Advanced Tools Option
Step 2: Import Video to iMovie
Upload your background video or still image to iMovie and also import the green screen video. After that, drag the background scene to the timeline.
Step 3: Apply Green Screen to Video
Now drag your green screen footage onto the existing background video, then a menu will pop up that enables you to select the Green Screen option. The green color dissolves and the screen display your desired background.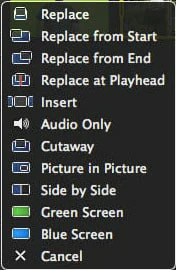 iMovie Green Screen: Apply Green Screen Effect to Video
Step 4: Adjust Timing and Make Edits
You can drag the sidebar to adjust the timing to get the desired video length. Besides, you can use the transparent effect or cutaway effect to perfect the video.
Part 2. How to Apply iMovie Green Screen on Mac
For users of other iMovie versions, follow this guide to add the green screen effect to your video.
Step 1
Create a new project, select the background you'd like to use, and then drag it to the timeline.
Step 2
Choose the green screen footage you want to use and drag it above the background.
Step 3
Drag the edge of the background to make the background match your green screen video.
Step 4
Double-click the green screen footage in the timeline and select the Green/Blue Screen from the Cutaway drop-down menu.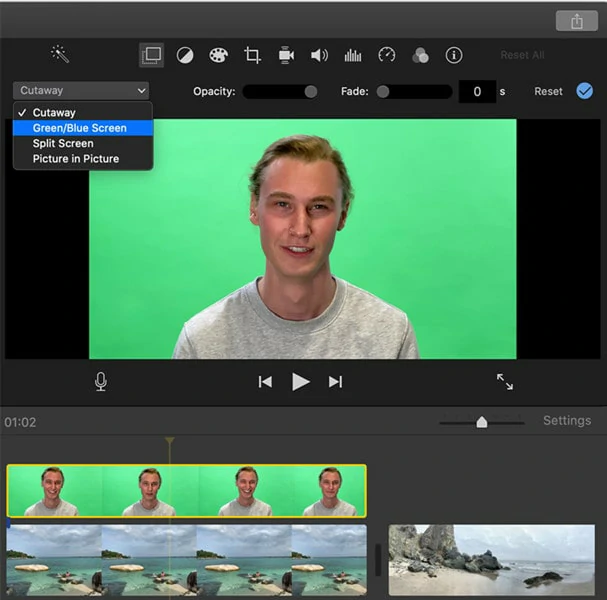 Find the Green/Blue Screen Icon
Step 5
You can use the softness and clean-up tools to perfect the final result.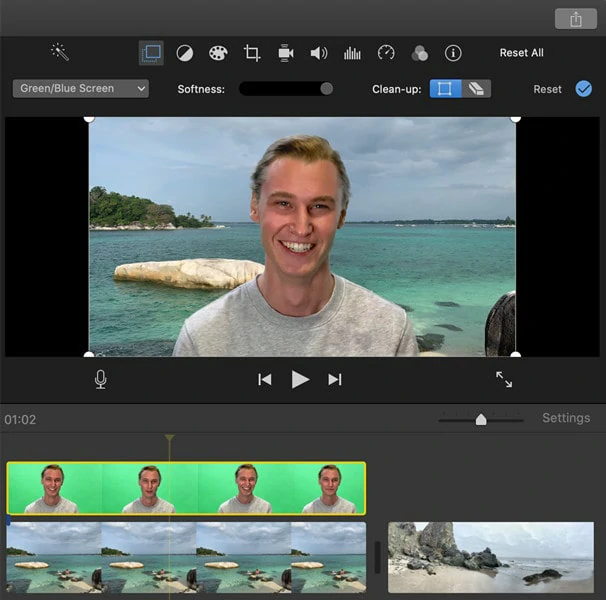 Adjust the Green Screen Effect
Part 3. How to Add Green Screen Effect in iMovie on iPhone/ iPad/iPod Touch
If you want to apply green screen effect on iPhone or iPad, directly follow the steps below:
Step 1
With your project open, add a background video or still image to the timeline.
Step 2
Tap the Add Media icon and choose your green screen video from the category list.
Step 3
Now hit the More icon and use the Green/Blur Screen feature from the drop-down menu. You'll see the green-screen clip is added to the timeline above your background clip.
Step 4
Tap Auto to automatically remove the green from your clip or tap the color of your clip in the viewer to remove that color.
Step 5
Trim
or move your background video to match the length of your green-screen clip.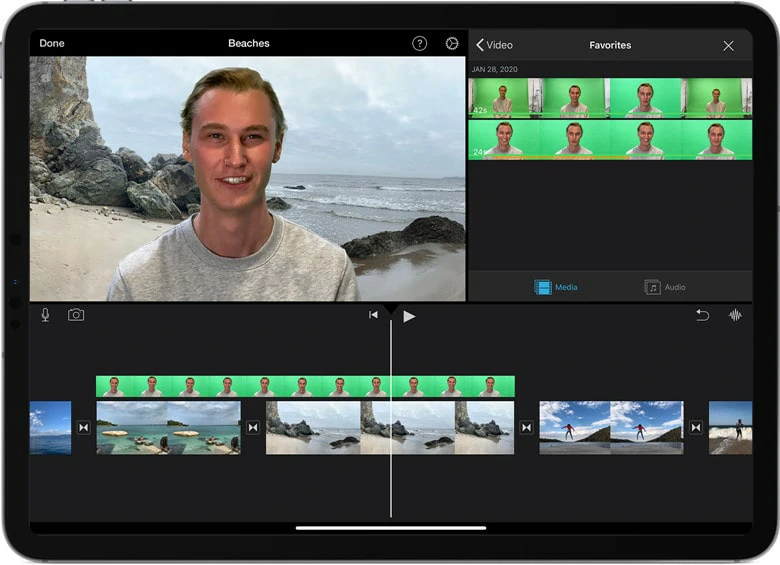 Adjust the Length as You Like
To adjust the green-screen clip in the timeline, you can use any of the green-screen controls to achieve that goal:
To change the amount of the green removed from the clip, tap the Adjust option, then drag the Strength slider left or right to control the amount.
To crop the green-screen clip, click the
Mask
option then drag the corners.
Part 4. Bonus Tips: The Best Place to Get Massive Green Screen Videos
Have no idea about where to find green screen footage? Need a free stock to download? Welcome to FlexClip! With its extensive media stock, FlexClip provides hundreds of well-designed green screen footage that you can use for free.
Aside from green screen clips, FlexClip packs loads of stunning templates, stickers, soundtracks, background images and effects to take your creation to the next level. Don't wait anymore! Come and pick your favorite green screen video now!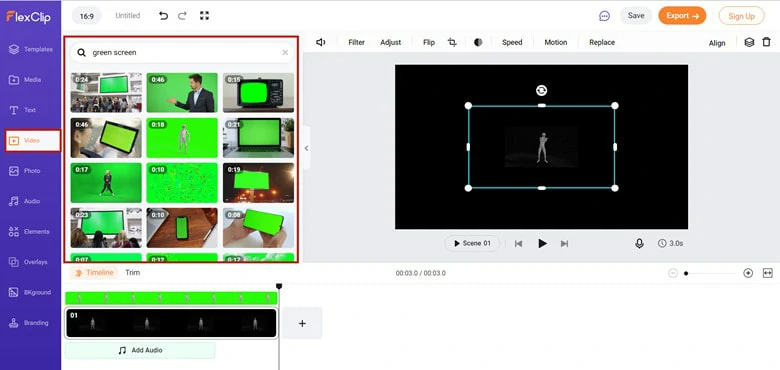 Best Place to Find Free Green Screen Footage
The Outstanding Features of FlexClip:
Intuitive and easy-to-use interface
Multiple solutions for instant sharing
Hundreds of stunning green screen footage
Millions of royalty-free music and videos
Extensive eye-catching effects and overlays
Trim,
crop
and split videos with ease
No editing experience needed
Frequently Asked Questions
1.What Types of Videos Can I Make with Green Screen Videos?
With iMovie green screen effect, you can superimpose any green screen video to any shot. For example, you can transfer yourself to the sky, appear in your favorite movies or create a funny meme.
2.Can I Adjust the Green Screen with iMovie?
Yes! After applying a green screen video, iMovie lets you crop any unwanted frame or clean up areas that should not be showing on the screen. However, you can't reposition the green screen overlay.
3.Why Can't I Add My Video to iMovie?
Many causes that will lead to this problem while the file format is the most common one. The formats supported by iMovie are pretty limited, including MOV, MP4, AVI, HDV, HEVC etc. If your video file doesn't match with formats that iMovie supports, you will have to convert them by using FlexClip's online converter for free.
The Bottom Line
That's all for how to use green screen on iMovie. If you have other useful tips, please get in touch with us through Facebook.