In this article, we will take through how to join or combine two or more clips into one video using iMovie on both iPhone and Mac.
Have you ever shot several clips and looked forward to joining them into one video? Most Mac users would like to do it in iMovie - a free editing program developed by Apple. If you're running iMovie on your computer or device, follow this guide to check it out.
Part 1. How to Join Clips into One in iMovie
iMovie offers the Join Clips feature, which lets you combine the clips from the same video after splitting. See how it works below:
Step 1
Open up iMovie, create a new project and import the video you want to join together in the event browser.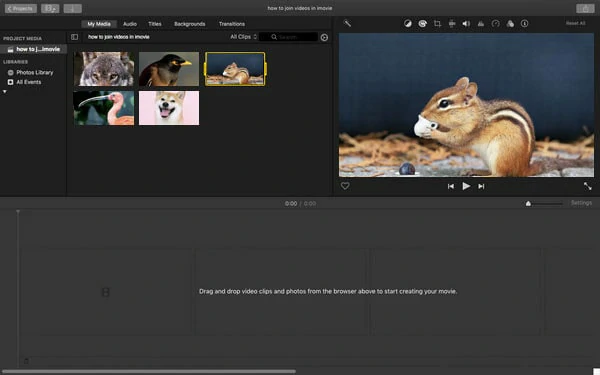 iMovie Join Clips: Import Video to iMovie on Mac
Step 2
Drag the video to the timeline. Here you can split and edit the video with ease.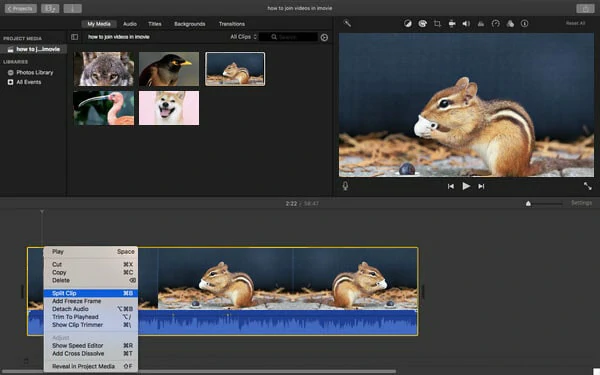 iMovie Join Clips: Drag Video to Timeline and Split
Step 3
After splitting the clips, hold down Shift and select all the clips you want to join together. Make sure all of them are highlighted.
Step 4
Head to Modify and choose the Join Clips option from the drop-down menu, then you'll see the clips are merged as one video.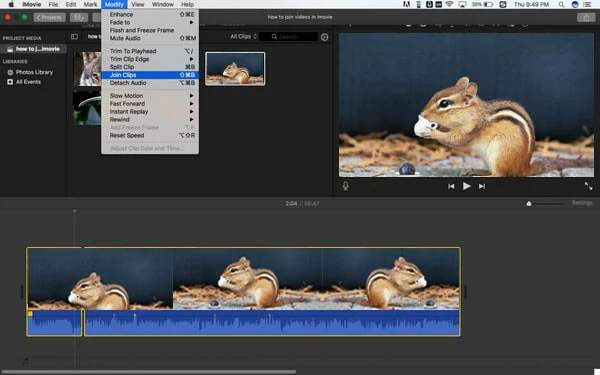 iMovie Join Clips: Drag Video to Timeline and Split
Part 2. How to Join Several Clips in iMovie on iPad/iPhone
iMovie for iOS doesn't include the Join function, which means you can't merge videos directly. But you can still combine several clips in iMovie by following steps below.
Step 1: Launch iMovie and Create a New Project
Run iMovie on your device, click the File icon on the menu and choose "New Project" to create a new project. You can name the project and change the aspect ratio as you like.
Step 2: Load Video Clips to iMovie
Tap the Add Media button in the upper-right corner to load your videos. You can trim the clip before you add it by tapping the clip and dragging the yellow trim handles to select just the portion of the clip you want to add.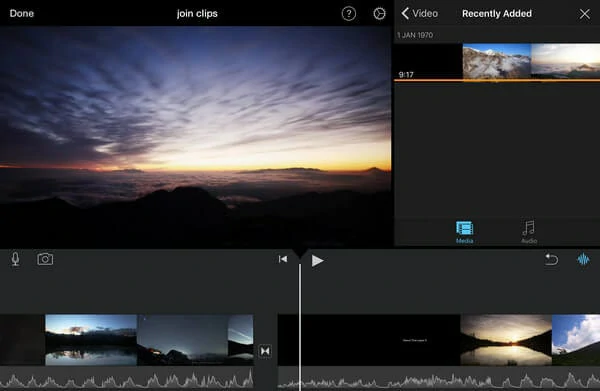 iMovie Join Clips: Load the Video to iMovie on iPad
Step 3: Join the Video
Once all the clips are loaded, drag and drop each clip in the order you want. After that, simply click on Done to export the whole clips to combine them into one video.
iMovie Join Clips: Combine the Video Clips
Part 3. Frequently Asked Questions About iMovie Join Clips
Q1: Why is Join Clips Option Greyed Out?
Ans: This is the most common and recurring issue in iMovie. Join Clips in iMovie becomes greyed as it's only for rejoining clips that are split in iMovie, which are not used to combine two or more independent video clips.
If you would like to import two separate video files to combine in iMovie, you must follow the above how-to guide.
Click on the Share icon in the top right corner, then click on the option File and export all the clips as a single video file. After the share is successful, you may then re-import it into the project.
Q2: What Format can iMovie Support to Import and Combine?
Ans: iMovie mainly-supported video formats include MP4, MOV, MPEG, AVCHD, HDV1080i, and DV.
Q3: Why I Failed to Re-join Clips that Were Once the Same Clip?
You can only rejoin the clips if you haven't done other edits in the meantime, such as trimming out dead space. If you share out the split clips that will merge the segments, and then you can import the merged segments back into iMovie. You can create an auxiliary project for the purpose.
Part 4: An Easier Way to Join Clips with iMovie Best Alternative - FlexClip
When iMovie not fits your needs or iMovie fails to combine the clips as you want, you can consider its best alternative - FlexClip. With FlexClip, you can edit videos as below:
It helps you join different types of video clips into a new file seamlessly for free.
FlexClip is compatible with Mac and Windows computer running Chrome browser.
Loads of editing tools including
transitions
, GIFs, overlays, filters and
music
to level up your videos.
Multiple sharing and download paths: Google Drive, Dropbox, clickable links and local download.
Step 1: Import the Video Files
Click on Media icon to import all the videos you want to join together. After that, drag them to the timeline and rearrange the order as you need.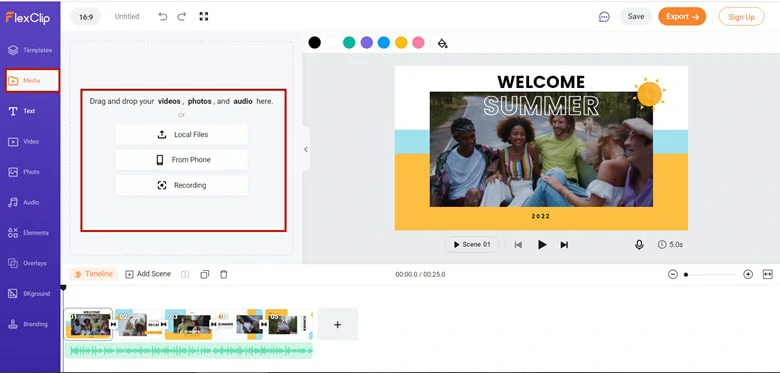 iMovie Join Clips: Upload Video to FlexClip
Step 2: Cut out Useless Clips
Preview your video clips and move the yellow sidebar to cut off unnecessary content.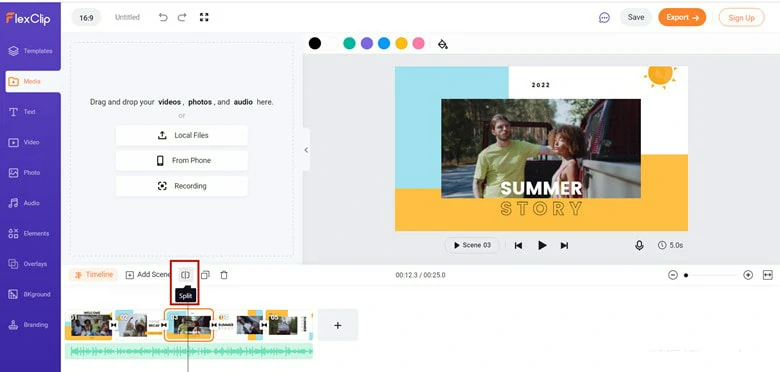 iMovie Join Clips: Cut out Unnecessary Parts
Step 3: Edit Video Clips (Optional)
Supposing you want to make personal editing, you can move to the left sidebar to add music, text, overlay and more.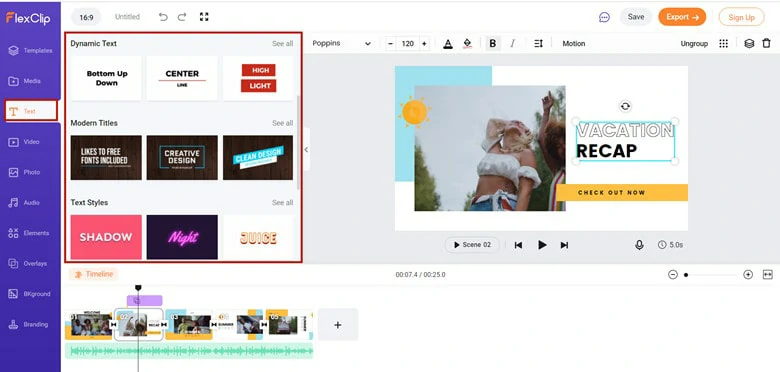 iMovie Join Clips: Edit the Video
Step 4: Combine the Clips
When everything is ready, you finally click the Export button to combine videos.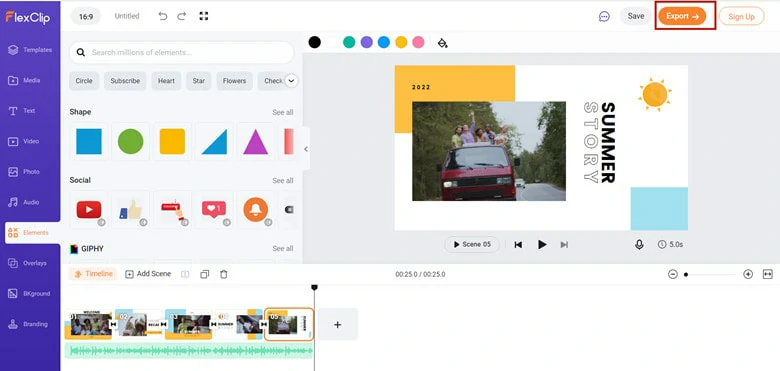 iMovie Join Clips: Combine the Video
In Conclusion
That's all about how to join clips in iMovie and FlexClip. If you have any questions, don't forget to email us.