If you are looking for an application that can help you edit misspelled subtitles or even create new ones for your favorite movies on your mac, then you will need a subtitle editor. No needed to look around. The following list provides you with 5 best subtitle editors for Mac that can help you do that for free. Let's dive in right now!
Free and Customizable Subtitle Templates for You: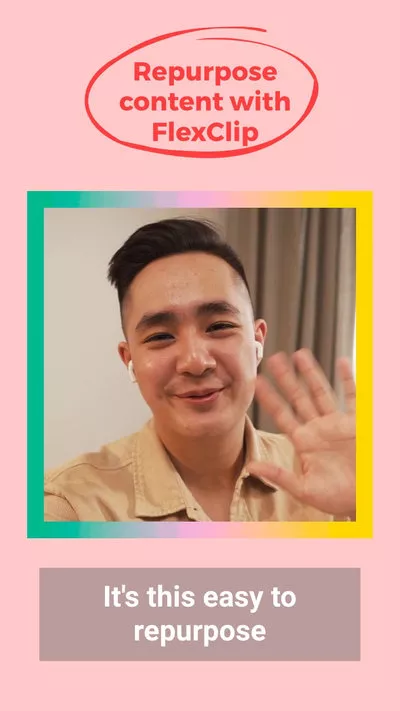 Repurpose Tutorial With Subtitle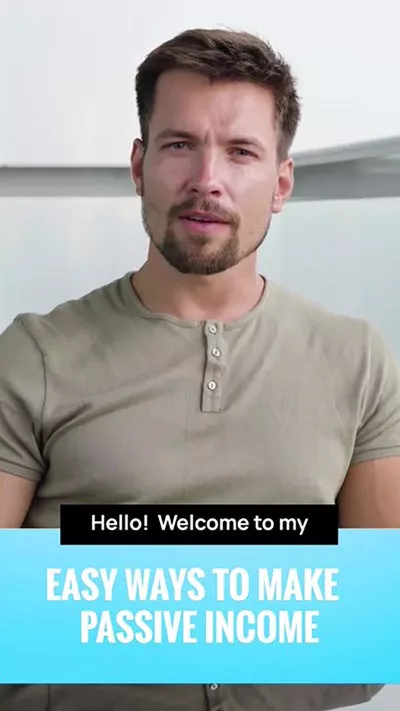 Passive Income Tips With Subtitle
Repurposing Content Template Video Tips Subtitle
Learn More: How to Add Subtitles to a Video Automatically>
#1.FlexClip Online Subtitle Editor for Mac
Compatibility: Available for all Mac computer running Chrome browser.
Price: Free
As a fully-featured & all-sided toolkit, FlexClip is regarded as the best free subtitle editor for Mac. Packed with an AI subtitle generator feature, it helps you automatically create subtitles from your videos in 140+ languages and then saves the generated subtitles as SRT, VTT, SSA, ASS, SUB and SBV files. If you already have a subtitle file like SRT, you can upload and sync it with your video in seconds. After that, there are loads of genres of subtitle styles to enrich your videos.
What's more, FlexClip is not only a subtitle editor but also a powerful video & image editor, offering thousands of well-designed subtitle templates and editing features to help you unleash creativity with ease. No download! No editing skills are required!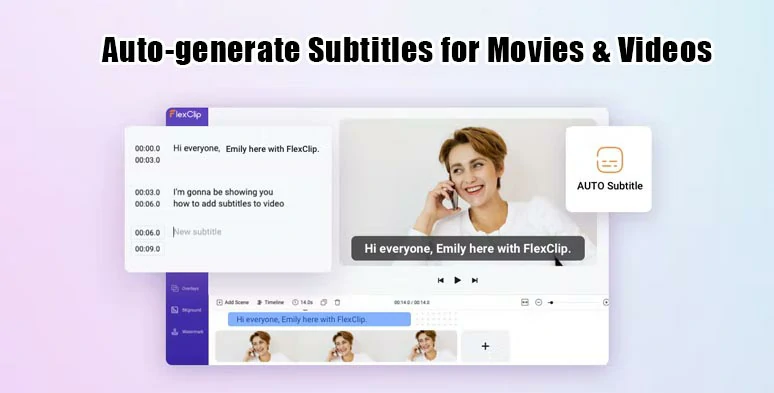 The Best Online Subtitle Editor for Mac - FlexClip
Key features of FlexClip:
Supporting 140+ languages, FlexClip's
auto-subtitle tool
can automatically generate subtitles from your video in seconds with exact timestamps. Then you can merge, delete and change any words with a one-click operation. Additionally, it goes with subtitle download and subtitle to speech features to extend the usage of subtitle in further edits.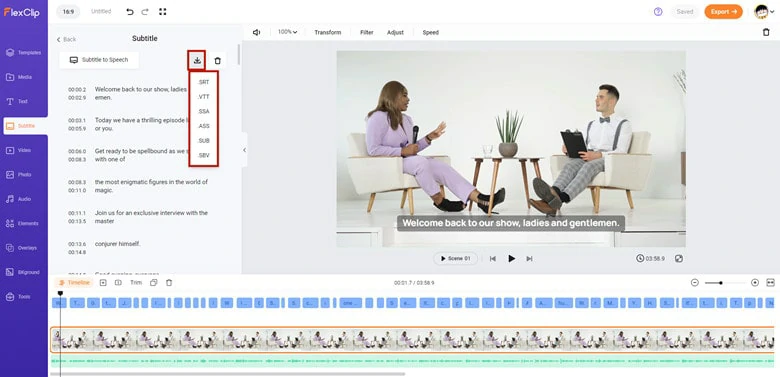 Auto Subtitle Feature in FlexClip
For long videos like movie or series, you can easily find its corresponding subtitle files. But how to match it with your long videos? FlexClip will lend you help! Directly upload your subtitle file(SRT, VTT, SSA, ASS, SUB and SBV) and FlexClip's AI machine will sync it exactly with the video. After that, feel free to change the subtitle style, layout and font as you want.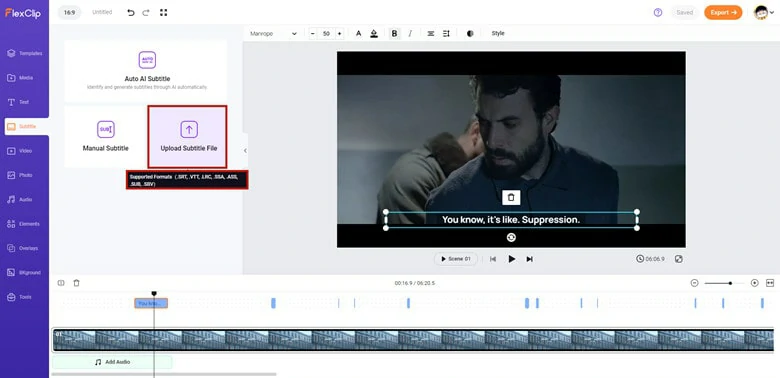 Add Existing Subtitle File to Video
Turning blog to video
with content as subtitles is no longer a daydream! Paste your blog URL in FlexClip's dialogue box and select the generation mode(AI creation or AI excerpt) and subtitle style, then hit on the Generate icon. An original video with subtitles from your blog is within reach now!
Turn Blog to Video with Subtitle in FlexClip
TTS(text-to-speech) tool
will help you a lot if you want to create an existing video for the oversea market. Just transcribe the uploading subtitle to a human-like voice in the targeted language and then extract the original audio and replace it with the generated tts voice. Then it's for sharing! All the things can be done in FlexClip.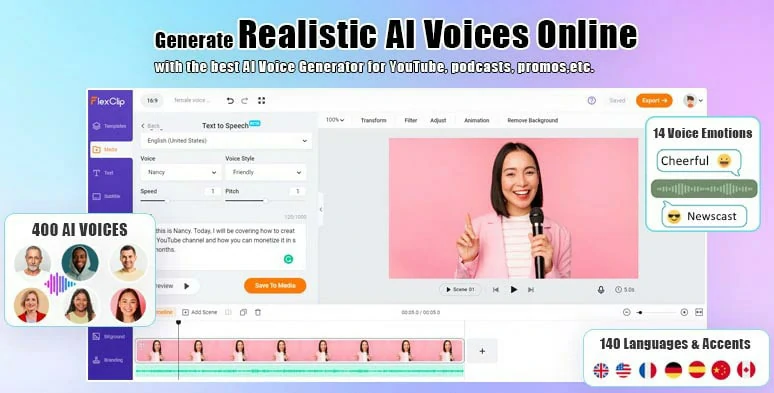 Subtitle to Speech Feature in FlexClip
Writing a creative video script will not hassle you anymore with FlexClip's
AI video script generator
. Simply enter your text prompt and AI technologies will instantly generate the executable scripts with all details like shots and lines, which simplify your video creation.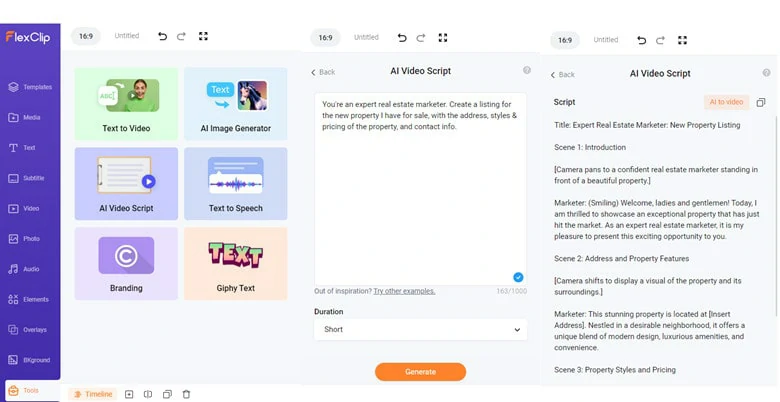 Write a Video Script in FlexClip
4000+ video templates with subtitles, millions of royalty-free media stock, various special effects and a full set of basic and advanced features like
curve speed
, background remover are available for getting inspiration and unleashing creativity with ease.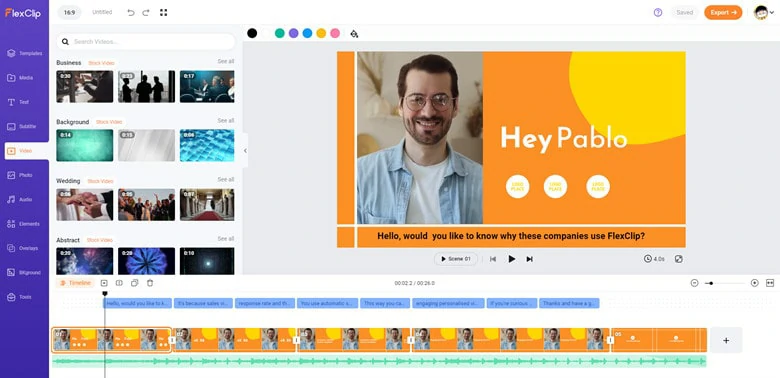 Other Stunning Video Editing Features in FlexClip
Cons:
Currently, there are only ten subtitle layouts for you to choose from.
2.Aegisub
Compatibility: macOS X 10.7.0 or +
Price: Free
Aegisub is a free, cross-platform open sources tool for creating and modifying subtitles on Mac. It generates subtitles in a quick way and comes with various powerful editing tools for stylish subtitles. Meanwhile, a real-time preview feature is designed for you to check the status of the work.
With this Mac subtitle editor, you can import many types of subtitle files, such as SRT, SSA, ASS,SUB and so on. Then, sync it with the audio and video content of your movie. What's more, it includes an integrated spell checker to identify and modify spelling mistakes. All in all, Aegisub is a reliable solution for creating and modifying subtitles on Mac with many useful features and subtitle formats.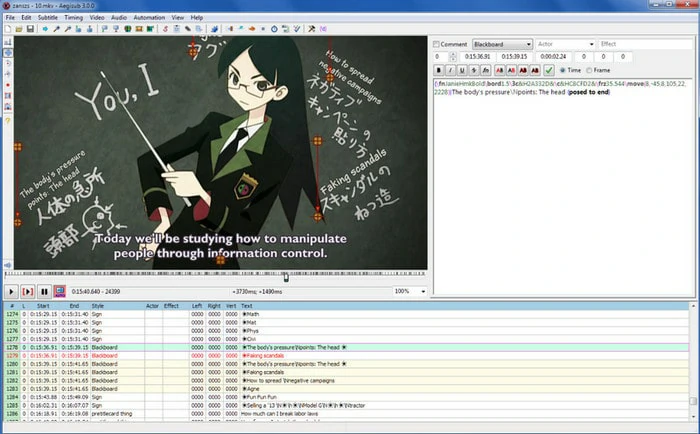 The Best Subtitle Editor for Mac - Aegisub
Pros:
Offer sound waveform display.
Available in various languages.
It has an integrated spell checker.
Support automatic archiving and backup.
Easier to make critical timing point.
Cons:
The operation may seem too complicated to novices.
3.Jubler Subtitle Editor for Mac
Compatibility:  Mac OS X or +
Price: Free
Jubler is another open-source subtitle editor for free on Mac. Whether adding new subtitles or refining already existing ones, Jubler will never let you down. As a high-compatibility subtitle editor, it works with various subtitle formats and also lets you convert subtitles between many formats. In this editor, you can customize the style of titles and resize graphically displayed subtitles.
Most importantly, this Mac subtitle editor is endowed with an integrated spell checker and chars counting tool. Jubler proves to be a feature-rich solution that brings you an easy-to-configure solution for editing and converting subtitle files on your Mac.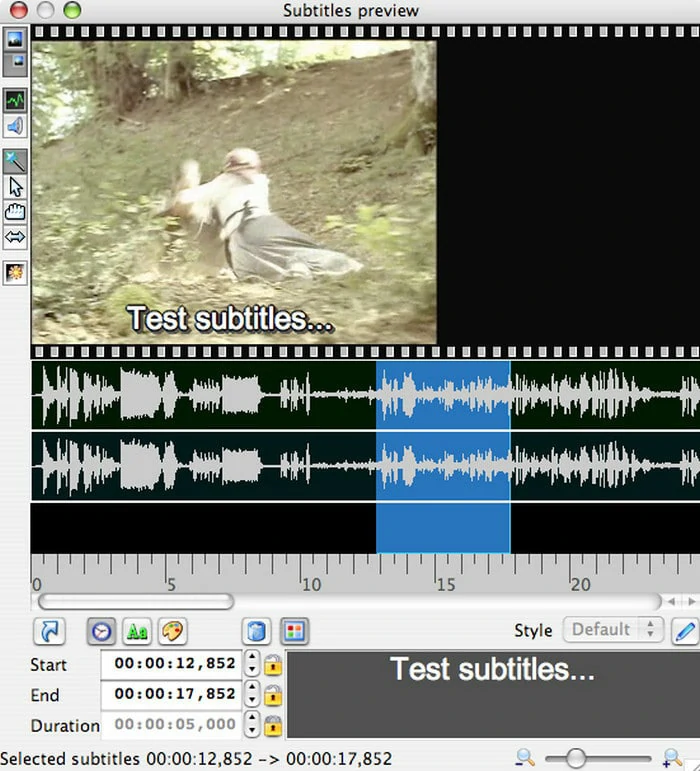 The Best Subtitle Editor for Mac - Jubler
Pros:
Compatible with various subtitle formats.
Able to create new subtitles and customize the existing text.
Spelling check after workflow by professional dictionary.
Support various subtitle styles and pattern translation.
Free and open source subtitle editor for Mac.
Cons:
Need to install a third-party extension called MPlayer to view the subtitles.
 the plug-in ASpell is required to apply the orthographic correction.
4.SubtitleEditor
Compatibility: Mac OS X or +
Price: Free
SubtitleEditor is a program for editing subtitles and it comes with plenty of features including timing adjustments, translating and dragging and dropping. Moreover, this free Mac subtitle editor also supports spelling checking, moving, sorting, splitting or joining subtitles. Using this tool, you don't need to worry about overlapping subtitles since SubtitleEditor will do that for you when changing times.
The Best Subtitle Editor for Mac - SubtitleEditor
Pros:
Access to timing adjustments and translation.
An inbuilt spell checker to identify spelling mistakes.
Splitting and joining subtitles with ease.
User-friendly and simple operation.
Basic editing tools to help you perfect your subtitle videos.
Cons:
It has not been updated for a long time.
5.Subtitle Workshop
Compatibility: macOS 10.12 or +
Price: Free
Working with hundreds of subtitle features, Subtitle Workshop is an excellent option for creating, editing and converting text-based subtitle files. It supports over 60 subtitle formats via the Subtitle API library and enables users to save subtitles in a custom user-defined file format. As for customization, there is vast array of tools for automatic timing and text manipulations, including automatic durations, smart line adjusting, spell checking and more. Additionally, you can add the style tags and color tags to your subtitle videos. Thanks to its simple interface, it's easy to make subtitles in minutes.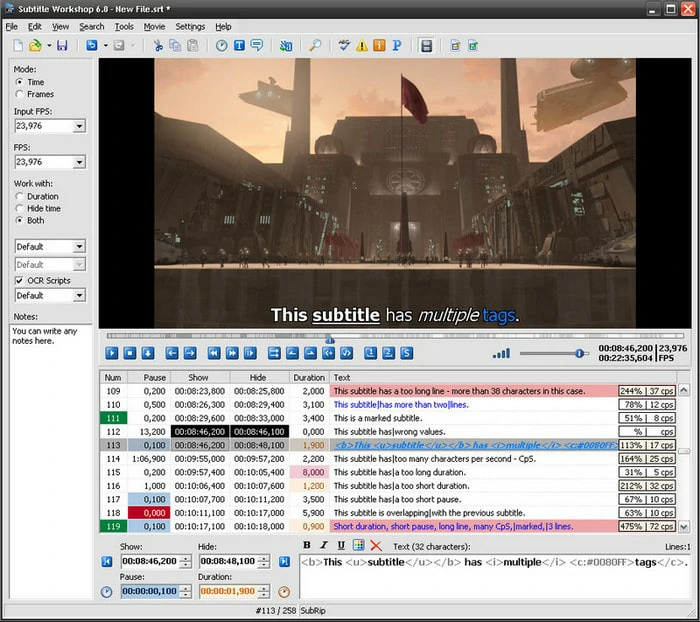 The Best Subtitle Editor for Mac - Subtitle Workshop
Pros:
Multi-language spell check feature.
Multiple subtitling modes are available.
Automatic caption timing set and correction.
Various subtitling modes are available.
Support a wide range of subtitle formats.
Cons:
You may encounter unknown bugs.
The Bottom Line
That's all for 5 best subtitle editors for Mac. After reading this post, we believe you have gotten the answer about how to choose the ideal Mac subtitle editor. By the way, if you need an AI option with various editing tools, FlexClip is the best option for you to have a try. Now it's your turn!