When you try an online video editor to edit your video, most tools require you to sign up even before you do anything! Are you annoyed at the registration before you use the editor? Here in this article, we'll share the best five free online video editors without signing up before editing a video.
Follow us and pick your desired video editor to start editing your video directly without signup or registration.
5 Best Free Online Video Editors without Registration
Also Read: How to Improve Your Video Quality Online with AI Video Enhancer >
5 Best Free Online Editors No Sign Up
Here is our list of the top 5 online video editors no sign-up to help you edit your videos without registration. Check out one by one:
#1 FlexClip
FlexClip ranks first on the best no-signup video editors list. It offers various video editing tools for you to edit your video without registration. Known for simplicity and flexibility, FlexClip helps you to edit and make awesome videos for social media, like YouTube, Instagram, TikTok, and more, even if you're a novice.
It has all the needed editing tools to help you make simple edits to your video without signing in - trim or merge your videos, compress and convert videos, add text, music, logo, etc. Besides, you can turn the raw video into a smooth flow with stunning effects, like transitions, filters, overlays, and more. Just click the Get Started now button below, and you will have access to all video editing features without logging in or subscription.
Once you've done the edits, you can preview your project, and then sign up for free to download the edited video directly or share it on social, like YouTube and TikTok.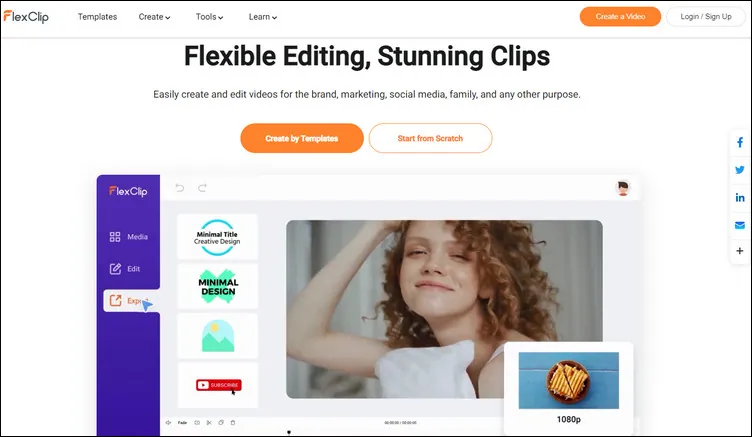 Free Video Editor No Sign-up: FlexClip
Reasons for Recommendation:
A full set of editing tools:
video trimmer
and merger, text editor, voice-over, screen recording, animations, and loads of
effects
that can use to edit your video without signing up or registering.
Beginner-friendly interface easy and free to use, FlexClip helps you edit a video without registration in a simple manner, even if you are entirely new to video editing.
Massive library of video templates
– FlexClip also includes a vast library of easy-to-edit
templates
to assist you in creating professional, social, or business videos.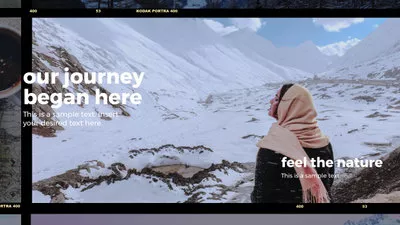 Cinematic Travel Story
Happy 10 Anniversary Collage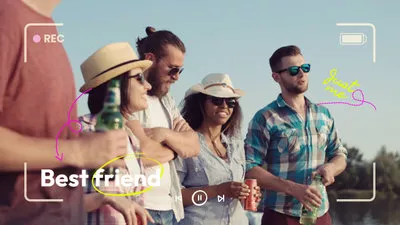 Graduation Summer Slideshow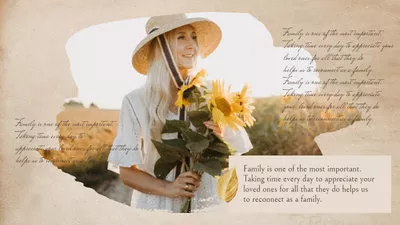 Family Love Story Slideshow
#2 Flixier
Flixier is another free online video editor no sign up you can try to edit your video without an account. It helps you quickly edit your video and create high-quality content no matter your experience level.
It allows you to edit videos online easily without registration. Add text to videos, images, sounds, transitions, auto-subtitles, and so much more. You can also trim, cut, or crop videos all in a couple of minutes without downloading or installing any software. Flixier combines a powerful interface with ready-made drag-and-drop features to satisfy everyone`s needs.
When you finish the editing, you can download your edited video with the watermark directly, if you want to remove the watermark, you need to sign up and upgrade to Pro Plan.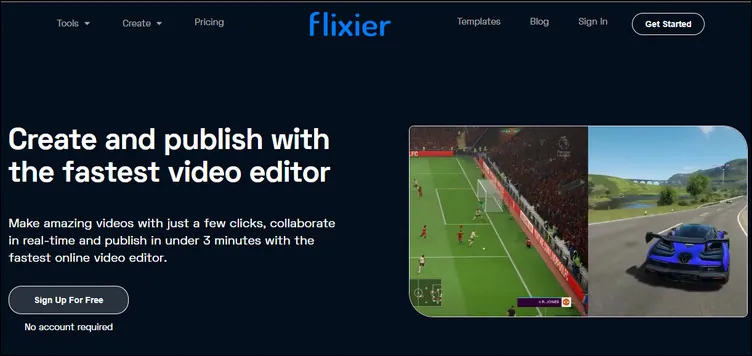 Free Video Editor No Sign-up: Flixier
#3 Veed.io
Want to edit your video without logging in? You can also try VEED's video editor. This tool has been built primarily to meet users' basic needs, you can trim, cut, crop, add subtitles, and do lots more on your video without registration.
Its easy-to-use interface makes it even more acceptable for first-timers. You can level up videos with green screens, emojis, annotation, filters, and more. Whether you are working on Chromebook, PC, or Mac device, Veed is always connected to you. What's more, it's free, and you don't need to sign up or create an account.
Veed allows you to download your video directly without registration, but it will attach a watermark on your video. If you want to remove the watermark, you need to pay to upgrade your workspace.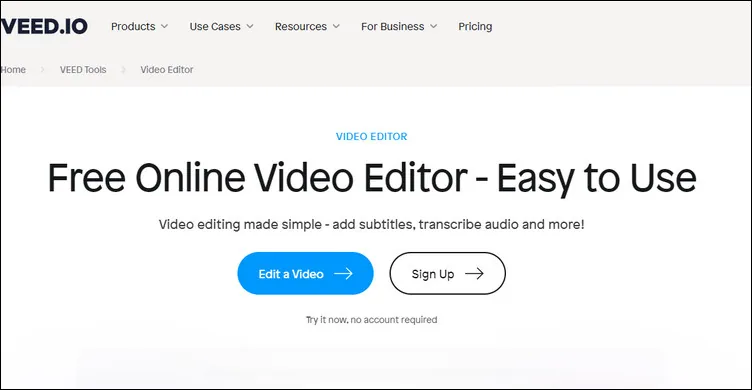 Free Video Editor No Sign-up: Veed
#4 Kapwing
Kapwing also gives the option to edit videos online for free with no downloads or signing-in required. You can use Kapwing online without registration whenever and however you like, but if you want to save your video without watermark, you need to register.
It offers a robust video editing solution for every creator - simple enough to learn without tutorials, yet powerful enough to support various edits. You can splice and combine video clips, trim and cut inline, add transitions, overlay text, and images, generate subtitles, add music, and use any other elements that you need to make your video stand out.
To save your edited video, you need to sign in, and download it for free with a watermark. If you want to create watermark-free content at Kapwing, you need to upgrade to one of their premium plans.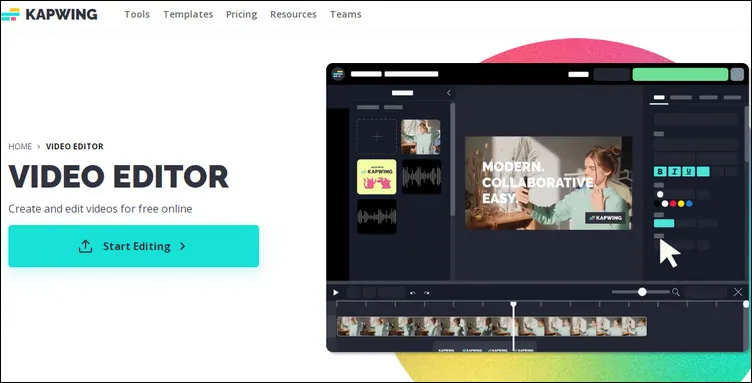 Free Video Editor No Sign-up: Kapwing
#5 Movie Maker Online
Like the others in this list, Movie Maker Online requires no registration or downloads. You can simply drop your photos, videos, music and gifs to use this video editor online without registration!
It helps you create beautiful music clips and slideshow with photos, clips, and music, and apply different effects to your clips to make your video more professional-looking. All you have to do is upload your video clips and select the right tool to edit. It's absolutely free and adds no watermark, but the ads on the web are tedious, and the editing tools are pretty limited.
Although there are some annoying ads on the page when you edit your video, it is worth trying as it really allows you to edit and save your video without registration, without watermarks and labels with site name.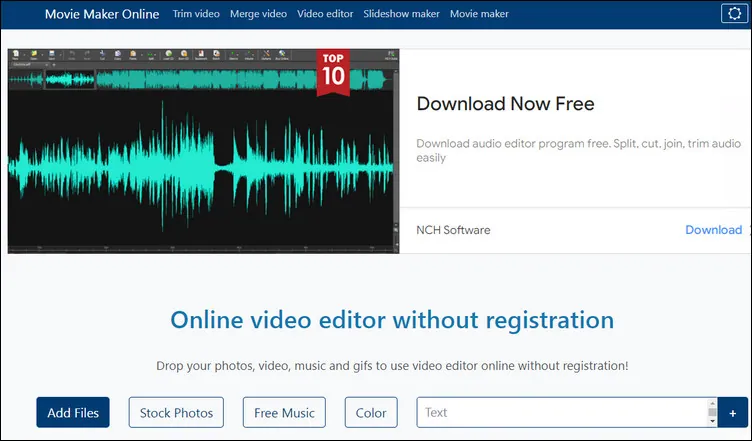 Free Video Editor No Sign-up: Movie Maker Online
Final Words
Those are the top 5 best free online video editors with no sign-up. What's your favorite one? Which do you think is the best? Just pick your desired one to edit your video now! If you find this blog helpful, please share it with others.