In general, watching a video that tilts the entire way would be difficult as the unusual angle often disorients the viewers and takes away the film's impact.
But at the same time, when you watch a TV show or a movie, especially a horror and psychological thriller, there are some fantastic tilt shots that really impress you.
In fact, the tilted or canted frame is a cinematic technique applied during shooting, called the Dutch angle, to create an atmosphere of uneasiness, and discomfort, showing a viewer that something is going wrong.
What is a Dutch angle? How can you make a dutch angle short? Here we go!
What Is a Dutch Angle Shot?
A Dutch angle shot is a camera shot that the camera is tilted to one side to create an unusual and dynamic perspective on the film. Visually, a Dutch angle shot looks like a tilted horizon, or as if the viewer feels like their head is tilted.
Adding Dutch Angle shots in your movie is a great way to get the audience excited and make the movie more interesting for the audience.
If you're trying to capture one, simply tilt the camera in your hands or while affixed to a tripod, and then start recording with the camera tilted on its horizontal axis.
Get your footage ready but try to add some Dutch angle shots? You can easily turn a "normal" video into a tilted one and create a magic Dutch angle shot in your video project in a few clicks! Keep reading to explore the way below.
How to Make a Dutch Angle Shot in Your Post-Production
To help you easily make a Dutch angle shot in your video, we'll introduce a powerful online tool, FlexClip.
It comes with a flexible rotation tool that helps you make the fine rotation to turn a "normal" video into a tilted one and create a magic Dutch angle shot, or you can also rotate a video slightly to fix the horizon problem. Besides, FlexClip's all-in-one Video Editor allows editing your video in various ways: cut your video, merge it with other files, add subtitles and any effect, like lower third, opening credit, and more!
Now, follow us and learn how to tilt your video and make an amazing Dutch angle shot with FlexClip:
Step 1 Upload Your Video Project
Click the Get Started Now button above to access the FlexClip video editor. Then, switch t the Media section to upload the video you want to turn into a tilted one from your computer, mobile device, or some third-party platforms, like Google Drive or Dropbox.
Once the video footage is imported, drag it from the Media section and drop it at the preview canvas as a layer, or you can click the Add as layer icon to apply the footage in one click.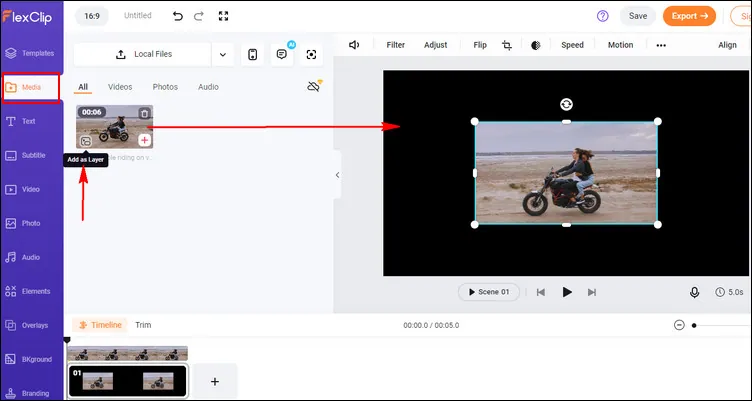 Make a Dutch Angle Shot in Your Post-Production - Upload
Step 2 Tilt the Video to a Dutch Angle Shot
Now you can start adjusting the footage. Firstly, drag and drop the video to adjust its size and location on the preview canvas. Then you can make it a tilted one simply by clicking and holding on the rotate icon on the canvas to make any angle of rotation you want for a fantastic Dutch angle shot.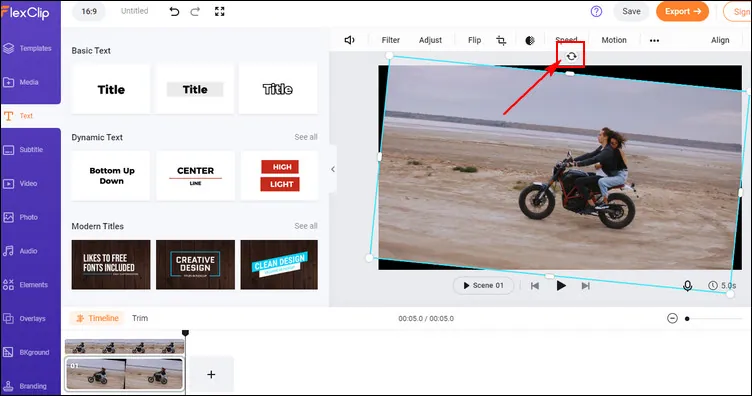 Make a Dutch Angle Shot in Your Post-Production - Tilt the Video
Once done, you should see the edges that show the background on the canvas; that's caused by the rotation, so here, you need to drag out the corners of the video to cover the background to make your tilted video looks perfect.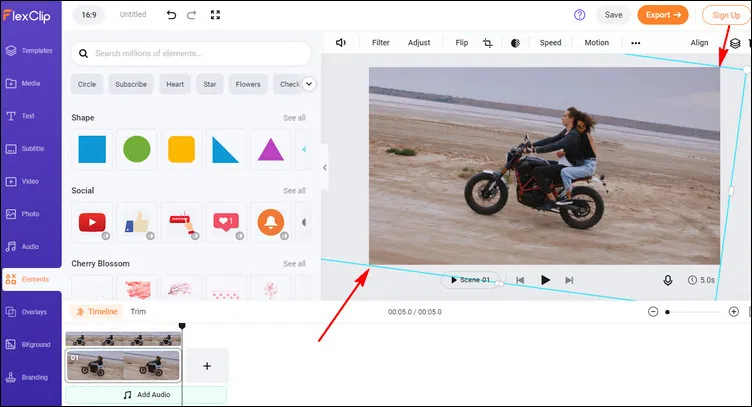 Make a Dutch Angle Shot in Your Post-Production - Adjust the Video
Step 3 (Optional) More Edits
While you're in the editor, you can use FlexClip's powerful tools to make more creative edits you'd like to your video:
For some editing inspiration, you can check out the beautiful templates in FlexClip amazing collection.
Anniversary Photo Collage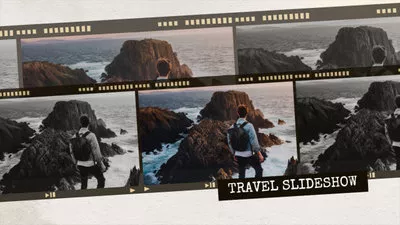 Travel Film Photo Story Slideshow
Film Style Wonderful Travel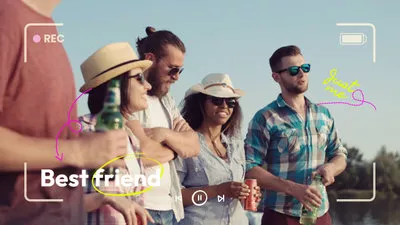 Graduation Summer Slideshow
Final Words
Adding Dutch angle shots to your project can help arouse the audience's emotions and make your project far more appealing. Turn to FlexClip right now, and start making your first Dutch angle shot! But one thing to be noticed, you need to use them with other camera shots to avoid overusing them and creating poor results.