Got a video clip that's just a little too dark or has some blurriness in the frame and try to do something about it to make it look brighter and clearer?
You've come to the right place! Here in this article, we'll introduce a workaround to help you make your blurry video look clearer. Keep reading.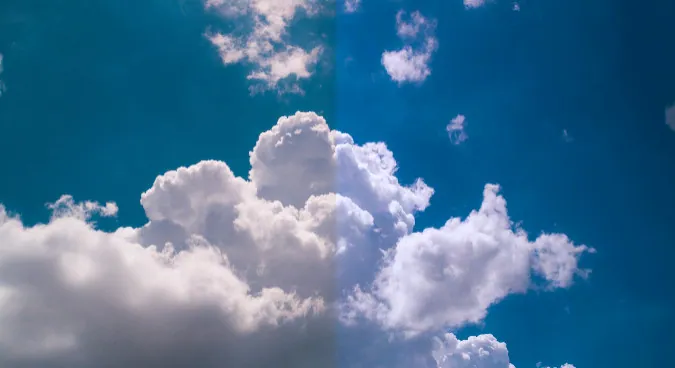 Edit a Video to Make it Clearer
Also Read: How to Improve Your Video Quality Online without Watermark >
How to Edit a Video to Make it Clearer
Let us know the free online video clearer tool, FlexClip, that we can incredibly use to edit a blurry video to make it clearer. FlexClip's online video clearer lets you adjust your video's settings to make it look clearer simply by changing a few sliders.
Although it won't make any miracles, it will enable you to get something usable out of your footage. If your video is a bit too dark, you can easily adjust the brightness by dragging the brightness slider in the Adjust settings. You can also adjust the contrast, saturation, and more to make your video look. Besides, you can edit your video even further using the full suite of video editing tools!
Here is how to edit a video to make it clearer online for free with FlexClip:
Step 1 Upload the Blurry Video Footage
Upload a video that has any blurry issues you'd like to clear up to FlexClip first. You can add one from the local file on your computer or upload footage from your phone, whether an iPhone or Android device.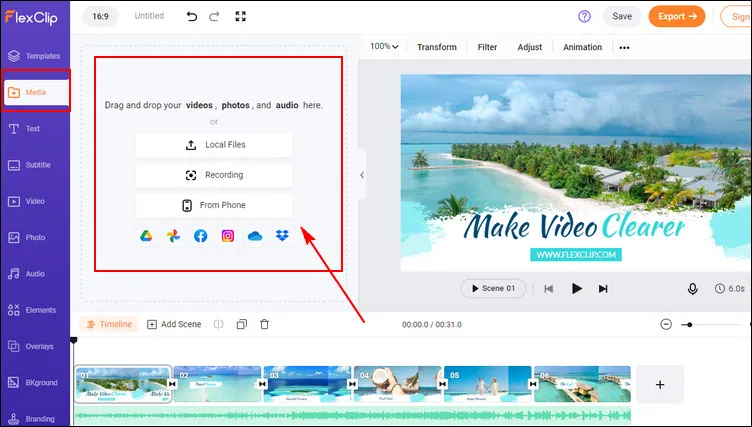 Make Your Videos Clearer - Upload
Stored the video online and not on your device? No worries! FlexClip allows you to import your files from third-party platforms, like Google Drive, Dropbox,and more.
Step 2 Slide to Adjust and Make the Video Clearer
Once your clip has been uploaded, drag and drop it on the timeline, head over to the top menu on the screen and click on the Adjust tab.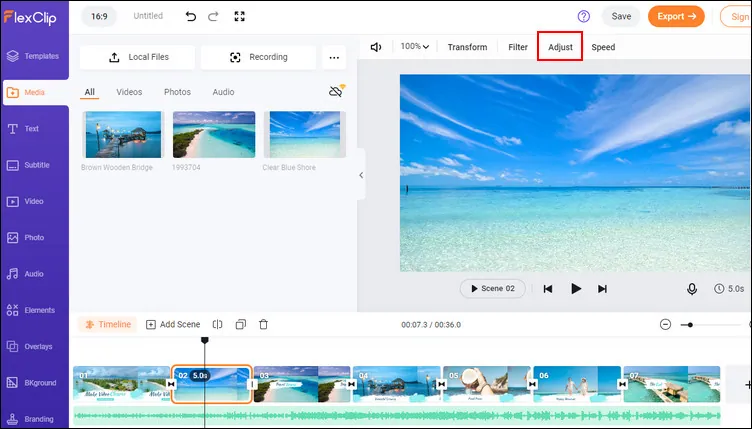 Make Your Videos Clearer - Adjust
Now you can move the slider for each setting, such as brightness, contrast, saturation, and more, to make your video clearer.
To get rid of blurriness in the video, it's recommended to up the brightness and contrast level. You can try more settings for different scenes to make your video clearer. Although it won't solve all your problems if your video is highly out of focus, it can help clever things up a little in the video.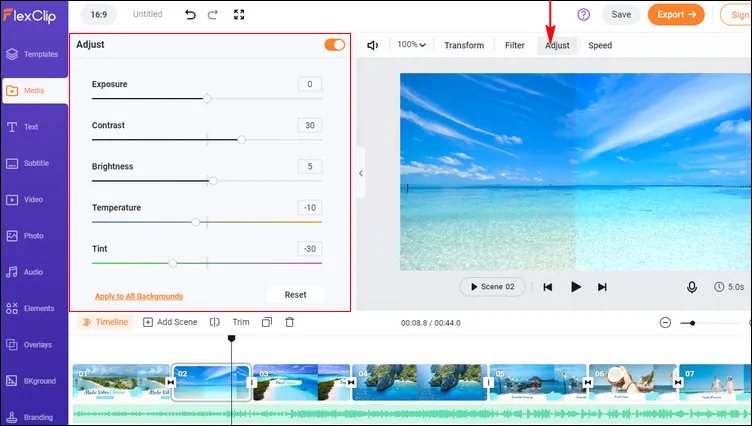 Make Your Videos Clearer - Adjust Settings
Step 3 (Optional) Make More Edits to Improve Your Video
Not only can you make your videos look clearer by adjusting your video settings, but you can also use FlexClip's powerful editing tools to create stunning videos online. Rotate, crop, and resize your videos. You can also add images to make a cool collage, add animated text,cool overlays, and other elements.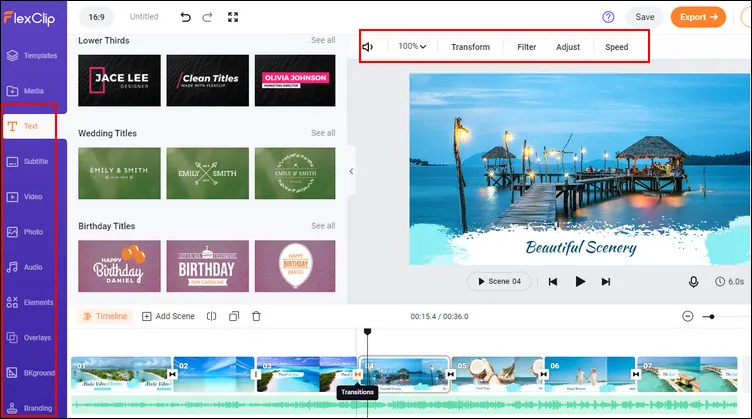 Make Your Videos Clearer - More Edits
Moreover, FlexClip is also one of the very few online video editors that can do auto-subtitling. You can also use its templates, stock library, and so much more to create stunning videos in just a few clicks!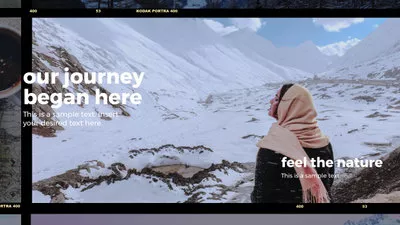 Cinematic Travel Story
Happy 10 Anniversary Collage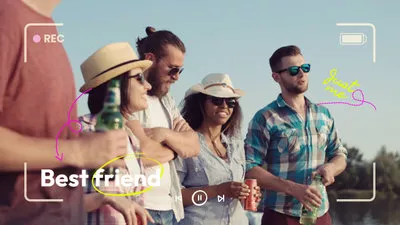 Graduation Summer Slideshow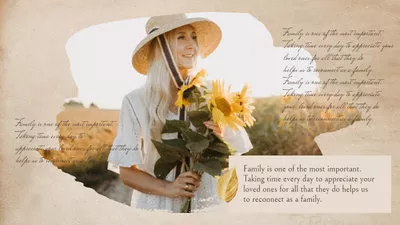 Family Love Story Slideshow
Step 4 Preview and Download
When you're happy with your adjustments and edits, you can preview the video to check the final effect. Once you're satisfied, click on the Export button at the top right of the screen to download your video.
Can't wait to share your video with others? You can send your video to your friends with a share link or directly share it on social media sites, like YouTube or TikTok using the social-share feature of FlexClip.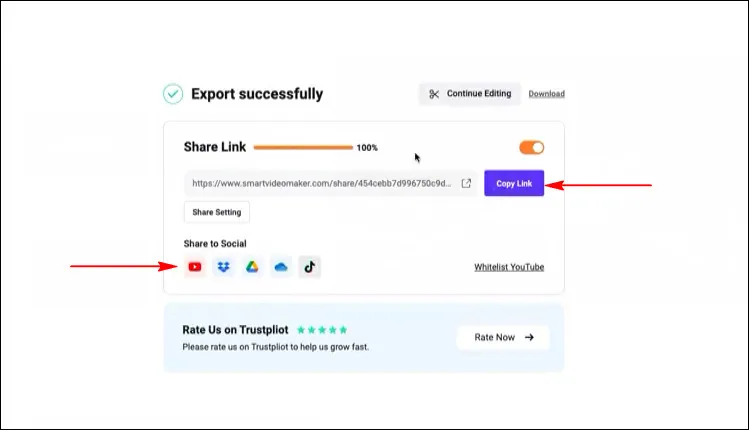 Make Your Videos Clearer - Download & Share
Final Words
There you have it. FlexClip offers a super easy way to help us make our video clearer. Hopefully, this article will be a great help in accomplishing your task.
By the way, FlexClip is a powerful online video editing platform that lets us do so much more than adjust the settings to make them look clearer, such as creating an intro and outro for your video, making lower third and more other graphics, adding the logo to brand your video, etc. Try FlexClip today and start creating stunning videos in just a few clicks!