Briefs: How to record a laptop screen? This easy guide has everything you need to screen record a laptop. You'll find a simple, free laptop screen recorder for all-level users and see its full steps. Whatever you want to record on a laptop screen, you can do it in minutes.
Part 1 - Various Needs to Record Laptop Screen
For laptop reviewers/salesmen, recording some running test videos for laptops will speak volumes for the performance.
To various support teams or manual copywriters, they need to reproduce clients' issues on the same laptop to record steps and help them solve issues they have.
For game YouTubers, they may upgrade/switch their gaming device to record a game play, (i.e., Dell Alienware laptop...) and they need a stable screen recorder for different devices.
...
No matter what your need is, you'll find an optimal solution below.
Part 2 - A Powerful Laptop Screen Recorder [Free & Online]
A powerful laptop screen recorder should help you capture any laptop screen right as you want it! You need to find the tool. Each time you capture a different laptop screen, it will help you save a bunch of time & energy.
2.1.Chaos of various laptop screen recorders
You'll find dozens of laptop screen recorders on the Internet, ranging from complex & advanced ones to feature-limited no-brainers:
Users often spend substantial time on a complex & advanced laptop screen recorder, just to figure out how to navigate it to their liking. Also, tens of feature-limited, no-brainer screen recorders fail users on this and that. Without doubts, finding a laptop screen recorder for your needs isn't easy. Check the 10 simple screen recorders for all all platforms.
2.2.A powerful, free laptop screen recorder for all-level users - FlexClip screen recorder
Why waste your time in trying dozens of screen recorders, only to find a right screen recorder? You can consider our recommendation - free online FlexClip screen recorder for all laptops.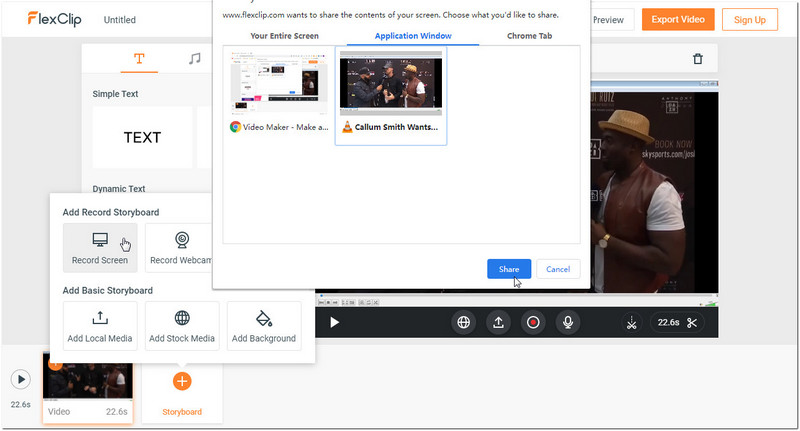 Image: Powerful laptop screen recorder - free online FlexClip.
You won't need to download or install software/plug-in, or even register a free account to capture any kinds of screens on a laptop. You just need a Chrome browser to open its URL.
Fully optimized for screen record in laptop, FlexClip screen recorder is the simplest laptop screen recorder free with powerful functions. There are 3 HD options for laptop screen capture - fullscreen laptop recording, app activity recording, and browser tab recording - they've covered usual requirements.
2.3.What if You have other requirements for screen record in laptop? [Advanced Tricks]
FlexClip screen recorder comes with a free video editor. Just one click will take you to its screencast editing interface. It helps you render whatever screencast you want from a laptop. For example:
Q1: What if you want to record mouse movement in laptop?
A1: Just upload your recording, trim screencast parts, and zoom in to render a similar effect like mouse movement recording. Just a few minutes, you can make/fix your screencast to your liking effortlessly.
Q2: What if you've made a small mistake when recording laptop screen?
A2: Again, take advantage of FlexClip free video editor. It can help you fix any mistakes fast & easily. If you are not satisfied with your audio recording, you can mute the recording and re-record the audio in FlexClip.
Part 3 - How to Record Laptop Screen Freely?
In this part, we'll display how to record laptop screen in simple, ordinary ways.
Step 1, Prepare what you want to record. Whether you want to capture fullscreen on a laptop or an app presentation, click their icons and launch them beforehand.
Step 2, Open the webpage of the free laptop screen recorder - FlexClip screen recorder in browser: https://www.flexclip.com/tools/screen-recorder/, and press the button [Start Recording].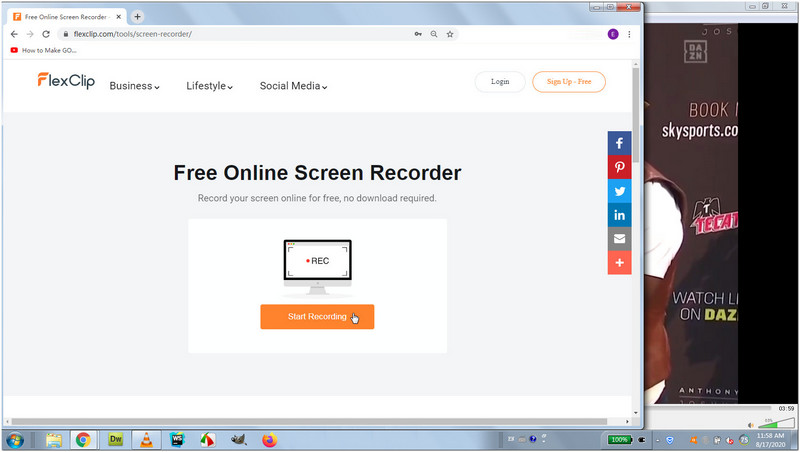 Image: Start FlexClip screen recoder in laptop.
Step 3, Choose your audio source, and click red record button.
If you want to record laptop screen with your explanation/narration, select [Microphone].
If you want to screen record a streaming video or game play, go [System Audio].
The last option - [No Audio] is for those who want a silent video recording.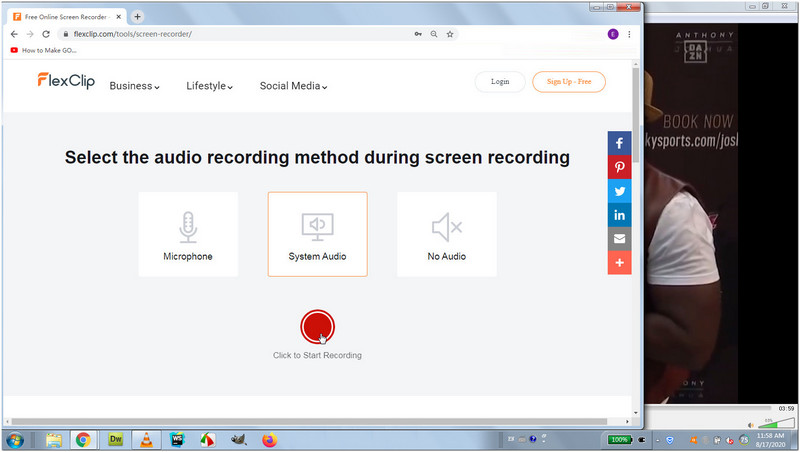 Image: Choose your audio source.
Just to Note: Recording a voice-free video is a trendy way that's used by many professional video producers. It's much easier to process audio track alone than reduce noise from video.
Step 4, Before recording starts, FlexClip laptop screen recorder will ask you to choose a Windows to record.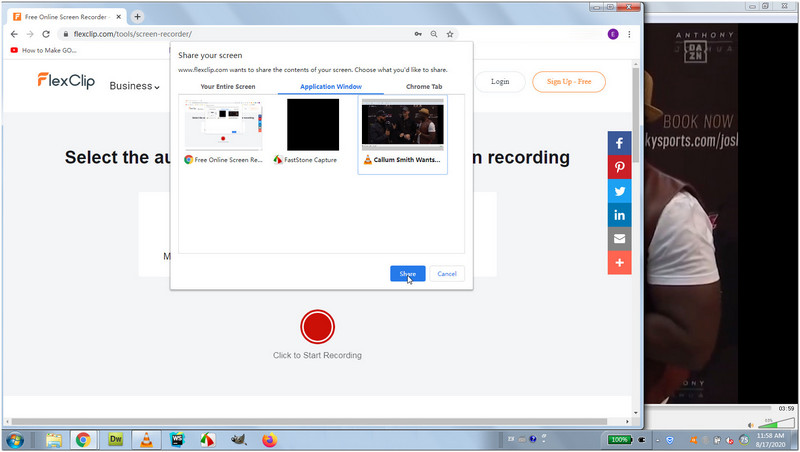 Image: Select which screen to record on current laptop.
Step 5, When you've finished your laptop screen recording, you can either download the laptop screencast, or edit it.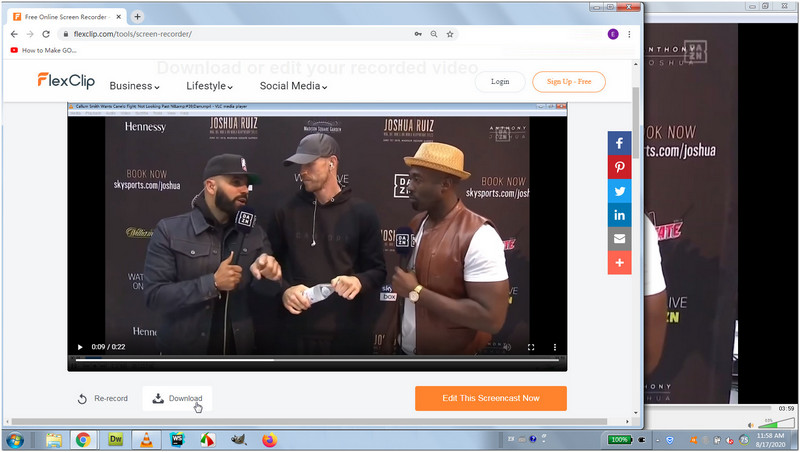 Image: Download and edit your laptop recording.
Part 4 - Over to You
Here, we've introduced an easier, online laptop screen recorder for free - https://www.flexclip.com/tools/screen-recorder/. It takes less time and effort to finish your laptop screen recording. The best part is its laptop screen recording is professional, editable & in high quality.