Need to record something but don't know which tool to use? Take a look at the top 10 simple screen recorders we've collected. Whatever computer you are working with, you can always find an ideal, free screen recorder to your needs.
Consuming videos online has become an irreplaceable & inseparable part of our daily life. Uncountable "How-to" & "Top review" videos on YouTube, TikTok, Facebook, Twitter and live steaming platforms have made many video creators popular & rich.
If you want to share some tutorials or reviews to help people or make money, you'll need a screen recorder.
1.FlexClip Free Screen Recorder & Video Editor (Free, Watermark-Free, No Lag)
Platforms: Online, All PCs
Image: FlexClip Free Simple Screen Recorder.
FlexClip Free Screen Recorder is an incredibly simple online screen recorder to capture short videos. Capture an active Windows, or record the full screen? - It's your call.
The video recorder is embedded in its editor, so basically you can record screen activities and edit them immediately. In FlexClip, there are millions of professional video clips, stylish images, and beautiful music to support you editing a recording video.
2.SimpleScreenRecorder
URL: https://www.maartenbaert.be/simplescreenrecorder/
SimpleScreenRecorder is a Linux-based screen recording software, that's simple, fast and open source free. It's created by developer "Maarten Baet". Though SimpleScreenRecorder has a pretty old interface, it has equipped with all things needed for screen recording.
It allows you to record a portion of your screen or full screen. Specifically speaking, you can choose from:
Record the entire screen,
Record a fixed rectangle,
Follow the cursor,
Record OpenGL.
If you have multiple monitors for screening, you can even choose which monitor to record. Regarding audio recording, you can also pick which audio sources for video recording. Lastly, it gives you the options to preview & save recording video in MP4, WebM, OGG, or other video formats. So SimpleScreenRecorder is really powerful.
How to Record a Screen for Free with SimpleScreenRecorder?
Image: Use SimpleScreenRecorder to Record Screen Freely.
Step 1
Download SimpleScreenRecorder and install it.
Step 2
open it. In welcome interface, choose [>Continue], then choose video input & audio parameters, then hit [>Continue].
Step 3
Choose your output settings for screen recording, and go [>Continue].
Step 4
Preview your screen recording and press the button of [Start recording].
Though SimpleScreenRecorder is pretty simple, user-friendly and advanced, users in Windows, Mac, or on a random PC will get disappointed - SimpleScreenRecorder is only for Linux.
If you work on other systems, no worry, we've curated a list of simple screen recorders for various platforms, check them out!
3.VLC Media Player to Record Screen (Free, Watermark-Free, No Lag)
Support Platforms: Windows, Mac and Linux
Image: VLC Simple Screen Recorder.
VLC Media Player is not only a free desktop video player, but also a free handy screen recorder. For Windows VLC users, you can fast enter VLC screen recorder via hotkey -"Ctrl+C".
VLC Media Player screen recorder is not as powerful as SimpleScreenRecoder. It's not capable of adjusting audio quality and capturing a portion of screen. There are merely 3 screen-recording options - desktop, digital TV and DirectShow (on VLC player). It's the simplest timely screen recorder, especially it's very comfortable to capture a part of a video.
4.RecordCast Free Screen Recorder (Free, Watermark-Free, No Lag)
Platforms: Online, All PCs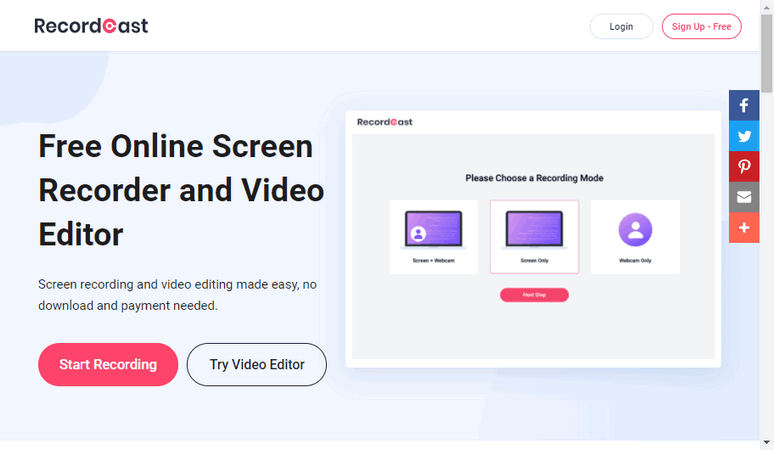 Image: RecordCast Professional Screen Recorder.
If you need a professional screen recorder with picture-in-picture feature to record screen and your cam at the same time, RecordCast is your best option.
RecordCast is a professional online recorder that gives you enough recording options to choose from. It'll ask you to pick a screen recording mode from screen, cam and screen + cam, also you can set up audio from system audio, microphone, and system audio + microphone. The navigation is streamlined and clicking away.
5.Screen Capture (Free, Watermark, No Lag)
Platforms: Online, All PCs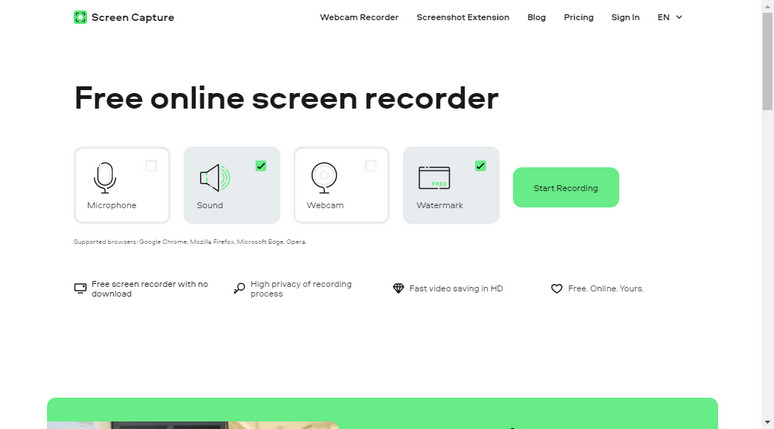 Image: Screen Capture.
Free Online Screen Recorder by Screen Capture provides all the basic options: It can help you record your screen together with a webcam if required; also, you can record the system sound and microphone. If you do not need some of these options, you can disable them with one click.
The service is free and highly easy-to-use due to its interface. You only need to choose the options for recording and click the button "Start Recording". After you have finished, you can save your video in HD quality. The program does not require downloading; thus, it is available on all computers regardless of the operating system.
6.ScreenRec Software (Free, Watermark, No Lag)
Support Platforms: Windows, Mac and Linux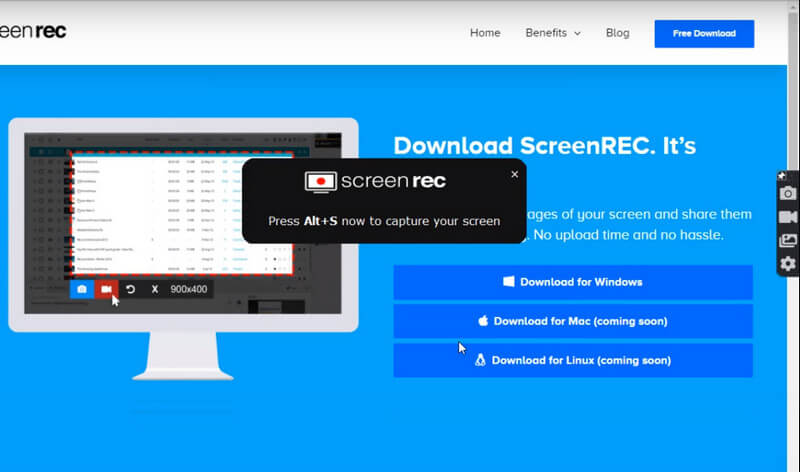 Image: ScreenRec Simple Screen Recorder.
ScreenRec is a different video recorder that's easy & free. Many a livestream teacher has chosen it to capture live classes for playbacks. Compared with other screen recorders, ScreenRec is more suitable for commercial screen capturing.
Navigation UI is pretty simple: one button for screenshot, one for screen recording, one for dimension setting, one for recalling an edit and one for canceling edits. Users can drag a section of the screen to record.
7.Bandicam to Record Screen (Free Limited)
Support Platforms: Windows
Image: Bandicam Free Screen Recorder.
Bandicam is a distinctive screencast software with several devices supported. Since it's cross-platform, a large proportion of gamers choose it to record a gaming video.
Whether you want to be a live streamer or a YouTuber for games, Bandicam can be your perfect choice to record an aggressive game play in high quality. Of course, you can capture videos of tutorials, demonstrations and webcams.
8.Free2X Webcam Recorder (Free)
Support Platforms: Support Windows 10/8/7/Vista/XP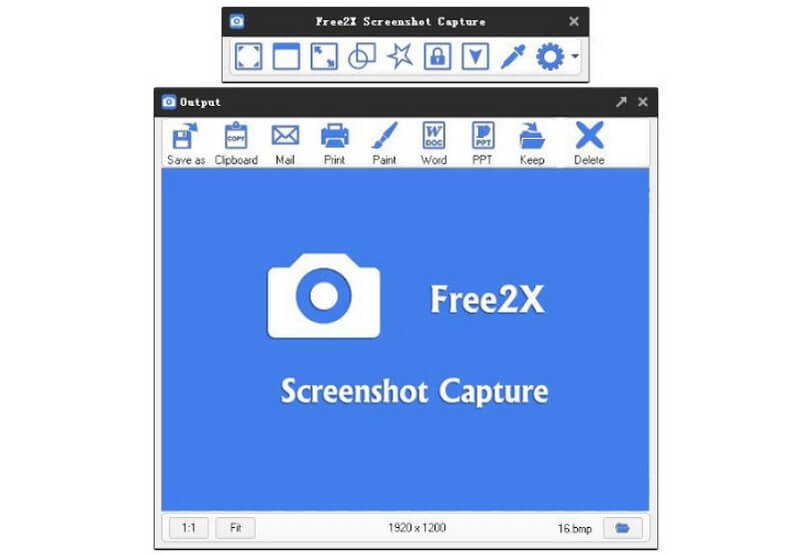 Image: Free2X Webcam Recorder.
Free2X Webcam Recorder is free for both personal use and commercial use. This program is very basic screen recording software. Though it's designed for webcam recording, it also supports entry-level screen recording. What you record will be saved as AVI, MP4, WMV and other file format videos.
However, if you like to make more edits on your recording, you must go to other video editing apps, such as, free online FlexClip video editor.
9.VSDC Free Screen Recorder Software (Commercial Free Edition)
Support Platforms: Windows x64, x32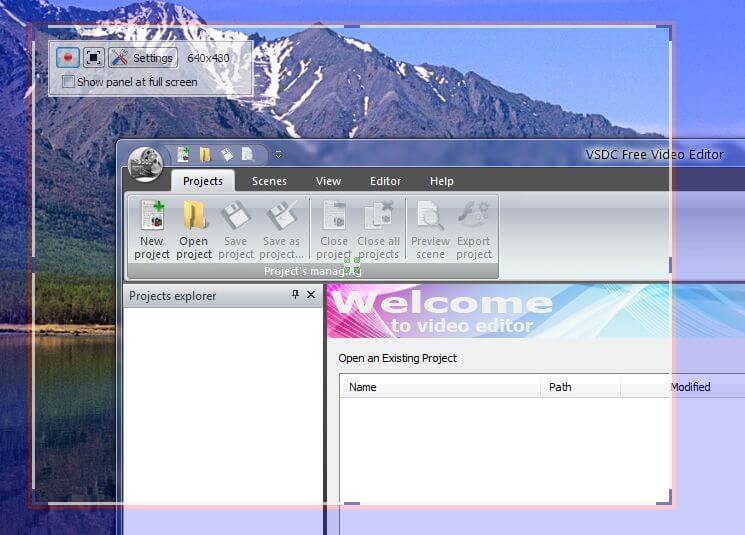 Image: VSDC Free Screen Recorder Software.
VSDC is a brilliant screen recorder that's reliable and practical. In the free video recorder, you'll choose a video/audio format for recording. You can choose area screen recording or full screen capturing.
10.Free Cam to Make Screencasts
Support Platforms: For Windows 10/8/7 32- and 64-bit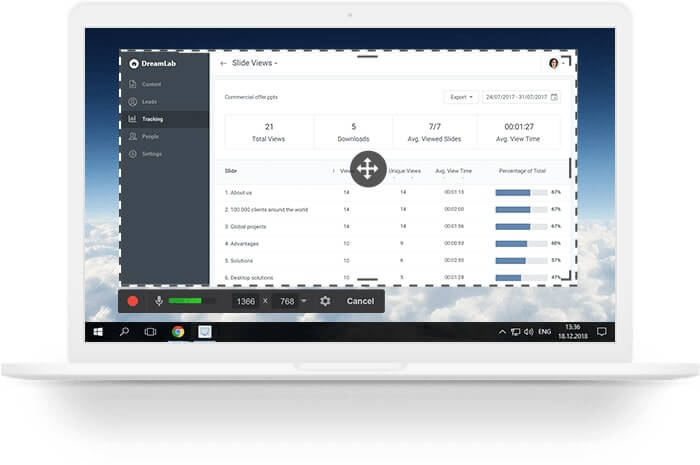 Image: Free Cam.
Free Cam allows its users to customize the recording area among full-screen recording, area recording, and application recording. The interface is old-school, but it's feature-rich with massive supports for audio edits and video edits. To master it well, you got to learn its hotkeys.
Verdicts
If you are looking for a simple screen recorder, we hope you've found it in our recommended list. Those simple screen capturing applications are designed for green hands with awesome screening outputs.