If you are looking for the easiest online full screen recorder to capture the entire screen on Windows or Mac, you've come to the right place. After reading it through, you'll have the best free full screen recorder online - FlexClip, which you can easily choose a mode to capture screen without hassles.
Want to capture the full screen on your Windows or Mac to record the memorable moments in your games, share a video tutorial with others, or do more similar things with a full screen recorder without watermark? OBS must be one of the best choice for you. However, sometimes the OBS are failed to capturing the full screen.
So our aim here is to rescue you from all this by sharing the trustworthy online full-screen recorder, FlexClip. Keep reading and find more.
Content:
Also Read: Record Screen without Watermark: Free Screen Recorder No Watermark >
Part 1 - Best Full Screen Recorder no Watermark [Free & Online]
When you try out some free screen recorders to capture the entire computer screen, it is very likely that the video recording is always covered with the watermark. To help you easily record the entire screen without watermark, we picked the best free screen recorders with no watermark in the market.
FlexClip full screen recorder is a powerful & user-friendly screen capture software that's free, online, and without lag, helping you capture the full screen on your computer in simple clicks.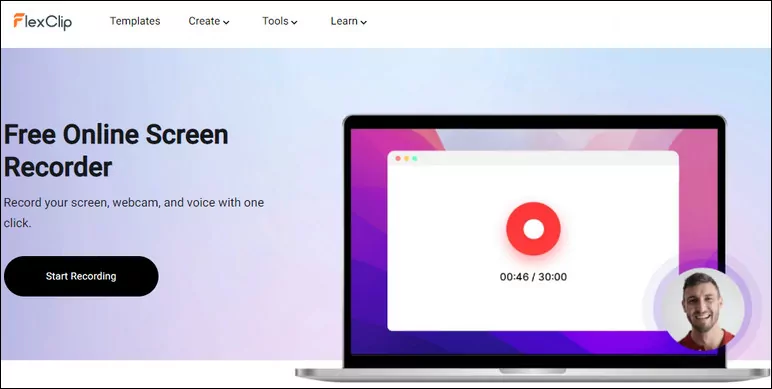 Image: FlexClip Screen Recorder Free for Full Screen Recording
Key Features of FlexClip Online Full-screen Recorder
Capture any window application on full screen: Each time you open FlexClip full screen recorder, it lets you pick which screen/mode for screen recording. You can select among [Your Entire Screen], [Application Window] and [Chrome Tab]. Just press on [Your Entire Screen], and it will record the whole screen of the display for you.
Easy-to-navigate, Watermark-free & No Download: FlexClip free screen recorder allows you to easily capture your screen online without installing any software or extensions. What's more, it doesn't put the watermark on your recording.
Support Editing Fullscreen Recording: Many a full screen recorder online is very feature-limited, and you have to turn to a desktop video editor to do the rest of edits. But FlexClip full screen recorder is packed with an advanced online video editor, so that you can edit your recording or make a video production with it.
Part 2 - How to Record Entire Screen for Free no Watermark? [The Easiest Way]
Whether you have a desktop computer or laptop, or your computer OS is Windows, Linux or Mac, you can easily take advantage of FlexClip full screen recorder to capture any activities on the entire screen.
Step 1
Prepare what you want to record on the whole screen, then go to the FlexClip online screen recorder and hit [Start Recording].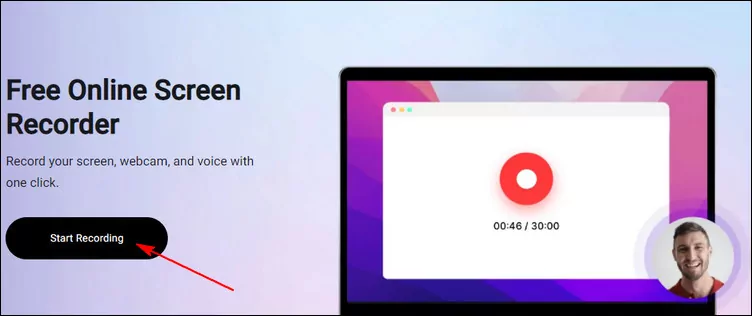 Record Full Screen Online for Free - Step 1
Step 2
A new page should pop up asking you to select the recording mode: Screen + Webcam, Screen Only, Webcam Only, and then audio recording option: Microphone + System Audio, Microphone, System Audio, No Audio. Just choose the one you need.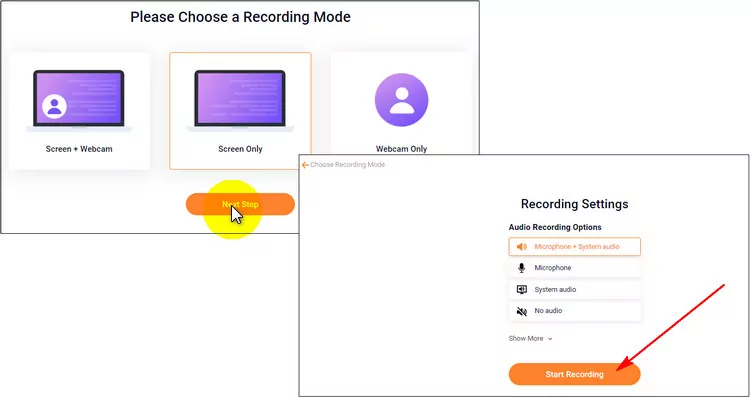 Record Full Screen Online for Free - Step 2
Step 3
Once you finished the recording mode and audio option, just click the Start Recording and then select the content you wan to record. Here the option of Entire Screen is for full screen recording. Just pick it and click Share, and it'll begin recording the whole screen on your computer after a 3-minutes countdown.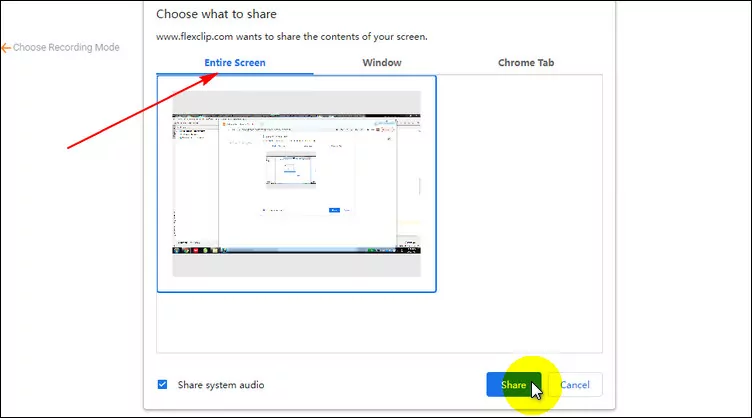 Record Full Screen Online for Free - Step 3
Step 4
Stop recording when you've finished your recording. When it's done, click the Download and Edit button to save your full-screen recording on your computer. Here the system will automatically download the screen recording to your computer and also add it to the
FlexClip video editor
for you to edit.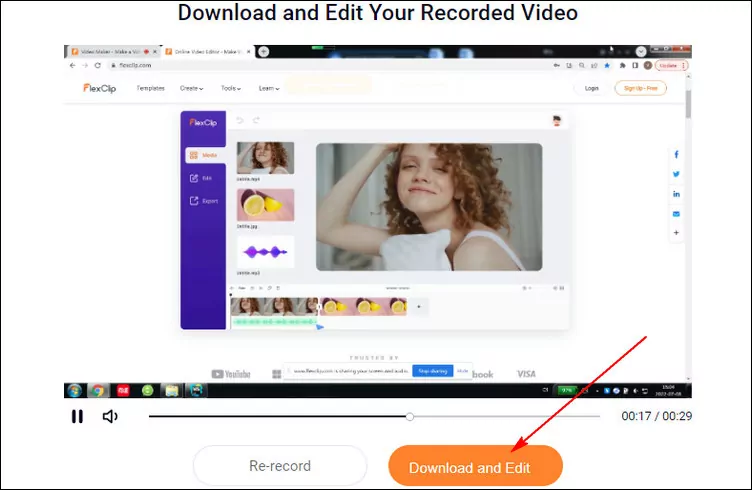 Record Full Screen Online for Free - Step 4
Part 3 - How to Edit Fullscreen Recording Online for Free
If you want to make edits on your full-screen recording to make it a share-worthy video, FlexClip's powerful video editor help you achieve it and upgrade your recording without efforts.
FlexClip video editor comes with an intuitive timeline and tons of image and video tools and effects, such as crop mask, speed controls, trimmer, splitter, picture-in-picture, video transitions, motion graphics, etc. You can also use its various resources like templates, fonts, color style, and transitions to make your full-screen recording a masterpiece.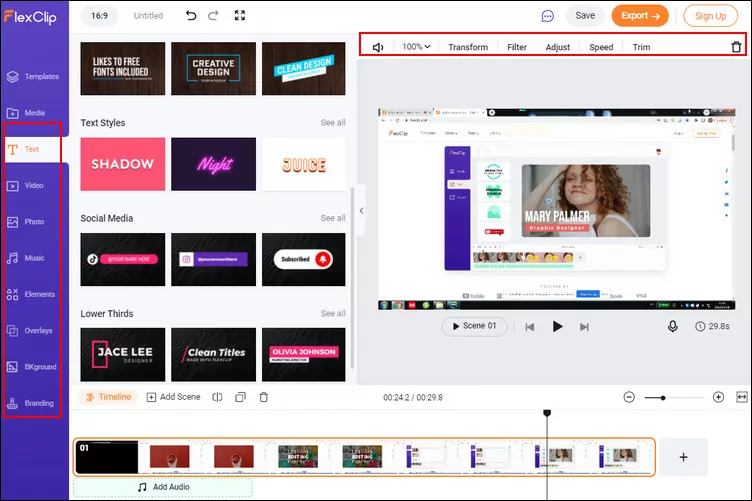 Image: Edit your Full-screen Recording Video with FlexClip
Have no ideas on how to edit your full-screen recording, just check the beautiful pre-made video templates for some inspirations.
Esports Advertising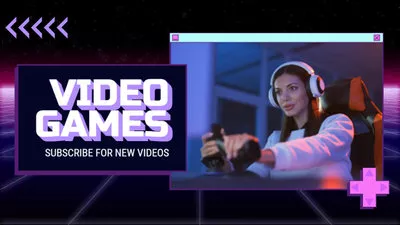 Video Games Day
Final Words
If you want to record your full screen on the Mac or Windows PC, just try FlexClip full screen recorder. It's an all-in-1 fullscreen recorder with support for recording edits. Best of best, it's 100% free. What's more, it allows you to instantly add the screen recording to the feature-rich online video maker for edits.