Briefs: You are here because your PC gets slow or stuck while recording. We've introduced the best no lag screen recorder, so that you can get away from recording lag. Grab it now to record screen free online, and reduce recording lag.
It can be really annoying when lag happens during your screen recording. What you've done before are not recorded because of the lag. Check the reasons that cause screencast lag. And if you want to record a lag-free video, we've shared the best no lag screen recorder and its full steps to reduce lag in screen recording.
Part 1 - What Causes Screen Recording Lag?
Many things can cause lagging in screen recording, such as, CPU, GPU, RAM performances and screen recording algorithms:
CPU, GPU, and RAM are all PC resources. When there are not enough PC resources, a screen recorder will lag or stop working.
Screen recording algorithm embedded in screen recorder will decide how your available PC resources will be used. When it's optimal, your PC resources have less chance to run out.
Either way, recording lag will happen as long as your PC resources run out. To reduce screen recording lag, you can either free up computer resources (such as, close unused applications), or choose a better screen recorder.
Part 2 - Best No Lag Screen Recorder [Free & Online]
When we speak of high-performance screen recorders, online FlexClip video recorder must be included.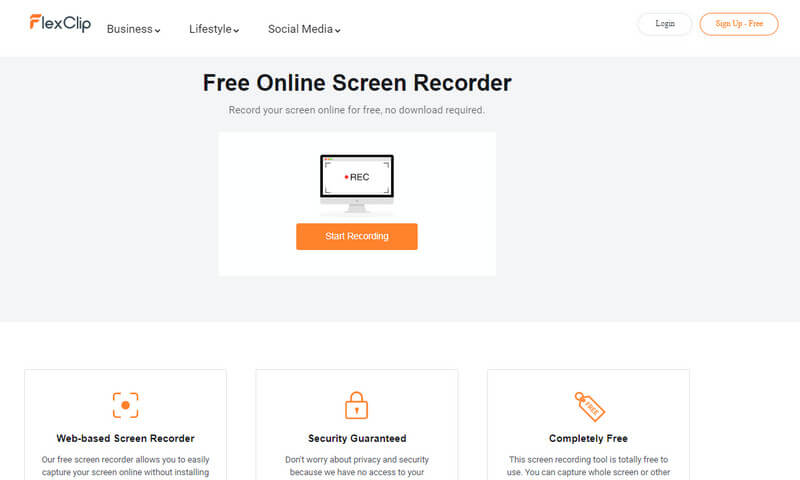 Image: FlexClip Best Free No Lag Screen Recorder.
As one of the few no lag screen recorders, FlexClip has equipped with an advanced algorithm that only uses the minimal RAM and GPU. Moreover, you don't even need to install anything - All you need to do is grab a Chrome browser and open it.
Whether you are on a laptop or desktop, there won't be any lag issue. Your screencast will be in HD quality. Find out how to record computer screen on Mac/Windows.
FlexClip video recorder is the best no lag screen recorder that's free online. You can choose to record the live Window, browser Tab, or full screen. Best of best, its powerful video editor gives you amazing performances to upgrade your recording to fantastic video production.
Part 3 - How to Reduce Lag in Screencast with No Lag Screen Recorder?
FlexClip is the simplest screen recording app without lag. To reduce lag with the best performance of screencast, we suggest you close all unused Windows & apps, and then launch online FlexClip screen recorder - https://www.flexclip.com/tools/screen-recorder/.
Step One, Have a click on [Start Recording], it will ask you to choose your audio for recording. As of audio, 3 options are available - Microphone, System Audio, and No Audio. Then, press the button of [Click to Start Recording].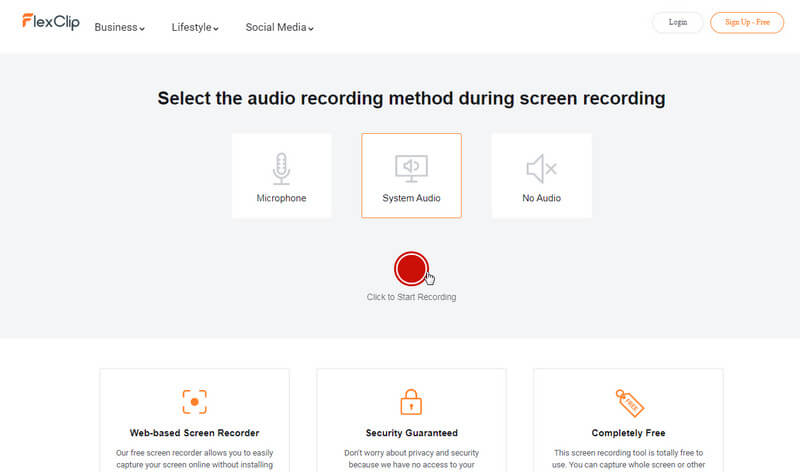 Image: Choose Audio for Screencast.
Step Two, Choose what part to record. The free online FlexClip screen recorder offers you 3 screening - [Your Entire Screen], [Application Window], or [Chrome Tab].
[Your Entire Screen] - If you want to capture full screen, go this option.
[Application Window] - You'll find all active applications displayed here, just choose one of them to start your recording.
[Chrome Tab] - If you've visited several websites via Chrome browser, [Chrome Tab] will list them all for screencast.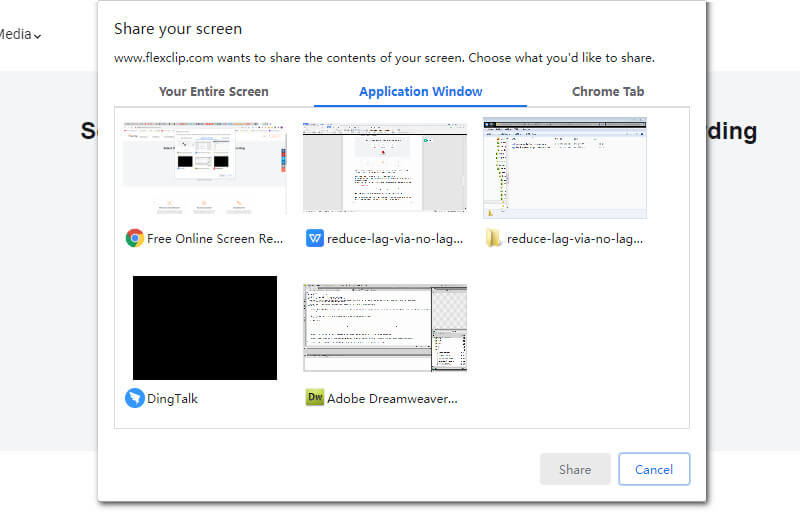 Image: Choose a Screen or Windows to Capture.
After you've selected where to shoot, it'll begin screen capturing automatically.
Step Three, Record the screen without lag, and stop your recording when finished.
Step Four, Preview, edit and download your screencast. If you've made some mistakes, you can [Re-cord] the screen, or choose [Edit This Screencast Now] to cut out the mistakes.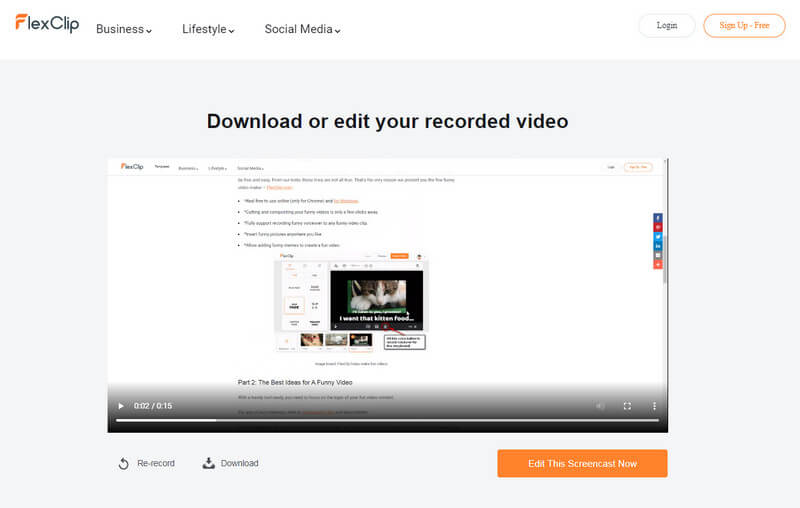 Image: Preview Your Recording.
How to Edit Your Screencast? - Of course, you can make many more great edits with its free screencast editor: For example, zoom in/out, rotate the screening, add a logo, insert some video texts, use a video filter, or change its play speed, to name a few.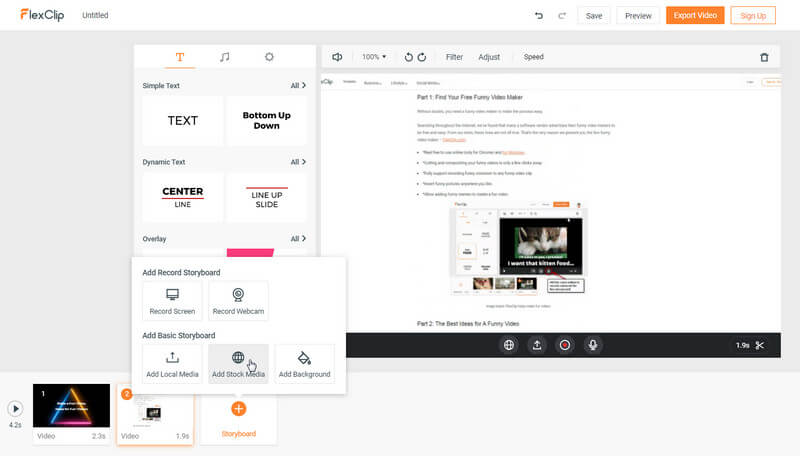 Image: How to Edit Your Screencast?
How to Make a Free Video with Screen Recording? - If you like, you can merge the screencast with other videos to produce a stunning video. FlexClip video editor makes it way easy: Just upload videos as storyboards, then you can switch orders, add transitions to create a cool video.
Part 4 - In All
It's easy to reduce lag for screen recording as long as you've found the right lag-free screen recorder. FlexClip no lag screen recorder excels at capture performance with easiness and superb user-experience.