Boomerangs are cute and extremely fun; that is the reason today's youth held them in high regard and use them with absolute interest. The feature of recording the shortest few-second videos to capture random movements has taken over the internet since it was released.
But the heartbreaking situation is when you record a video in portrait mode, and your phone's camera brings out the final result in another orientation. It makes the video comes out sideways or sometimes upside down. So, the need to rotate a boomerang video is extreme to set the direction right.
Suppose you are also stuck with the cutest boomerang recorded in the wrong orientation and wish to learn how to rotate a boomerang video. In that case, we bring you the five easiest ways to rotate a boomerang video online without wasting a minute.
Can't Miss: 3 Easy Ways to Create a Boomerang from Existing Videos>
How to Rotate a Boomerang Video Online
How to Rotate a Boomerang Video Online
Rotating a boomerang video online is a treat when using the powerful software mentioned below. Let's see how innovative this software is.
Method 1: Rotate a Boomerang Video Online with FlexClip
The most remarkable thing about FlexClip is that you do not need to download this tool, and it's free and the most versatile online video editor available. It gives an amazing user-friendly experience and has some of the most remarkable features to correct the mishaps in your videos.
All the primary features of FlexClip are available free of cost and simple to ace. It allows all levels of editors to enjoy professional-quality features without any limitation.
Key Features of FlexClip
Can handle all types of images and videos in different formats.
Add royalty-free music to your videos.
Numerous
transition
effects, filters, fantastic video modes,
audio effects
, and much more enrich your content with pleasing elements.
How to Rotate a Boomerang Video Online with FlexClip
Below are the rough steps for rotating a boomerang video with FlexClip; please complete them in more detail in your words.
Step 1
Upload the Boomerang to FlexClip
You can either drag and drop your boomerang directly on the main interface of the FlexClip or browse videos from your library. FlexClip online video rotator supports MP4 (H264), MOV, WEBM, and M4V to be rotated and flipped. Once you upload the video, it will be automatically added to the timeline for editing.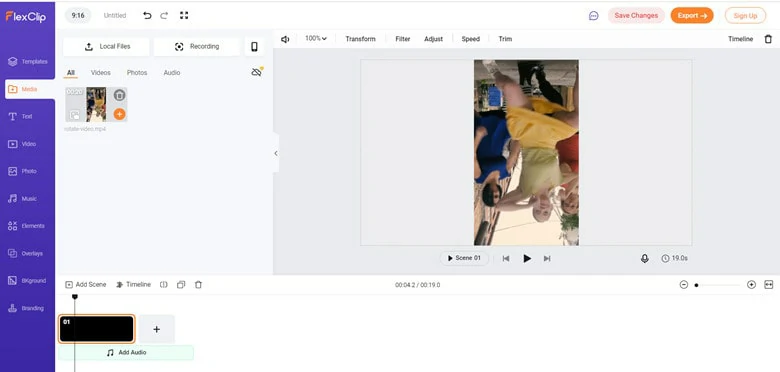 Upload Your Boomerang Video to FlexClip
Step 2
Rotate the Boomerang Video
Now click on the Transform button on top, and then you can rotate a video in a clockwise or anti-clockwise direction. Each click prostate the video 90 degrees. Rotate the video according to your requirements.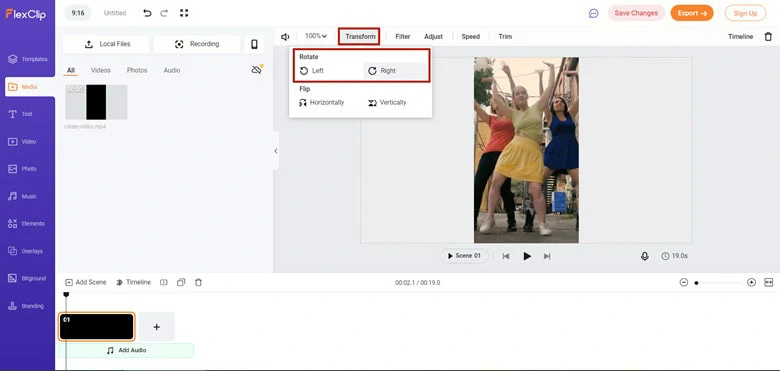 Rotate the Boomerang Video
Step 3
(Optional) Make more edits
You can also add filters, transitions, stickers, texts, and other elements to enhance your video's creativity further. You can even flip your video upside down by using their Flip tool.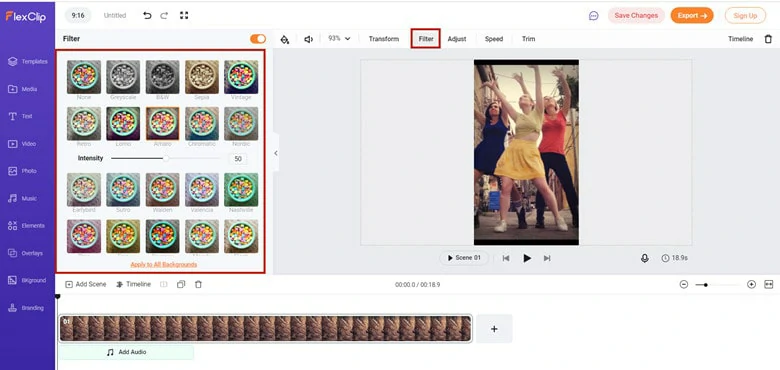 Add Filter to Your RotatedBoomerang Video
Step 4
Save your rotated boomerang video
Once satisfied with the final results, export the video as an MP4 to your local computer, or you can directly share it with Dropbox, YouTube, and Google Drive. FlexClip also generated a clickable link and embedded code for easier sharing.
Method 2: Rotate a Boomerang Video Online with Ezgif
Ezgif.com is a free online editor and one of the simplest toolsets you will ever come across. It was primarily launched for creating and editing animated GIFs; therefore, you can conveniently edit your boomerangs on this software. Moreover, the platform also supports editing and conversions to a large variety of file formats, including animated WebP, PNG, MNG, and FLIF, up to 100MB in size. Their most popular online tools are GIF maker, video to GIF converter, and the image resizer.
How to Rotate a Boomerang Video Online with Ezgif
Follow the following steps to rotate a boomerang video online with Ezgif.
Step 1
Visit the official website of Ezgif on your favorite web browser.
Step 2
Upload your file from your device or directly taste a URL.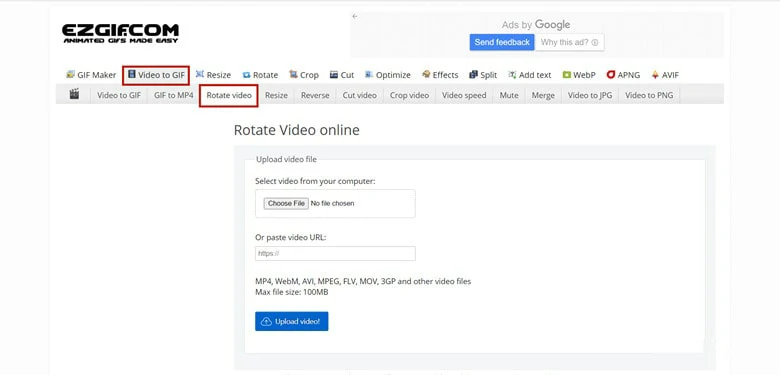 Upload Your Boomerang Video to Ezgif
Step 3
Choose the rotation options and click on the Rotate video button.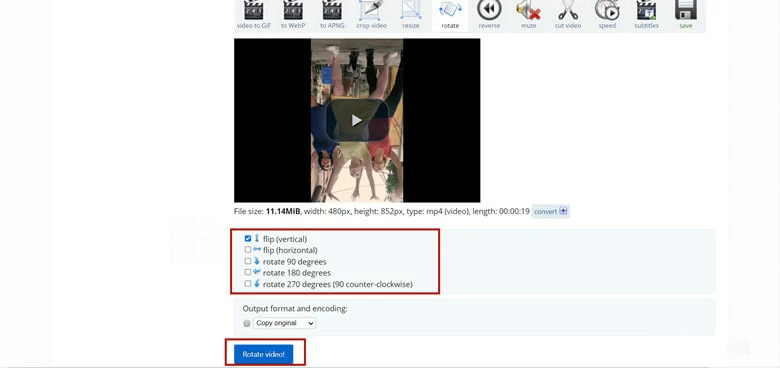 Upload Your Boomerang Video with Ezgif
Your permanently rotated video file is ready. Please share it on your Instagram, Facebook, and other platforms with extreme ease.
Method 3: Rotate a Boomerang Video Online with Clideo
Clideo is a unique platform that makes it easy to create and edit all video files, GIFs, and images in one place. The tool has a versatile set of video editing features like merging, compressing, resizing, slideshow, crop, rotating, and more. Its video rotation tool works with popular formats such as MP4, MOV, WMV, VOB, AVI, etc.
You can access the tool directly from your web browser.
How to Rotate a Boomerang Video Online with Clideo
Step 1
1.Add a video, a movie, or a clip you want to rotate from your computer, phone, Google Drive, or Dropbox. The tool allows you to upload files up to 500 MB for free.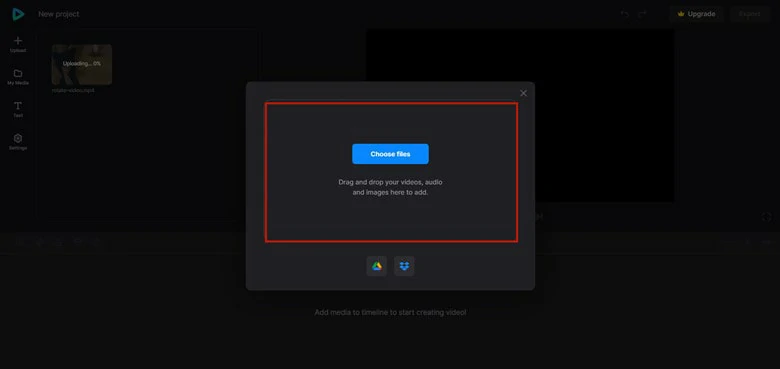 Upload Your Boomerang Video to Clideo
Step 2
First of all, rotate the upside-down video. After that, choose an output format for the file. Note that it's better to pick MP4 if you're editing from your Android or iPhone. Click "Export," and it will process your video.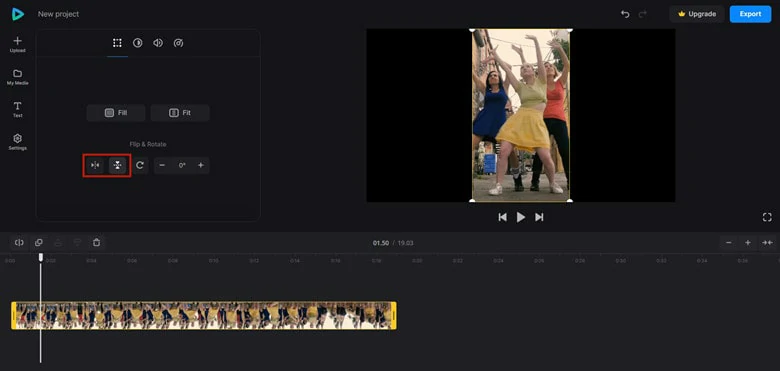 Upload Your Boomerang Video with Clideo
Step 3
Watch the video to make sure you get what you want. Now you can save it to your PC with the help of the Download button. If it's necessary, save it to Google Drive or Dropbox.
Method 4: Rotate a Boomerang Video Online with Veed
Veed is a quick, easy-to-use, free tool to give your video orientation the right fix. This video editing software allows you to flip your videos online only. Along with flipping the video right, you can invert and change the videos from horizontal to vertical and vice versa. It can support most file formats, including GIF, MOV, and AVI, and can set the video ratios accordingly. The software even allows for direct sharing to your social media accounts.
How to Rotate a Boomerang Video Online with Veed
Step 1
1.Select a file to upload from your computer or phone, or paste the URL of the video you wish to rotate. Please wait for the video to upload (it may take a minute, depending on the file size).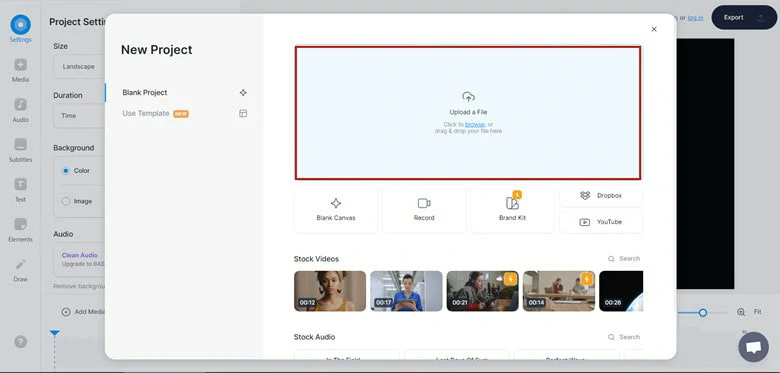 Upload Your Boomerang Video to Veed
Step 2
2.Once the video is done uploading, you can click on the image, and a rotating button will appear above. Use this button to drag your video into the desired orientation. Or you can go to the 'Adjust' tab, where you can use the slider or specify an exact rotation angle.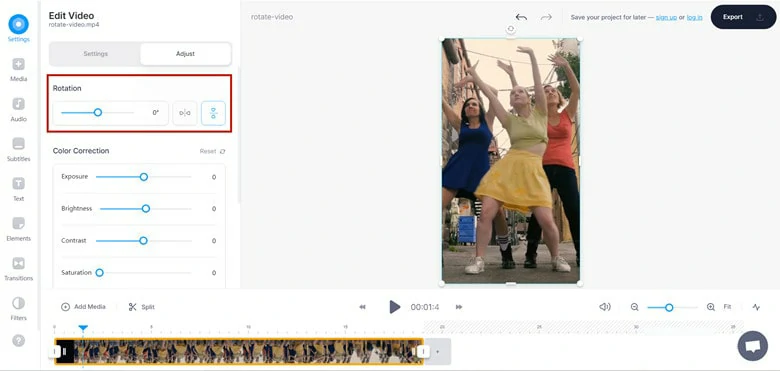 Upload Your Boomerang Video with Veed
Step 3
Once you are satisfied with the changes, click 'Export,' and it will save the new rotated video to your computer or phone.
Method 5: Rotate a Boomerang Video Online with Clipchamp
Clipchamp is a solid video editor for creators and business professionals who need to make videos. It's basic enough to jump straight into but has enough features to make more complex videos. Its integrations with cloud services, stock libraries, and graphics options make it easy to bring in the content you want for your videos.
How to Rotate a Boomerang Video Online with Clipchamp
Step 1
If you already have a Clipchamp account, log in to get started. If you're new, sign up for free!
Step 2
Then click on the + Create a Video purple button at the top right corner of your screen. The editor will automatically open. You can change the video ratio by clicking on one of the 6 video ratios. Rename your video project by clicking the Untitled Project box.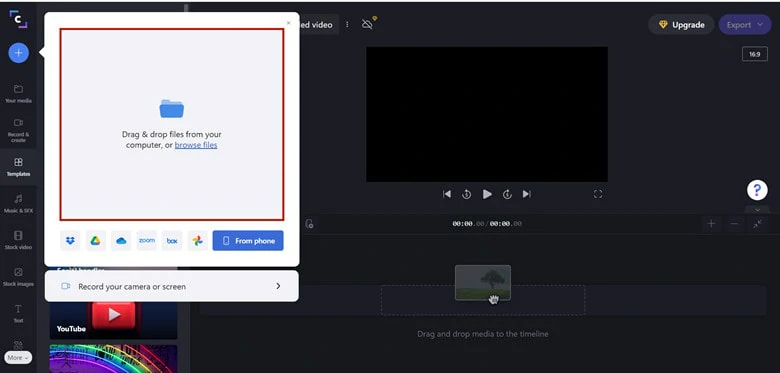 Upload Your Boomerang Video to Clipchamp
Step 3
To upload your video footage, click the + white button on the left sidebar. Select the video clips you would like to rotate. Your video footage will appear in the My Media tab. You can alternatively drag and drop your video files into the library. To add your video to your timeline, drag and drop your video clip from the library to the timeline.
Step 4
Click on your video on the timeline. It will highlight your video with a green border. Click on the transform tab to open the rotation options. Under Rotate, click on the arrows to rotate your clip. Under Flip, you can also flip your clip if desired.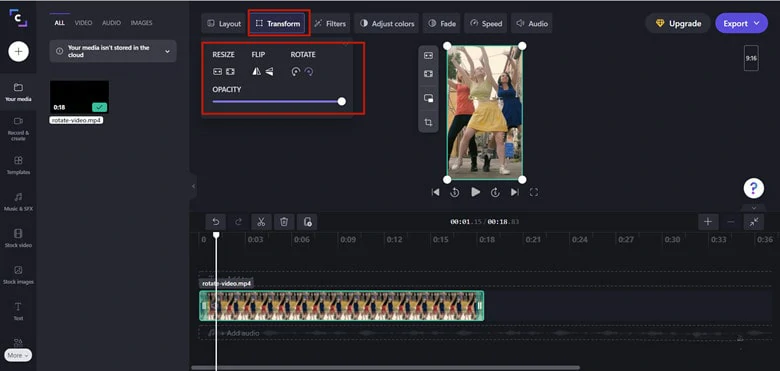 Upload Your Boomerang Video with Clipchamp
Step 5
Click on the purple → Export button in the top right corner of the editor. Choose your saving resolution and compression. For this video, click 720p resolution and compression for a fast upload speed. Click Continue when ready to save.
The Bottom Line
To rotate boomerang online, you will find numerous editing software, but very few can live up to our expectations. Out of those, FlexClip is one of those tools that amazed us with its highly professional photos and video editing tools. If you are in a rush and wish to get work done quickly and perfectly, then there's no software better than FlexClip. Do remember to give it a try!