Live photos happen to be a fantastic feature of the world-famous iPhone camera. Live photos work in a way that they allow you to pick the exact frame that you wish to save as a photo by capturing a little snippet when you tap the shutter button.
It is not known by many people, but a live photo can do more than what's mentioned above. You must be familiar with the boomerang effect in the famous social media platform, Instagram. Well, these live photos that you have saved in your phone's gallery can actually be converted into Instagram boomerangs.
So, if you're wondering how to turn a live photo into boomerang, we have listed down some of the methods that can help you out in doing so
Method 1: Use iPhones Photos App's Bounce Feature
The first method that you can use for turning live photo to boomerang is the bounce feature in the default Photos app of the iPhone. Here are the steps that you would be required to follow in this method.
Step 1
Head over to the camera roll in your Photos App and tap on the live photo that you wish to convert into a boomerang.
Step 2
Swipe up and tap on the "Bounce" effect, doing so will automatically convert your live photo into a boomerang.
Step 3
After applying the "Bounce" effect, it is mandatory to convert it into a video file if you wish to upload it on Instagram. For that, either use the share option and send the boomerang to a computer where it will be saved as a ".MOV" file or save it to your phone's files.
Step 4
Launch the Instagram app and upload the boomerang from your phone's files. Yup, it's that simple!
Method 2: Share Live Photo to Instagram Story Directly
If you don't wish to go through the effort of using the bounce effect, you should also know that you can directly share live photos to the Instagram story. However, to do that, you would have to check that not only your Instagram is running on the latest version but also the Live Photos option is enabled in the camera app, and the photo you want to upload is captured with Live Photos enabled. If you're wondering how to make a live photo a boomerang, here are the steps that you need to follow.
Step 1
Once you've checked all the boxes, you are requested to open the Instagram app and swipe right when you see the feed.
Step 2
Then, as the Instagram camera opens, swipe up to see the photos available in the phone's library.
Step 3
Now, scroll through and look for a boomerang icon (the infinity symbol) on the photos. These are the photos that you can convert to boomerang.
Step 4
Choose your desired photo, and now you'll be on the boomerang editing screen where you can either keep it in classic mode or can try various other modes such as Duo, Echo, and Slo-Mo, etc. In addition to that, you will also have the option to trim the video by using the scrubber that is present at the bottom of the screen.
Step 5
Once you're done with the editing process, tap on the "Done" button and save the boomerang.
Step 6
Now, add stickers or text if you want to, and then add it to your story.
Method 3: Turn a Live Photo to Boomerang & Save
Yet another fantastic method for making boomerang videos is to turn live photos into a gif and then post them on your story. Sometimes, this can be a confusing task for many people, but with the right tool, you would be able to crack your way through the process without going through much trouble. Luckily, FlexClip offers you the right GIF conversion tool to perform the task without any hassle. Here is what you would be required to do if you wish to know how to boomerang a live photo.
Step 1
Head over to the camera roll and apply the "Bounce" effect on your desired live photo.
Step 2
After converting it, you need to save it as a boomerang by sending the photo to any computer or by saving it in your phone's files.
Step 3
Now it's time for you to convert it to GIF with FlexClip, so open the website of FlexClip and upload your video by clicking on "Open a blank project."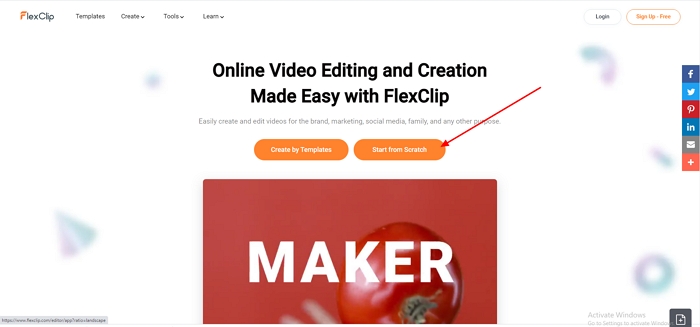 Image Board:Turn a Live Photo to Boomerang & Save - Step 3
Step 4
Once uploaded, make any desired edits, such as the addition of text and the change of speed, etc.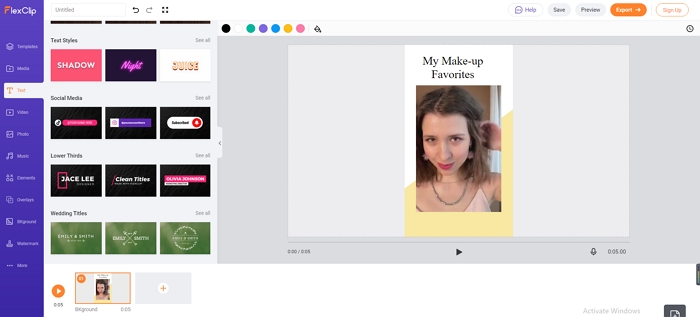 Image Board:Turn a Live Photo to Boomerang & Save - Step 4
Step 5
When all the edits are made, and you're satisfied with the GIF, click on the "Export" button, and export it as GIF.

Image Board:Turn a Live Photo to Boomerang & Save - Step 5
Bottom line
Editing your videos and knowing how to crop them into a square or circle is a great tool that will help you especially with digital marketing. The tips and tools recommended above are simple yet powerful tools that you can use to edit your videos.
FlexClip is easy to use if you want to quickly edit your video into a square or circle. Additionally, it has so many other features that you can use like resizing, adding filters, editing, changing of aspect ratio, and adding effects and transitions. Do remember to give it a try!
Whether you want to create professional videos for your marketing campaigns or fun and personal videos to share with your family and friends, FlexClip has all the tools you'll need. Turn your creativity into captivating and scroll-stopping videos to share online.
Click here to try out the numerous features available at FlexClip and upgrade your video content today!