Believe it or not, there are moments when you will need to either crop out an image or prefer your video to attain a specific size to suit your preference. The thing is, to resize video for TikTok can mean a different thing for different people; while some TikTok users will want to maintain a particular video shape, others prefer using it to hide unwanted images in the video, hence, cropping it out. While on this, you can still adjust the video frame, or add black borders to the video.
Although resizing videos for TikTok is easy, it can go wrong if you don't get it right; worst-case scenario, cutting off some part of your video. This is why we have created a step-by-step guide on how you can go about resizing your TikTok videos and getting to know the best video resizer for TikTok you can use to achieve the best result.
How to Resize Video for TikTok Online for Free
The type of tool you use while resizing your TikTok video matters a lot. FlexClip is an online video resizer for TikTok, used by thousands of TikTok users worldwide. Some of the advantages of FlexClip include that it supports resizing videos in all aspects on TikTok, it comes with an automatic padding refill, it also provides you with numerous royalty-free videos, photos, music resources to level up your video, and most interestingly, there is no need to download the tool before use. Below are steps to follow to get the resizing process right:
Step 1
Drag and drop your videos to the media section and apply them to the storyboard.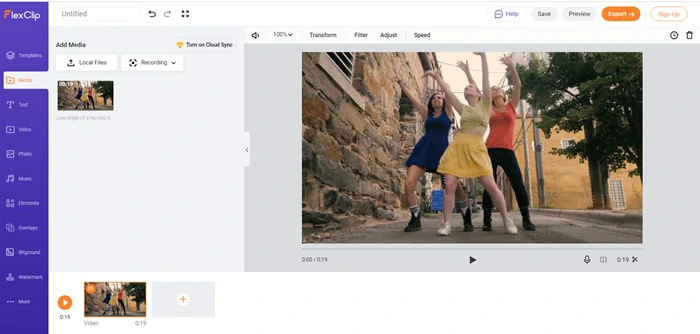 Upload Your Media Resources
Step 2
Go to the More section, choose 9:16 as your preferred aspect ratio.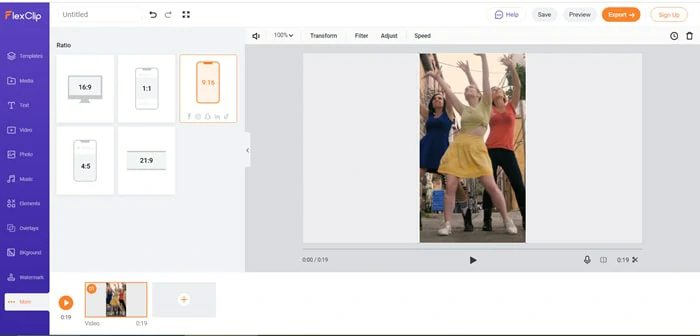 Change Video Aspect Ratio as 9:16
Step 3
Drag and drop, and make sure all your videos are in the center.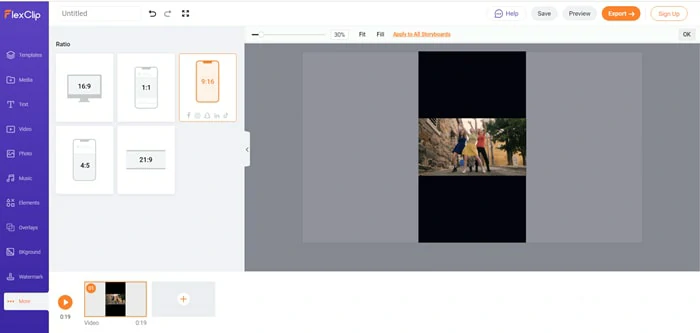 Drag and Drop to Cover All Videos
Step 4
Click on the blank space, and select a color that suits your preference to fill the margin.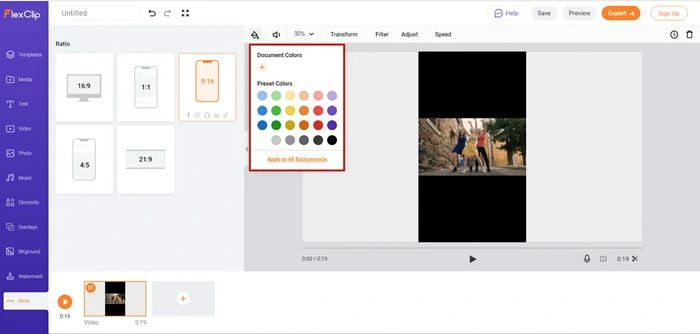 Change the Background Color
Step 5
Save and Download. And you are done.
How to Resize Video for TikTok On Desktop for Free
VSDC is a free video editor tool to process high-resolution video footage like 3D, VR 360 degrees, and 4k UHD video. Below, we have created a guide to help you create a guide that will help you resize your TikTok videos using the VSDC tool, especially when you are on a desktop. Continue.
Step 1
Open your VSDC tool. Click on "Custom Region."
Step 2
At that point, a new window will pop up; click on the area of the video you wish to crop.
Step 3
Highlight it, hold and drag the selected region of the video. That way, you will decide what stays and what doesn't after you are done cropping.
Step 4
Zoom in the highlighted area after you are done cropping the video using multiple objects provided on the tool.
Step 5
You can scroll back and forth to see how your cropped video looks.
Step 6
Then apply the alignment and set your preferred video size using the "Set the original size" button. While doing this, make sure it corresponds with the image or the video scene ratio.
Step 7
Finally, use the "Properties window" button located at the right-hand side to crop the border manually to change their position.
Step 8
Proceed to your Tiktok account and upload, like you are uploading your normal video.
Note: In a case where you notice that the Properties window didn't automatically open, right-click on the video, then select "Properties" from the menu that will appear.
How to edit TikTok videos in VSDC Free Video Editor
How to Resize Video for TikTok on Phone
InShot has grown to become a household name in the video and photo editing among professional graphic designers. This app also allows users to add transition effects, emojis, text, music, blur backgrounds, filters, etc. To their image or video contents. It has gained popularity among Tiktok users, especially in the aspect of resizing videos. Again, we have created a guide to help you resize your TikTok videos, but this time with the InShot app.
Step 1
Open your InShot app on your smartphone device.
Step 2
Tap the "Video" button located at the bottom. Select the video you want to addict and tap on the arrow icon.
Step 3
Tap the Crop option, then proceed to resize your video by dragging the lines from its edges. Tap the arrow icon at the bottom right when you are done.
Step 4
Click on the Save button located at the top right side of your phone screen. And you are done.
The Bottom Line
As you can see, to come out with a perfect resized video, you need a perfect video resizer. This is why you need to consider using FlexClip: the best tool for resizing Tiktok videos. Finally, you can also deploy this tool to add speed, filters, or emojis to your videos. Give it a try!
Simple Tiktok Outro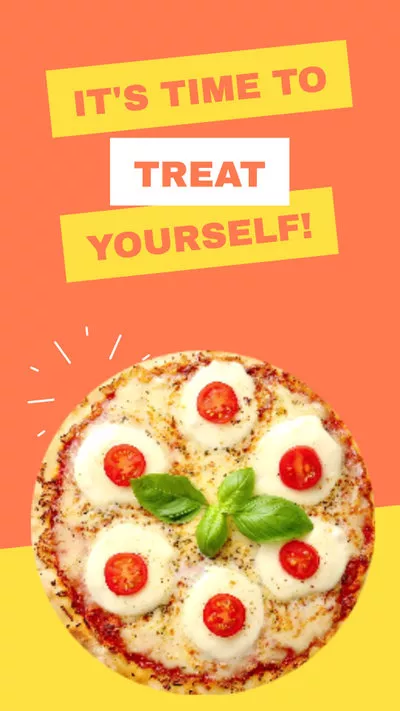 Tiktok Food Ad