You must have found yourself in a situation where your video doesn't correspond with the type of music playing in the background. It's like playing blues at a reggae party: very unfitting. When things like this happen, the need to change it arises. As a video blogger, you need to get the background music right: it's another way to get your audience captivated throughout the video playing session.
But to get it right with your background music, you need a good online video background music changer. But you may have a hard time finding the right one because there are many of them out there. In a bid to help you find the right one, we have made a list of some recommended background music changer tools you can choose from. Please follow.
Can't Miss: 5 Tools to Easily Change Background Music of Video>
Best Online Video Background Music Changers
Best Online Video Background Music Changers
1. FlexClip
FlexClip is popular for editing videos and images. It is also made to be one of the best Video background audio changers online. This tool comes with an easy replacement feature: you can actually mute the video and set another audio file as background music. Again, you can as well add multiple audio files in one video if you wish. Its other unique features include rich royalty-free audio resources, volume adjustment, and voice over.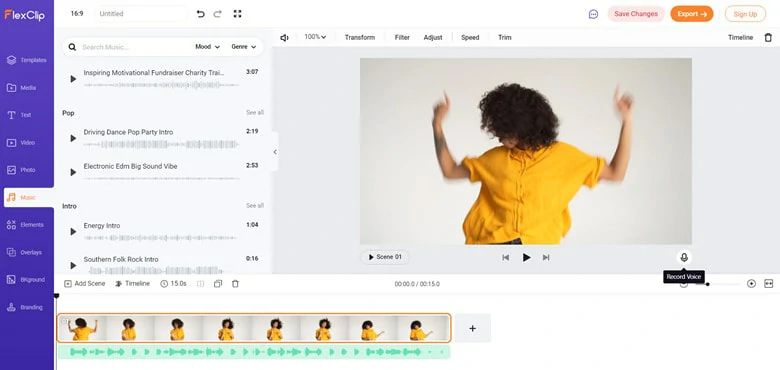 Best Online Video Background Music Changer - FlexClip
2. Clideo
Clideo has been around for a while now and has proven to be one of the best background music changer in the market. After much review of this tool, we have come out with a few unique features that come with it. Some of them include an easy-to-use interface, which comes with a free music resource that gives you a wide option. Again, it also comes with a video maker and video cutter and also has the ability to compress, merge, or edit videos.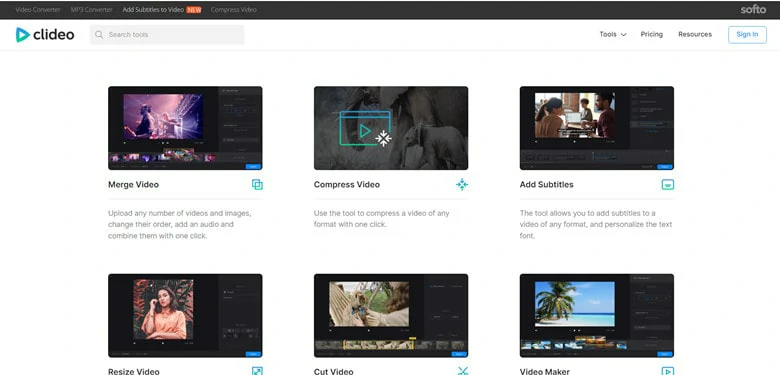 Best Online Video Background Music Changer - Clideo
3. Kapwing
Aside from having an easy-to-use interface, Kapwing comes with an AI technology which helps it perform a video editing task faster than the rest of the tools. It comes with an auto-subtitles generator and removes and adds a background music feature. Although Kapwing is free, not all the services. You will get to use this service for free for the next one month, after which you will get to subscribe for $16 per month annually. Normally, Kapwing does add watermarks unless you log in as a member.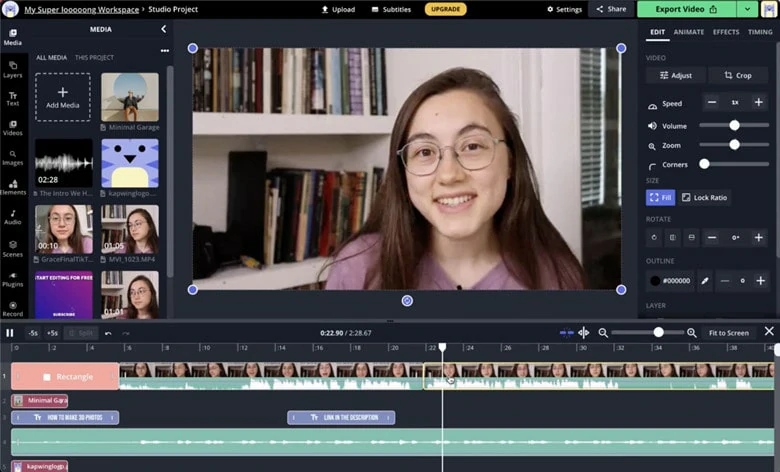 Best Online Video Background Music Changer - Kawping
4. Flixier
Fixer is another good tool to help you change your background music with ease. Aside from being one of the fastest video editors, edit recordings. It comes with cloud sharing technology that enables users to share their projects easily. You can also easily combine transitions and add motion text and sound to your videos. Fixer is not free, users are meant to pay from $10-$25 per month, and each price comes with a different package. For $25 customers, they get to enjoy Unlimited Projects, Unlimited Downloads, 4K Ultra HD resolution, etc. And for $10 users, they will be getting Unlimited Projects, Unlimited Downloads, Export Quality - 1080p HD, etc. And don't worry about watermarks; there are none.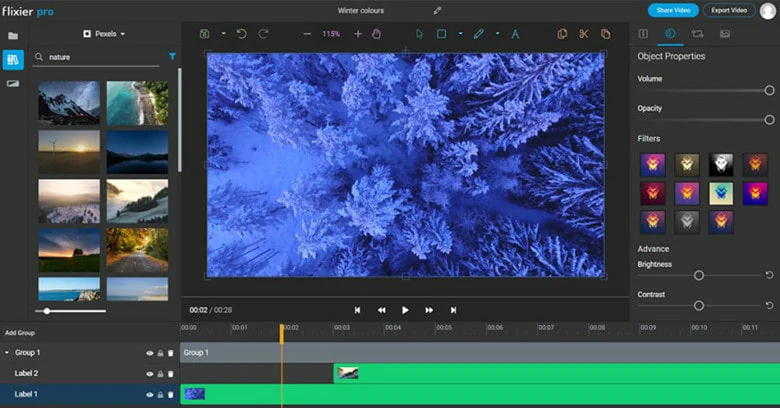 Best Online Video Background Music Changer - Flixier
5. Veed
Veed has proven to be one of the best tools to make videos in just few clicks. You can also crop, cut, trim, add subtitles, and many more. The fun thing about Veed is that you don't need to sign up for an account before using it. Aside from not having a watermark, users can still try it for free, although they have subscription services. For free plan users, you will get to have a watermark by the side of your screen. Although you can choose from the many background music on the platform, Veed doesn't have an audio editing feature. Their pricing ranges from Basic: $18/month and Pro: 30/month. And for those who need an Enterprise plan, you have to contact the company from the contact section provided.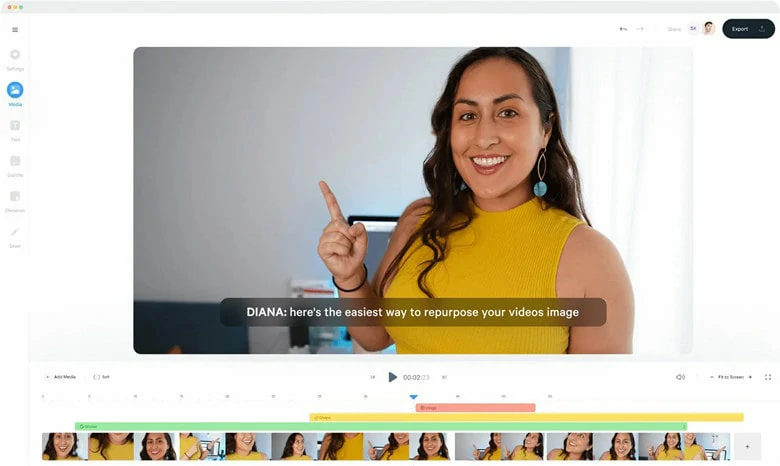 Best Online Video Background Music Changer - Veed
6. Invideo
This is one of the few online tools that doesn't only allow you to change background music; it also allows users to edit videos and contains over 5000 templates, a massive music library, transitions, iStock media, and free editable video templates, filers, etc. Aside from its simple design, which made it extremely easy for users, Invideo comes with a subscription plan. They have created three plans: a free plan which costs $0, a Business plan, which costs $15/month, and the Unlimited plan, which costs $30. Each plan comes with its unique package, and there are no watermarks in the paid plans.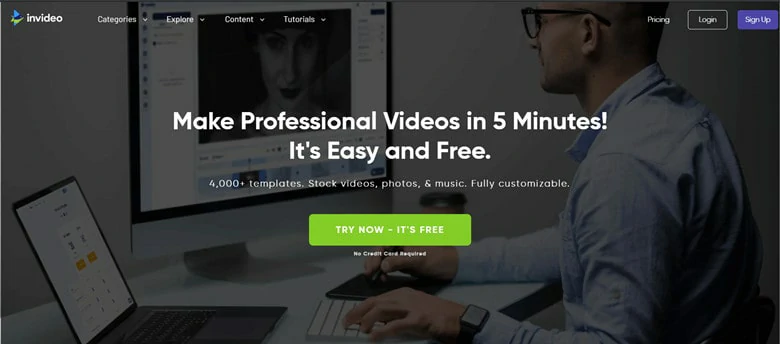 Best Online Video Background Music Changer - Invideo
7. Animoto
Animoto also allows users to create, edit and share their videos on the platform. With Animoto, you can as well create a free video slideshow and have access to hundreds of templates for free. But not all their services are free; they have three paid plans: Basic: €7/month, Professional: €14/month, and Professional Plus: €420/year, but billed at €35/month. As for watermarks, the free plan has watermarks, unlike the paid plans.
Best Online Video Background Music Changer - Animoto
The Bottom Line
Although there are other good online video background music changers out there, the ones we have mentioned above are recommended based on reviews from users. But most importantly, we will recommend you try out FlexClip, which has generated more positive feedback from its global users. So, go ahead, like and share this post if you find it useful.