This guide outlines how to add multiple songs to video with three workable solutions. No software download needed. Keep reading to know more!
Still making video with monotony soundtrack? Your audience is dozing off!It's time to get them interested with multiple songs in your video.
Be it a playlist for YouTube, a TikTok mashup or a storytelling video, it's necessary to add multiple songs to make your video engaging. Additionally, video editing is more about sound edits as it makes your video stand out using multiple soundtracks and effects. But how to add multiple songs to your video? Here it shows three ways to add multiple soundtracks in your video for free. Let's explore it more!
Free and Customizable Templates with Multiple Sound Tracks for You:
Purple Lyrics Template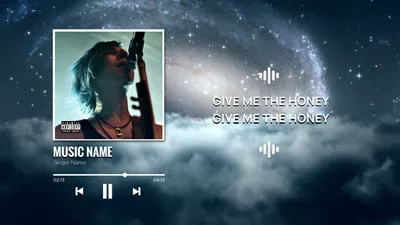 Music Player Live Stream Lyric
Lyric Video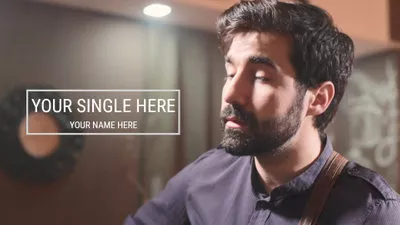 Song Lyric
Learn More: What's the Meaning and Best Video Resolution?
[Recommended] How to Add Multiple Sound Tracks to a Video Online for All Computer Systems
FlexClip is an online video maker specialized in offering the easiest video and audio making-solution. To add multiple songs in one video, FlexClip provides a wide range of sounds you may be looking to add to a video, a list that includes music, sound effects, voiceovers, podcasts, and interviews.
Besides offering the multiple songs adding function, it also allows you to make personalized adjustments with ease like rearranging audio files sequences, adjusting each volume level, splitting any audio clips etc.
Step 1
Select Timeline Mode to Enter the Operation Interface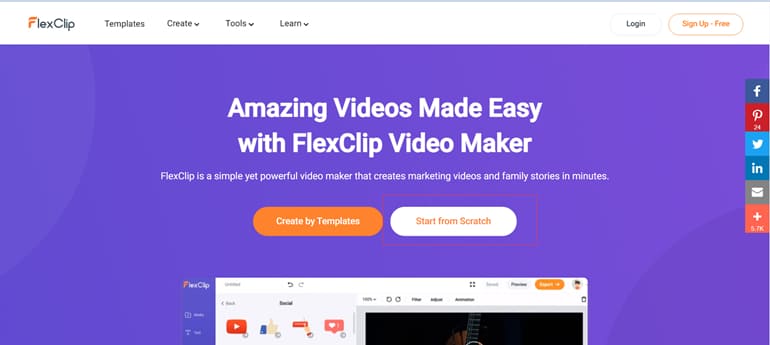 Start to Solve How to Add Multiple Songs to Video
Visit www.flexclip.com and directly click the Start from Scratch button and choose Timeline Mode as your preference.
Step 2
Upload Local Files to FlexClip
Upload all the media files to our platform in advance so that you can operate easily. If you need more media resources, photo, video and audio files are all available in the Media stock. Relevant audios and videos are better for making a cohesive video with multiple songs.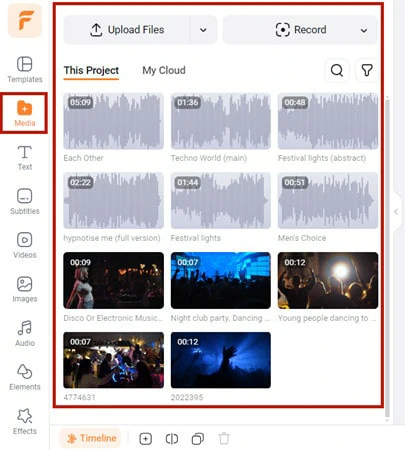 Upload Files Related to How to Add Multiple Songs to a Video
Step 3
Drag Video and Audio File to the Timeline Area
Drag all the related video and audio files to the timeline area. There is no limit on number of files so that you can add sound tracks as many as you like. Then freely arrange the sequence to keep the consistency of the whole video.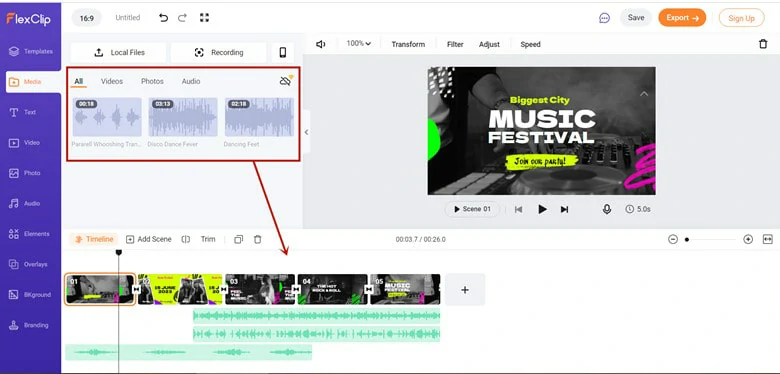 Drag All Files to Add Multiple Songs to the Video
Step 4
Customize the Length of Clip
Each music file will be displayed with a layer on the screen. You can drag the layer bar from the end to any point, where you want the music to start. Adjust the volume of each song to the proper level. Moreover, split any unwanted clip and apply the fading in/out function at will.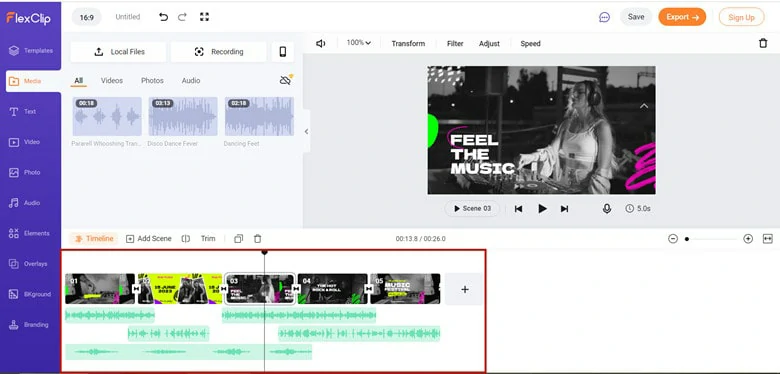 Adjust the Length of Multiple Songs in a Video
Step 5
Add Elements to the Video
If necessary, you can add extra elements to the video. Illustrative texts to make the content clear, suitable icons to animate the theme and cool effects to produce more eye-catching videos.
Add Elements to Perfect Your Video with Multiple Sound Tracks
Step 6
Export and Share Video
Click the Export icon to save videos to a local folder with desired video resolution. After download the video, share it to your YouTube channel or any social media platforms.
Stunning Song Video Templates You Can Edit for Free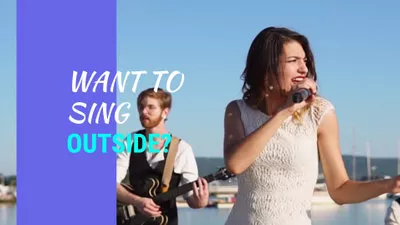 University Music Day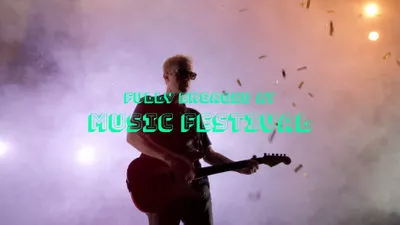 Music Festival
How to Add Multiple Songs in One Video on Windows with Windows Video Editor
If you're holding a computer running Windows 10 system, you can simply use Windows Video Editor to add multiple songs in a video. As an inborn program, it acts not only as a photo management tool but also a basic video editor. With this application, you can optionally speed up, trim, split the video with multiple songs. Detailed steps are shown as below.
Step 1
Search Windows Video Editor on your computer
Search Windows Video Editor on your computer and open it. If you can't find it, please upgrade your computer system to Windows 10.
Step 2
Make Further Preparation
In the New video area interface > select New video project option > Name your video in advance.
Click "+" button to import videos from your PC, collection or the Web and drag videos to Storyboard panel. Then move to the upper right area to add music with two options: Background music (build-in) and Custom audio (insert as you like).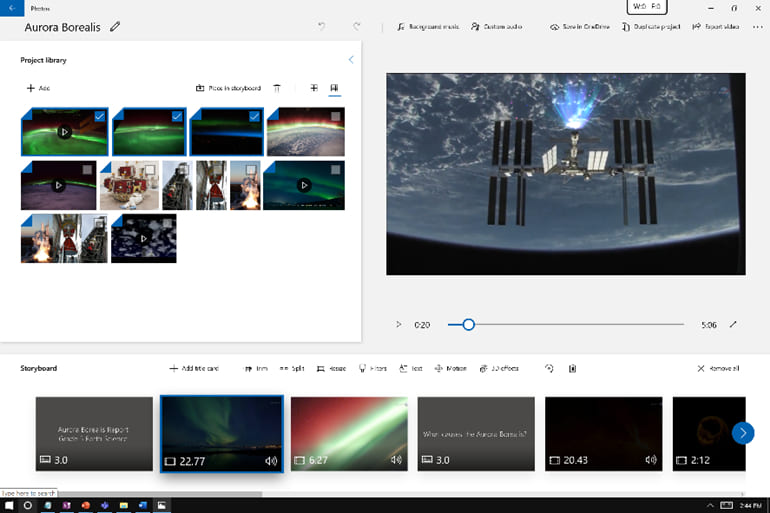 How to Add Multiple Songs to Video with Windows Video Editor
Step 4
Edit, Export and Share Video
Customize the video with songs by rearranging, splitting or speeding up to perfect the video. After that export and share your video with great ease.
How to Add Multiple Songs to Video on Mac with iMovie
Now iMovie should already be on your Mac since it comes with every Mac. It provides powerful video editing function as a bonus for Mac users, offering audio, video and photo editing features. Therefore, it's competent for adding multiple songs to a video and let's see how it works.
Step 1
Open iMovie on Your Mac
Run iMovie on your Mac and enter the main interface. Press "+" to start a movie project with Movie option.
Step 2
Import Related Media Resources
Import video media resources and drag them to the Timeline panel. You can change the video sequence as you like.
Step 3
Customize the Length of Clip
To add music to iMovie, access the Audio area to import songs from the Music library, Sound Effects or GarageBand.
How to Add Multiple Songs to Video with iMovie
Step 4
Adjust the video with the help of noise reduction, speeding up and more.
Step 5
Export the video with multiple sound tracks to social media or your local drive.
The Bottom Line
This article focuses on the topic - how to add multiple songs to video and offers three useful ways accordingly. Windows Video Editor is suitable for Windows 10 users, requiring basic editing functions. While iMovie is ideal to Mac users with editing experience already.
However, we still suggest you to match that goal with FlexClip - free music video maker. It helps you produce professional looking music video in a few clicks. Give this online video editor a try and you won't feel down!