Music is essential for most kinds of videos and movies, setting the tone of your video, making it more attractive, and iMovie projects are no different.
However, there are some restrictions to adding music to iMovie from your favorite music artist, especially when using Apple Music or Spotify music.
In this article, we'll show you how to add any music track to iMovie on the iPhone; both Apple Music and Spotify Music are included.
Also Read: How to Add Text to iMovie on iPhone/iPad/Mac - Add Multiple Texts Included >
Part 1 Add Music to iMovie from Its Soundtrack Library
Let's first check how to add the built-in music track to iMovie from its soundtrack library.
Step 1
Launch iMovie on your iPhone and create a new project or open an existing project.
Step 2
After adding footage to iMovie, tap on the "+" button, then tap the "Audio" tab and select the "Soundtrack".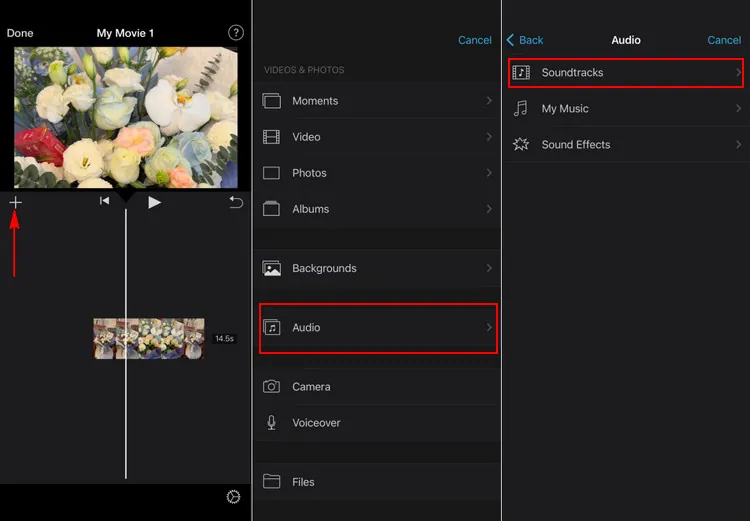 Add Music to iMovie from Its Soundtrack Library - Step 2
Step 3
Now, you can pick any royalty-free music from the soundtrack library. Simply tap on any song to preview them and choose the one you like.
Add Music to iMovie from Its Soundtrack Library - Step 3
Step 4
When you find the desired one, tap the "+" icon to add it to your project.
Notice: Keep in mind that although those audio tracks are royalty-free, they can still present you with the copyright issue, especially if you're uploading the project to YouTube.
Quick Tips:
How to Layer and Overlap Audio in iMovie >
How to Change Aspect Ratio in iMovie [Make iMovie 9:16 Included] >
Part 2 Add Music to iMovie from Your Favorite Artist
iMovie also allows you to add a song you've downloaded with the My Music option. Simply tap the "My Music" tab, and then you will see all your songs in your iPhone Music app listed here. However, most of the songs come with a forbidden cloud icon on the left, and if you tap it for adding, you'll get an error message saying, "Song Unavailable: This song is DRM protected and can't be used by iMovie".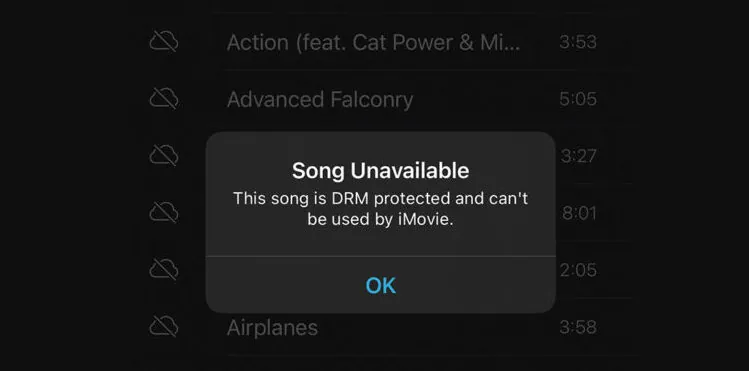 Song Unavailable Error Message
In fact, the error message comes with a large percentage of the songs you may have in your music library, even if you've purchased them!
So here, we'll share a smart workaround, i.e., record the song, to help you add almost any track, from Apple Music, Spotify, YouTube, or anywhere else, to your iMovie project.
Notice: Please note the workaround we'll share below is best suited to personal projects for private viewing, don't use copyrighted music on commercial projects. Also, you should avoid sharing a video with copyrighted music publicly, which may result in the audio being flagged for copyright infringement.
2.1 Recording the Song & Add to iMovie on iPhone Directly - Spotify Music and More
iPhone itself is built in a recording tool that can help you record songs from most streaming services, and you can rely on it to add any music track to your iMovie project.
To help you get the recording tool quickly, you can add it to your device's Control Center. Simply go to the "Setting" and tap on the "Control Center" tab, and enable the "Screen Recording" under the More Controls section by tab the green "+" icon.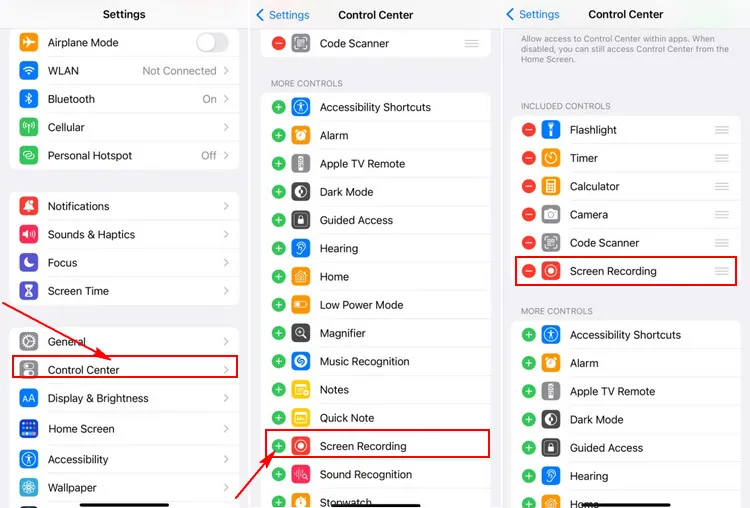 Enable Screen Recording Setting
Now, you can follow the steps below to record music and add it to your iMovie on your iPhone.
Step 1
Find the music you'd like to add from any app where you can play music, and get it queued up to the point in the song you want to use, but don't play the music yet!
Step 2
Swipe down to open Control Center on your iPhone, tap the Screen Recording button, and play the music. Wait until the song is finished(or the section you need), then stop recording. The video will be saved to your Photos app.
Step 3
Now, open the project you want to add music to in iMovie, and then tap the + icon to add new media and choose Video to find the recording in your Photos app.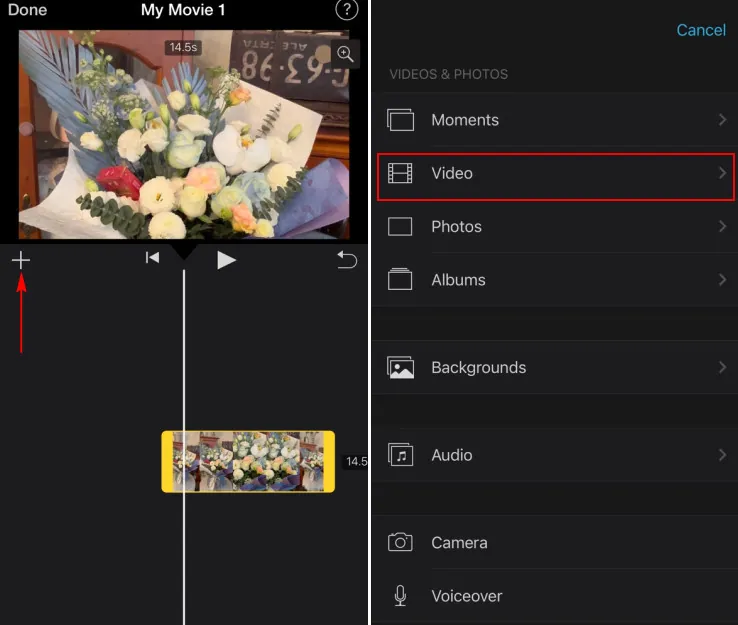 Recording the Song & Add to iMovie on iPhone - Step 3
Step 4
Once you find the recording, click it and choose the "…" icon to reveal a selection of bonus options, then select "Audio Only" to add just the audio from this video to your iMovie project.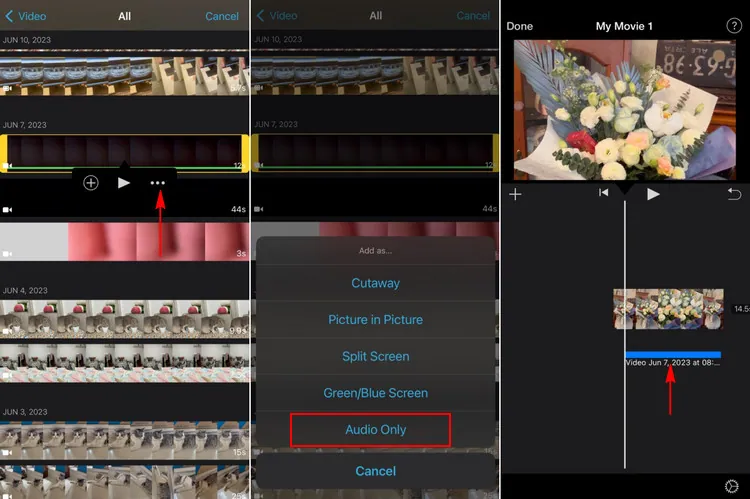 Recording the Song & Add to iMovie on iPhone - Step 4
2.2 Recording the Song & Add to Video with iMovie Alternative - Best for Apple Music
However, the audio is muted automatically when you start to screen record with Apple Music. That's because most tracks on Apple Music are DRM protected, so they will go silent. Then how can you add Apple Music to your iMovie project?
In this case, try a voiceover recording and video editing software, like FlexClip, on your computer to get around it!
FlexClip is a powerful online video editor that can help you record any voice or soundtrack, add it to your iMovie project, and then make any edit to level up your video.
Import files from mobile & third-party platforms - although the FlexClip doesn't work on the mobile device, it offers a media transfer feature to help you quickly import your iMovie project or any other footage from your iPhone, or you can directly upload files from Dropbox, Google Drive, and more platforms.
Royalty-free music is offered - it has a vast music library with a variety of music to add so that you can pick any music for your project. The best part of it is that this music library is free of charge.
Multiple audio tracks supported
- unlike iMovie, which only allows you to add one audio track by default, FlexClip allows you to
add multiple songs
, different sound effects and
overlap audio
to a video.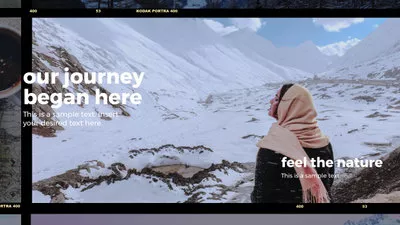 Cinematic Travel Story
Happy 10 Anniversary Collage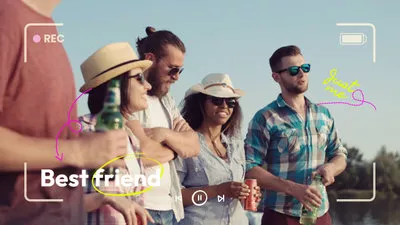 Graduation Summer Slideshow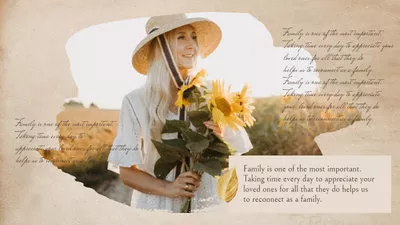 Family Love Story Slideshow
Such a smart video editor FlexClip is, just turn to it to record and add your desired Apple Music or any to your iMovie project and edit it to the next level using its powerful editing tools.