Audio overlapping frequently occurs when you're making a video tutorial, a podcast or a movie teaser. It enriches your audio segments and brings an immersive experience to the listeners. Here we'll take you through three ways to overlap two and more audio files online and offline. Check the tutorial right now!
The Best Tool to Overlap Two Audio Files in Your Video Online
Overlapping two or more audio files in your video is quite common. You may need to combine different voice parts singing the same music in your video or pair your video with voiceover, background music and sound effects to make it sound professional. Here is FlexClip for help.
FlexClip is an awesome video & audio editor with various features. Firstly, it helps you make basic edits to your soundtrack by trimming and splitting. Besides, you can enrich your clips with sound effects and royalty-free audio. Moreover, voiceover and multi-layer soundtracks are all accessible in this tool.
The Best Tool to Overlap Two Audio Files in Your Video Online
How to Overlap Two Audio Files in Your Video Online
Step 1
Tap on Create a Video below to upload all your resources. If you need some inspiration or want a shortcut for awesome videos, click on View template for help.
Step 2
Add your footage to the timeline and make basic edits like applying
transitions
, filters and animated elements.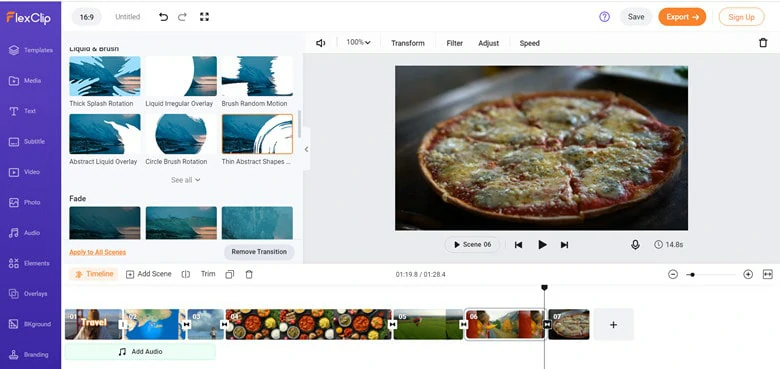 Add Audio to the Timeline
Step 3
Perfect your video by layering background music and overlapping sound effects or narration. Use the trimmer and splitter to do raw edits if you only need some parts.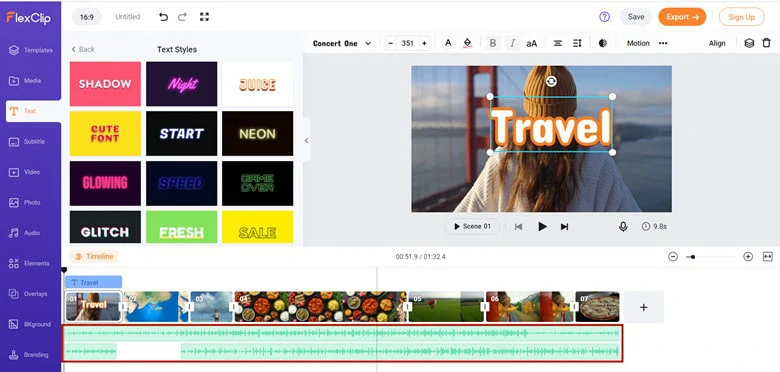 Overlap Audio to Your Video
Step 4
Preview the video to check the result. When you're satisfied, tap on Export and choose a resolution to download directly.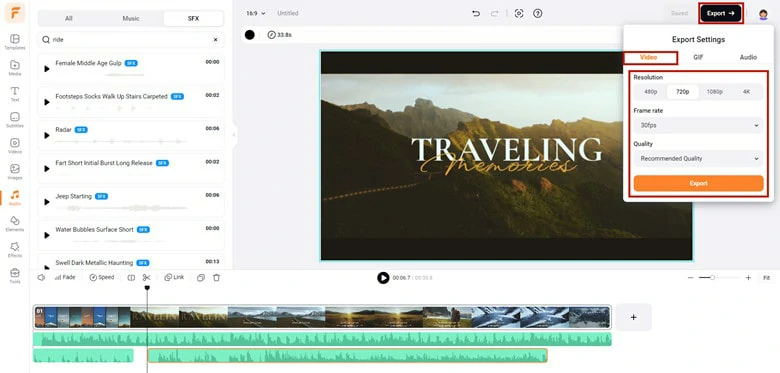 Overlap Audio to Your Video
How to Overlap Two and More Audio Files on Windows
Kanto Audio Mix is the best application designed for those who want full control of their music files on Windows. Thanks to Audio Mix, you can merge, split and overlap audio tracks with ease. Meanwhile, it helps you remove the signer's vocals from your song or create a ringtone for your mobile phone. If you like to change the key, quality or speed of your music, this application will offer you a quick solution.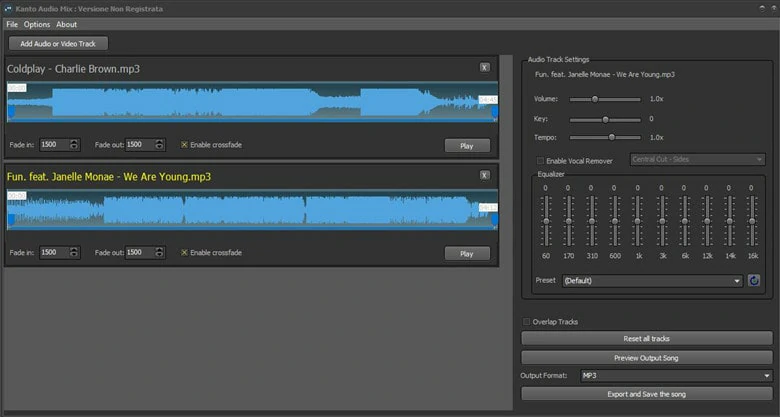 Overlap Audio Files on Windows Using Kanto Audio Mix
How to Overlap Two Audio Files Using Audio Mix
Step 1
Download Kanto Audio Mix to your computer. After installation, launch this software.
Step 2
Tap on the green plus icon to import the audio files you want to overlap to create a new audio file.
Step 3
For each imported audio track you can set the start and end time. Besides, there are more options like speed, volume and equalization you can modify.
Step 4
At the right bottom of your screen, check the "Overlay audio tracks" box and click on "Listen to audio preview" to preview the final audio file. If everything goes well, choose Export and save the song option. You can decide the audio format and find it on your desktop.
How to Overlap Two Audio Files on Mac
Every Mac comes with an application called iMovie - a powerful yet free video and audio editor. As for audio edits, iMovie allows you to change audio volume, add audio effects and reduce background noise with clicks. While if you want to overlap two audio files on Mac, iMovie can also make it possible by following the steps below.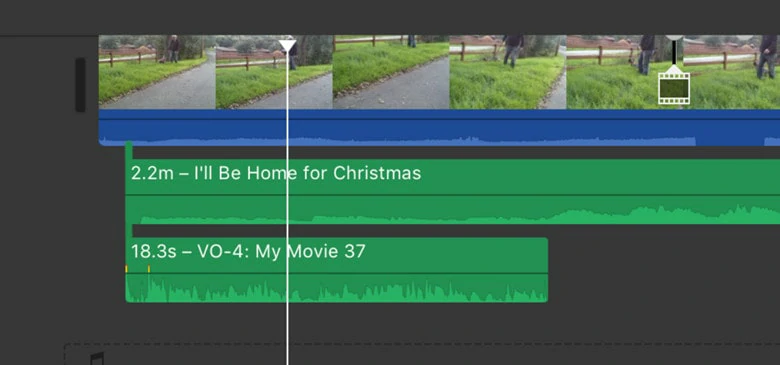 Overlap Audio Files on Mac Using iMove
Step 1
Open iMovie on your computer and import all the audio files.
Step 2
Drag a soundtrack to the timeline and then delicate a voiceover or another soundtrack to layer it beneath the former one.
Step 3
Repeat overlapping the audio tracks until all of them are placed well. After that, export the overlapped audio as MP3.
FAQs
What's the difference between overlapping and merging?
Well let me give you some examples to explain it clearly. If you have several clips and you want to combine them one by one to create a new soundtrack. The process is what we called merging.
Supposing you also background music, voiceover and sound effects, here you wish to play them simultaneously and the trick is called overlapping.
How do I combine audio files online?
You can use online audio merger like FlexClip to combine multiple audio files and merge them into one. It's free to use and easy to edit.