If you wonder why your iMovie screen is black and try to solve the black screen issue in your iMovie project, check this post out! Here are the reasons and detailed fixes. Let's get started!
Why do my clips on iMovie turn out black?
Why does my picture show up black in iMovie?
Why is there a black screen when I try to use iMovie?
- Questions from Quora
Find your clips appear black in iMovie? You are not alone! Hundreds of other users encountered the same problem and sought help on Quora or Reddit to fix the black screen in iMovie.
We'll show you how to troubleshoot iMovie black screen and share quick solutions in this post. Follow us and get more.
Can't Miss: Typewriter Effect iMovie: How to Add Typewriter Effect in iMovie >
Why Is There a Black Screen in My iMovie & How to Fix
Below are some of the main reasons you get black screen in iMovie on your Mac and the detailed fixes you can refer to:
1. Temporary Loading Issue or Incorrect Importing Procedure
Much of the time, it's just a temporary loading issue. Or your video files might be distorted due to the incorrect importing procedure. If you're in this situation, all you must do is quit iMovie, then reopen it and re-import your video clip correctly.
If any mistakes happened during the installation process or when it was updated, you'll get a black screen why you try to edit your video clips using iMovie. If you encounter such a situation, you can resolve to reinstall iMovie.
Are you editing a large video in iMovie? You can check the settings to see whether you are shooting in 4K or 1080p. 4K requires lots of computing power and system storage. So you should try to convert your 4k video or delete some larger video files that take up a lot of memory.
Malware is one of the most common factors affecting iMovie. Unfortunate malware attacks can change the system files or structure of the videos. To fix this problem, you can only eliminate them by scanning your entire system, after which your iMovie will run smoothly.
5. The Issue with the Mac System
You should also check your operating system. Your macOS may not be installed correctly is one of the main causes of the iMovie black screen. To solve this problem, the only solution should be to reinstall it; however, this should be the last resort.
Bonus: Best Alternative to iMovie - Easy & Free
Frustrated with the black screen issue? You can try one of the best, easy-to-use, and powerful online iMovie alternatives, FlexClip, to edit your video with great ease for free.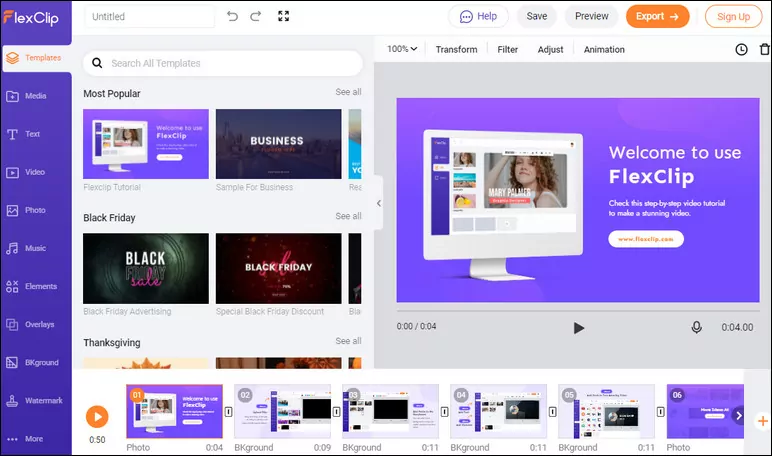 Image Board: Best Online iMovie Alternative - FlexClip
FlexClip is one of the most effective online video makers/editors and is also the best alternative to iMovie as it comes with several amazing features. Besides, it also allows you to do some tasks that iMovie does not support, such as changing the aspect ratio as you wish, editing a vertical video without black bars. Furthermore, there are various beautiful pre-made video templates you can customize freely to make your own masterpiece easily.
Birthday Wishes For Sisters
Below are some highlights of FlexClip to help you know more about it:
Professional yet easy-to-operate
Free & online, no download
Loads of free editable templates
Various ratios for social media
Millions of royalty-free media resources
Final Words
Now that you know the reasons for the black screen and how to fix the problem, we hope you will be able to edit your videos effortlessly.
If you still face issues while editing videos on iMovie, you should consider trying an online iMovie alternative, like FlexClip, to edit your videos without any hassle.