An album cover holds indispensable importance in attracting potential listeners and conveying the essence of the music to its audience. In most cases, musicians and signers have to rely heavily on graphics designers and artists to craft captivating covers, a process that is time-consuming and high-cost.
Thankfully, with the advent of AI album cover generators, there is no need to hire expensive designers as you can effortlessly transform your creative ideas into visually striking album covers, which can leave a lasting impression on the audience. In this blog, you will look at 5 best AI album cover generators and learn how to use one for creating appealing album covers.
Free and Trending Music Video Template for You:
Music Radio Podcast Audio Trailer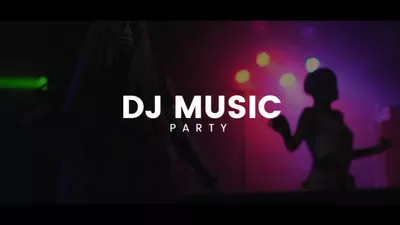 Dj Music Party Promo
5 Best AI Album Cover Generators to Create Art in Minutes
Also Interested in: 10 Best AI Art Generators that You Can't Miss in 2023>>
1.FlexClip - Free AI Album Cover Generator
Price: Free
FlexClip's AI album art generator uses the power of artificial intelligence to simplify and enhance the creation of appealing album covers from text, empowering artists and musicians to create captivating and unique designs without any professional knowledge. Just enter your word and this AI tool will automatically generate an album cover that can make a lasting impression on your audience with ease.
Besides, it comes with various album cover styles like creative, painting, 3D, anime and more to match your different album needs. As for customization, FlexClip offers a wide range of editing tools like adding text, changing filters and applying elements to customize your album cover.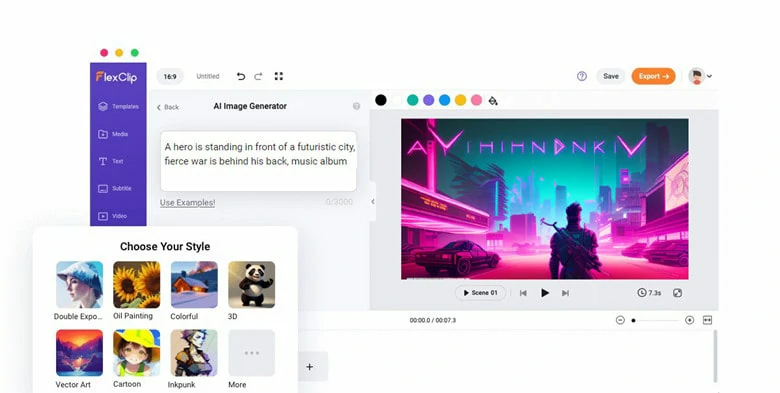 Free AI Album Cover Generator - FlexClip
Pros:
User-friendly AI album cover generator free.
17 album cover styles with 3 aspect ratio options.
Support image post-production edits.
Cons:
Unable to generate album cover from the image.
2.NightCafe - Popular Album Cover Maker
Price: $ 5.99/m for 100 credits; $9.99/m for 200 credits; $19.00/m for 500 credits; $49.99/m for 1400 credits
NightCafe Studio is a remarkable AI art generator that transforms text and image prompts into stunning visuals in clicks. It integrates with multiple trending algorithms like Stable Diffusion, DALL-E 2, CLIP-Guided Diffusion, VQGAN+CLIP and Neural Style Transfer to precisely generate engaging portrait, album cover and painting artwork based on your prompt.
Aside from album cover generating, it has a vibrant AI art community that enables you to create, share and discuss AI art with millions of creators. Moreover, you can create or join an existing chat room to collaborate or chat with your friends.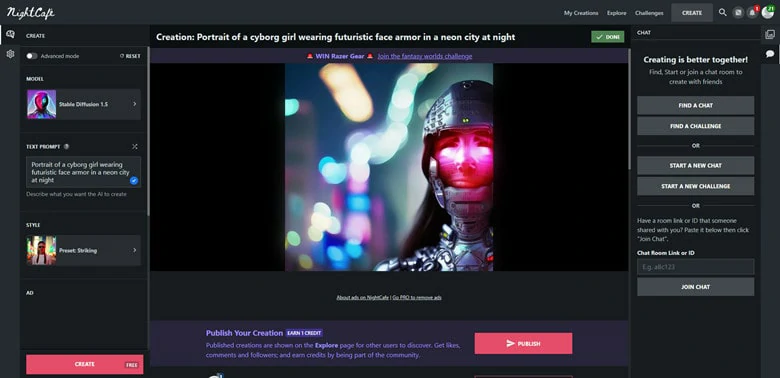 NightCafe - Popular Album Cover Maker
Pros:
Utilize multiple algorithms to generate album covers from text.
Offer myriads of styles for you, including anime, 3D, color painting, cubist and more.
It comes with a vibrant community for users to discuss AI art topics.
Cons:
Purchases are required for full features.
Free version contains disturbing ads.
3.Midjourney - Best AI Album Cover Maker for Discord Users
Price: Several full memberships with prices starting at just $10 per month
For people who already have a Discord account, Midjourney is the best platform to harness AI technology for generating fantastic album cover images with text. It boasts an intuitive interface that allows users to generate eye-catching images from pre-made templates and upload local images for customization.
One of the best things about Midjourney is that this tool only generates unique artworks - no two pieces of art are the same. This makes this album cover generator perfect for musicians and singers looking for original and new ways to create exclusive cover images with ease. Currently, people with a Discord account can get Beta access for free for the first 25 requests.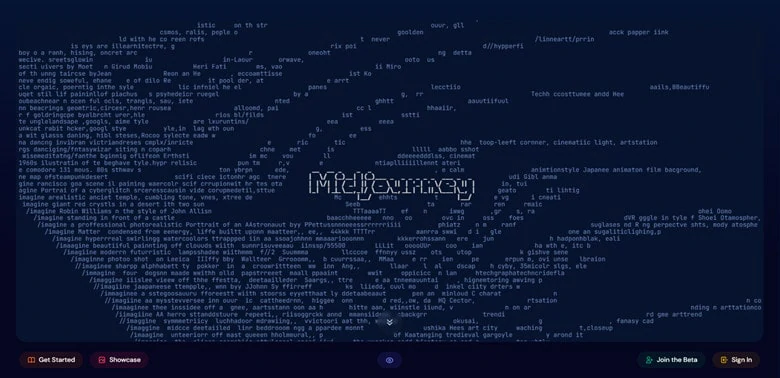 Midjourney - Best AI Album Cover Maker for Discord Users
Pros:
Create high-quality artwork.
Able to generate new images from images.
Upscale images to a higher degree.
Cons:
The interface is a little complex.
A Discord account is a prerequisite to access this AI album cover generator.
4.Picsart - An All-in-one AI Album Cover Generator
Price: $13/m for Plus version; $15/m for Pro plan
Piscart is an all-in-one photo platform that empowers users to create and edit images with the power of AI tools. The workflow is straightforward: give your description of the expected album cover and customize settings on styles, quality, colors and mood, then hit the Generate icon to get four creative results.
Additionally, you can refine your cover image with text, filters and other interesting elements that will make your creation captivating. Although most AI editing tools are exclusive for premium users and the image results in specific styles look the same, it's still a nice option for the newbie to generate images using artificial intelligence.

Picsart - An All-in-one AI Album Cover Generator
Pros:
Free to generate 5 images per day.
A wide range of image styles to choose from.
Multiple image aspect ratio presets you can use.
Cons:
Free users can't download generated images in PNG format.
Most of the AI tools are only available for premium users.
5.OpenDream - A Simple AI Album Cover Maker
Price: $3.96/m for 1000 credits; $16.96/m for 3000 credits; $142,42/year for unlimited credits
Generating an appealing album cover from text with OpenDream is as easy as pie, regardless of your editing expertise level. No matter how creative your ideas are, this AI-driven platform can effortlessly help you transform them into custom images. With multiple style templates, you can directly see how the style looks without wasting your credits on creating.
Like many AI album cover generators, OpenDream also supports a vibrant platform where millions of artists can learn and share their ideas. If you don't use this art generator often, you can get 10 free credits daily to match your needs.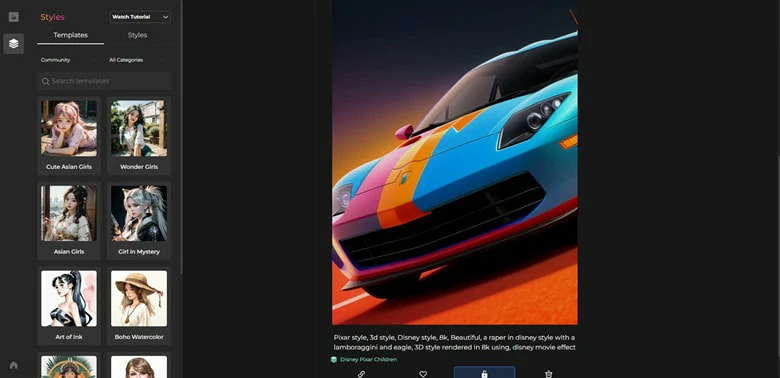 OpenDream - A Simple AI Album Cover Maker
Pros:
Create stunning AI images in minutes with templates.
Loads of image styles you can rely on.
Simple AI Album Cover Generator
Users need to upgrade to remove ads.
Limited to the complexity and length of prompts.
A vibrant community space for artists to learn, share and get inspired.
How to Use AI Art Generator to Create an Appealing Album Cover
After familiarizing yourself with the best AI album cover generator, it's time to have a try! No matter what tool you use, the steps for using them are quite the same. To show you how to create an album cover, here we set FlexClip as an example.
Step 1
Go to the FlexClip Website
Open FlexClip's video editor page on your computer and find the AI Image Generator option in the Tools panel.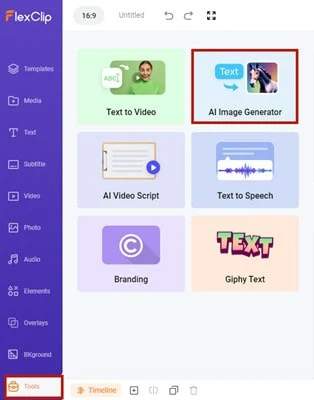 Find FlexClip's AI Image Generator
Describe what you want to let the AI tool precisely generate the results for you. For instance, if you're going to create "A giraffe walking in a city with cars for an album cover", just type them in the box.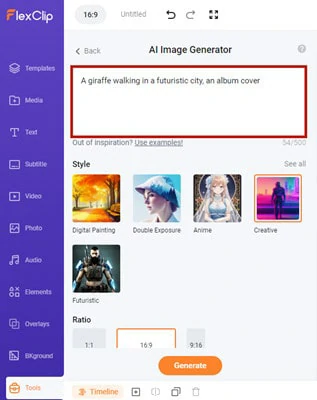 Enter Your Prompt for Generating Album Cover
Step 3
Make Settings of Your Creation
Before hitting on the Generate icon, you can adjust the settings like styles and ratio aspects that fit your album cover.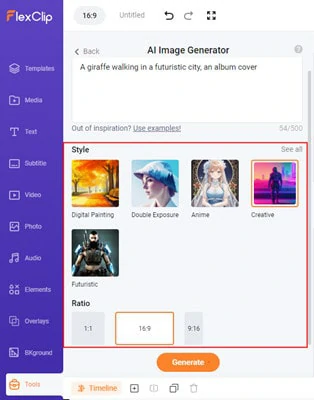 Make Settings of Your Album Cover
Step 4
Generate the Album Cover
Tap on Generate icon to launch the process and FlexClip will create two images for each prompt. Hit on the Regenerate icon to get more album cover images.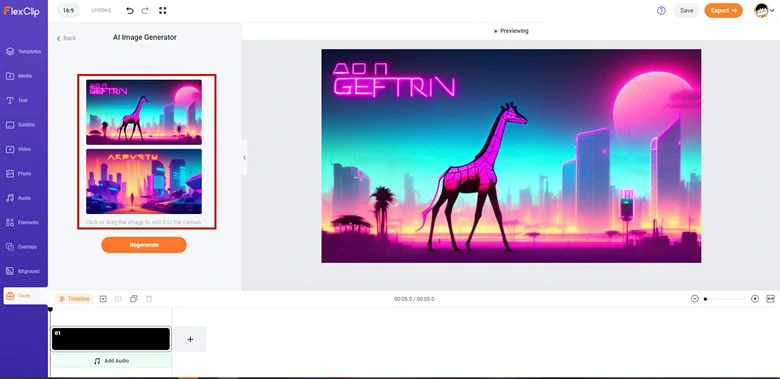 Get Your Generated Album Cover
Step 5
Enhance Your Album Cover
After the image appears, you can refine it by adding text, applying filters or changing colors. When you feel satisfied, download this album cover to your computer.
Enhance Your Generated Album Cover
The Bottom Line
Well, that's all for 5 best AI album cover makers with their features and prices. Now it's your turn to pick your favorite one and start to create captivating covers right now!