A unique and eye-catching profile pictures tend to attract more attention and make a stronger first impression, which can result in more clicks, likes, and followers. Want to boost your social presence using a new profile picture on your Instagram, Twitter, TikTok, or WhatsApp, etc. but not willing to use your own photo or lack new pfp ideas?
Thanks to AI-Powered profile picture generators, you can create a unique fake profile picture with the simple prompts easily within seconds.
In this article, we'll explore the top 3 AI profile picture generator tools to help you make a fake profile picture for social media, gaming, and even business uses.
Free, Customizable Video Templates for Your Channel
Film Style Wonderful Travel
Music Radio Podcast Audio Trailer
Glitch Sport Intro Video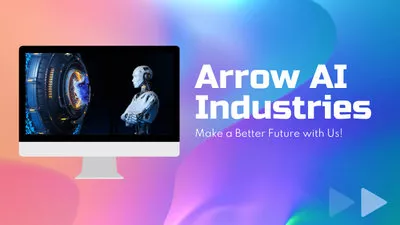 Futuristic Electronic Marketing Presentation
Part 1 Benefits of Using an AI Profile Picture Generator
AI profile picture generator offer numerous benefits. With just a few clicks, you can produce unique and professional-looking profile pictures effortlessly. Here are the main benefits of using an AI profile picture generator.
1. Unique profile photos in different styles. A profile picture generator offers countless options for users to create their pfp in various styles - from a abstract design to a cartoon-style character, or something more traditional. Every single photo created by an AI pfp generator will be unique.
2. No special skills are needed to generate a pfp project and beyond. Using an AI profile picture generator to crate a pfp requires no special knowledge or skills. Anyone can make his/her attractive and professional-looking profile photo in no time at all.
3. Save time and effort on pfp creation. As there is no need to learn the complex art of editing or browse through hundreds of stock photos to find a perfect image, it's pretty easy and quick for you to crate a pfp using right prompts within clicks.
Part 2 Top 3 Online AI Profile Picture Generators to Create Fake PFP
Now, let's take a look at the best AI profile picture generators to help you create unique and impressive fake profile pictures for your social media, gaming channel, or business uses.
FlexClip
Powered by Stable Diffusion AI, FlexClip's AI image generator works perfectly as a profile picture generator to help you make a fake pfp for all your social media channels, including Instagram, Facebook, Twitter, YouTube, and more. From a realistic photo pfp to classic painting pfp to funny cartoon pfp, FlexClip's AI-powered text-to-image pfp picture generator ensures every click inspires awe.
With FlexClip's AI image generator tool, it's easy to create amazing profile images for social media, gaming channel, and business uses, etc. All you need to do is input text prompts, choose a style and pick the desire ratio, then click the "Generate" button to watch the AI do the magic. Once done, you can download the pfp picture directly or use the AI background remover tool of FlexClip to remove background from your profile picture.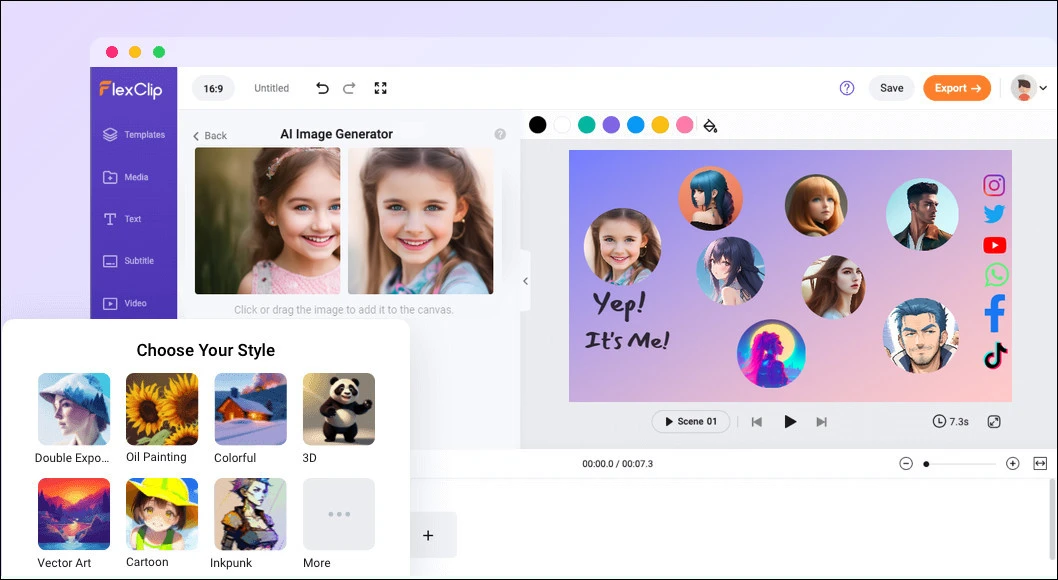 Online Profile Picture Generator - FlexClip
Main Features of FlexClip
Generate pfp from scratch using simple text prompts
Create profile pictures in various styles
Easy download the image without watermark
Simplified
Simplified is a multi-function online tool for your content creation. It offers a profile picture generator tool, which is extremely simple to use, for you to create memorable profile picture from text prompts. Simply input text prompts, use Dall-E or Diffusion model, tell it what you want to see, then choose a style. Duang! A pfp tailored for you is there!
Besides working as a profile picture generator, it can also help you generate blog posts, create videos for social media, or publish posts as scheduled. One thing to note is that removing watermark form the final result requires subscription.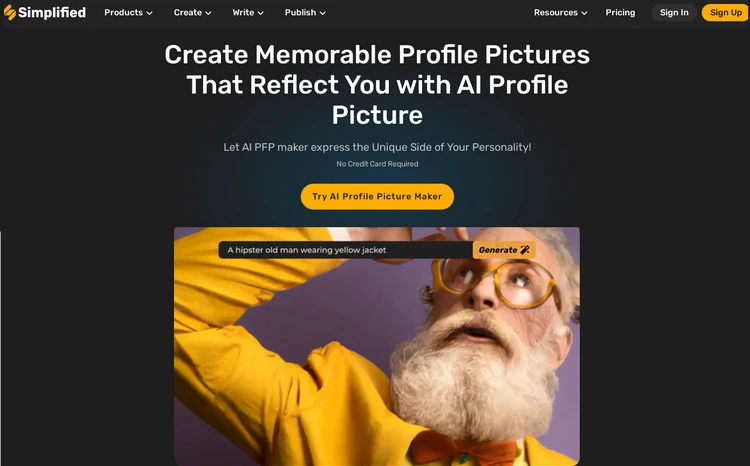 Online Profile Picture Generator - Simplified
Main Features of Simplified
AI-powered pfp image generation
Wide range of styles for your pfp picture
Additional customization options
Fotor
Fotor is another online tool that offers an AI profile picture generator supporting generating a fake pfp for social media. Simply upload your own images, and you can get pretty profile pictures generated by AI in seconds. Whether you'd like to create a realistic fake profile photo or want to try a pfp picture in some creative styles like old painting, cartoon, illustration or cyberpunk, and more, Fotor's PFP generator is surely helpful.
At Fotor, you can even customize your profile photos with flexible editing options like adding text, stickers, filters, and more to make your profile photo stand out. Your profile picture designs are on the next level with Fotor's simple design and easy-to-use tools!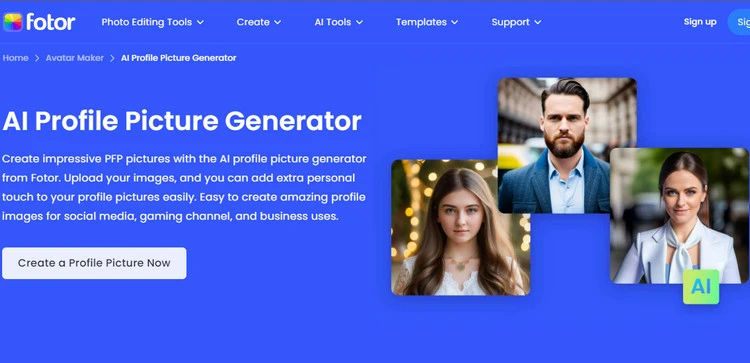 Online Profile Picture Generator - Fotor
Main Features of Fotor
Instant AI profile picture generator from images
Text-to-image mode available for converting text to pfp picture
Multiple profile picture styles to choose from
Wide selection of tools & effects for a personalized pfp
Final Words
That's all for the top profile picture generator tools! Are you ready to use a new profile picture to impress your friends on Facebook, Instagram, TikTok, Twitter, or other social media platforms? Give some of these tools a try now!