Healthy and energetic workout videos are evergreen content on YouTube.
Whether you are a professional personal trainer or an avid yogi, making a great workout video and sharing it on YouTube or Instagram can be a great way to promote your fitness course and grow more followers among home workout enthusiasts.
In this tutorial, we will walk you through how to plan and film a workout video yourself like a pro at home and how to use free and editable workout video templates to edit workout videos into a compelling video for YouTube with ease.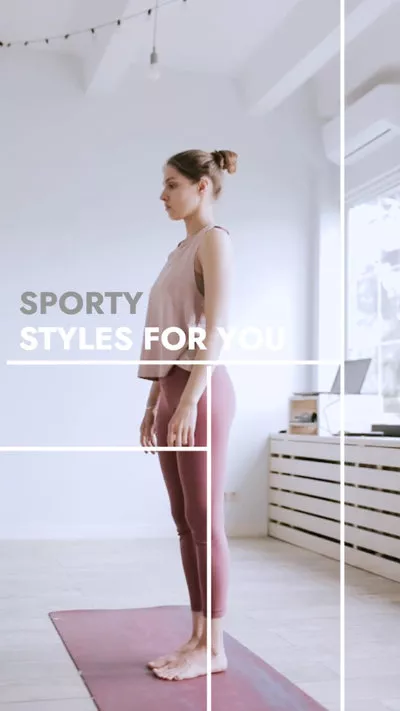 Sports Yoga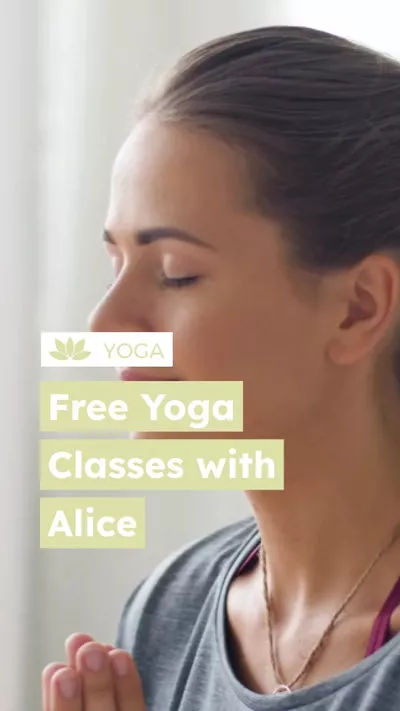 Yoga Fitness Video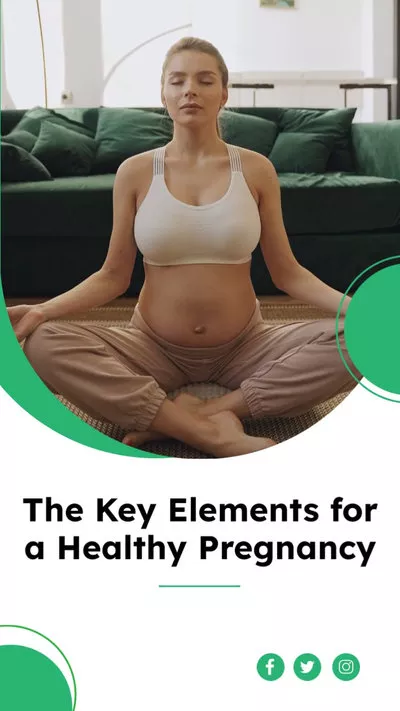 Healthy Yoga for Pregnant Women
Here's What You Will Learn:
Plan Ahead for Your Workout Video
The last thing you wanna do is randomly record multiple workout video footage and put them together for YouTube. This makes your workout videos look unprofessional and leads to confusion for viewers.
To make a high-quality workout video that appeals to target audiences, you need to consider the following essentials: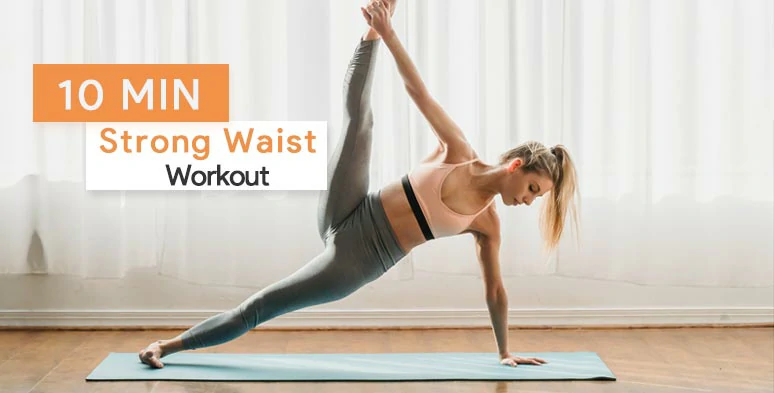 Plan ahead for your workout video.
1. Your Workout Video Is Made for Whom and About What?
Precisely defining the target audience and purpose of your workout videos can effectively engage target viewers.
Let's say whether it is a relaxing body and arms stretching workout video for beginners or it is an intense weight workout for mens' booty and thighs or a lively dance workout for girls, etc. Check how to make more sports videos.
2. How Long Is Your Workout Video?
According to statistics from YouTube, the attention span of YouTubers is around 42 seconds to 10 minutes on average.
In other words, creating a short and sweet workout video stands a better chance for viewing than a longer video. A popular video length for a workout video used by some of the best fitness YouTubers like Pamela Reif is around 8-15 minutes.
3. What Scenes Do You Need to Shoot?
Decide whether you need to record an intro or outro for your workout video. How many close-up, mid-distance, or panoramic scenes do you need? Or do you need to offer instructional words or completely keep silent during the workout process, etc?
These details will set the tone and style for your workout video. A proven strategy is to draw storyboards with a specific scene, action, and words you need to cover in a workout video.
4. Consider the Video Hosting Platform
Different video hosting platforms vary in video format, aspect ratio, and video publishing policies.
So, if you plan to make a workout video for YouTube, then a workout video with 16:9 or horizontal aspect ratio, MP4 format, at least 1080P FHD video resolution is the best choice.
Likewise, if you want to film workout videos for Instagram, TikTok, or Snapchat, then filming at 9:16 or vertical aspect ratio with shorter video length is more friendly for mobile users.
Gear Needed for Recording a Workout Video
Essentially, 3 gear are needed for recording a workout video: the camera for filming, the audio recorder, and the lighting. Check how to make a cinematic video.
1. Camera Setup
Any cameras available, capable of recording at least 1080P video with 30FPS, can be used for filming a workout video at home.
Luckily, nowadays, most smartphones like iPhone, Samsung, or Huawei can record cinematic videos with 1080P to 4K resolution, and even up to 60 FPS, you can rely on your mobile phone to record a high-quality workout video.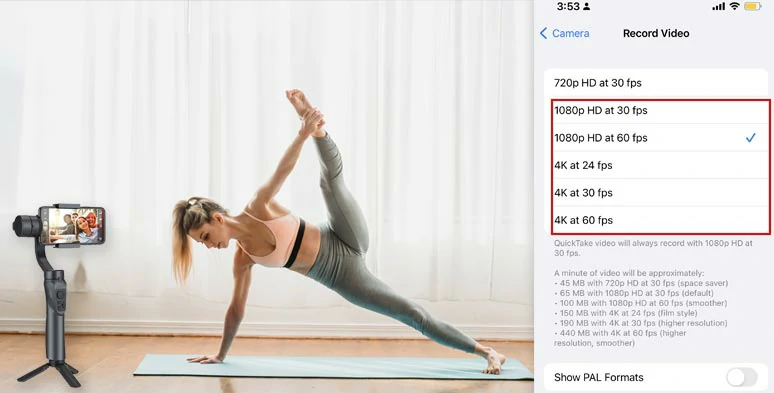 Select 1080P-4k resolution and 30-60FPS and use a 3axi gimbal for filming a workout video.
Besides, having a stable image is crucial for making a professional-looking workout video. So, another indispensable tool we highly recommend is having a 3-axis gimbal stabilizer from brands like Hohem or BaseUs. It can help you shoot stable and smooth workout videos with handy features like face tracking, panning, tilting, 360° rotation, and built-in tripod, etc.
2. Audio Recording
It's a challenging task to capture crisp-clear audio from you as you are constantly moving to demonstrate correct movements. And never depend on your internal mic on the camera or iPhone.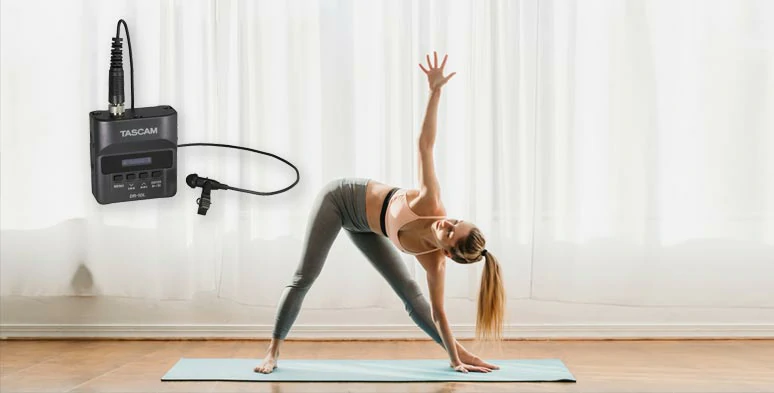 Record the audio of a workout video by a lavalier audio recorder.
Instead, a proven strategy is to use a mini lavalier audio recorder laid on your lapel or attached inside your cloth to make it invisible from the viewers while still capturing high-quality audio later for the audio mixing. A recommended brand is Tascam DR-10L.
3. Consistent Lighting
Having consistent lighting is vital for making a high-quality workout video. The actual lighting setup depends on your actual indoor setting.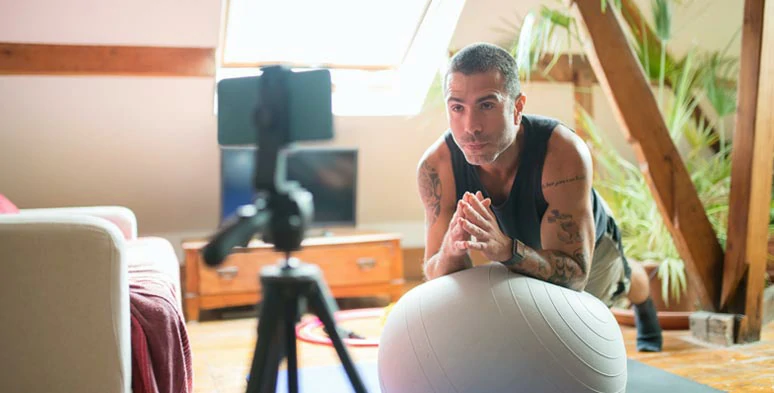 Lighting for a workout video at home.
The classic lighting would be having a key light to light up the face and body of the subject, then a fill light opposite the key light to fill the shadow. Then, the third backlight is to light the background or contour of the subject. If you have only key and fill light, an alternative is to use window light as the background light source as many fitness YouTubers do.
In addition, don't rely on the fluorescent light at home since it will cause flickering as you film the workout video. You can invest around $100-200 to get dimmable LED lights, softboxes with a diffuser and light stand, etc. for consistent and soft lighting.
If your workout videos turned out to be dark or underexposed, check how to adjust video brightness in viable ways.
How to Film a Workout Video at Home
For the actual filming of a workout video, in addition to meticulous planning and rehearsal, 2 things we believe are of utmost importance.
1. Camera Angle and Camera Movement
If you are recording a workout video alone at home, you can mount a mirrorless camera or an iPhone on the gimbal stabilizer or a tripod and then use the stabilizer's face-tracking mode to track your face.
Make a workout video with multiple camera angles and movements
Meanwhile, flowers, vases, a sofa, or any vintage furniture are great props to be used as a foreground to create depth and dimension for your workout video.
If you have a friend to help you record a workout video, try using multiple camera angles and camera movements like pan or zoom in/out to introduce yourself and the setting of the workout room at home. This will create depth and dimension for your workout video.
Make sure, you switch your camera to manual mode. So you can have full control over ISO, shutter speed, aperture. For iPhone, long tap the screen till you see AE/AF lock and then release your finger to lock the exposure. Record, check, and move to film the next scene.
2. Present Yourself Well in a Workout Video
To make your workout video look professional, you couldn't afford to miss out on the details like your make-up, outfit, the color of outfit and environment and hairstyle, etc.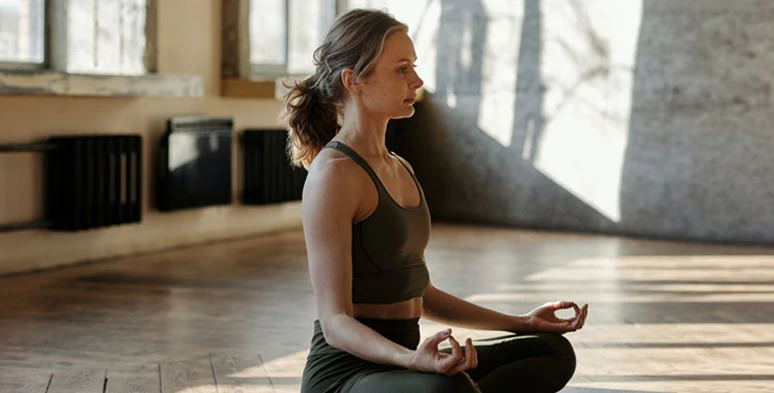 Dress well in a workout video.
For women, sports bras, leggings, sports shoes are comfortable to wear and can't go wrong, and don't forget to tie your long hair back. For men, moisture-wicking T-shirts and sports shorts and shoes are recommended. Check the video footage to see if the color of your clothes and lighting can help you separate from the background color.
Besides, always speak in a calm and friendly tone with genuine smiles and clear instructional words to engage the viewers. You can do some research about the most concerned questions and mistakes people have and make when building waist, legs or abs, etc.
How to Edit Workout Videos for YouTube
Now, you have the workout videos needed, it's time to edit them into a compelling workout video for YouTube or a bite-sized workout video on Instagram. If you are new to video editing, a user-friendly and feature-packed tool you can use is the FlexClip online video maker.
Easily create a compelling workout video by FlexClip online.
With FlexClip, you can:
Select from 100+ designer-made and fully-customizable
workout video templates
(16:9 & 9:16 aspect ratio available). With easy drag and drop of your workout images and videos, you can create an action-packed workout video in minutes.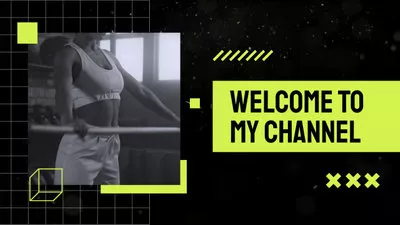 Fitness YouTube Intro Outro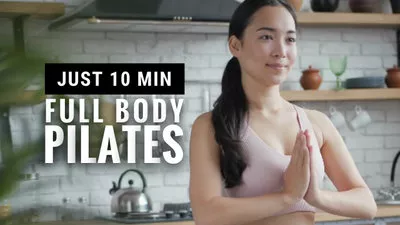 Yoga Sports YouTube Video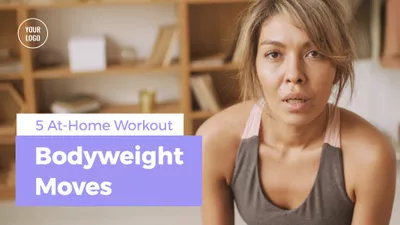 Workout at Home EXplainer
YouTube Yoga Fitness Video
Use the
AI video script generator
powered by ChatGPT-3.5 to write catchy video titles, hooks, content, CTAs, etc. for your YouTube workout videos.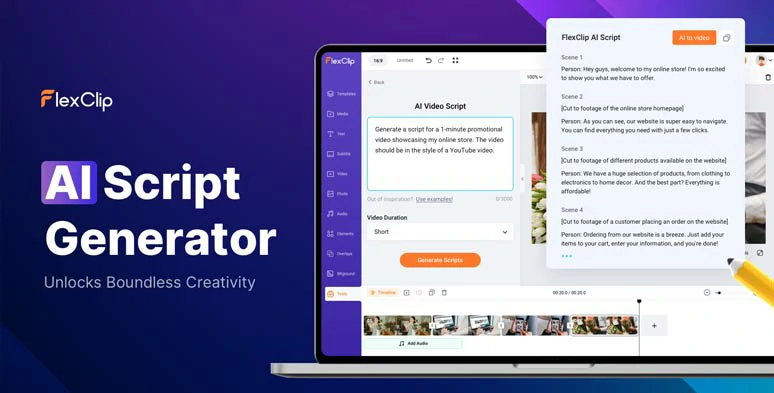 Write scripts for your YouTube workout video by AI video script generator.
Easily
convert scripts to realistic AI voices
to engage and better connect with viewers in the workout video, with 400 human-sounding AI voices available in 140 languages. You may customize AI voice avatars' gender & age and voice style, voice speed, pitch, and natural pauses.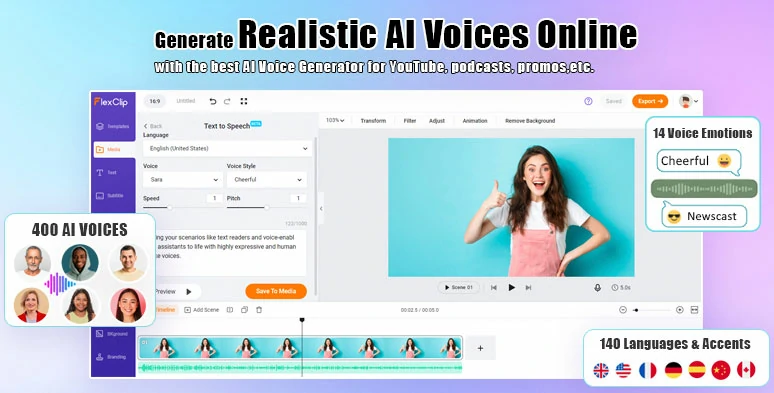 Convert text to realistic AI voices for your workout videos to engage viewers.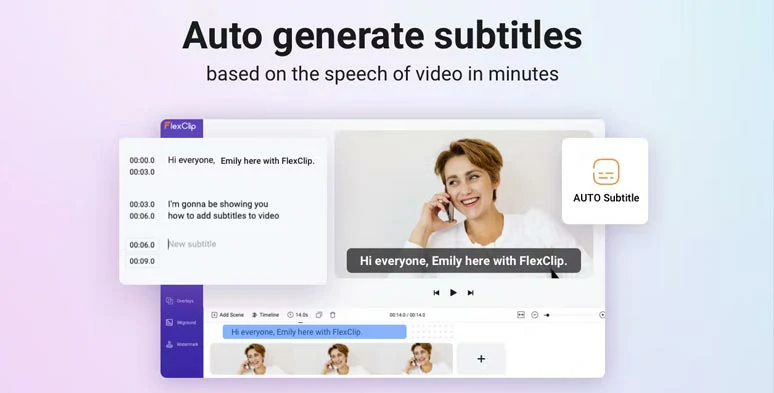 Auto-generate burned-in subtitles for your YouTube workout videos.
Take your pick from 74,000+ royalty-free music tracks and sound effects. So, you can align your workout video with the right tune and vibes needed.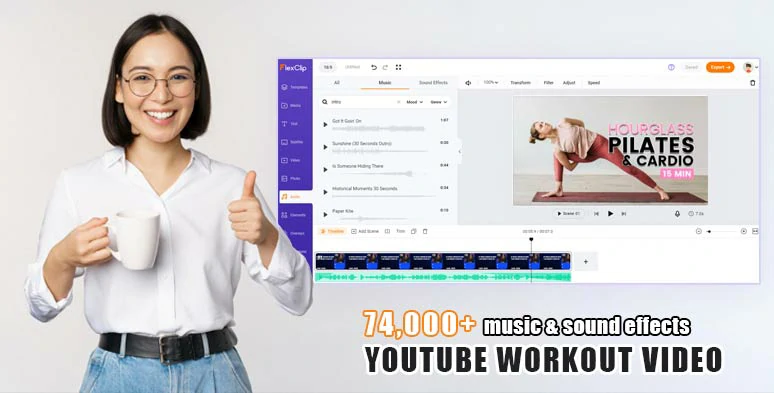 Vast royalty-free music and sound effects are available for your YouTube workout videos.
Offer you 3M+ animated elements and 1,000+ editable text animations, such as funny GIPHY workout stickers, fitness motion graphics, hilarious emojis, animated timers for workout sessions, YouTube/TikTok/IG profile titles, like, comments, and subscribe buttons, etc.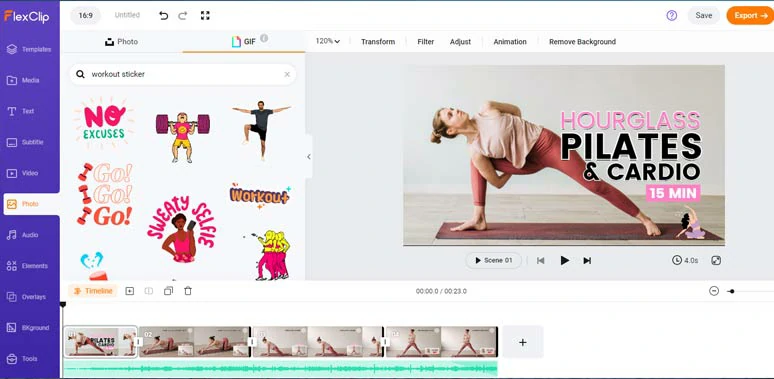 Spice up your workout videos with tons of funny GIPHY workout stickers, text animations, illustrations, etc.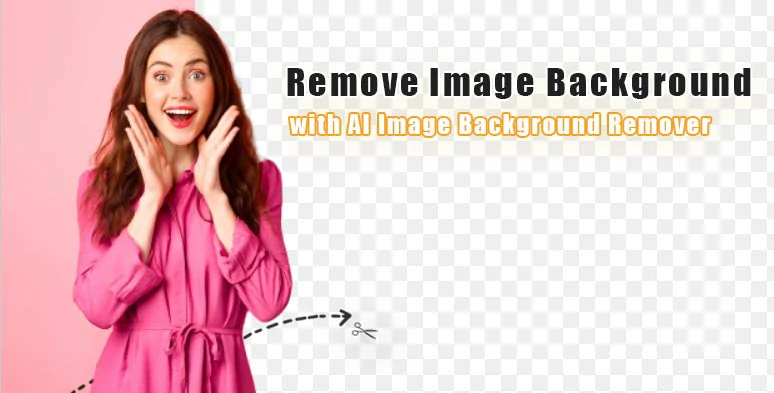 Use image background remover to remove the image background in one click.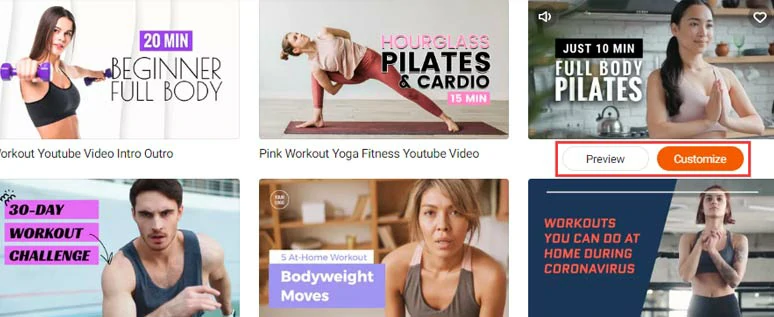 Select a free workout video template to begin with.
Step 2
Upload your workout videos and images from your PC, phone, Google Drive, One Drive, Dropbox, or Google Photos.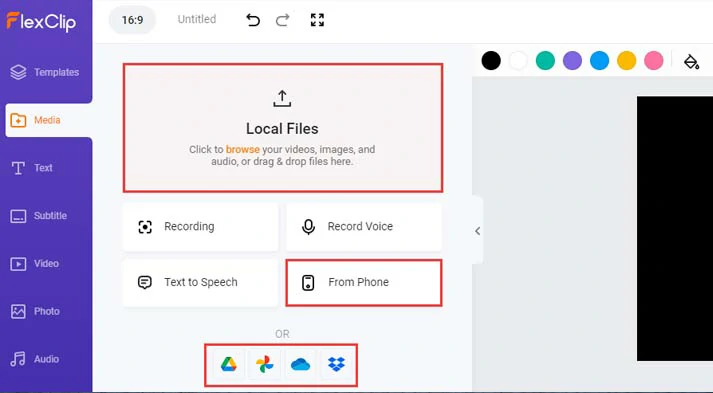 Upload your workout videos and images to FlexClip.
Step 3
Drag and drop to replace premade workout videos/images with yours. You may trim or split the clip when needed.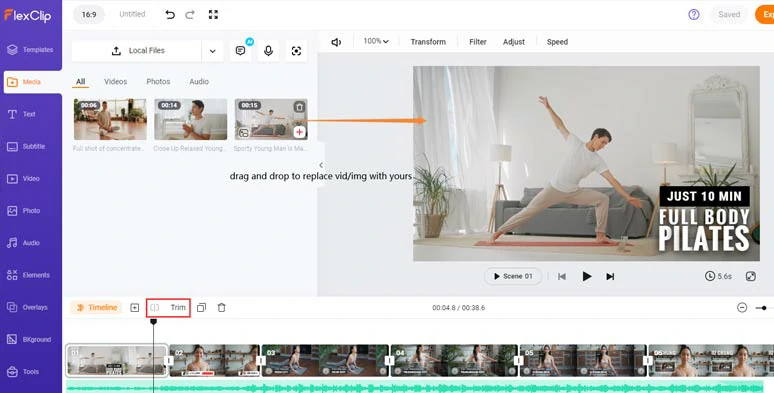 Drag and drop to replace videos or images with yours.
Step 4
Use the AI video script generator to write scripts for your YouTube workout video.
Click the Tools tab > AI Video Script > use prompts "Write me 20 catchy titles for a YouTube video about how to do a 10-min booty workout at home" > click Generate Scripts button > click the Pencil icon to copy and paste the ideal video title.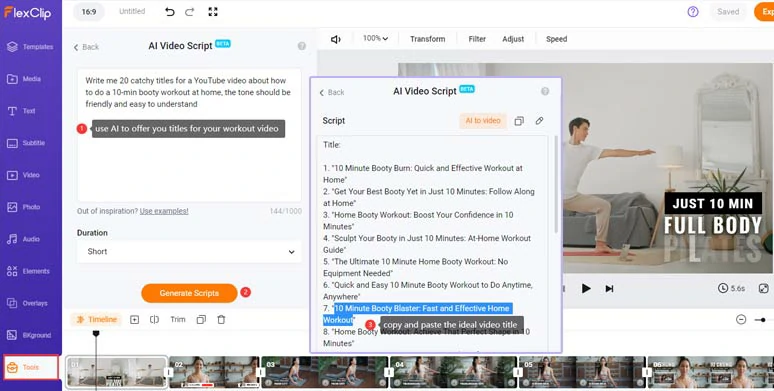 Use AI video script generator to offer you catchy workout video titles.
Now, head back to AI Video Script > use follow-up prompts "write me a YouTube video script about 10-minute booty burnout, with engaging hooks, friendly tone and call to actions and detailed steps" to generate script > review AI-generated scripts and make some adjustments based on your workout videos and experience.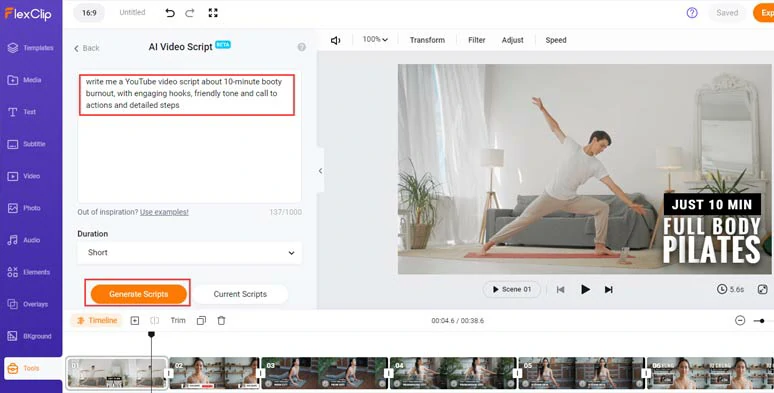 Use follow-up prompts to expand detailed scripts for your workout video.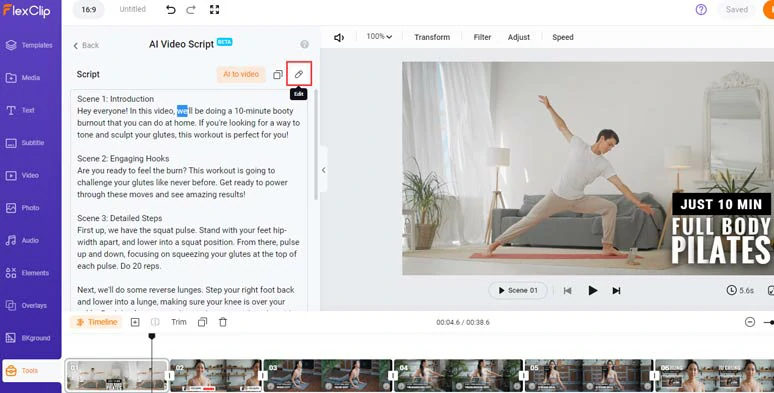 Customize the ai-generated scripts for your workout video.
Step 5
Convert the script to realistic AI voices in your workout video.
Click the Media tab > AI text to speech > select the language and accent > preview AI voice avatars' voice and choose the one you like > set the voice style (chat, friendly, newscast, hopeful, excited, etc. ), voice speed and pitch > head back to AI Video Script tool and copy and paste the script in the Text block > preview the AI-generated voice > hit Save to Media button to generate hyper-realistic AI voices.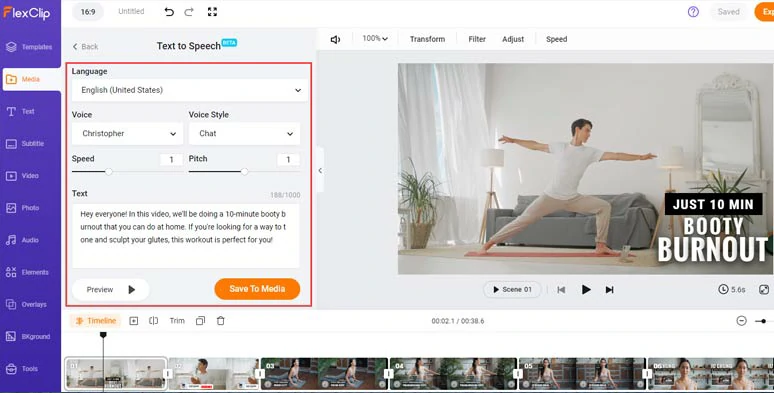 Convert text to realistic AI voices for your workout video.
A small trick is that you can insert commas between two words to add human-like pauses for AI voices.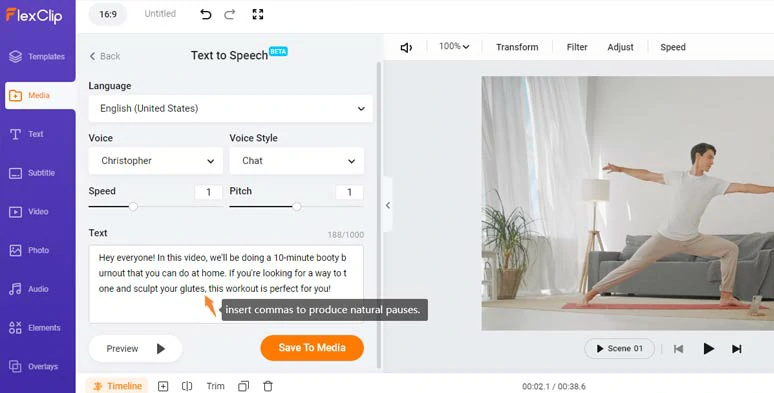 Insert commas to create natural pauses.
Next, go back to the Media tab > Audio > align AI voices with the right video scenes. You may adjust the audio's volume or trim or split it when needed.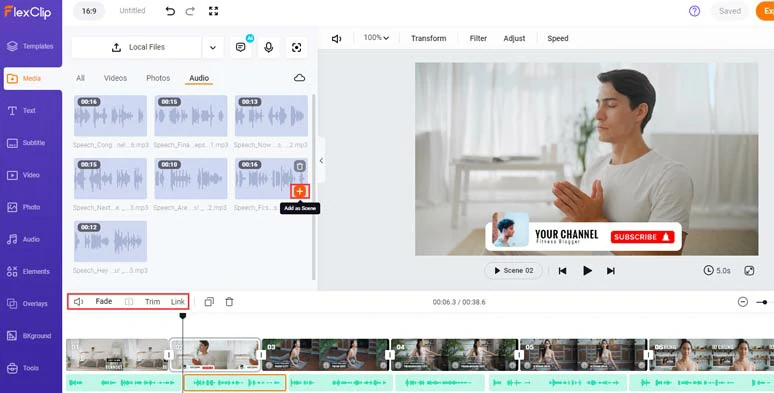 Match the AI voices with the right video scenes.
Step 6
Automatically add burned-in subtitles to your workout video.
To make sure your video content is available to viewers who might view your view with the sound off, it's advisable to add subtitles to it. With FlexClip's AI auto subtitle generator, you can auto-generate the subtitle in one click and the accuracy is up to 90%.
Just click the Subtitle tab > Auto AI Subtitle > identify the language > hit Next > select the style of the subtitle. It doesn't have to be perfect because you can change it later. > hit the Generate Subtitles button.

Automatically add subtitles to the workout video in one click.
Then, you can proofread the auto-generated subtitle and fine-tune the text font, text color, size, alignment, background fill, etc.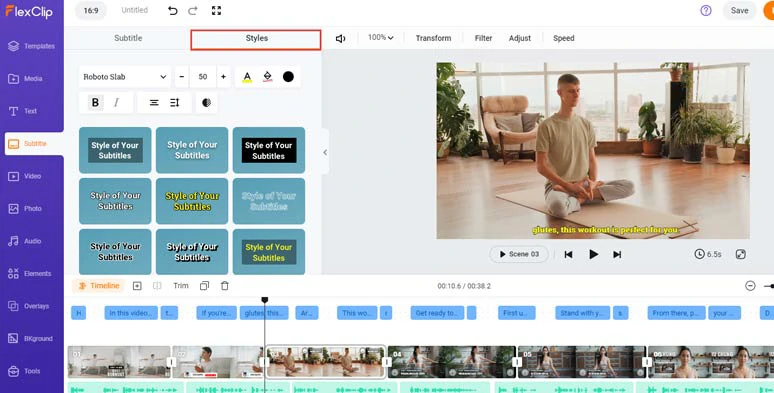 Proofread the auto-generated subtitle and finetune its style.
You may also press "Enter" to split a long subtitle into two or easily merge two short subtitles with one click. Super helpful!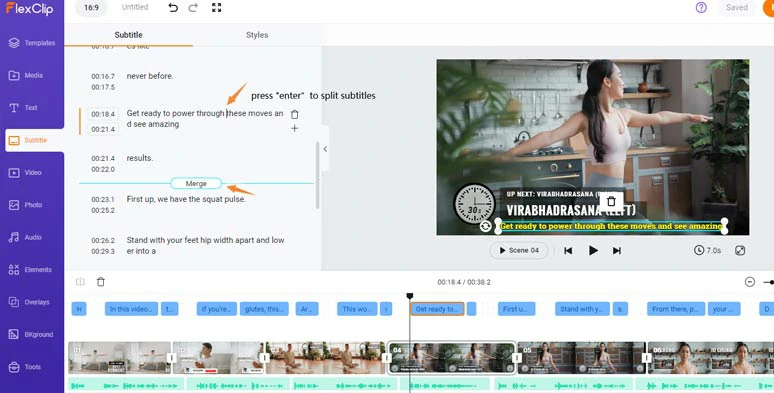 Easily split or merge subtitles.
Step 7
Add royalty-free music and sound effects to create the vibes.
Click the Audio tab > type in "fitness", "workout", "calm", "upbeat", etc. to select the ideal music for your workout out video. You may add sound effects like "timer", "rain", "swoosh", etc. for ambient sound, video transition, or text reveal. You can adjust the audio's volume, trim, or split the audio or apply fade in/out effects for a smooth audio transition.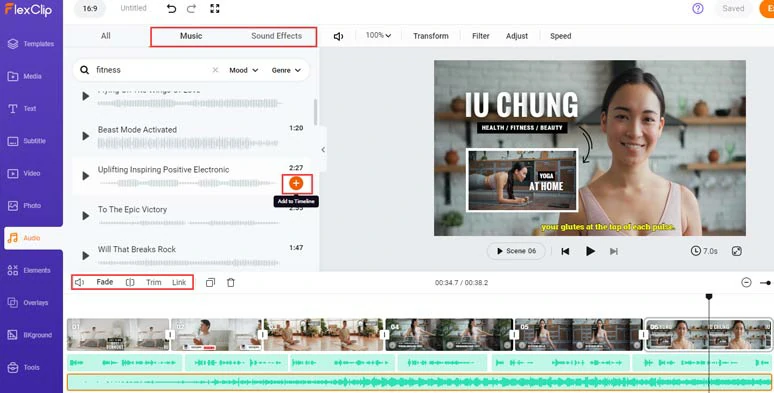 Add royalty-free music and sound effects to your workout videos.
Alternatively, you can even import a video > add it to the timeline > right-click it and select "Detach Audio" to extract its audio from the video for audio mixing in your workout video.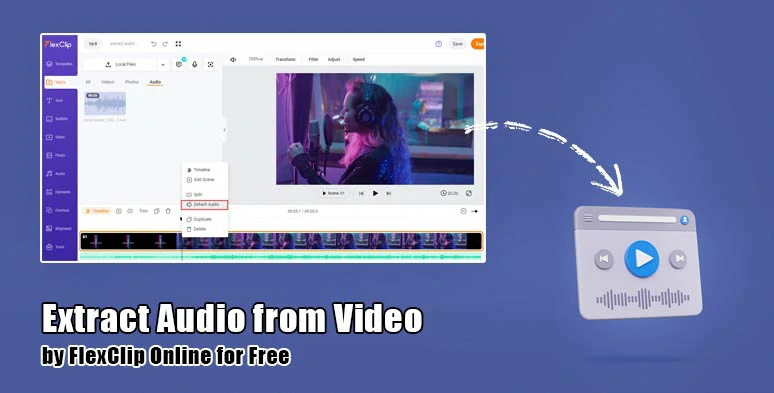 Extract audio from an video for audio mixing in your workout video.
Step 8
Customize text, text animations and add visual elements to spice up the workout video.
Double-click the premade text > type in your text > customize the text font, color, size, alignment, text background fill, opacity, and text styles.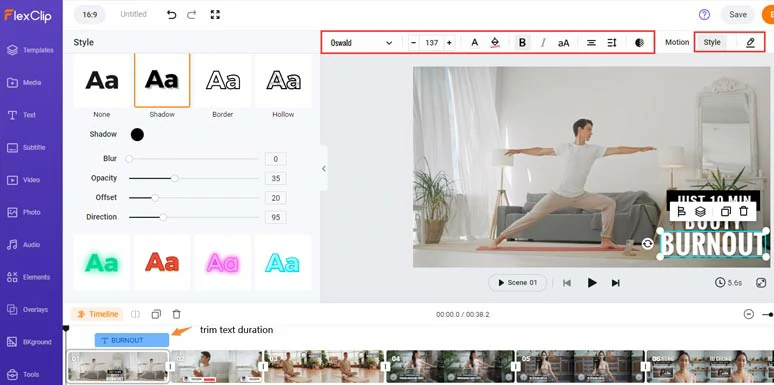 Customize the text and the text style.
Click the Motion tool, you can easily animate the text with styles, such as typewriter, cinematic glitter, bounce, blur, wipe, neon, etc. You can trim the text duration on the intuitive timeline as well.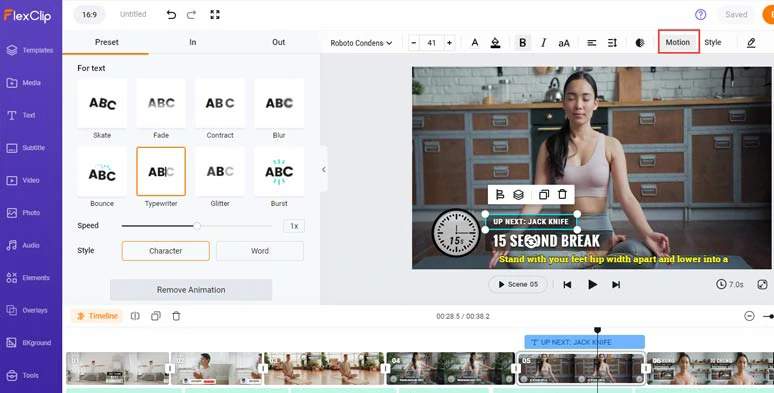 Customize the text animations for workout videos.
If you don't like the premade text, click the Text tab, you can find more readymade and editable text animations, such as lower thirds, YouTube/TikTok/IG profile titles, news titles, speech bubbles, quotes titles, callout titles, search bars, etc. Just feel free to explore.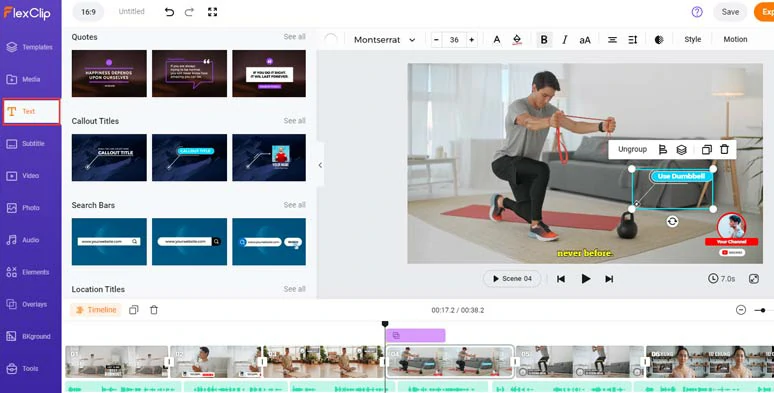 Use more readymade and editable text animations for your YouTube workout video.
While in the Photo and Element tabs, you can search for funny and animated GIPHY workout stickers or add animated timers to display the video length of a specific workout like a booty workout, building abs, a neck, or side planks. I'm sure these visual elements will get your creative juice flowing.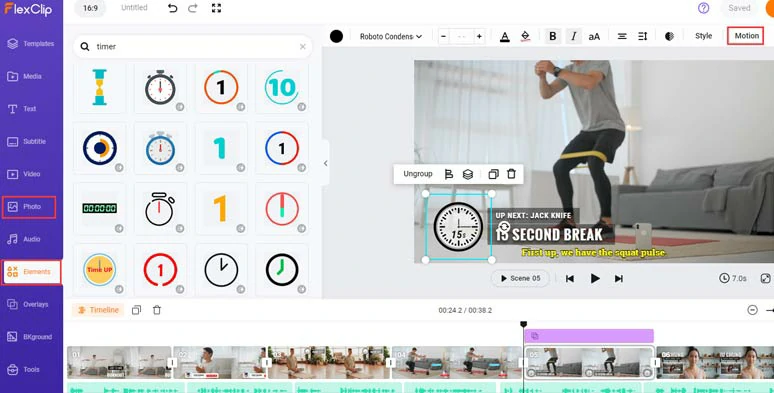 Add animated elements like a timer or GIPHY workout stickers to spice up your workout video.
Step 9
Preview and share.
Done with the editing. You can save the 1080P workout video to your PC or directly share it to YouTube, Google Drive, One Drive, or Dropbox, or even TikTok; a clickable link is also available for your blog post, newsletters or other repurposings.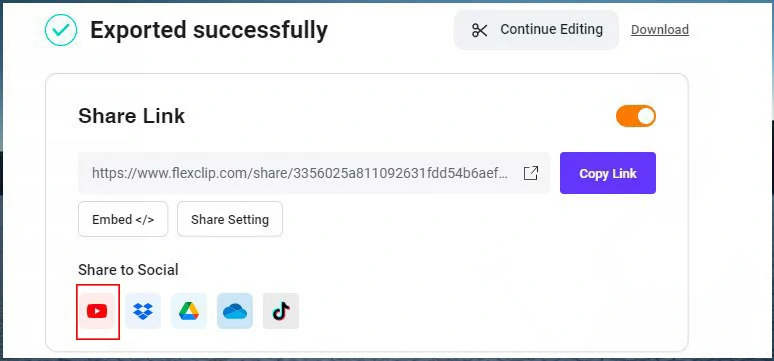 Easily share or repurpose your videos.
Learn from the Best Workout Videos on YouTube
If you are recking your brains for inspiration to make a great workout video, no worries! As a bonus, we've put together 3 of the best fitness YouTubers and their iconic workout videos. So, hopefully, you can get your creative juices flowing by watching their iconic workout videos with styles.
1. Pamela Reif – 10 Min Strong Waist Workout with 2 Bottles
Pamela Reif's 10 min workout video
2. Yoga with Adriene—8Min Morning Yoga to Get the Juices Flowing
Adriene's moring Yoga workout video
3. Grow with Jo---Full Body Morning Mobility Routine
Jo's full-body morning warm-up workout video
Now, It's Your Move
Having discussed so much, we sincerely hope that our tutorial and recommended fitness video editor—FlexClip can help you film and make captivating workout videos yourself at home. So, start experimenting and making your second-to-none workout videos now!