As we are aware of the fact, Covid, which seemed like a joke at first, took everything under its control like a storm, making it a global pandemic, causing our lives to stop. Various things were affected amidst the lockdown, one of which has to be education. Many institutions took over online classes, whereas some started to record video lectures, making it convenient for the students not to miss their education, which plays a vital role in creating a student's career.
In higher education, lecture recording software is a handy reference tool that helps students to review lectures and truly comprehend difficult subjects. It's also helpful for students with learning disabilities because it allows them to refer to and understand the content at their speed. Recordings enable users to access or examine the information at their ease. There is no fear of losing class if you are caught up in certain circumstances. The lectures are being recorded, making it convenient for you to access them later or go through them while revising for your examination.
Here are some of the best lecture recording software that you can access. Pick one to help you out!
The Best Free Software for Making Video Lectures
1.FlexClip
FlexClip is the most popular and widely used free software for video editing, with a wide range of video editing features that enable you to create video lectures.
The main advantage of using FlexClip for video editing is that you won't have to download any software, which speeds up the process because you'll be able to do highly qualified editing right on their webpage. It's also very user-friendly and easy to use, letting the users record and edit videos you created. Last but not least, it also has HD recording capabilities for both the webcam and the screen, making it soothing for the eyes and catching the user's attention.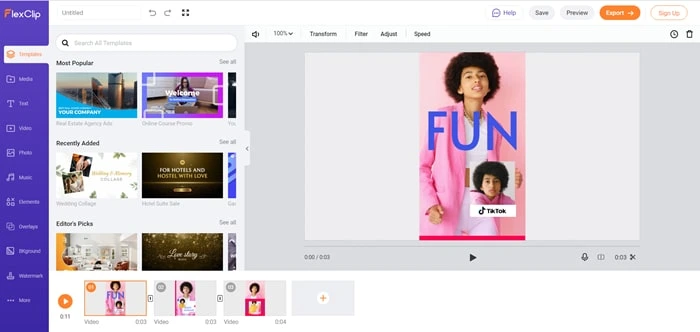 Lecture Recording Software - FlexClip
2.RecordCast
RecordCast is free video software that doesn't involve either installation or attachments and allows you to screen record everything online in just a few clicks, and provides with a resolution of small 480p, Medium 720p, and 1080p HD. You can trim recordings, insert text effects, overlays, dynamic components, audio, and modify backdrop colors with a built-in video editor. For each assignment, you can record up to 30 minutes of video and are capable of recording. It can also record video from a webcam.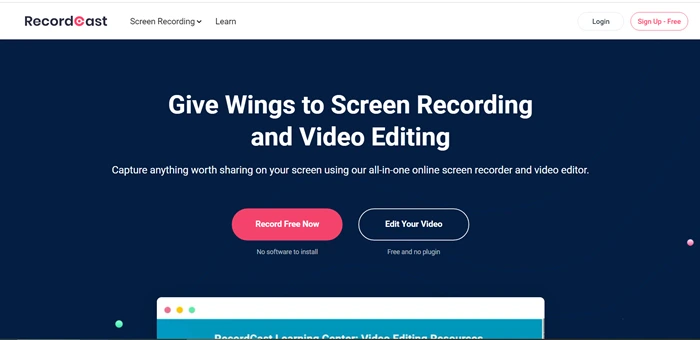 Lecture Recording Software - RecordCast
3.Panopto
Panopto is a straightforward yet effective software for recording live streams with standard quality recordings. It integrates seamlessly with any Learning Management System, making it incredibly simple to set up and use. It can be difficult to learn how to utilize Panopto as a new user. Although there is a period of adjustment, the platform is quite user-friendly and doesn't contain any time restriction to record the video. Panopto Basic is free, whereas Panopto Pro requires a monthly membership as well as a nominal price for each storage hour beyond 50.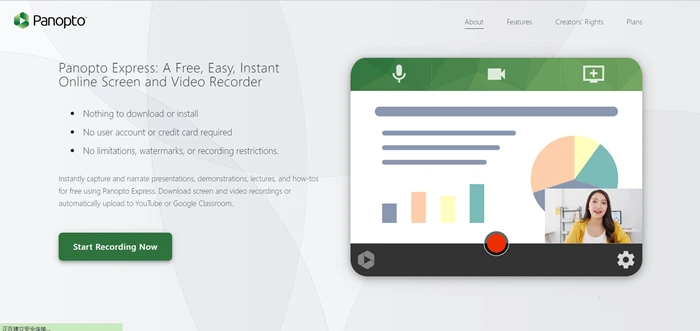 Lecture Recording Software - Panopto
4.OBS Studio
We apprehend OBS is a free-of-cost and open-source video recording and live streaming program that has no recording limitations. Consumers can install Streamlabs OBS for free. However, premium features demand a paid subscription. Prime, Streamlabs OBS's premium software, costs $19 per month or $149 per year. The video recording resolution may be the same as or lower than the base resolution preset. It also records both webcam and screen simultaneously.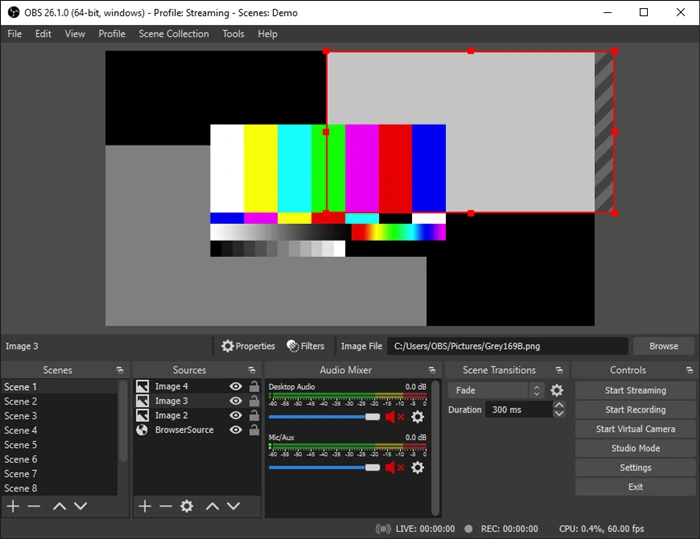 Lecture Recording Software - OBS Studio
5.Screencastify
It is the most popular Chrome screen recorder with standard quality resolution. Download the application to quickly capture, modify, and publish movies, as well as create video assignments. Screencastify features a free everlasting edition with a video recording restriction of up to 5 minutes. Consumers can get all of the free plan's features, as well as limitless recording time and more editing tools, for $49 per person each year. You can quickly incorporate your webcam into a tab or desktop recording of your complete screen with Screencastify.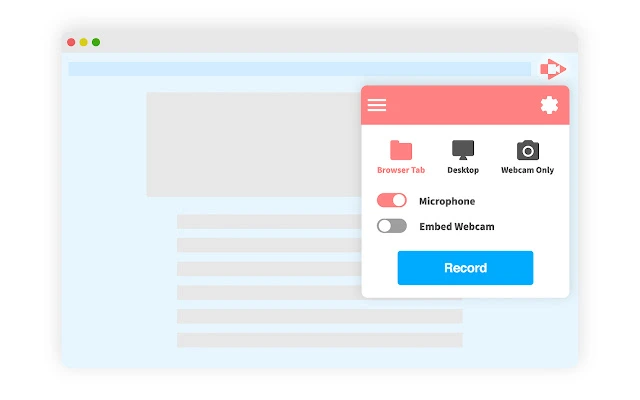 Lecture Recording Software - Screencastify
6.Ezvid
As known, it is a full-featured screen recorder and video editor that records all that happens on your screen for free. Screen drawing, facecam, speech synthesis, voice recording, and speed control are just a few of the cutting-edge capabilities and techniques in the Ezvid screen recorder for Windows. Ezvid captures screen while recording the webcam. It produces razor-sharp, high-resolution videos as well and makes screen recordings and videos up to 45 minutes in length.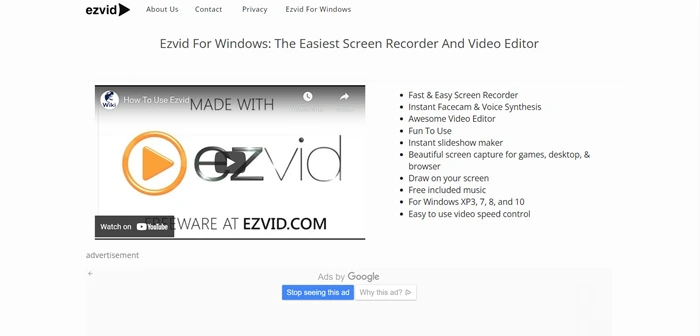 Lecture Recording Software - Ezvid
7.Wondershare Filmora
We comprehend it is among the most outstanding video editing software with impressive capabilities, especially when compared to other rival video editing softwares that capture your screen and webcam footage at the same time. Individual users pay $7.99 per month, while corporations with one user pay $155.88 per year. All Filmora features are included, as well as free technical assistance. The maximum amount of time that can be recorded is 45 minutes.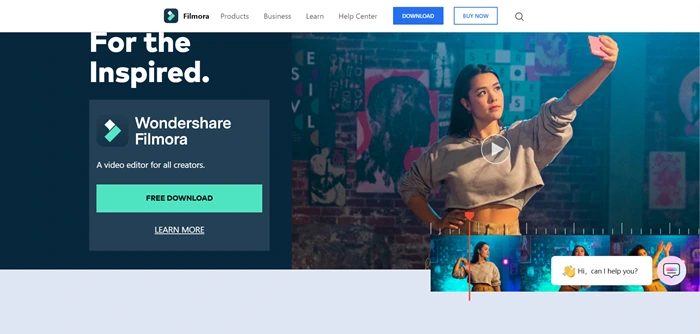 Lecture Recording Software - Wondershare Filmora
8.CamStudio
This is a completely public adaptive streaming tool for Windows that allows you to record for up to 10 minutes. With a range of WebCam movie screen capture alternatives, high-quality capturing possibilities, and video compression procedures that can help with editing, the programme is also quite good with its features.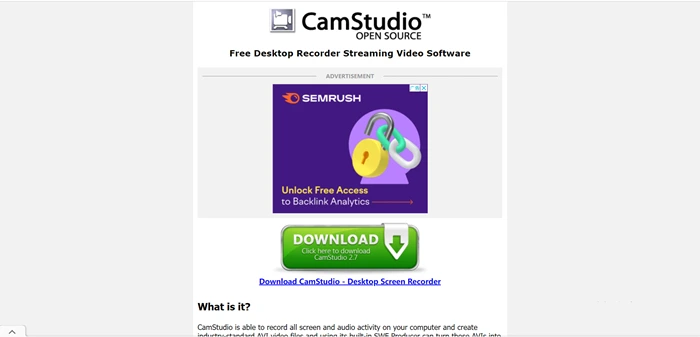 Lecture Recording Software - CamStudio
The Bottom Line
We believe that, of all the options listed above, Flexclip is by far the most trustworthy Free software for creating video lectures because it offers you with a variety of features such as no set time for recording the lectures and no need to worry about the resolution because it always gives you the best. As a result, you should choose this to be at rest and avoid the commotion of other programmes, allowing you to focus on your work. Apart from that, users should and can create a variety of other films on FlexClip, such as birthday videos, to save and appreciate them without having to worry about editing or resolution. Additionally, you may create infographic videos to draw in your target audience and assist them with their numerous responsibilities.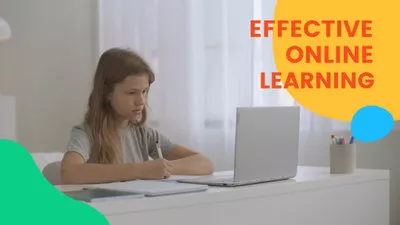 Online Learning