As video content creators, we often come across some recordings where the speakers use words that can never go well with most viewers; that's where the need to beep out curse words in the video comes in. Most of these words are so unfit that they could cause an uproar amongst the viewers. They don't have to be curse words per se; most of the time, wrong pronunciations of words can also lead to applying the beep-out sound. But whichever reason behind you doing this, you must do it right or risk distorting the good audio parts of the video.
And to do this right, you have to apply the right method of beeping out cursed audios. This feature has been diversified; many apps and online tools have been created to help video editors add beep-out words. In this article, we have detailed some effective methods on how to beep out bad words in the video. Just read through and get acquainted with the methods.
How to Beep Out Curse Words in a Video Online
As we have previously explained, there are many ways to add a beep sound to a video; while some are online, others are designed to work offline. The best way to beep-out word in a video is by using the online version of the tool, which is why we like to introduce FlexClip. FlexClip is the world's most used video editing tool for creating eye-catching videos. Some of the unique features of this tool include no download, no registration required, and rich beep sound effects to choose from. And for those who are not good at handling complex software tools, FlexClip is flexible and comes with easy editing features. Below are the steps to follow to add beep-out sounds to your video using FlexClip successfully.
Step 1
Import your video clip. To do this, click on 'Media' on the left sidebar, then use the "Upload File" button to upload the video.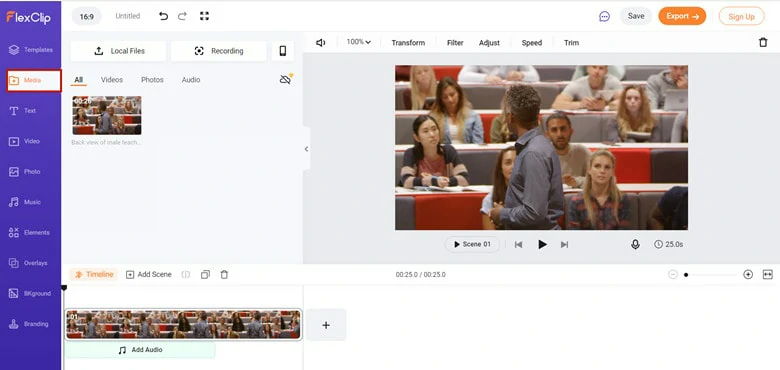 Import Your Video to FlexClip
Step 2
Split the audio. By splitting the audio, you will be able to identify which section of the video needs the audio beeped.
Split the Audio that Covers Curse Words
Step 3
Trim the audio
. By trim, we mean to cut the audio short. This is not compulsory; it is used only in a situation where the curse words scene is too long and simultaneous. In that case, you can trim the whole part at once.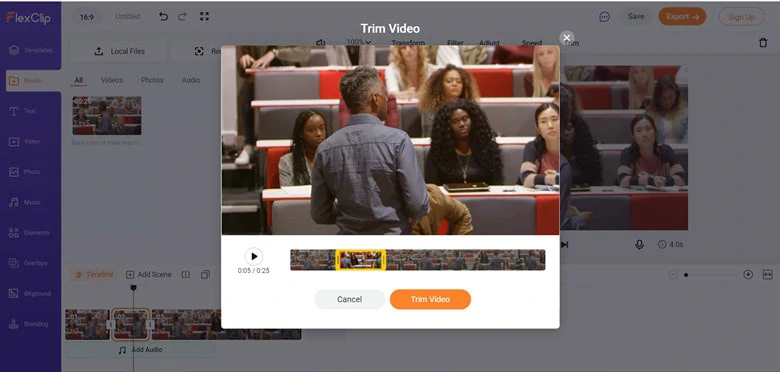 Cut the Audio Short by Trimming
Step 4
Upload the beep sound effect from your computer or find the beep sound effect in FlexClip's Music library.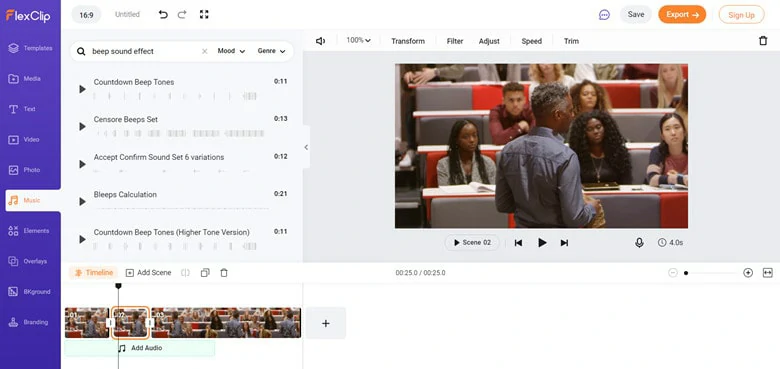 Find the Beep Effect
Step 5
Add a beep sound effect. Here, you must be crafty when adding the beep on the curse scene to avoid affecting other audio parts.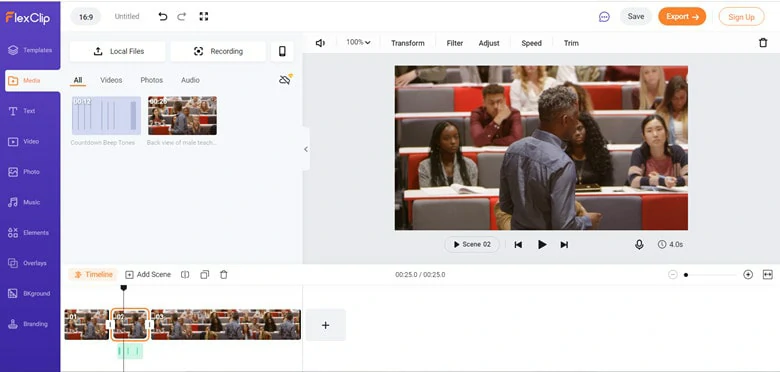 Apply the Beep Effect to Your Audio
Step 6
Export. Click "Export" at the top right side of the site to export the finished video to your storage or directly to any video streaming platform.
How to Beep Out Curse Words in a Video On iPhone
For iPhone users, you can actually add the beep out sound as well. To do this, you need the iMovie app. The iMovie is a video and image editing tool designed by Apple industries to help iPhone users make any kind of edit on their phones. The app is professionally developed, and it's very easy to use. Like FlexClip, iMovie comes with unique features; first, the easy-to-use feature is very visible and can be used by anyone no matter your level of computer skills. It also has an easy sharing feature that allows you to share on any platform or device. Below is how you can go about beeping curse words using iMovie.
Step 1
Pick a video from your video Timeline.
Step 2
Right-click and select Detach audio from the shortcut menu, or go to the menu bar and click Modify, after which you click Detach Audio.
After performing step 2, a green audio clip detach will fail directly below it. By then, the video is considered independent; you can now make further adjustments subsequently.
How To Bleep out Words in iMovie
The Bottom Line
This post is coming at a time when there has been growing concern about the kind of language video producers use in their videos. With the right tools like FlexClip, video editors can comfortably and accurately beep out some foul language from videos to suit the right audience. Again, they can add more sound effects to their videos using the same tool. So, like and share this post to engage prospective videographers looking for the best way to beep out bad words on their videos.