When you encounter some interesting online videos, you can copy and paste the video's URL and then share. What if there is a video on your computer or phone, how to share a video via link, especially a large video?
No need to go through complicated processes. Here in this post, we will show you how to make a video into a link via different tools. Check them out and decide which method is the best.
Can't Miss: Best Video Compressors to Reduce Video Size Significantly >
Method 1. Create a Link for a Video via Social Media
If you can share a link of other people's video, you can upload a video to any social media platform and then share with others. The problem is, others may also be able to see the video. If you find this way lack of privacy, please refer to method 2 or method 3.
The most frequently used social media platforms to create a link for video are YouTube and Facebook.
Create a Link for a Video on YouTube
Log in your YouTube account, upload your video to YouTube. YouTube has no limit on video length. Just wait patiently until your video is uploaded successfully. By the way, remember to make the video public. A private video can't be shared via a link.
After uploading, click on the Share button below the preview window. Paste the video's URL and send it to your friends.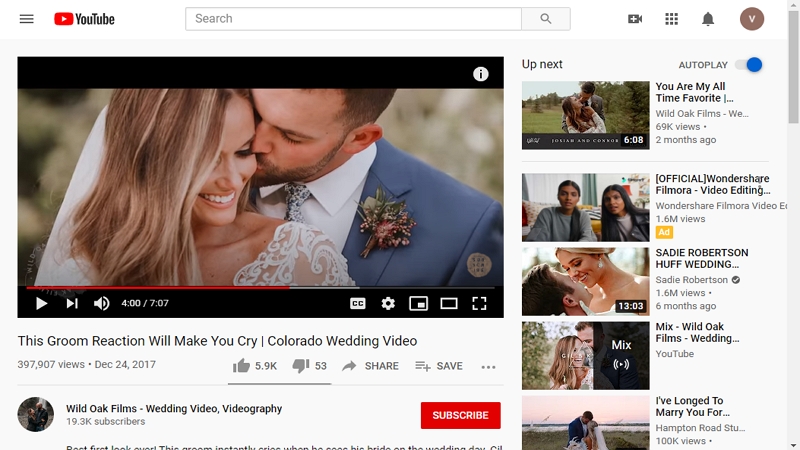 Make a Video into a Link on YouTube
Create a Link for a Video on Facebook
Facebook provides more options to share. You can share a Facebook video's URL to your timeline, your friend's timeline, or personal Facebook message or even outside Facebook realm to those without Facebook account.
Click on the Share link beneath the video, a link will be generated. Select the preferred way of sharing, then choose a recipient. You are done!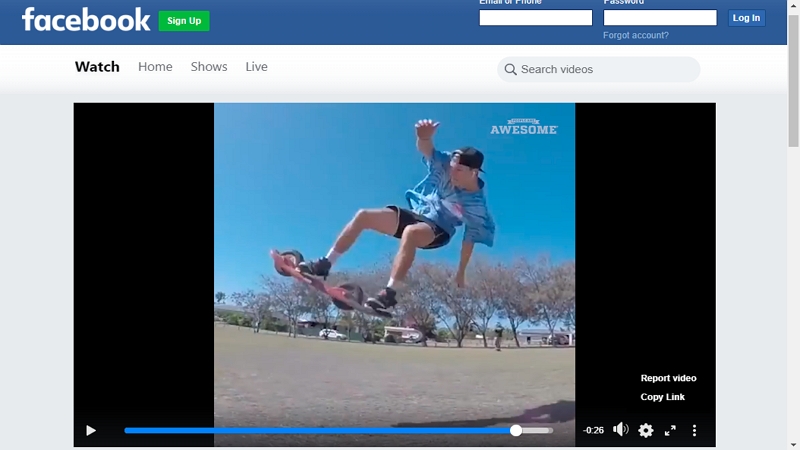 Make a Video into a Link on Facebook
Method 2. Create a Link for a Video via Cloud Services
Cloud services do more than just storing your files. After uploading videos to any cloud services under a folder, you can share it via a link. This method is safer, We will take Dropbox and Google Photo as an example.
Create a Link for a Video with Dropbox
Sign into Dropbox and then find the video file you want to share. Hover over the file and click the Share button that appears. Paste the link to an email, chat window or whatever you use to communicate.

Make a Video into a Link on Dropbox
Create a Link for a Video with Google Photo
Visit photos.google.com and select the video you'd like to share with shares. Click on the Share button on the top right corner, then click on Get Link. Paste the link and then share.
Method 3. Create a Link for a Video via FlexClip
FlexClip provides you one-stop service for hosting and editing videos. Once you have uploaded your video to FlexClip, you are embracing endless possiblities of creation. After that, FlexClip generates a video link in seconds. With a video link, you can embed a video to a website, and social media platforms, or share directly with friends without worrying about any privacy issues.
Click on the Get Started button below and follow the steps to start making a video a link.
Step 1
Upload your video to the media section and apply it to the storyboard. The uploading process should take no more than a few seconds.
Step 2
Edit your video before sharing. FlexClip provides numerous powerful tools like zooming, changing speed, filters to level up your work.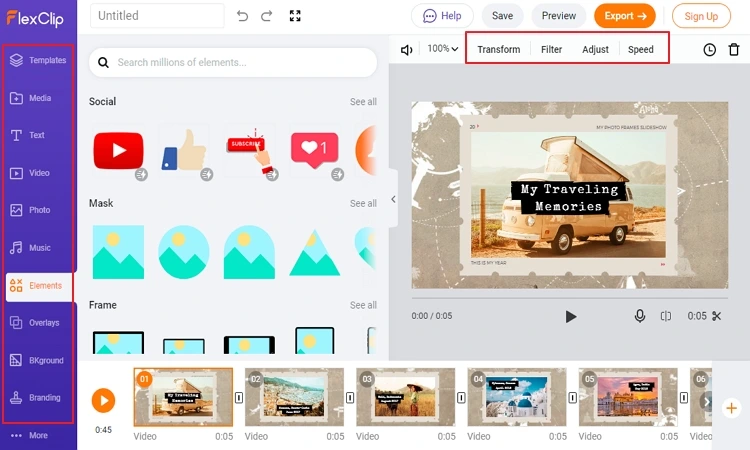 Make a Video into a Link via FlexClip - Step 2
Step 3
Make a video into a link. Click the Export button, you will be brought to the download page. A share link will show up in the middle of the page. Wait the downloading process to be done and then copy the link to share.
Make a Video into a Link via FlexClip - Step 3
The Bottom Line
That's all for how to create a link for a video. Social media platforms, cloud services and FlexClip can all help you make a URL for a video. FlexClip, as you can see, can act not only as a video link generator, but also an excellent video editor. Always remember to use it to edit any video and share your video via link.