iMovie is a free video-editing program for Apple users. It includes a range of fancy transitions and editing tools, helping you create stunning videos in minutes. The iMovie video editor comes with all iPads, iPhones and Mac computers. Thanks to easy-to-use features, it's the final choice for many professionals and newbies.
The question is how to get iMovie for Windows 10 user? Even many sites claim to have ways to download iMovie on Windows 10 PC. Unfortunately, iMovie is a bonus for iOS only. Instead, you can use some iMovie-like applications to unleash your creativity. Here are two free iMovie alternatives for Windows 10 without download. Check the list right now.
Part 1. iMovie Alternative for Windows 10 - Photos App
Photos App is the in-built editing software for Windows 10. Even though it's designed to help PC users view, organize and edit images, you can still apply it for video editing.
As a video editor on Windows 10, Photos App offers two ways to generate videos: Automatic video with music and custom video with music. Whatever solution you choose, you can combine your photos and videos with music, motion, text, and more. If you want to give your video some animation effects, go with sparkles and fireworks effects.
How to Use Photos App to Create Videos
Step 1
Open Windows 10 Photos app and choose the Video Editor option.
Step 2
Click the New video project option and give your new video a name.
Step 3
Tap on Add button to load videos and photos from your PC, collection or the web.
Step 4
Apply all the items to the storyboard with a drag-and-drop operation or click the Place in Storyboard button to add them.
Step 5
Feel free to change each clip's duration, trim out unwanted parts, and split long videos into several clips.
Step 6
Select a title card to add text with a plain colored background. Besides, level up your videos with filters, 3D effects and motion animation. Perfect your video using background music.
Step 7
When it's OK, click Finish video to set your video resolution and export your video.
iMovie for Windows 10 Alternative - Photos App
Part 2. iMovie for Windows 10 Online - FlexClip
FlexClip is one of the most iMovie for Windows 10 alternatives online. It comes with easy-to-follow interface and handy features, allowing you to make stunning videos without any editing skills.
Better than iMovie, providing multiple advanced tools, such as AI subtitle generator, AI voice generator, AI image background remover and so on, this iMovie alternatives on PC lets you create good-looking videos effortlessly. Additionally, there are tons of media resources and designer-made template to help you unleash creativity.
Feature highlights of FlexClip
AI tools like subtitle generator are available.
Millions of royalty-free videos, photos and soundtrack.
4000+ professional-looking
templates
ready for you.
Able to cut, merge, split, trim and rotate video clips.
Loads of overlay effects, motion animations, text style and transitions.
How to Create Video Using iMovie Alternative for Windows 10 Online
Step 1
Start from Scratch or Pick a Template
Click "Create a Video" below to get started. To use the expertise of your creativity, you can start from scratch. Otherwise, go to the Template page and search for some keywords to find your wanted template.
Step 2
Upload Footage and Make Basic Edits
Upload your footage from PC or mobile phone and add them to the timeline when they're well loaded. Here you can use basic editing tools like trimmer to edit your raw videos.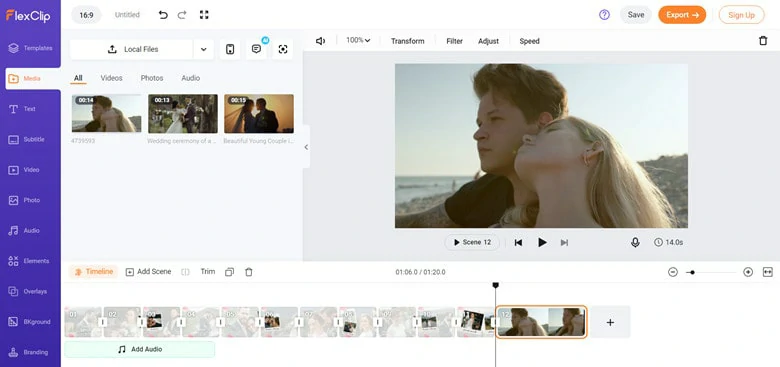 Upload Footage and Make Basic Edits
Step 3
Add Text to Your Video
Text makes viewers focus on your content better. Automatically generate text with this AI subtitle generator or manually add text to your video. After that, you can change the position, size, color and alignment of your text.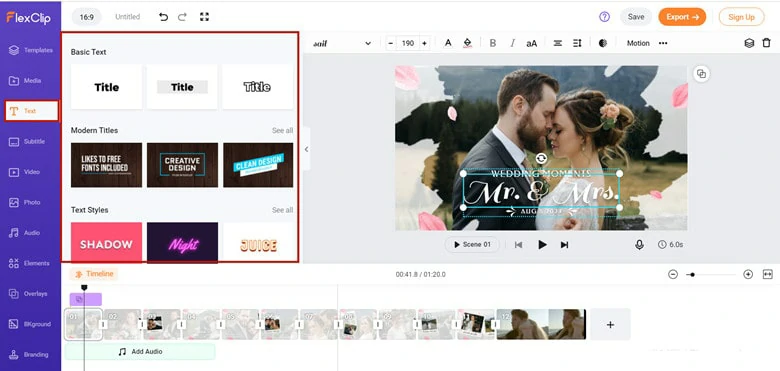 Add Text to Your Video
Step 4
Add Transition to Flow Smoothly
Transition effects let your video switch smoothly. Go to the Transition button between any two clips and start to add transition effects. You can set the duration and style if needed.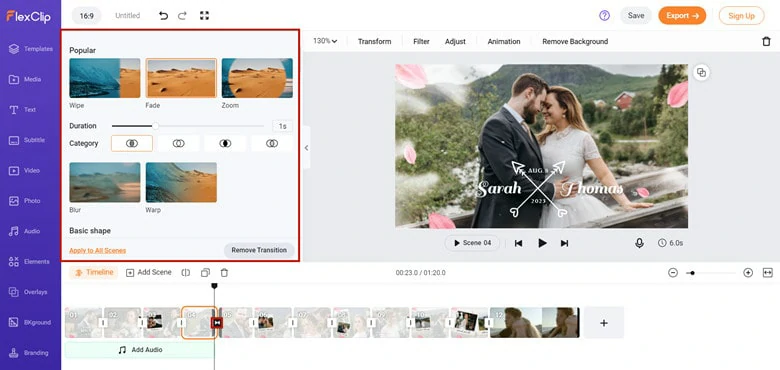 Add Transition to Flow Smoothly
Step 5
Perfect Your Video with Audio and Elements
Feel free to level up your video by adding background music, superposing overlay effects, inserting funny stickers and more.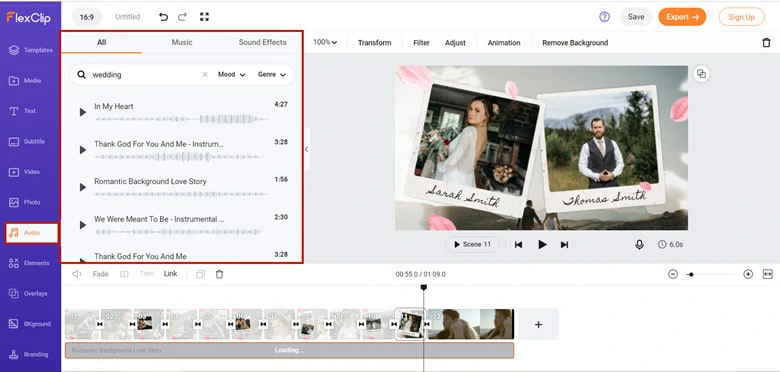 Perfect Your Video with Audio and Elements
Step 6
Save and Export Your Video
FlexClip allows you to determine the video resolution such as 720p, 1080p, etc. Simply click the "Export" at the top-right corner of the page or directly share to TikTok to gain more views! No quality will lose during the exporting process.
The Bottom Line
That's all for iMovie for Windows 10 alternative to help you make appealing videos. By the way, FlexClip is an easy-to-use yet powerful video editor to create all sorts of videos, including memorial, wedding, promo, and more. Now it's your turn!