Built to boost your workflow for video and audio editing, AI voice generators have become one of the most highly efficient and popular ways for content creators to create quality video content for social media these days.
So, if you don't have time and gear to record voiceovers yourself or lack an angel-kissed voice to engage viewers in your video or live streaming, no worries! We've got you covered!
In this tutorial, we have rounded up a list of the 4 best AI voice generators and will walk you through their pros and cons for creating realistic AI-generated voice. So you can easily make human-like AI voiceovers for your YouTube videos, podcasts, and promo videos of all kinds.
Here is what you will learn:
Also, read the 6 best ways to automatically transcribe video to text.
1. FlexClip
If you mainly need to create realistic AI voices and blend them into your YouTube video, Instagram Reels, TikTok video or Facebook videos, or other promo videos like webinar teasers, meet the team video etc., then FlexClip online AI voice generator can be your best bet.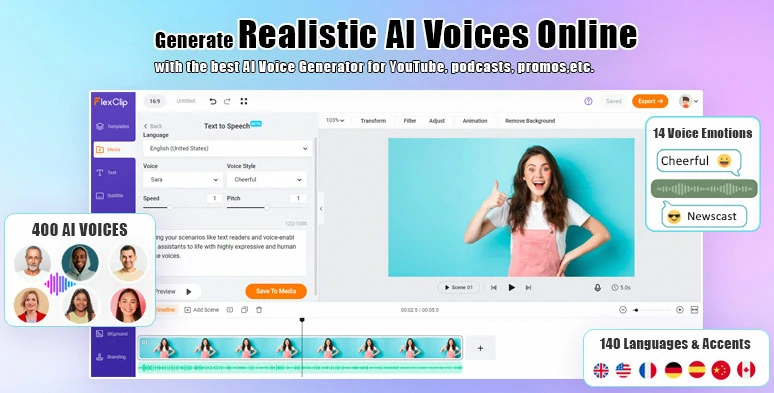 Easily generate realistic AI voices with FlexClip AI voice generator online for video projetcts.
What distinguishes FlexClip from most AI voice generators is that not only is FlexClip a powerful and realistic AI voice generator but also a user-friendly and feature-rich online video maker. So, it basically serves as a powerhouse for generating AI voiceovers, and editing them with videos, images, GIFs, and audio in one place online.
Best Features to Generate AI Voice with FlexClip
Generate a realistic and human-sounding AI voice with a staggering 400 neural AI voices in 140 languages and multiple variants.
Customize the gender, age, voice styles (assistant, chat, newscast, customer service), emotions (cheerful, angry, sad, excited, friendly, whispering, hopeful, etc), speaking speed, and pitch of AI-generated voices with the click of a button.
Directly generate AI voiceovers and add them to the intuitive timeline with other clips, images, GIFs, and audio for trimming, cutting, merging, etc. Meanwhile, FlexClip will automatically download the generated AI voice audio file to your PC for backup or other repurposings.
Tons of helpful tools like
auto AI subtitle generator
,
video-to-audio converter
,
image background remover
, speed controls, trending transitions, effect overlays, GIPHY GIFs, and 4M+ stock photos, videos, and royalty-free music tracks, sound effects, are also readily available.
Besides, thousands of designer-made and fully-customizable
video templates
and 4M+ royalty-free video assets including videos, audio, GIPHY GIFs and images will make your video edits 10x faster.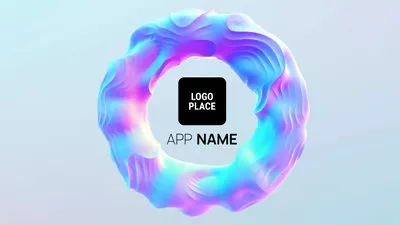 App Presentation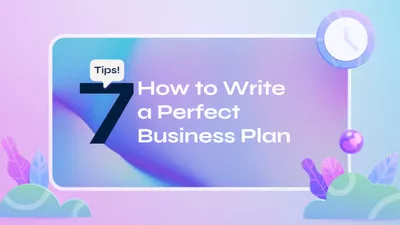 Universal Business Marketing Tips Youtube
Education Course Promotion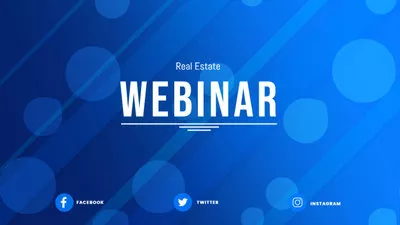 Free Real Estate Webinar
How to Create Realistic AI Voiceovers by FlexClip Online:
Step 1
Access FlexClip
and upload your video assets from your PC, phone, Google Drive, One Drive, Dropbox, Instagram, Facebook, etc.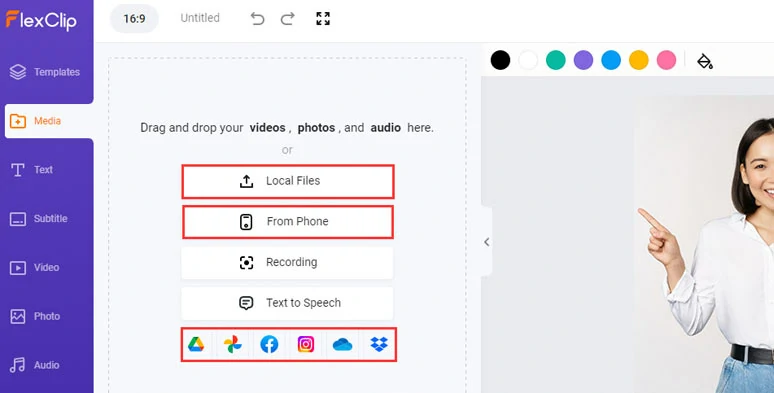 Upload your video assets to FlexClip.
Step 2
Click the plus sign to add your clips to the intuitive timeline. You may trim, split and merge clips or adjust their sequence when needed.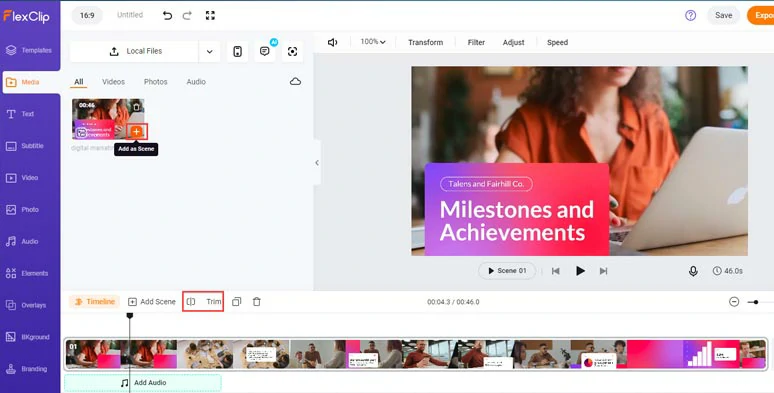 Add clips to the timeline.
Step 3
Generate lifelike AI voiceovers.
Click the AI text-to-speech icon in the Media tab > select the language and accent > select the AI avatar's voice and you can preview its voice as well > set the voice style and emotions, voice speed, and pitch to your liking > type in texts needed for AI voiceovers in your clips > preview it > click Save to Media. Then FlexClip will auto-generate the AI voice to your media library.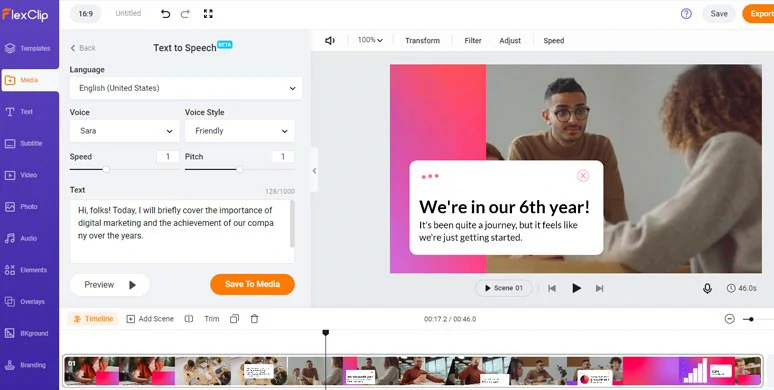 Use the AI text-to-speech generator to create human-like AI voiceovers for your promo video.
Next, you can go back to the Media tab and add the AI-generated voice to the audio track. Meanwhile, another free AI voice audio file will also be automatically saved to your PC for backup or future use. You can trim, split or merge AI voiceovers with ease.
Add auto-generated AI voiceovers to your promo video on the intuitive timeline.
Step 4
Use the auto AI subtitle generator to add subtitles to your video.
If you need to add subtitles to your video, click Subtitle tab > Auto AI Subtitle > select language and accent > Next > set the style of your subtitles > hit the Generate Subtitles button. Then, FlexClip will auto-generate subtitles for your AI voiceovers and the audio narration in the original video.

Use FlexClip's AI subtitle generator to auto-generate subtitles for your video.
Then, you can customize the text's fonts, styles and colors, background fill, split or merge subtitles, etc. Pretty handy!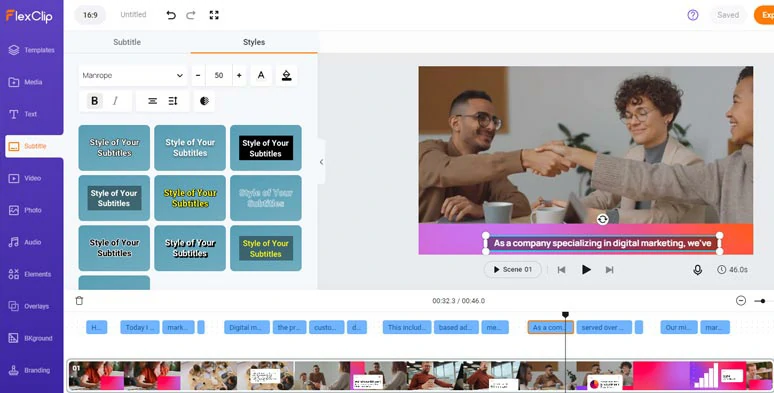 Customize the style of auto-generated subtitles in the video.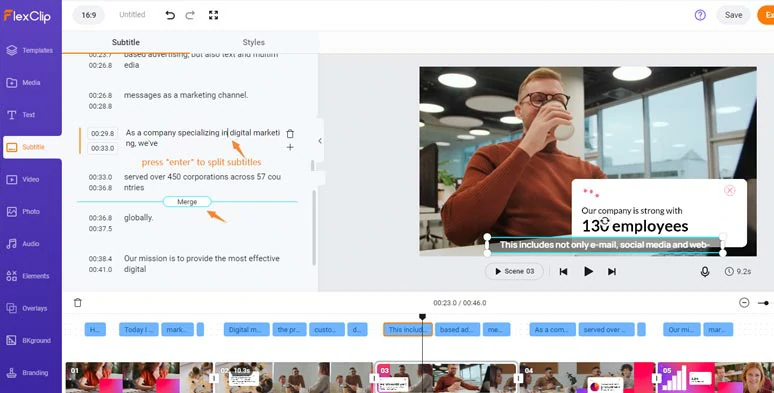 Split or merge subtitles when needed.
Step 5
Add text animations, seamless transitions, royalty-free music, sound effects, etc.
Click the Text tab and use 1,000+ ready-made and editable text animations for your video. Or click the Audio tab and select from 74,000+ music tracks and sound effects that match the vibes of your video project. Or add trending transitions like liquid, circle, etc. Just feel free to explore.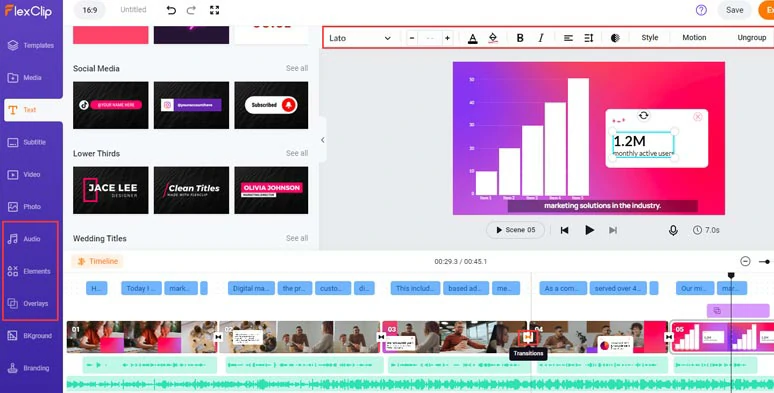 Add trending transitions, animated texts, and royalty-free music and sound effects to videos.
Step 6
Preview and share.
Done with the editing. You can save the 1080P video to your PC or directly share the video to YouTube, Google Drive, One Drive, Dropbox, or TikTok; a clickable link and an embed code are also available for your blogs, newsletters, or other repurposings.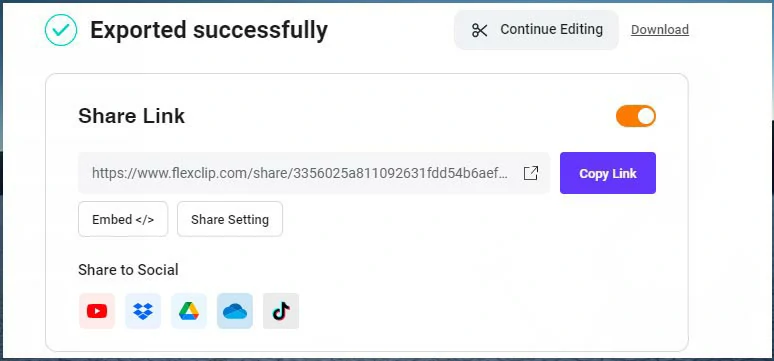 Multiple ways to share your video.
Downsides:
Some of the language variants don't have speaking style options to choose from.
2. Murf
If you only need to add human-like AI voiceovers to videos or images and don't need any video editing, then the Murf AI voice generator can also be another great option online. You get a 10-minute free generation of AI voiceovers to test out if it works for you.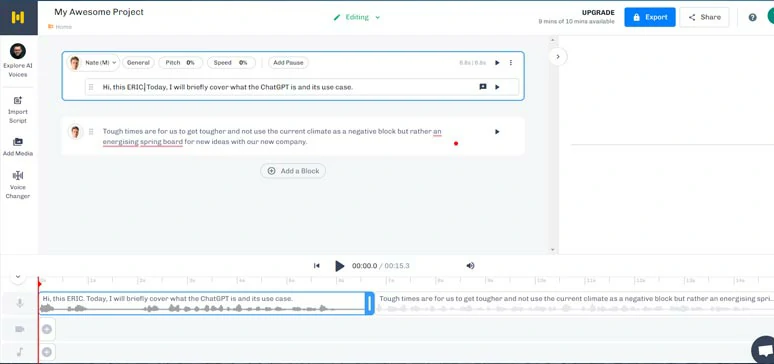 Auto-generate AI voices with Murf online.
With an easy-to-use user interface and tons of AI voice avatars and helpful text-to-speech related tools, Murf allows you to quickly add realistic AI-generated voices to your video like never before.
Best Features to Generate AI Voice with Murf
120+ AI voice avatars with human-like AI voices in 20+ languages.
Use filters to customize the nationality, gender, and age group of the AI voice avatars and use cases, such as audiobooks, ads,etc.
Set the AI voice avatar's speaking style, pitch, and speed, or add a pause between texts for more realistic AI voiceovers.
Import script to generate AI voice.
Transcribe imported video to text.
Add royalty-free music and free stock images.
How to Create Realistic AI Voiceovers by Murf Online:
Step 1
Access Murf's studio and type in texts for AI voiceovers.
Step 2
Select an AI avatar and preview its voice and set details like speaking styles, emotions, pitch, and speed, and press the "Generate" button and the AI-generated voice will be automatically added to the timeline for you.
Step 3
Upload images or videos and align the AI-generated voiceovers to match the video/image moment.
Step 4
Click Export to save the project in video/voice only/voice+music/script formats.
Downsides:
No video assets available.
Can't trim and split AI voice audio tracks.
3. Speechify
If you are looking for a versatile AI voice generator that can help you read articles, emails, novels, and documents more efficiently just by listening to human-like AI voices, then look no further than Speechify.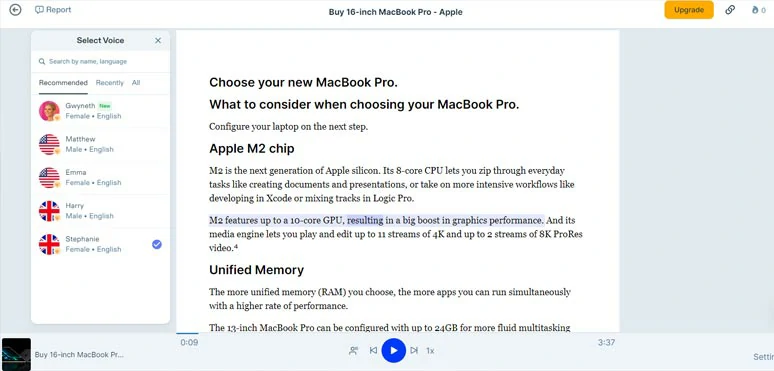 Generate lifelike AI voices from texts or an URL by Speechify online.
It's available online, in the Apple store, and in Google Play for desktop and mobile users. You can use Speechify to convert any text, including texts in images to human-sounding AI voices with ease for audiobooks, podcasts, etc.
Best Features to Generate AI Voice with Speechify
30 AI voices with 15+ languages are available.
Available in Google Chrome, IOS, and Android.
Speed up the AI-generated voice up to 4.5x faster to drastically improve reading speed.
Screenshot images with texts to be converted to AI voice from the Cloud.
How to Create Realistic AI Voiceovers by Speechify Online:
Step 1
Access Speechify's online AI voice over generator.
Step 2
Type in texts and click the Generate button to create AI-generated voiceovers. Alternatively, you can access Speechify's web app and upload a script or paste a web link to generate AI voiceovers from the text.
Step 3
Click the MP3 button to download the TTS voice for free.
Downsides:
Can't customize the speaking styles, emotions, and pitch of the AI voices.
To use Speechify's free AI voice generator online, you can only use the default AI voice avatar, and there is no way to customize the details of the AI voice.
Can't blend AI voiceovers with images, and videos, and no video and audio assets available.
4. Voice.AI
Have you ever thought about using your favorite celebrity's voice like Justin Bieber, Ellen, Emma Watson, Simpson, or Obama's voice for your video projects or even in live streaming? Well, with the amazing AI voice generator from Voice.AI, your dream now has finally come true.
Generate realistic celebrity AI voice by Voice.AI
Unlike the previous text-to-speech AI voice generators above, Voice.AI allows you to record your voice on PC or speak in real-time in a live stream and it will turn your voice into a lifelike celebrity's voice. That's so sick.
Best Features to Generate AI Voice with Voice.AI
Offers you two modes (record/live) to turn your voice into one of the celebrities' voices.
Upload previously recorded audio to generate the celebrity AI voiceovers.
Join the AI voice universe or community to create an AI voice of your own.
Adjust the quality of the real-time AI voice when live streaming.
Use credits to unlock AI celebrity voices for free use.
How to Create Realistic AI Voiceovers by Voice.AI:
Step 1
Download the AI voice generator to your PC from Voice. AI and install it.
Step 2
Click the AI voice icon in the middle of the software and select a celebrity's voice to your liking and click the Train button and use credits to unlock it for use.
Step 3
Select the mic used for voice recording.
Step 4
Click the mic icon and speak to the microphone. When you are done, click the recording button again and Voice. AI will automatically process your voice and generate the celebrity AI voice for you.
Step 5
Preview the AI-generated voice and click the download button to save the voice as a WAV file to your PC.
Alternatively, you can click the Live mode button. So, you can speak like any celebrity with friends in Discord, Zoom, or voice chat in Games.
Downsides:
Currently, only available on Windows for free software download when this review was written.
There is a noticeable lag in the live stream for AI voice generation, such as in Discord, Zoom, etc.
Need a mic connected to your PC.
Now, It's Your Move
| &nbsp | Generate AI Voices | Versatility | Platform |
| --- | --- | --- | --- |
| FlexClip | Realistic AI voices; 400 neural AI voice avatars; 140 languages & accents; customize voice's speed, pitch, emotions, etc. free backup audio file | Trim/split/merge multiple audio, images, and videos; auto AI subtitle generator, thousands of customizable video templates; feature-rich video editor and 4M+ audio/image/video/GIF assets | Online |
| Murf | Lifelike AI voices; 120+ AI voice avatars; 20+ languages; formal and causal accents; adjust voice pitch, speed, add pause; clone imported vid & audio voice | Only for text-to-speech or video transcription; no video editing tools | Online |
| Speechify | TTS reader; 30 AI voice avatars; 15+ languages | only for text to speech | Online, IOS, Android |
| Voice.AI | Celebrity AI voices; tons of celebrity AI voice avatars; English only; record/import audio for voice cloning; live streaming | Only for AI voice cloning | Windows |
No AI voice generators are created equal. If you need to generate human-sounding AI voiceovers for video projects, FlexClip, with its vast video and audio assets and powerful AI voice generator, and other video tools, is your best man. If you want to imitate a celebrity's voice, go for Voice. AI. While Murf and Speechify are for normal text-to-speech and audiobook use, etc. So, feel free to experiment and share this post on your Facebook or Twitter and tag and tell us which works best for you. Cheers!