Nowadays, slideshow presentation plays a vital role in our daily lives, which can help us illustrate ideas, promote business, share beautiful memories and more. Whether you are an office worker, student, or teacher, it seems that making a presentation is an essential skill for all of us. 
To attract the viewers' attention, we often use pictures and videos in the slideshow. However, sometimes, those visuals may be not enough to hold individuals' interests. In this case, it is crucial to add music to a slideshow. If you don't know how to do it, no worries, this post will walk you through everything about adding music to the slideshow, add multiple songs to a slideshow are also included. Follow the easy-to-understand guides below and learn how to add music to your slides and make a slidehsow with multiple songs with great ease.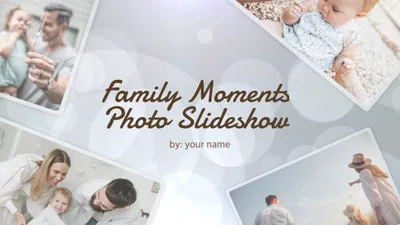 Family Moment Collage Slideshow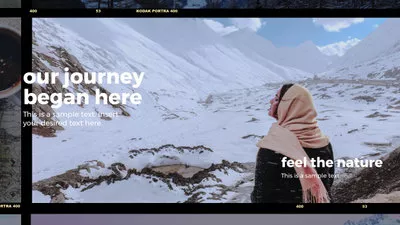 Cinematic Travel Story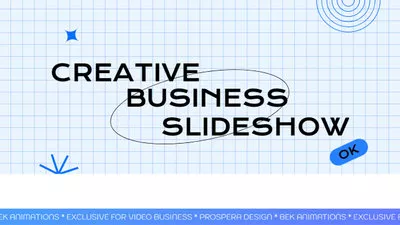 Creative Business Slideshow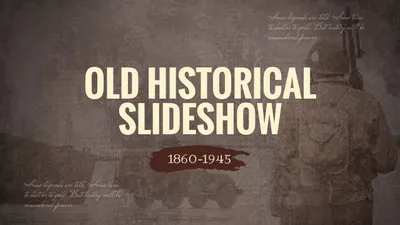 History Timeline Slideshow Video
Can't Miss: Best Free Slideshow Makers with Music & Effects Online/Offline >
How to Add Music/Multiple Songs to a Photo Slideshow
For a photo slideshow, background music is necessary. A suitable background music can bring your slideshow video to the next level, also adding multiple songs to your photo slideshow can make it far more appealing. So, how do we add music and make a slidehsow with multiple songs? An easy-to-use tool is indispensable.
Among all the online slideshow makers, FlexClip can be a nice choice. It is a FREE and simple-to-use tool, enabling you to add music and even multiple songs or sound effects to a slideshow within minutes. On FlexClip, you can enjoy royalty-free stock music as well as numerous pre-made slideshow templates. Additionally, you can level up the slideshow with stylish texts and funny stickers. Let's see how to add music and make a slideshow with multiple songs using FlexClip.
Step 1 Upload Your Photo Slidehsow Footage to FlexClip
Upload your photo slideshow footage to FlexClip. You can upload all the media files, including the photos, clips, and audio files, etc. from your computer, mobile device, or some third-party platforms, like Dropbox, Google Drive, and more.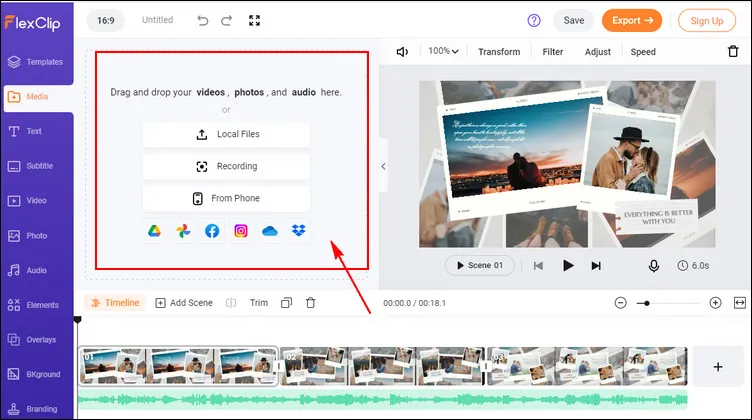 How to Add Music to a Photo Slideshow - Upload
If you need more media resources, photo, video and audio files are all available in FlexClip extensive media library. Relevant songs and photos are better for making a cohesive slideshow with multiple songs.
Step 2 Apply a Slideshow Template to Get Started Easily
To help you make a photo slideshow with multiple songs easier, FlexClip offers thousands of pre-made slidehsow templates for your inspirations. Click "Template" and enter any keywords, like birthday, wedding, memorial, business, etc. to pick your desired template for the photo slideshow. Then, apply the template you like to the timeline.
How to Add Music to a Photo Slideshow - Templates
Step 3 Customzie the Slideshow Template with Your Footage
Add your photos to the slidshow template. Click on "Media" again, drag and drop your photos or clips to replace the default visuals in the templates. Then make any adjustments: crop or flip your photos, adjust its size or location, change the animation; or you can edit the background color or text in the slideshow template to meet your needs.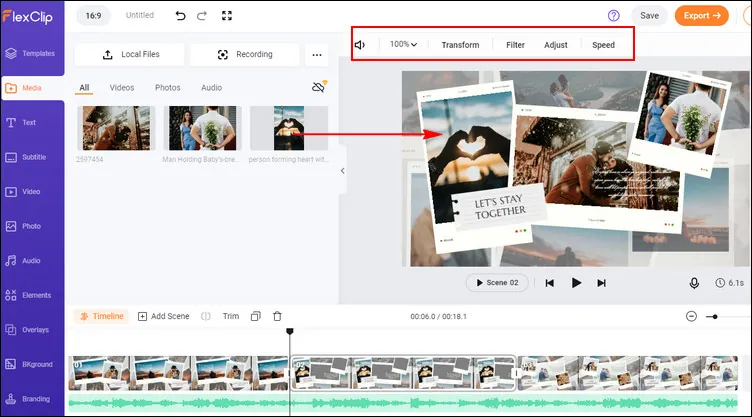 How to Add Music to a Photo Slideshow - Customzie the Templates
Step 4 Add Multiple Songs or Any Audio to the Photo Slideshow
Now, it's time to add music to the photo slidehsow. You can either delete the default audio file or keep it in your photo slideshow and then add more songs or any sound. Here you can upload your own songs or pick some great sound effects or audio track from FlexClip's Audio library.
Once you add the songs, you can trim each of them and adjust the position where the song starts and ends, apply the fade in/out effect to make the music match your photo slideshow perfectly. Also, you can adjust the volume to make the music softer.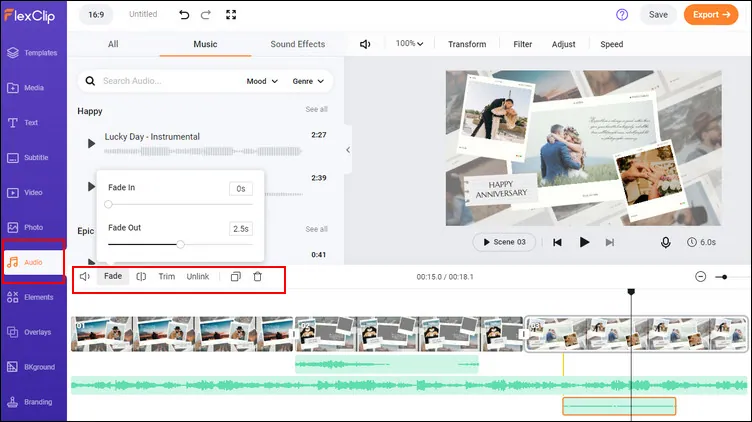 How to Add Music to a Photo Slideshow - Add Songs
Final Words
Adding music to the slideshow is a great way to keep the viewers engaged with your content. Hopefully, this guide does help you when making a slideshow with multiple songs. By the way, if you want to make a photo slideshow, you can quickly get your project done with FlexClip free slideshow templates and powerful editing tools. Try it free now!