Just as photographers place a watermark over photos for copyright protection, adding an audio watermark to your songs and audio is a great way to protect your original music from being ripped off by illegal users and download.
In this post, we will walk you through what an audio watermark is and offer you 3 proven ways to watermark your music and audio in minutes. So, let's dive into it, now!
Here is what you will learn:
How to Add an Audio Watermark to Your Music
Also, read How to Add Audio Waveform to Videos.
What Is An Audio Watermark
An audio watermark is a layer of short audio files merged in the original soundtracks or audio to help your claim ownership of an original song and audio. A typical audio watermark can be your voiceovers like saying "XXX music/audio" or a distinct ambient sound effects of yours, basically working as an audio signature.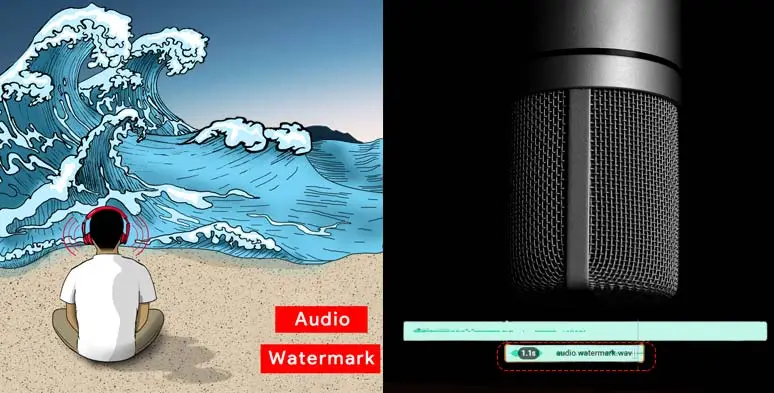 An audio watermark beneath the soundtrack
Whether you are a singer, a member of a band, a music producer, a composer, or a podcaster, having an audio watermark attached to your songs and audio can effectively protect your assets from being stolen and help listeners find the music owner through audio works. Record a voiceover as an audio watermark.
When You Need to Use An Audio Watermark
Post your latest original songs or SFX online like on YouTube or SoundCloud as a trailer or preview
Send your music
demo reel
to an unknown music company or a third-party music producer and employer
In these two cases, it's highly advisable to watermark your songs and audio to avoid possible copyright infringement.
Though watermarking your songs can protect your audio assets from being abused, an audio watermark is also a double-edged sword. A song with audio watermarks can compromise the listening experience, resulting in fewer likes and more complaints on YouTube or other music platforms.
How to Add an Audio Watermark to Your Music
To help you easily watermark audio files, we've put together 3 audio watermark generators. So, let's take a closer look.
1. FlexClip
If you plan to publish your demo songs as a video on YouTube, the free and feature-packed FlexClip online video editor can be your go-to choice to add an audio watermark. Since it is an in-browser video editor, there is no software to install and it is extremely easy-to-use.
Add audio watermark to your audio files by FlexClip online.
You can easily merge multiple audio watermarks into the original soundtracks and set the interval time and use FlexClip's royalty-free and high-res photos as the background for your YouTube video.
Besides, you may also use a wide array of designer-made and fully-customize
music
and
podcast video templates
and drag and drop your songs, music, or podcast audio files and add an audio watermark in clicks away.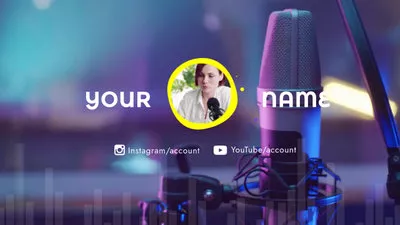 Live Podcast Promo Intro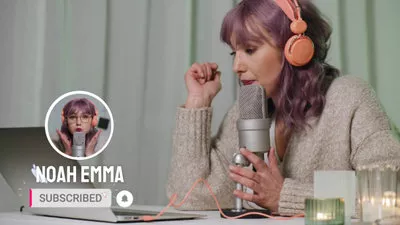 Podcast Intro Outro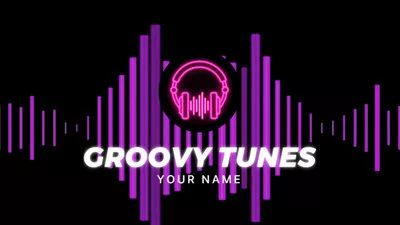 Groovy Music Intro Outro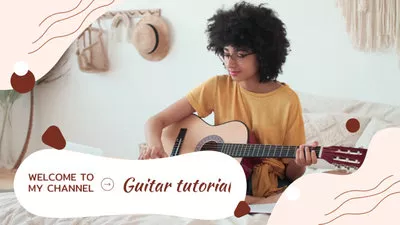 Guitar Tutorial Intro Outro
Step 1
Record a voiceover audio watermark.
Find a quiet room and use iPhone's Voice Memo or any voice recording apps to record a voiceover audio watermark like "XXX music/audio".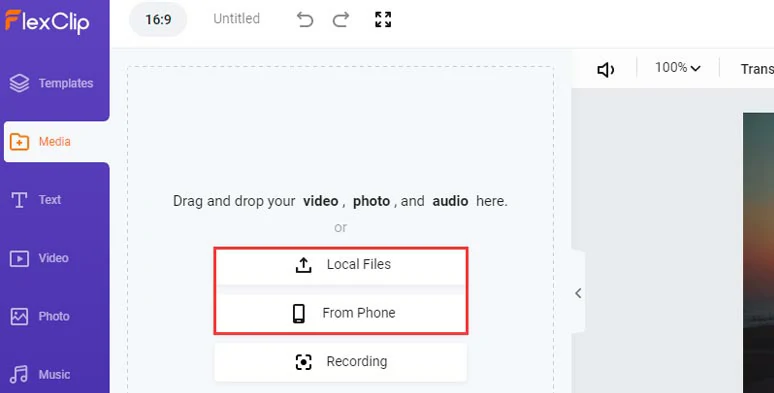 Upload the original audio files and audio watermark to FlexClip.
Step 3
Set the video duration to match your songs or music and add it to the audio track.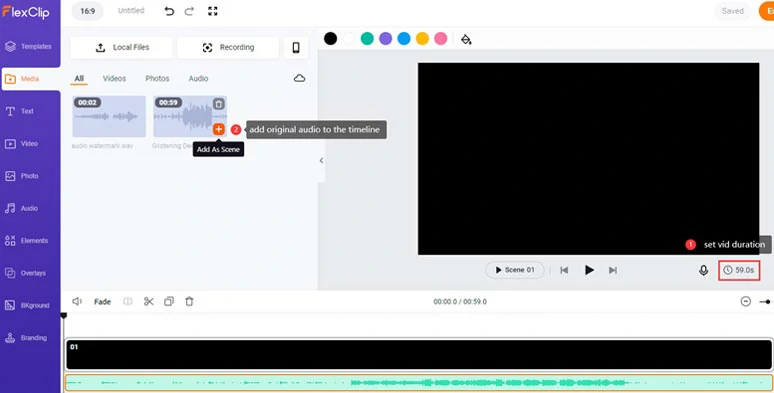 Set video duration and add your original audio to the timeline.
Step 4
Watermark your audio files.
Move the playhead to decide where you want to add the audio watermark and add it to the timeline. Copy and paste multiple audio watermarks to different places of an audio file. To make your audio watermarks more listener-friendly, you can tune down their volume, trim, split audio watermark, or add fade-in/out effects.
Add an audio watermark to the timeline and duplicate it.
Step 5
Further spice up your video.(Optional)
You can add a video or photo as the video background or click the Elements tab > Frame to add a vintage Polaroid frame for your music or podcast cover; then add animated texts and animated audio waveforms to add interests and styles to your video.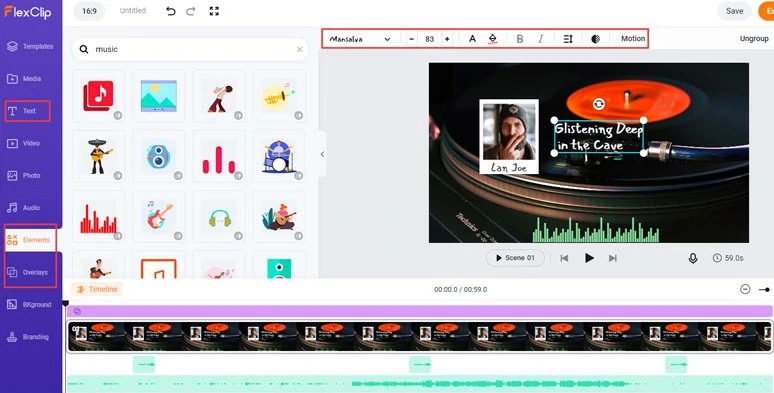 Jazz up your video with more video elements and video effects.
Step 6
Preview Watermarked Audio and Export it as an MP4.
Done with the editing. You can download your audio files as an MP4 to your local computer. Or you may directly share it to your YouTube, Google Drive, or Dropbox. You may also share it with your friends for feedback via a clickable link for your blog posts, newsletters or other repurposings.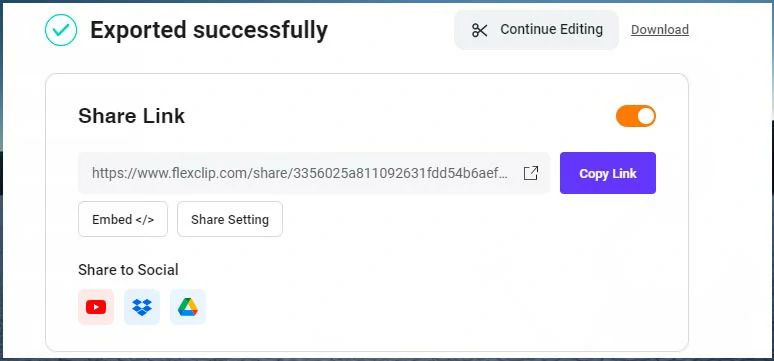 Multiple ways to share your videos.
2. AG Watermark Generator
If you need to quickly watermark multiple songs and post them as a preview on SoundCloud, the AG Watermark Generator is exactly what you need. AG Watermark Generator is an easy-to-use and professional audio watermark maker for composers and singers, etc.
You can add an audio watermark to multiple songs at once and easily select the timing and repetition interval for an audio watermark. The maximum audio watermark is 4 secs. You can output the song with audio watermarks in MP3, WMA, or AIFF.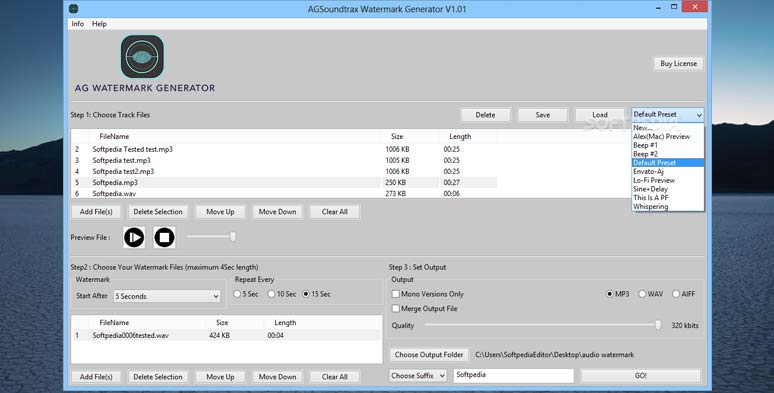 Use AG Watermark Generator to add audio watermarks
AG Watermark Generator currently offers one-time payments for different users, ranging from $39.9 (single user) to $89.9 (multiple users).
3. Audacity
Audacity is a popular and open-source audio editing software for Windows, Mac, and Linux users. Many podcasters love using it to edit audio for podcasting. You can use its recording feature to directly record a voiceover audio watermark and then import your song to merge with the audio watermark.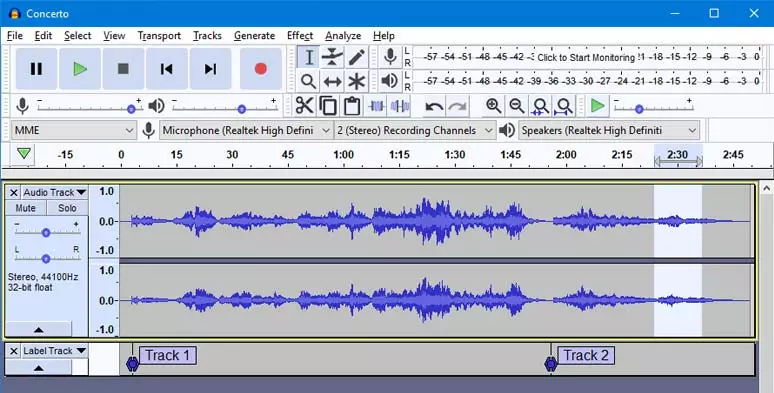 Use audacity to add audio watermark to songs
Or you may use Audacity's "Generate" feature to produce some ambient sound like "Click " or "Chirp" to add an audio watermark. The following YouTube video will show you how to add "Click Track" as an audio watermark to your original podcast audio.
Add "Click Track" as audio watermarks by Audacity
Now, It's Your Move
Adding a layer of audio watermark underneath your original songs is a great way to prevent your original songs, podcast, or any audio content from being stolen by unauthorized users. For singers, composers, bands, or podcasters, it's worth doing so. Hopefully, you will find our recommended audio watermark generators helpful.
If you aim to create to song demo and post it on YouTube, FlexClip can be the best choice. While for only adding audio watermarks to your songs, the AG audio watermark generator and Audacity work the best. So, start watermarking your songs with FlexClip, now!