A demo reel (or show reel) is a compilation of short clips that highlight an individual's best performances. Demo reels are typically 2-minutes long or less. Actors, actresses, and video content creators need demo reels to convince talent agents and potential employers of their abilities.
As most jobs require a CV, filming roles rely on video reels. It's more like a personal portfolio in a video format. Actors and actresses seek professional help from filmmakers when they want to create demo reels. A video reel demonstrates the filmmaker's camera charisma.
Potential employers use this content to gauge your skill level as a content creator. So it's your best shot to advertise yourself professionally. The steps outlined on this page will teach you how to create demo reel.
Demo Reel Video Creation Tips
Before diving into the step-by-step process of creating perfect demo reel examples, you need to know what a quality demo reel feels like. Below are six tips to bear in mind when creating a demo reel.
It's common to save the best for last, but this approach can be counterproductive when it comes to demo reels. Remember that you're projecting yourself for a filming role alongside several other applicants. So whoever is watching your reel probably has little time to watch the entire thing. So the best idea is to start with your best performance and grab the viewer's attention within the first couple of seconds.
Fancy intros or montages are not important. The main purpose of a demo reel is to showcase your professionalism. When you pay more attention to colors, music, and other extras, you'll soon have plenty of elements to organize and technical errors to fix. This can eventually ruin the content. So keep your edits polished and simple to ensure that your reel positions you for success.
Limit The Demo Reel Video Length
The best demo reel examples you'd find are typically 2 to 3 minutes long and comprise four to five clips. Each clip should be between 20-30 seconds long, but don't obsess over the exact length. You don't have to worry that your viewers won't understand the plot or the context of your performance. The goal is to demonstrate your on-camera charisma.
Pick Normally Used Video Formats
Your demo reel should be easily accessible. You don't want your potential employer to toss your demo reel aside for the mere reason they couldn't view it. Moreover, some employers may ask for your demo reels in a DVD format. So try to make one available.
Include Contact Information
It probably sounds like a cliche, but most video creators get so hooked on all the other details and creative decisions that they forget to include this part. Your demo reel should include your name, email, and website at the start and the end. A good reel is useless if you don't provide any means for the viewers to reach you.
Add Music That Matches The Tone
Don't overlook the importance of music. It is the backdrop that gives your demo reel energy. Most filmmakers are so focused on the video content that they fix the audio part simply by slapping music under a video track. You shouldn't make this mistake too, instead, cut to the beat of the song. It will give your video a lively and spirited flow. Examine the pacing and speed of the music you want to add to make sure it blends with the video. It should be a song that complements the work and does not overshadow it. Then avoid using copyrighted music. It is illegal, and many employers frown at it.
How to Create a Demo Reel Video
Creating a demo reel video is an easy task whether you have some experience in video editing or are willing to learn the basics. All you need is the right editing software and technique.
A video editing program like FlexClip can help you create your demo reel videos from scratch. Hundreds of programs out there can also help you complete the project, but here are a few reasons why users prefer FlexClip.
FlexClip features a user-friendly interface, so it's suitable for beginners and expert editors alike. Its free plan is also interesting with lots of fascinating features.
FlexClip offers a chance to stretch your creativity with hundreds of video templates, motion graphics, tutorial templates, and a broad stock footage library. The powerful editing tools, for example, voice-over, transition, animation, allow you to make any edits you like.
The following steps will teach you how to create demo reel with FlexClip in a flash.
After opting to create your video from scratch, navigate to Media and select Local Files. Then import the video clips you'd like to use for your demo reel.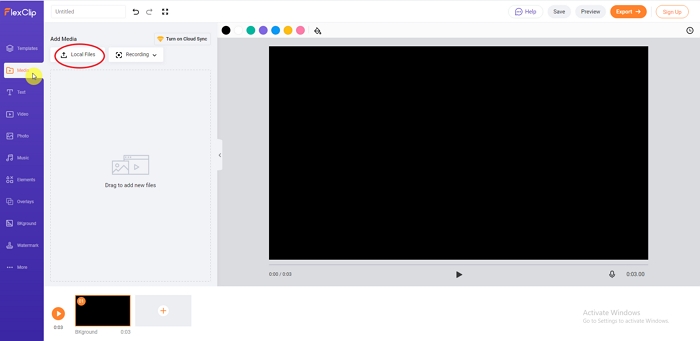 How to Make a Demo Reel Video - Step 1
To add your contact details at the start and end of your demo reel, click the text button in the menu on the left side of the screen. You'll find several pre-built text animations. Select the one you want; then, you can edit the font style, color, and size in the text editing panel at the top of your screen.
Step 3
Other Edits Like Adding Transitions, Animations, And Filters
Limit the length of each clip by dragging the yellow trimming sliders on the video track. You'll find the transition icon between clips on your workspace. Click on it to select your desired effect, then hit 'apply.
You'll also find the filter icon among your tools. When you click on it, you'll find several effects which you can apply to improve the style of your demo reel. After applying the visual effects you like, you can preview your video through the preview button at the top right.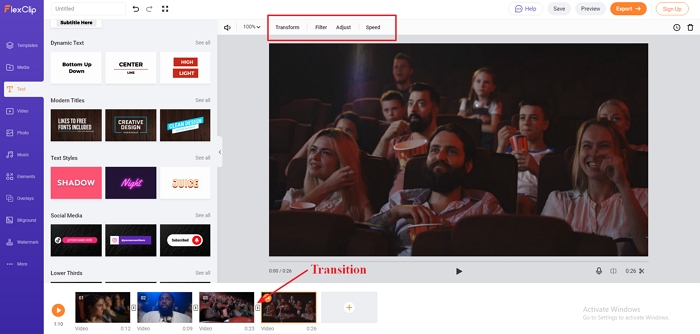 How to Make a Demo Reel Video - Step 3
You'd find the music icon next to the text. Click on it and select where you'd like to get your music: stock music or local music. After selecting the audio file, you can now edit the volume by adjusting the volume slider. Then you can also adjust the song's length to align with the video by clicking the trim button.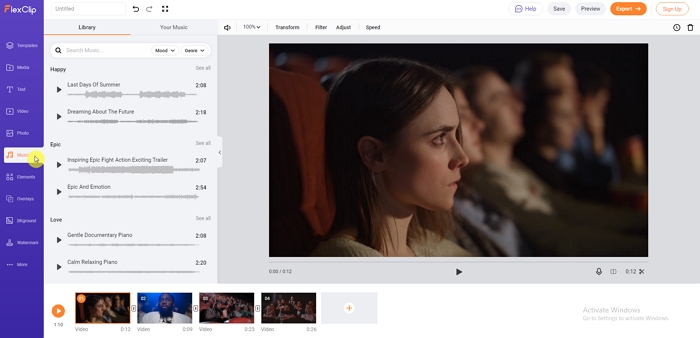 How to Make a Demo Reel Video - Step 4
After you've applied all the edits and effects you want, you can now download your file. The free version of the program only supports 480p SD videos, while the premium version allows you to save up to 1080p full HD videos.
The Bottom Line
Since you've learned how to create demo reel with FlexClip, you can repeat the process until you've perfected your art. It doesn't cost you any extra change to do so. Additionally, it would help if you asked a friend or family member to critique your reel. Your eyes were fixated on your clips throughout the creation process, so it can be difficult to spot the flaws in the final product. But when you have an extra set of eyes to scrutinize your work, you'll receive new ideas from their feedback and make the necessary improvements.