If you work in a visual industry - photography, architecture, design, entertainment, a portfolio video is one of your most important marketing tools to showcase your skills and expertise in your field. It also provides a strong demonstration of your abilities and services by highlighting clients you have worked with, and helps you to be noticed by potential clients.
Ready to make a video portfolio but don't know where to start? Here in this article, we'll show you how to make a powerful portfolio video using an online portfolio video with free templates.
Also Read: Animated Infographics - How to Create an Animated Infographic Video >
Part 1 Online Portfolio Video Maker with Templates
There are many ways to create your portfolio video, based on the portfolio materials you already have, your time, and your budget. Customizing your own one with an online portfolio video maker, like FlexClip video maker, is a great choice that saves your time and money.
FlexClip is a free online video maker that provides easy-to-use editing tools to help you create a stunning portfolio video in clicks. Besides, it comes with stunning video templates that enable you with endless inspirations to create your own portfolio video with great ease.
Portfolio Video Templates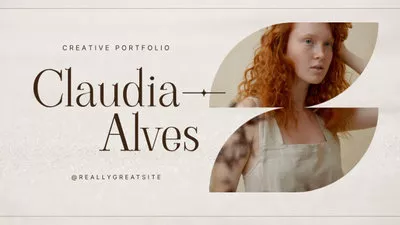 Beige Aesthetic Modern Portfolio Presentation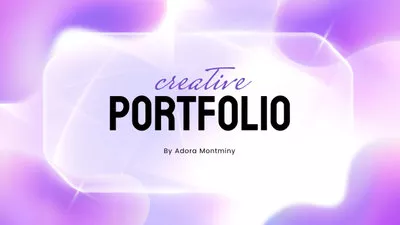 Abstract Purple Portfolio Business Presentation
What We Like:
Part 2 How to Make a Portfolio Video
Before getting started with FlexClip's online portfolio video maker, you'd better get all your materials organized, like photos and video clips. It's a great idea to save them to a folder so that you can find them easily. Now let's get the ball rolling.
Step 1 Visit FlexClip's homepage and begin with a video template or start from scratch to create your own portfolio video.
Step 2 Go to the Media option to import your footage to FlexClip portfolio video editor. If necessary, you can reorder your photos & clips and apply transition effects to them.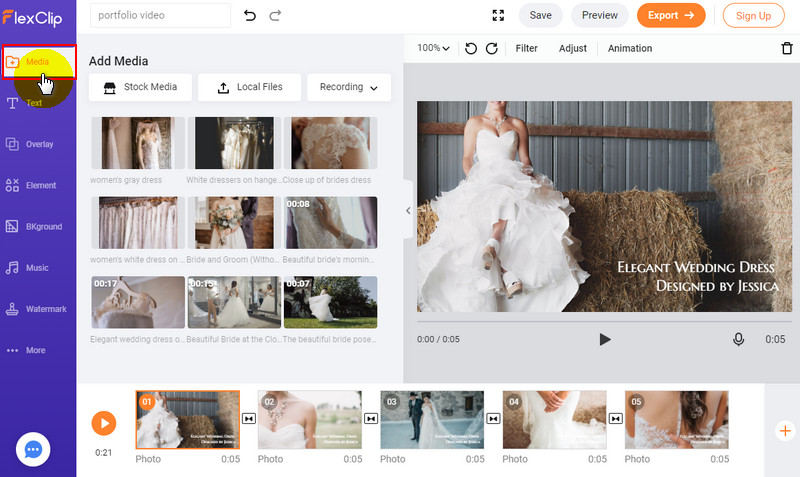 Image Board: Import Your Footage
Step 3 Add text to highlight your works. FlexClip offers a handpicked collection of stunning free dynamic text that you can use to add descriptions to your portfolio video let clients know your works and services better.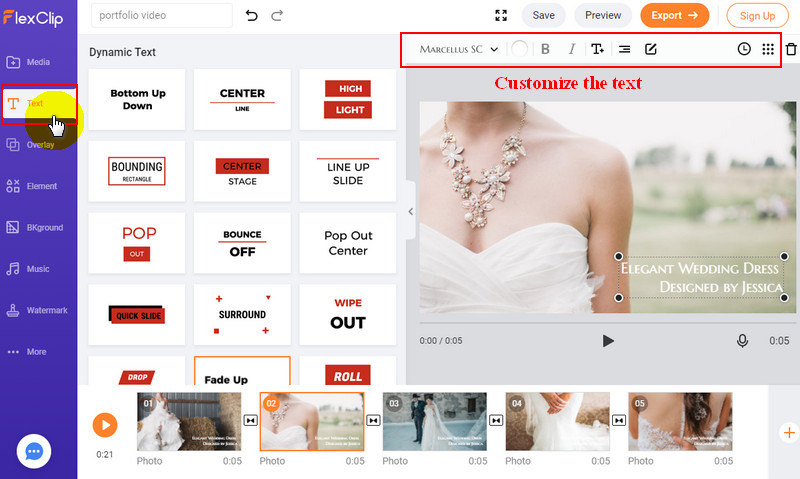 Image Board: Add Text to the Portfolio Video
Step 4 It's vital to pick the right background music for your portfolio video. You can upload your own music from a local folder or choose one from our extensive music library.
Image Board: Add Music to the Portfolio Video
Pro Tip: Add your brand logo, do the voice-over, set countdown timmer, and more. FlexClip's online video maker lets you customize your portfolio in more ways to make it far more appealing. FlexClip is here to help you do just that.
Step 5 Once you finished the editing, click on the Preview button on the upper right corner to preview your portfolio video - if you're satisfied with it, just export it now; if not, you can continue editing.
Part 3 Top Tips for a Powerful Portfolio Video
Now, we'll take you through the top tips on how to make a fantastic portfolio video.
01. Be thoughtful about what you want to include in your portfolio video. Avoid adding everything you've ever created to your portfolio video. Select only your strongest pieces to showcase your most unique and creative work.
02. Stay current; keep your portfolio hip and trendy. You know that trends and technology change quickly, and you don't want your portfolio video to look dated. So remember, don't include materials that are more than three years old.
03. Make your pieces in the portfolio video flow nicely. To avoid making your viewers' eyes jump around when they watch your portfolio video, make sure your pieces flow nicely. (Adding transition effects to your video is a great way to make it flow smoothly.)
04. Get a second opinion from others. Before you finalize your portfolio video, you'd better get another set of eyes on it. Go for someone else's opinion.
05. Include a strong CTA. It's wise to have a strong call to action at the end of your portfolio video that tells people what you'd like them to do next.
Final Words
A portfolio video will help you show your works, attract new clients or leads. Turn to FlexClip's online portfolio video maker to create your own one that shows off your personality, include work you love, and have fun with it.