Want to improve the efficiency of your job hunt? Try a video resume to stand out from the crowd! How to make a great video CV? Check out this blog to learn everything you want.
In today's highly competitive job market, you need to make your resume as creative and unique as possible to catch the attention of the employer. A great video CV can help you to stand out from other applicants. Compared with traditional paper resume, a video resume can make the employer get a better sense of the job seeker's professional presentation and demeanor.
Creative Video Resume Templates - Easy & Free to Customize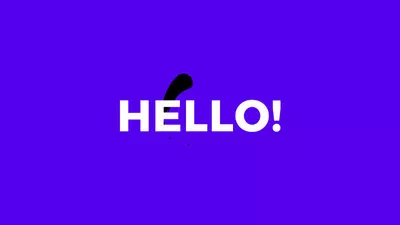 Web Designer Resume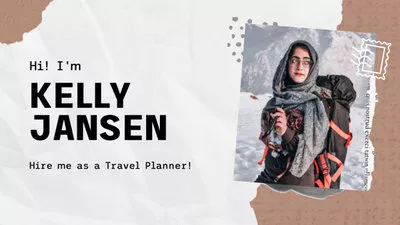 Travel Planner Resume
Also Read: How to Make a Self Introduction Video - Best Self-Introduction Ever >
Part 1 How to Create a Video Resume Online for Free
With the right video resume maker, like FlexClip, it is not hard to make a video cv that help you bag your dream job.
FlexClp is one of the most widely used, and super user-friendly, free tools that can help you create a video resume with great ease. It is developed with the easiest-to-use features, no registration required, and most importantly, it is absolutely free. It also comes with appealing editing features like animation, transitions to level up your video resume. Besides, there are beautiful and professional video resume templates that can enable you with endless inspiration to create your own video cv.
Here's how can to make a video resume using FlexClip by using these simple steps; just get all your footage ready and click the Get Started button right now:
Step 1
Drag and drop your video clips to the Media section and apply to the storyboard.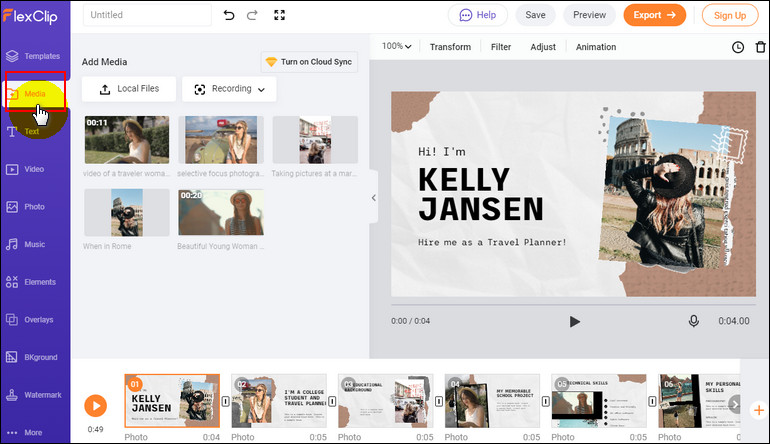 Image Board: Make a Video Resume Online for Free - Upload
Step 2
Add text to your video resume to highlight the important information, such as your name, work experiences, professional skills, etc.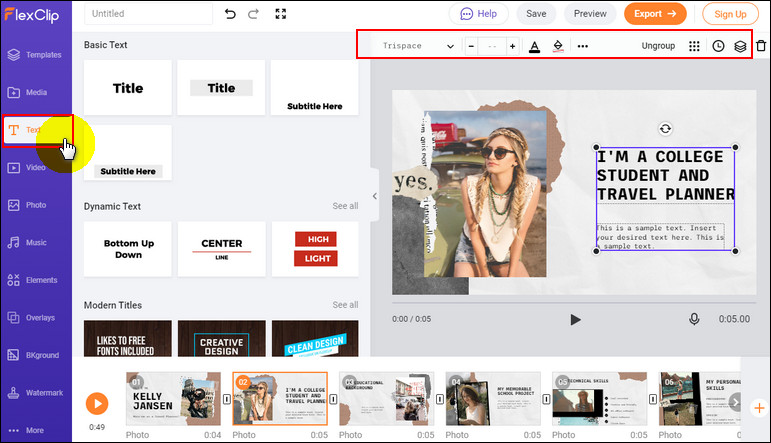 Image Board: Make a Video Resume Online for Free - Add Text
Step 3
Add a unique background music to your video resume to impress the employers.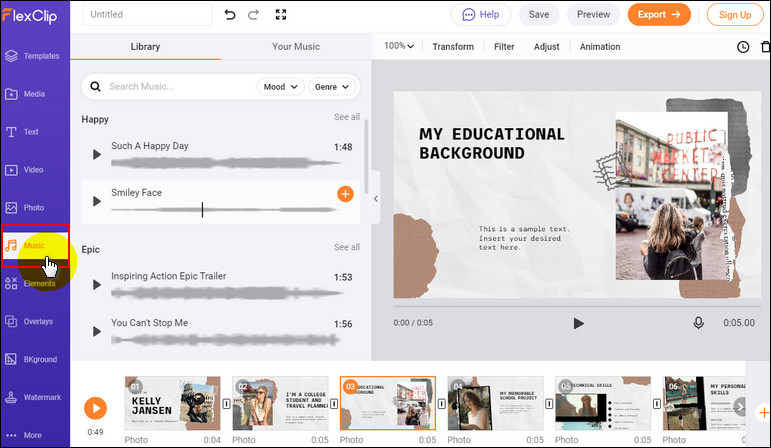 Image Board: Make a Video Resume Online for Free - Add Music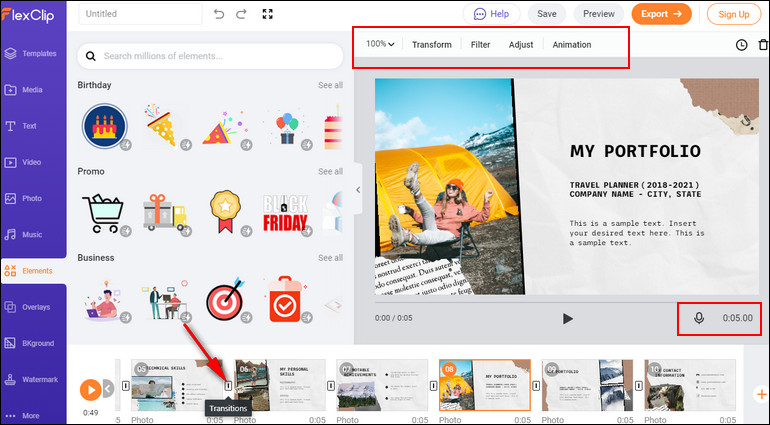 Image Board: Make a Video Resume Online for Free - More Edits
Step 5
You are done. Now you can preview your video cv in real-time and then export it directly.
Part 2 Practical Video Resume Tips You Can't Miss
01 Prepare a script.
In a static resume or CV, one might prepare the script in a simple document or presentation (for this purpose you can use resume PowerPoint templates or just Google Slides or Google Docs).
Although producing a video CV involves a bit more time and effort, the first thing you need to do is also to outline the script for your resume before diving into it.
02 Know your audience.
It asks you to do a thorough research of the company you'd like to work for so that you can know your audience better. Show them what they want to know, like why you're valuable, and why they should hire you.
03 Make it professional.
You must look professional in a resume video. Dress appropriately as you would for an interview and maintain a professional demeanor. Besides, you also need to pay attention to the lighting, framing, and editing so that you can produce a resume video looks more professional.
04 Keep it brief.
Since the people's attention span is so short, you need to keep your video resume brief and make it at the right length: no longer than 90 seconds. Any video longer than that is unlikely to be watched.
05 Be yourself.
Avoid being overly serious, be yourself. Try to act as natural as possible - smiling and delivering your message with confidence.
The Bottom Line
This blog shows you how to make a video resume, with some useful guidelines, tips, and steps, and it also shares a free online video maker, FlexClip, for you to make your video CVs creation much easier. Find it helpful? Do not forget to share with others!