When adding titles for awards openers, movie intros and trailers, ceremonials, and promo videos, nothing can beat the luxury and prestigious vibes created by the shimmering golden titles.
So, if you are looking for great ways to create glittering golden titles or golden text effects to impress the viewers in golden awards openers, movie teasers, promos, ceremonials, slideshows, etc., we've got you covered!
In this tutorial, we will walk you through the 2 best ways to use editable golden title video templates to create cinematic and elevated golden titles for your video projects in minutes.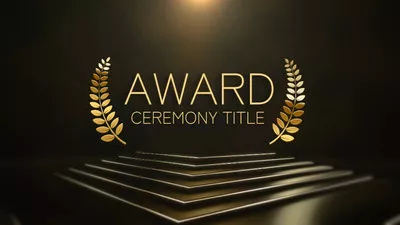 Awards Ceremony Titles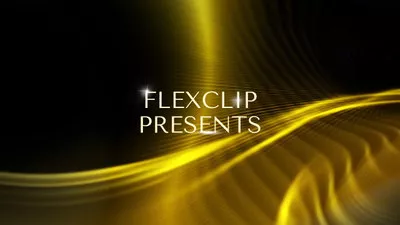 Golden Corporate Anniversary Slideshow
Here is what you will learn:
Also, read how to create realistic news tickers in videos.
1. FlexClip
If you don't have any ideal video editor on your computer or you a new to new editing, then FlexClip online video maker would be your perfect and one-stop solution to create glittering and glamorous golden titles for your video projects in a breeze.
Create luxury golden titles for awards opener and movie trailers by FlexClip online.
With FlexClip, you can select from 80+ cinematic golden video templates, covering awards openers, movie trailers, corporate anniversary slideshows, birthday celebrations, graduation ceremonies, wedding invitations, promo events, etc. All of the video templates are designer-made and fully customizable.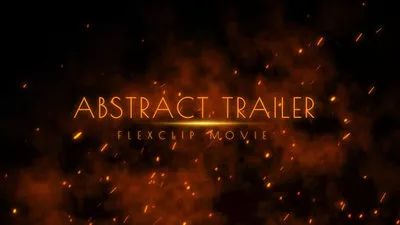 Abstract Golden Movie Trailer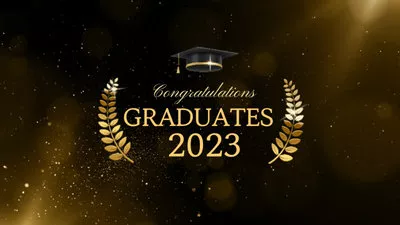 Graduation Ceremony Slideshow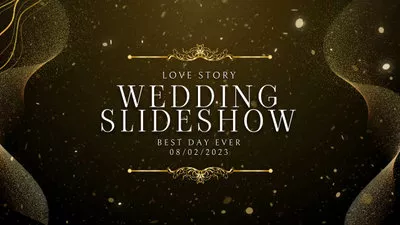 Cinematic Golden Wedding Invitation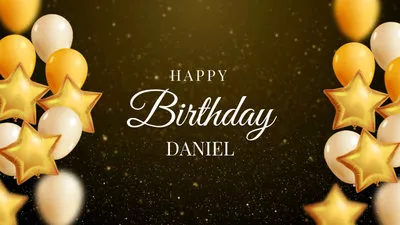 Golden Balloon Birthday Wishes
You can easily drag and drop your video assets and customize them into a compelling golden awards opener in clicks away, which can be a great timesaver. Besides, to accompany sparkling golden titles, royalty-free and epic music & sound effects, golden particle backgrounds, golden effect overlays, animated golden elements, etc. are also available.
How to create golden titles for golden awards openers with FlexClip: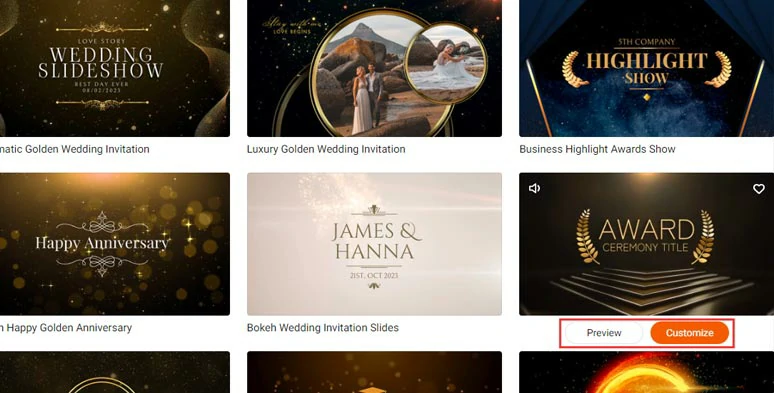 Select the golden video template for the golden awards opener.
Upload your video assets to FlexClip.
Step 3
Drag and drop your images or clips to replace the premade video elements in the templates. You may adjust images or clips' size and position, customize their color, hue, brightness, and duration or add animations to them.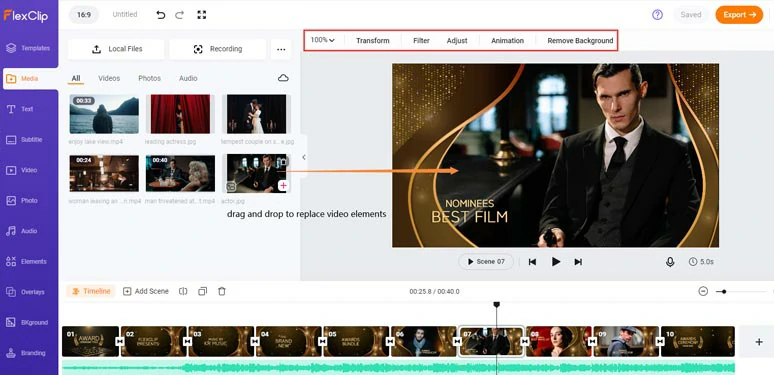 Drag and drop to replace premade video elements with yours.
Step 4
Customize the golden titles.
Double-click the read-made golden titles and type in your texts and customize text fonts, duration, styles, colors, and animations.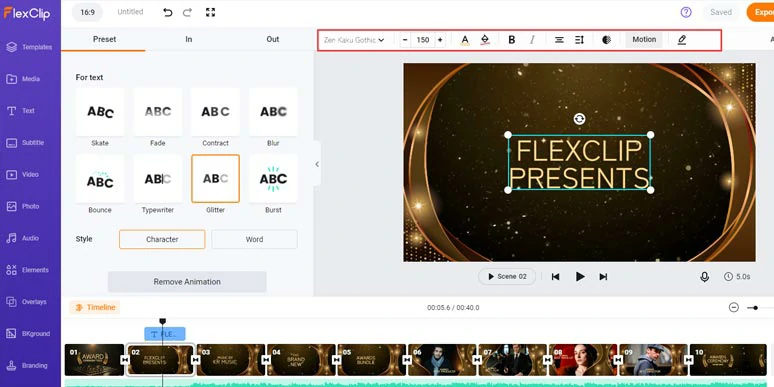 Customize golden titles' texts, text fonts, colors, animations, styles, etc.
Alternatively, you can click the Text tab and scroll down to discover more text animations, such as lower thirds, social media, profiles, wedding and birthday titles, news titles, etc.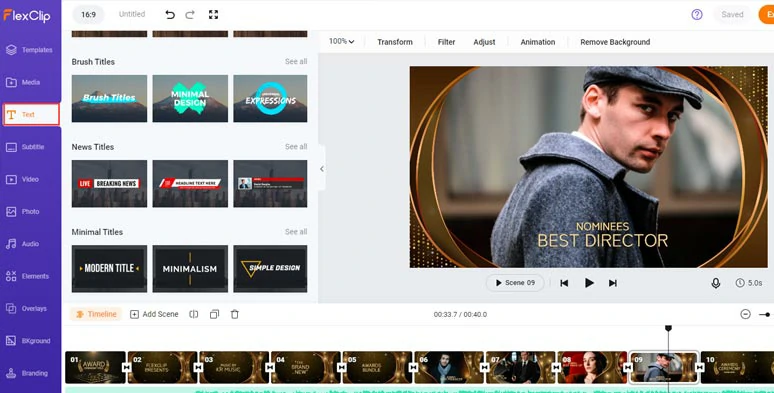 Use more text animations in the Text tab.
Step 5
Match your golden awards openers with royalty-free and epic music.
A great golden awards opener can't do without epic awards music. Click the Audio tab > Music > type in keywords like "ceremony", "epic", or "award" > select the epic ceremony awards music to match the vibes for your awards openers or trailer. You can easily trim and split audio and add fade in/out effects or do the audio layering to create depth for your video.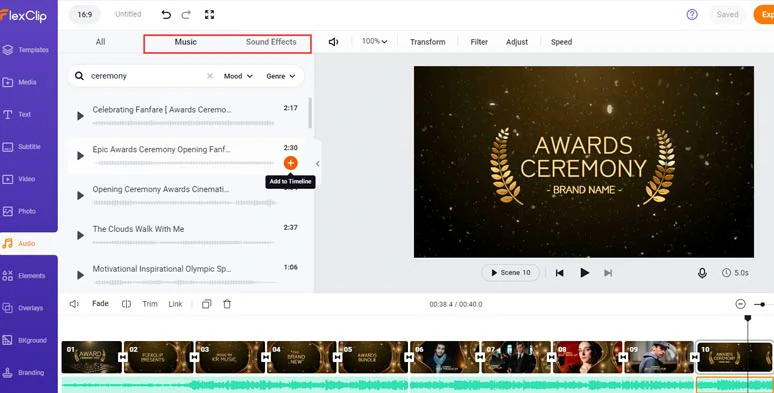 Add epic ceremony music to your golden awards opener or trailer.
To take your golden awards opener up a notch, click the Overlays tab > Effects Overlays > add golden particle overlays or golden sparkle and lens flares overlays to your video to create glamorous vibes.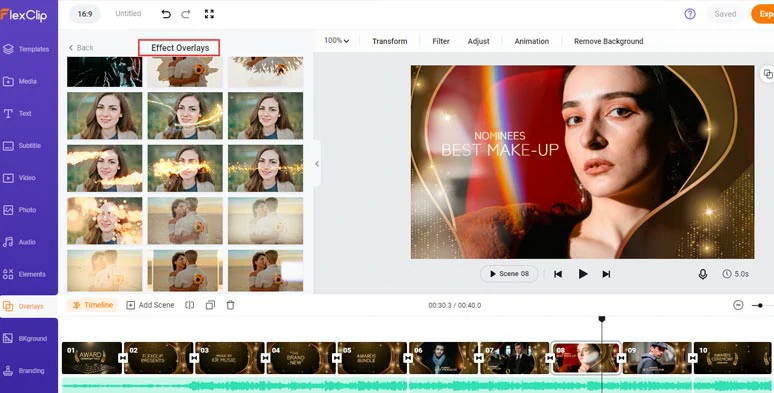 Add compelling lends flare, sparkle effects overlays to create the vibes for awards openers.
While in the Video tab, type in " golden particle" and you can make the most of tons of FHD golden particle video backgrounds for your video projects. Please free free to explore.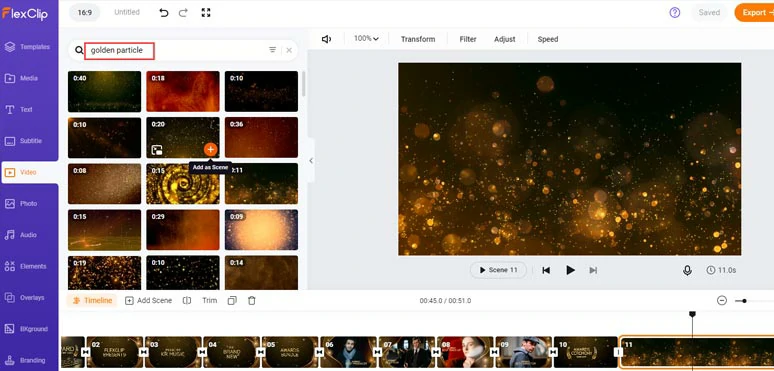 Use royalty-free and 1080P golden particle video backgrounds for awards openers.
Step 7
Preview and share.
Done with the editing. You can download the 1080P video to your hard drive or directly share it on YouTube, Google Drive, Dropbox, One Drive, or TikTok; a clickable link and an embed code are also available for your blogs, newsletters, or other repurposing. Super handy!
Ease of sharing in multiple ways.
2. Motion Array
If Adobe Premiere Pro or Final Cut Pro is your workhorse for video edits, then another reliable workaround is to use the customizable golden title templates in Motion Array, a professional online video assets platform for video creators.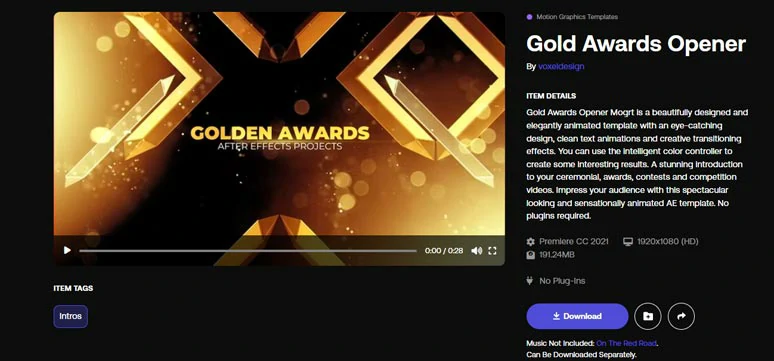 Use the editable golden awards opener template from Motion Array.
All you need to do is search for the golden title templates to your liking and download them to your PC and then import the MOGRT (motion graphics template files) in Essential Graphics Panel in PR and customize the parameters of the golden text's effect. Easy peasy lemon squeezy.
The only drawback is that the music is not included in the downloaded MOGRT file and you have to manually download it from Motion Array later.
Now, It's Your Move
Creating glittering golden titles with epic music in awards openers and movie trailers etc. is a great way to engage viewers' attention and highlight the vibes of the events. Hopefully, you will find our tutorial helpful and can create professional golden titles with the golden title templates mentioned above. So, start editing your golden titles now!