There's a lot of information that you'd consider while creating videos for education, marketing, or corporate training. When these videos are played, how do you ensure your viewer pays attention to what's on-screen? You can use interactive drawing to captivate important elements, then pause the video until your viewer interacts with it. Drawings on video make it appear more professional in different scenarios, for instance:
A focused presentation video with drawings
A doodled video for posting on an account page or a community on Instagram, Facebook, and other social media platforms
A cool video with a new design for social media stories
Footage as engaging content on your YouTube channel
If you want to draw on a video, here are the three best ways to shed light on how to draw on video via different platforms. Pick the best method to follow.
Part 1. How to Draw on Video with Windows
Microsoft Photos, the free photo viewer and editor, provides competent image editing and enhancements, as well as tools for organizing and editing videos, all in a touch-friendly interface. You can draw on images, add background music, 3D effects, and 3D objects to videos, and use automatic object tagging to make searching easier. It allows you to trim and split videos, apply Ken Burns effects and filters to videos, change video speed, and, among other things. The Photos app can also draw on videos and add a slow-motion effect. A ballpoint pen, pencil, or calligraphy pen can be used to draw on a video. Then, before using the pen, adjust its color and size.
How to draw over a video using Microsoft Photos:
Step 1
Locate and right-click on the video you want to doodle and write text on. Select Open with Photos from the popup menu.
Step 2
The Photos app will automatically play the video. When you want to start drawing on the video, stop it by pressing the Space bar key.
Step 3
In the menu bar, tap Edit & Create and select the Draw option from the drop-down menu.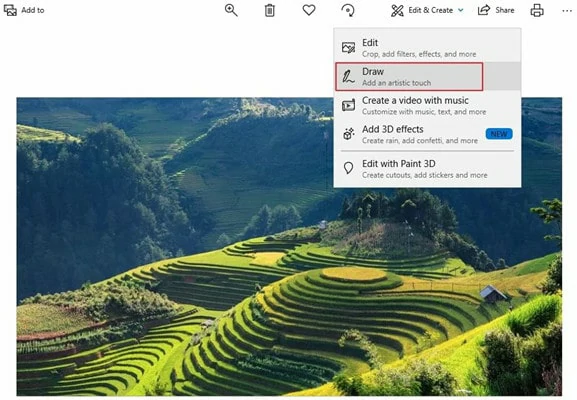 Enable the Draw Tool
Step 4
Choose a pen and customize its color and size. You can then draw on the video. You can use the Eraser tool to erase any mistakes you made while drawing.
Choose the Pen and Color You Want
Step 5
When you're finished, click Save a copy to select a folder in which to save the video.
Part 2. How to Draw on Video with Mac
Professionals refer to iMovie as a nonlinear editor. This software allows you to cut, draw and edit videos, music, and graphics without affecting the original files. They are powerful tools for filmmakers and are used to edit nearly all Hollywood films today. Professional-grade editors like Adobe Premiere Pro and Final Cut Pro are extremely expensive, and because iMovie is free, it's an excellent place for beginners to begin. The most significant disadvantage of iMovie is that it only works with Apple products. If you have an iPhone or an iPad, you can download iMovie. iMovie can be annoying and a bit of a hassle to draw on video following the below-complicated steps:
Step 1
Open a duplicate of any random photo in Preview and do an Edit/Select All and Edit/Delete to create the.png image with lines.
Step 2
Select Convert to.png from the pop-up box that appears. This will result in a blank.png screen for an image.
Step 3
Select Tools/Annotations/Line from the Preview menu to bring up a screen with a straight line that you can adjust or delete.
Step 4
Along with other options, such as changing the color and thickness of your lines, a toolbar will be visible at the top that will allow you to scribble lines.
Step 5
After you've gotten your lines just right, Save the image to your desktop and drag it into your project, placing it in your timeline above your video and selecting it.
Step 6
The Picture in Picture feature is then activated, and your adjustments are made.
How to Draw on Video with iMovie
Part 3. How to Draw on Video with Mobile
With the aid of Video Painter, you can quickly and easily draw on video. You can add many drawings and sounds to make a fantastic custom video to share with friends and family. You can also insert drawings at different points in the same video. Without sacrificing video quality, preview and save your new video. However, it has its drawbacks, such as that all the markups are shown throughout the video, even if you only want them to appear for a few seconds. But you can add drawings on video following the below steps:
Step 1
Install the app from the play store.
Step 2
Select the respective video from your gallery where you want to add drawings as per the requirement.
Step 3
Add drawings based on your ideas and thinking; you can select the display time for each drawing as it supports many pen styles and drawing shapes
Step 4
Music can also be added to the video.
Step 5
Save the edited video in the gallery and further upload it on your desired platform.
Bonus Tip: How to Add Handwriting Style Text to Video
Having handwritten text appear as you say them is a professional way to emphasize something you say in your videos. You could start your video with a title, use bullet points to help people keep track of your monologue, or highlight an important point by writing it on your screen. Text in your video will help your viewers understand your video. You can include a call to action (CTA) to entice viewers to click on a link or visit a product page. Have titles and credits to show who was involved in creating your video. You can also use captions to draw people's attention to your videos. A fantastic way to convey your message!
With FlexClip's free online typography maker, you can create a vibrational handwriting-style text video in under a minute. You can easily render handwriting-style text using FlexClip regardless of whether you want futuristic, classic, artistic, or creative text motions. There are hundreds of typography video templates for openings, music, YouTube, and many other situations that you can instantly download and modify in terms of motions, colors, fonts, sizes, and so on. A typography video can be customized with lovely music, videos, and photos, thanks to its vast media library. FlexClip is a web-based video editor, so there is no need to download anything at all to your desktop.
Can't Miss: How to Easily Make Kinetic Typography Videos Online>>
The Bottom Line
A simple way to make your video stand out is to draw on it with various fonts and styles. This article includes three approaches for drawing on video, as well as a bonus adding handwriting text to video tip. FlexClip is a comprehensive video editor that allows you to customize not only the fonts but also the video elements. Always remember to use it to edit videos and share them via link. Try FlexClip if you need a royalty-free online video editor!