Want to add CTA overlay to YouTube video? Check this post to get the easiest way to create YouTube call to action videos. Let's get started.
Struggling hard to encourage your YouTube viewers to subscribe, jump to other sites, or buy? Then CTA can be a great solution. A clear YouTube CTA can generate 110% more organic traffic and 76% more revenue.
Contents:
Also Read: How to Add Subscribe Button to Video >
Part 1. What is YouTube CTA
CTA stands for Call To Action, it is a term used by marketers to describe immediate response performed by website users. It is also used to encourage potential customers to take action by clicking on a button.
Generally speaking, YouTube CTA appears when the video starts and collapses into a thumbnail image after 15 seconds, and they often take viewers to another page. However, it can appear as a subscription or a like button depending on your needs.
Part 2. Best Video CTA Examples
Fivver: Drive Traffic to the Platform
As one of the largest online freelaner platforms, Fivver knows how inconvenient it is to find a freelancer offline. The young lady make it fun and stright to display the situation you might encounter while finding a logo designer offline and ask viewers to find one in seconds on Fivver by clicking the Get It Done button at the end of the video. By the way, you can see Fivver logo at the right buttom along the video, which also increases brand awareness.
YouTube Video CTA Example - Fivver
Walmart: Know More About the Services
The best way to promote your service is to let everyone know how your service helps. And that's why Walmart+ InHome ad is successful. This video uses some life details to get viewers interested and let everyone know how home delivering helps your life. In the end, Walmart emphasized its service and ask people to upgrade, which will surely impress all the viewers.
YouTube Video CTA Example - Walmart
Makeup Blogger: Subscribe, Subscribe, Subscribe
All right, sometimes, bloggers need to be stright. You need to ask viewers to do exactly what you want so that they don't hesitate. In this example, this blogger asked viewers to subscribe directly.
Customizable CTA Video Templates to Take Away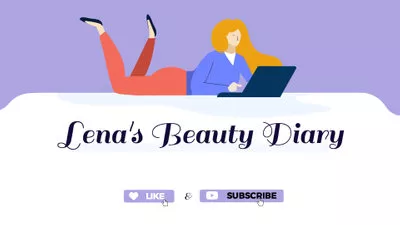 Youtube Intro For Vlogger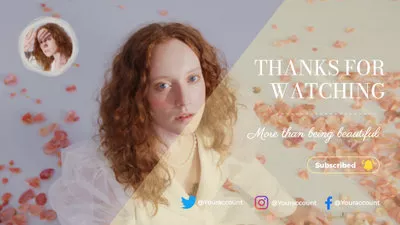 Fashion Youtube Outro
Part 3. How to Add CTA Overlay to YouTube Videos
This article won't be complete if we don't mention FlexClip: the world's finest video CTA adding tool.
FlexClip is originally designed as a video editing tool that has already gotten thousands of positive reviews from online digital marketers worldwide, and the addition of a CTA overlay tool is a plus. Some of the advantages of using this tool include:
Numerous button templates that help you get started in seconds.
Numerous appealing fonts of all styles and designs.
Powerful, yet easy-to-use editing features that level up your video.
Now, click the Create a Video button and follow the steps below to add CTA overlay to video.
Step 1
Upload your video to the Media section and then apply to the timeline.
Add CTA Overlay to Video - Upload
Step 2
Go to the Elements to find the button or shape that best suits your video from over hundreds of carefully designed shapes and buttons. Click on the Clock icon to adjust the time duration the button appears.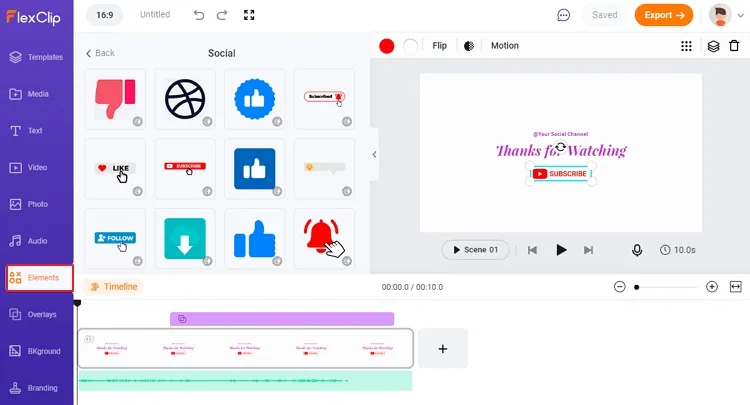 Add CTA Overlay to Video - Add Overlay
Step 3
Enter your own CTA words to the button if necessary. Go to the Text, find the font that matches your video, then enter any words you like.
Step 4
Download. Share the video to your social media.
Part 4. How to Write Excellent CTAs
CTAs are the best sales gateway for marketers, how your audience reacts to it depends on how catchy it is; the catchier your CTA, the more attractive it becomes. Below, we have listed a few working methods you can use to come up with the best CTA.
Use strong commanding verbs to start your CTA. We recommend using words like "Buy", "Shop", etc. By using such words, you are psychologically telling your audience that you are confident in what you sell.
Use words that can trigger emotions e.g. enthusiastic words, sympathetic words, etc. If possible, go with a story that ends with so much emotion. But be sure they are all linked to the product you are trying to sell.
Be rational with your phrase
Give your audience reasons why they should take action. Start with some interesting features of the product you are trying to sell them. Let's say you are selling a weight-loss gadget, give them a good reason to take action by stating some of the advantages or high points of the gadget.
Leverage FOMO (Fear Of Missing Out)
Make it look like they are going to lose something if they don't take action.
Be extremely creative with your descriptions
Don't be boring with those descriptions that will lead your audience to click the CTA button. Don't Just say it, craft it, make it sound convincing; make them want to read to the end.
The Bottom Line
For every active sales page, there is a good CTA overlay linked to it. But even as you go about doing the right thing, the kind of tool you use also plays a huge part in your success. This is why we will always recommend the use of the FlexClip CTA overlay tool, a tool that has been used and recommended by thousands of YouTubers and digital marketers in driving traffic to their sales page. Finally, don't forget to share this article if you'd find it useful.