Animated arrows are a frequently-used element in a video to draw viewers' attention to a moving object or a specific area in the video for explanatory purposes.
In this tutorial, we will walk you through how to easily create a hand-drawn animated arrow in After Effects and animate this arrow in Premiere Pro and also offer you a quick online solution to quickly add an animated arrow to your video in seconds.
Here is what you will learn:
How to Create a Hand-drawn Animated Arrow in After Effects
Well, there are multiple ways to create an animated arrow in After Effects, the easiest way we believe is to use a Wacom tablet to draw a custom arrow and import this arrow clip to Premiere Pro and animate the moving arrow there. So, let's find out how to do it.
How to create a custom animated arrow in After Effects.
Step 1
Create a new composition and click Ok.
Step 2
Right-click on the timeline > New > select Solid to create a solid background layer.
Step 3
Double-click the solid layer > use Ctrl+B to activate Brush Tool. Make sure the Paint and Brushes panels are on.
Step 4
Go to the Paint panel > set Duration to White on > set the property and size of your brush in the Brush panel.
Step 5
Head back to the solid background and draw an arrow on the tablet. The hand-drawn arrow will disappear because you are on the first frame of the clip. No worries. The arrow will appear as you move the playhead forward.
Step 6
Open the Solid layer > Effects > Paint > set Paint on Transparent on.
Step 7
Go to Composition > Add to Render Queue > click Lossiess in Output Module and set video format to Quicktime and Channel to RGB + Alpha > click OK and Render to export the video.
Step 8
Open Premiere Pro > drag the arrow clip on top of another clip on the timeline > scale down, rotate or change the color of the arrow you wish for in the Effects Control panel.
Step 9
To animate the arrow clip in and out, cut the arrow clip where the arrow animation in ends > duplicate this part and drag it to the end of the arrow clip > right-click Speed/Duration > check
Reverse Speed
and click OK. Done.
How to Easily Create an Animated Arrow in a Video by FlexClip Online
Well, if you couldn't afford the patience and time to create an animated arrow and animate it in After Effects, a viable alternative is to use FlexClip online video maker.
With FlexClip, you can easily select from a wide array of designer-made arrow animations and add one into your video, and customize its color, position, opacity. No software download and design experience are needed. Easy peasy lemon squeezy.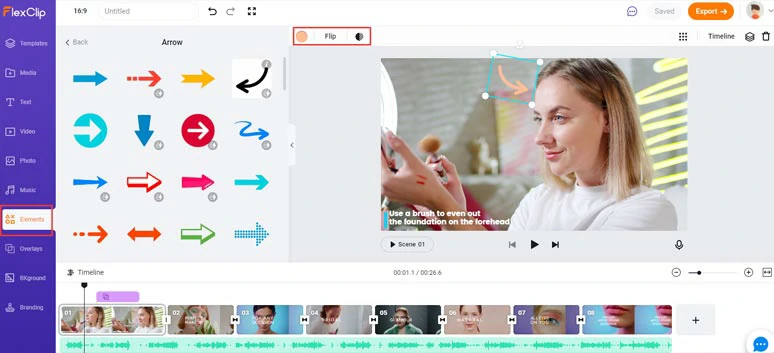 Add animated arrows in a video by FlexClip online
All you need to do is:
Step 2
Add the clip onto the timeline and move the playhead to locate the frames you wish to add an arrow animation.
Step 3
Check the Elements tab on the left sidebar > check Arrow category > select one or multiple animated arrows. You may rotate or flip the arrow or customize its color and opacity. > place it in the parts of the video you wish for.
Step 4
Make more edits: add animated texts or royalty-free sound effects like Pop-pop SFX when the arrow animation appears to call one's attention.
Here is the resulting video with an animated arrow created from the example above:
Add animated arrows in a makeup tutorial video by FlexClip
Step 5
Export the video and share it on social media.
Now, It's Your Move
Hopefully, you can create fun and eye-catching animated arrows with our tutorial. If you find this how-to guide helpful, don't forget to share it with friends on Facebook and leave your comments and tag us. Looking forward to hearing your feedback.