Motion tracking is a computer visual technological procedure used in recording the movement of people or objects. Motion tracking is used in many industries effectively in sports, robotics, medicine, entertainment, military, etc. It is a good way to augment computer versions. It has the capacity to track movements and transfer sensed information to a designated application for processing.
Motion tracking is called motion capture in most industries, but in the movie and gaming industry, it is known as 'match moving.' Motion tracking after effects is heavily deployed while trying to convert an actor's motion in a ,3D feature. During a motion tracking session, the movement of the object or actor is examined many times each second. Before now, techniques used during this process required multiple cameras to enable it to capture all 3D positions.
But you have to understand that the primary aim of capturing motion is to record the actor's movement and not really their visual appearance. The animation data gotten from motion tracking is mapped onto a 3D model to perform the same action as the object or actor.
What can you Do with Motion Tracking: What is it Used For?
Like we have earlier stated, motion tracking technology is used in virtually every industry: sports, medicine, media, education, and most often, the entertainment industry. In the education sector, the motion tracking after effects is grossly used in producing educational materials. Students claim it is more captivating to learn with, unlike the traditional method of teaching.
Those into skill acquisition also deploy motion tracking because of its low-cost nature and its ability to cover a wide range of skills. Some of the unique features that captivate educators are its low-latency mocap and high-quality cameras. It also has a way of boosting communication and listening skills hence, increasing engagement.
In medicine, magnetic fields and waves create visual images of tissues and other body organs in a patient. Before now, CT scans and X-rays were used for this, but subsequent improvements have introduced quality data through motion tracking. Even in the military, motion tracking has been adopted in mapping mission areas, demarcating danger-prone territories from "green zones," and differentiating between civilian territories and enemy lines. We can go on and on, but the point remains that industries have started realizing the benefits of motion-tracking technology, hence, the increasing adaptation.
Many tools facilitate a good motion tracking effect, but the introduction of Adobe Effects changed everything. The Adobe Effects tool was introduced 28 years ago and has since changed the visual concept. It has greatly helped in the application of visual effects and creating sensational motion graphics. Today, filmmakers, TV, and video game producers use it to track, compose, key, and animate their videos. Again, this tool is not as complex as most people presume it to be. Below, we have created a step-by-step guide to come out with the best outcome.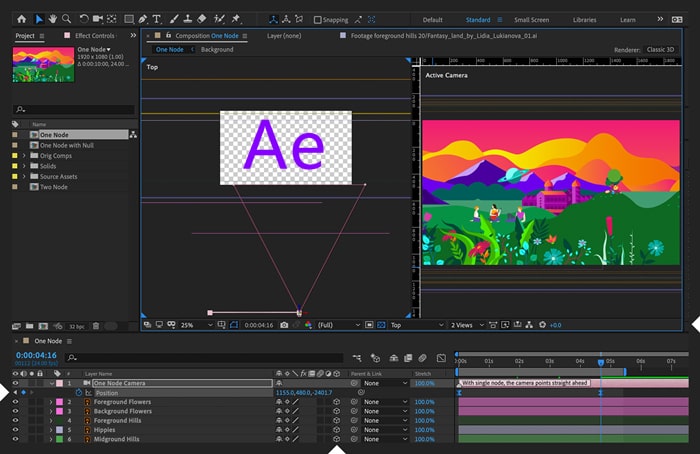 Professional Software Adobe Effects
How to Do Motion Tracking with Adobe Effects
Import the asset you wish to add or type in the preferred text you wish to include in your footage.
Structure your image (or text) on the appropriate layer of your footage.
Move to the Window section, click on Tracker, then proceed to the playhead where you wish to start the tracking.
This is where you begin the tracking properly. Click on "Track Motion" from your Tracker Panel, click the track points on the graphics or text.
Now is the time to make some edits. To do this, click 'Edit Target' from the Tracker Menu. Choose the layer you want the graphic or text to track, and click OK.
Motion Tracking in After Effects
Bottom Line
The motion tracking after effects has proven to be the best videographic invention in the history of 21st-century visual technology. But mind you, you may find other motion tracking tools out there that can still perform the task. But the fact remains that the Adobe Effects tool has been there for decades, and many adjustments have been made to suit the modern industry trend, hence, its current unique features – and the reason why you need to go for it. And talking about the best videographic inventions, we would also like to introduce FlexClip: the world's best video editing tool, created specifically for your video editing needs. Again, if you find this article interesting, don't forget to like and share; you never can tell whom you will be doing a favor out there.