A good YouTube intro is important for winning new viewers, converting them into subscribers, and growing your YouTube channel. Then how can you make a great one that can wow your viewers and grab their attention?
Try an animated YouTube intro now! If you enjoy watching videos on YouTube, then you might notice that many of the best YouTube channels have short intros to their videos, and most often these intros are animated and include sound effects or music.
But how to make a good animated YouTube intro with animation and music? Follow us and get more.
Quick Navigation:
Free Editable Animated YouTube Intro Templates: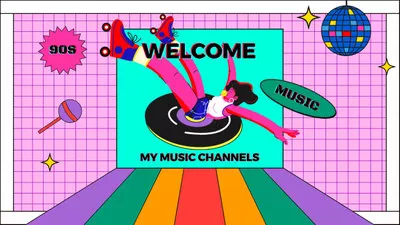 Music Intro And Outro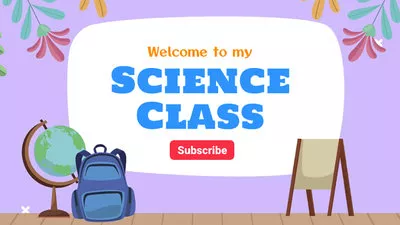 Class Youtube Intro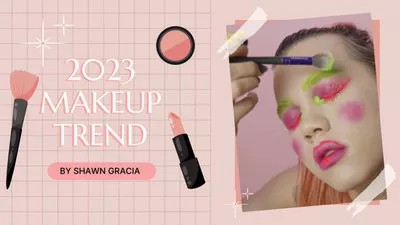 Beauty Channel Intro Outro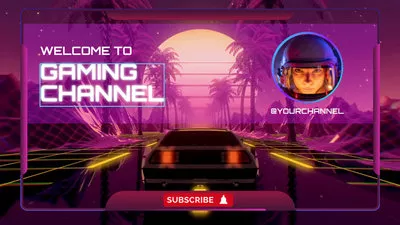 Game Vlogger Intro
You May Also Like: How to Add An Intro Video to Some/All YouTube Videos >
Part 1 What Makes a Good Animated YouTube Intro
Before we dive intro how to make an animated YouYube, let's take look at the animated YouTube intro essentials that make a good intro for YouTube.
1. Pay Attention to the Length
The length of your animated intro should be one of the most important factors that make the difference between a successful YouTube channel and one that fails. A good intro should be long enough to communicate all the relevant information to the viewers, but short enough to avoid turning viewers off - none is going to wait patiently for a 2-minute intro video.
Generally speaking, a 10-second intro is considered the maximum, of course, you can go shorter than this. You can find plenty of catchy intros on YouTube that are from 3 seconds to 7 seconds.
2. Include the Logo Animation to Brand Your Intro
The intro offers the first chance for viewers to know who you are and what your channel is about. So, your intro video should include the logo animation to brand your video and help the viewers recognize and remember it.
Include a custom animated logo as well as other animated assets in your YouTube intro animation is indispensable to make an effective and professional intro.
Shape Scrawl Color Logo Intro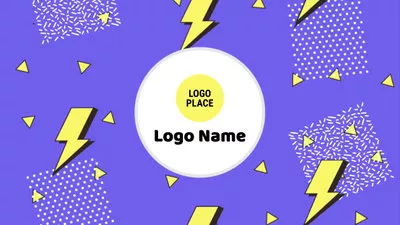 Cartoon Flash Intro
3. Use Animation Wisely to Make the Intro Eye-catching
As the goal of an intro is to impress your viewers and make them watch your video, you better make sure your intro engaging and eye-catching and not boring.
Those animated elements must can help you out and make your intro video attractive. You do not need to go all out - a few basic animation effects will go a long way. Just make sure the animation in your intro is something that catches the eye but not overwhelm your viewers.
Part 2 How to Make an Animated Intro for YouTube
There are different methods you can choose from to make an animated intro for your YouTube depending on your your skill level and your budget.
1. Hire a Freelance Designer
If your budget is enough, you can hire a freelance designer to make an animated YouTube intro, which is the most easy, but always expensive way. By the way, there are a lot of designers out there, you may spend some times on finding a good freelance designer.
2. Do It Yourself from Scratch with Professional Software
For those who have some graphic design skills under their belt already, try a professional video editing software, like PR or AE to make an animated YouTube intro from scratch. This way is probably the most rewarding, but hard and time consuming one.
3. Pick a YouTube Intro Making Tool
Well, finally if you're on a budget or a newbie who do not want to spend much time on creating an animated intro for your YouTube, you can try a YouTube intro making tool, which offers the quickest and easiest way to create an animated YouTube intro.
One of the best things about using the intro makers is that there are various intro and outro video templates that you can modify with customization options and additional features easily to create a custom animated intro and produce something that looks professional for your YouTube channel.
Fashion 3d Music Channel Intro
Neon 3d Game Intro Outro
Now, you should find that trying a YouTube animated intro maker is a relatively easy and cheap way. Instead of paying thousands of dollars to designer or spend plenty of time and energy on those professional software, use an easy YouTube intro maker to create an excellent animated intro for your YouTube video in seconds. No compromise on video quality.
So here we're strongly recommended you to make your own animated YouTube intro using an online intro maker.
Part 3 Easiest Way to Make an Animated YouTube Intro
The tool that we are going to use for making an animated YouTube intro is FlexClip. Designed as a user-friendly yet powerful video maker/editor, FlexClip proves to be the best tool to make a high-quality, custom animated YouTube intro for free & online, video editing skills not necessary.
Whether you're running a gaming channel, beauty channel, or a travel channel, you can use FlexClip to create a custom animated intro that is the best to fit your YouTube channel.
Below are the simple steps you can follow to make your own animated YouTube intro using a couple of features provided by FlexClip:
Step 1 Start with a Free Animated Intro Template or from Scratch
Simply turn to FlexClip editor, go to the Templates section and scroll down to pick one free video template you like or you can search the proper templates by keywords, and then apply it to the Timeline.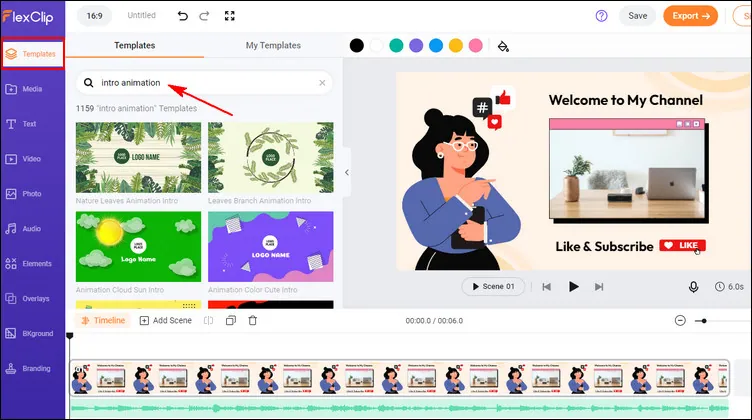 Make a Animated YouTube Intro with Template - Pick Template
Want to make something custom all by yourself? You can also start from a blank canva and upload your footage directly, just try the way you prefer. Here, we'll walk you through the way how you can make an animated YouTube intro with free templates.
Step 2 Personalize the Template to Make Your Animated YouTube Intro
Picked the desired template or scene and applied them to the Timeline already? Now, you can personalize the intro templates in lots of ways using FlexClip's rich features.
1. Replace the YouTube intro background or any visuals in the template. If you want to give the intro video your personal touch, you can change the background or any visuals in the intro template. You can upload your own footage, like picture or video clip, to the Media section, and drag and drop them to the Timeline or canva to replace the default imagery. Or simply change the background color directly. Or you can pick some stunning resources from FlexClip's extensive video or photo library.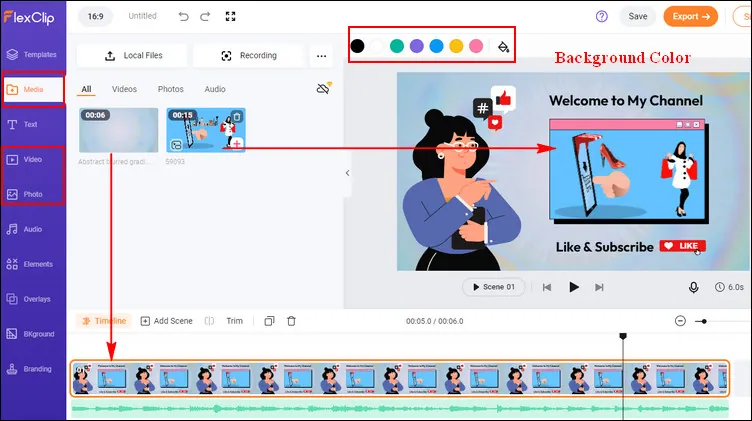 Make a Animated YouTube Intro with Template - Replace Visuals
2. Edit the text in the intro template. Double-click the text box to enter your intro message, such as your channel name and your slogan, etc., and then modify the font and color, or you can go to the Text in the sidebar to add multiple text animation in your animated YouTube intro video.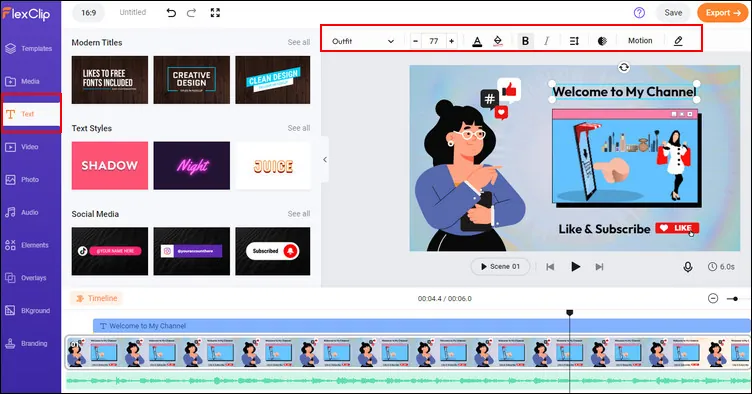 Make a Animated YouTube Intro with Template - Edit Intro Text
3. Make more edits to customize the template. You can also change the audio track, add more sound effects to set the tone of your animated intro. Also feel free the edit or replace the animated elements in the templates until it fits your needs.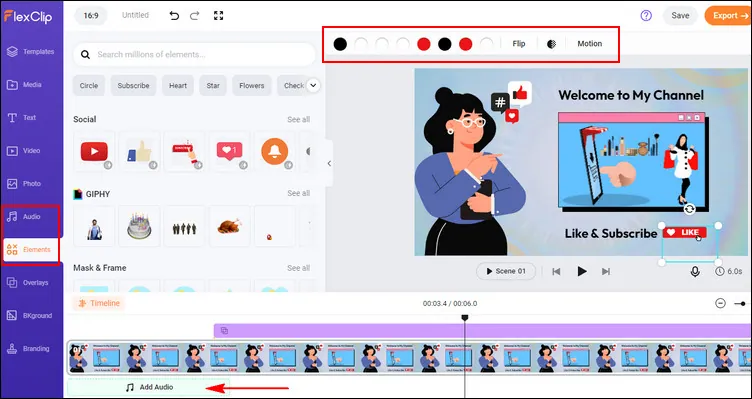 Make a Animated YouTube Intro with Template - More Edits
Step 3 Add Your Logo Animation to the Animated Intro
Now, it's the final touch - to give your animated YouTube intro a professional look, you need to add your logo animation to it. If the template you picked includes a logo animation, you just need to replace it with your own.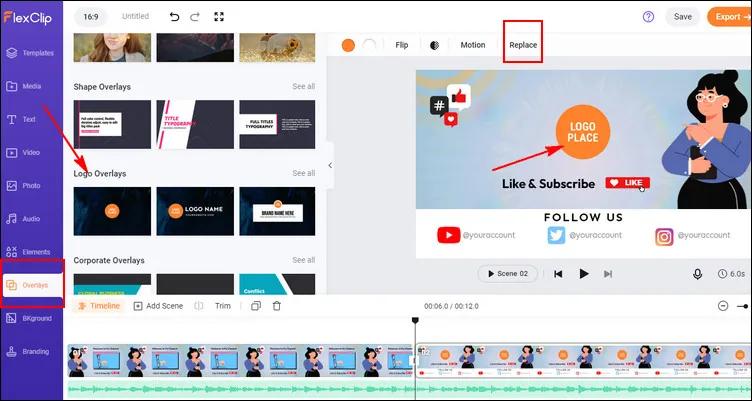 Make a Animated YouTube Intro with Template - Logo Animation
If not, you can add a logo animation to your video in simple clicks: go to the Overlay option and select Logo Overlays > click All icon to see all effects to pick the one you like, then click the Replace icon on top of the screen to add your own logo.
Wow! An animated YouTube intro video with cool animation and music is right at your fingertips now! You can preview and then save it for re-using or attaching to your next YouTube videos in the future.
Final Words
That's all for how to make the YouTube intro animation. Hopefully, with the tool and tutorial we shared above, everyone can customize an animated YouTube intro with great ease. Turn to FlexClip and make the best YouTube intro animation to impress the viewers right now.