Those days, images were usually the go-to option for sellers to showcase their products on Amazon, but now, more and more Amazon vendors use a video to show the product on the listing.
Adding product videos to the Amazon product listing is a better way to showcase your products. It helps you grab higher engagement and higher sales, increases time on site, and helps win customers' trust in your product.
In this article, we'll share an easy way to make Amazon product video for your listing or YouTube promotion.
Quick Navigation: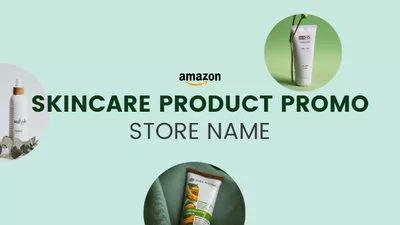 Amazon Skincare Product Promo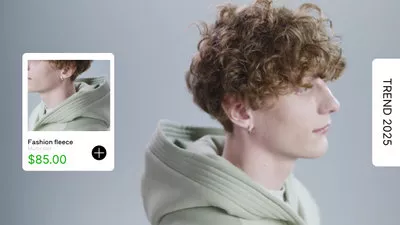 Trend Amazon Shop Promo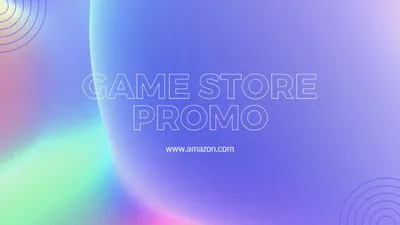 Amazon Game Store Promo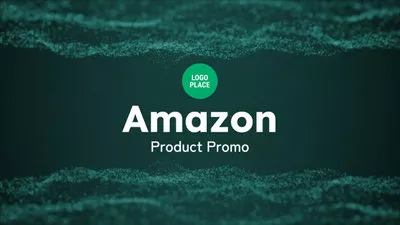 Amazon Product Promo Universal
You May Also Like: How to Edit a Zoom Recording for Free (Online, Mac, Windows) >
Part 1 How to Make an Amazon Product Video
You can use different online video makers to make a product video for your Amazon listing or promotion. Here we'll introduce the most effective one, FlexClip, to help you create an Amazon product video easily.
With FlexClip, you can make a product video for your Amazon listing just with images or combine your images and video clips together. It comes with powerful editing tools for you to edit your image and video, such as the AI cutout tool to get rid off the background of a product photo, the cool pip effect to make a product photo collage or comparison effect, and more robust video editing tools to trim, split, zoom in/out, and make more edits to your clips. More stunning features and effects are waiting for you to explore!
Now, get your materials ready, your product photos and also clips, and follow the simple steps below to make an Amazon product video for your listing or YouTube. To begin, click on Get Started Now button below. Also, you're welcome to view some templates for inspiration.
Step 1 Upload Your Product Photos and Clips to FlexClip
Access the FlexClip editor, and upload your product video footage to the Media section. Here you can upload them from your computer, mobile device, or even some third-party platforms, like Google Drive, One Drive, Dropbox, etc.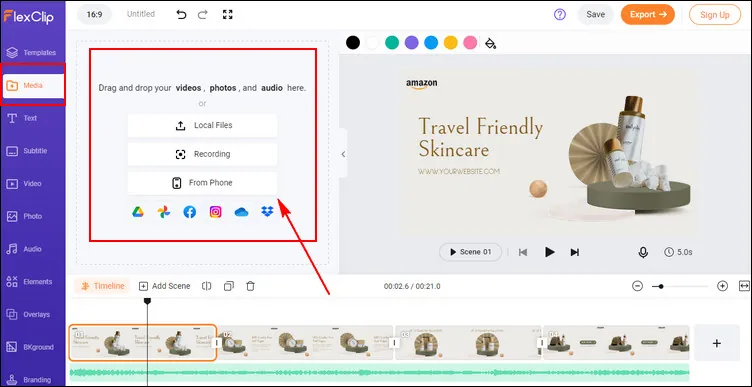 How to Make an Amazon Product Video - Upload
Step 2 Edit and Adjust Your Footage
Once uploaded, apply your footage to the timeline, then you can use FlexClip's editing tools to edit your product photos and clips.
You can rotate, flip and trim the footage, use the background remover to remove the background, add animation or motion to the product, and do more to adjust your footage.
How to Make an Amazon Product Video - Adjust
Step 3 Add Text to the Product Video
A video with subtitles and captions is even more likely to attract more attention. FlexClip has an easy text tool for you to add text to a video quickly.
Simply go to the Text tab on the sidebar, browse to find your desired text effect, enter your message, and customize it on the font, color, size, location, and more.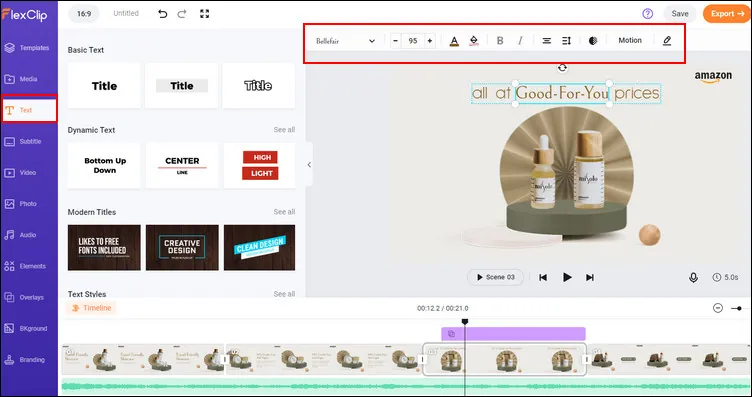 How to Make an Amazon Product Video - Text
Step 4 Add Audio to the Product Video
Now you can go to the Audio tab to add background music or some sound effects to your Amazon product video. Want to use your own audio track? You can simply upload it directly, then make simple edits on the audio track, trim, fade in/out, and adjust the volume of the audio freely. You can also try the voiceover to highlight your content.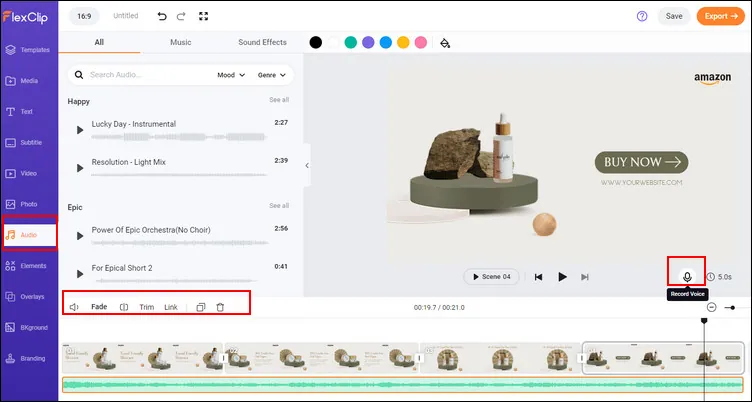 How to Make an Amazon Product Video - Audio
FlexClip offers more effects and features for you to edit a video, just feel free to try them out and make your product video far more appealing.
Once done, you can preview the video to check the final result, then save it on your computer. You can also share your Amazon product on social media directly, like YouTube and TikTok, to win more viewers and potential customers.
Part 2 How to Add the Video to Amazon Listing
Now that you've made your product video, it is time to upload it to your Amazon listing. Follow the simple guide below to learn how to add the video to the Amazon listing.
Step 1
Log into your Amazon Seller Central account, go to the menu on the top left corner, and select Inventory > Upload & manage videos.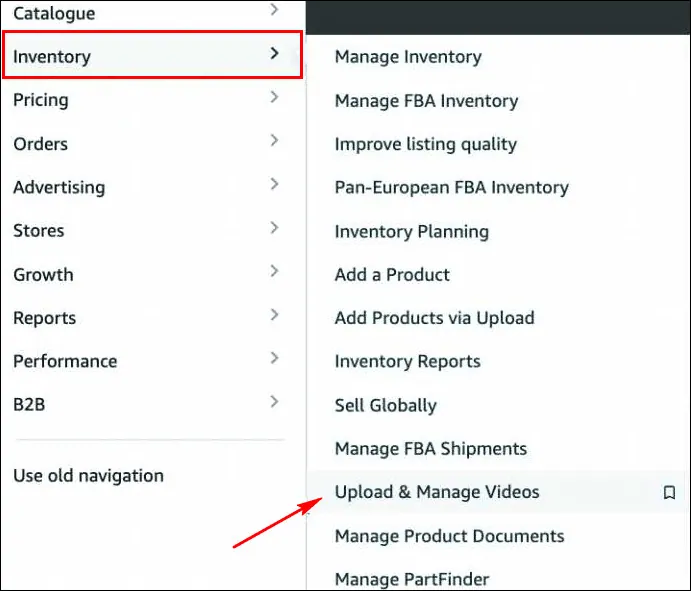 How to Add the Video to Amazon Listing - Step 1
Step 2
On the Manage videos page, click the Upload Video button to access the Upload video page.

How to Add the Video to Amazon Listing - Step 2
Step 3
Here, you can select Upload Video or drag and drop your video from your computer. The video file must be a .mp4 or .mov under 5 GB; Amazon recommends the highest quality available.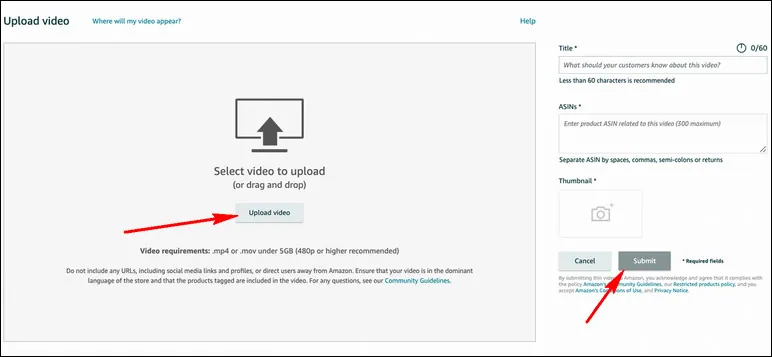 How to Add the Video to Amazon Listing - Step 3
Step 4
Now, you need to fill out the required fields, such as the video title and ASIN. Then, add a video thumbnail. Once done, click Submit for Approval.
Now, your video should be sent to Amazon for review. Once it has been approved, it will appear on your listing.
Final Words
Nowadays, videos are an important part of your customer's shopping journey, especially on Amazon. A good product video can help you connect with more customers, drive brand awareness, tell your brand's story, and increase sales on your listings. Just turn to FlexClip and make an Amazon product video for your listing right now!