Video editing is a complex and time-consuming task that requires a skilled eye and a steady hand. With the help of an AI video editor, you can easily polish your creation and take it to the next level. Besides, many AI video editors can automatically handle professional editing parts in seconds like color correction and adding subtitles, which saves your time in the video editing process and helps you focus on content production.
Need an AI video editor to create professional-looking videos without spending hours in front of a computer? Here is a list of 7 best AI video editors for PC. Let's dive in right now.
Trending and Customizable Video Templates You Can Try: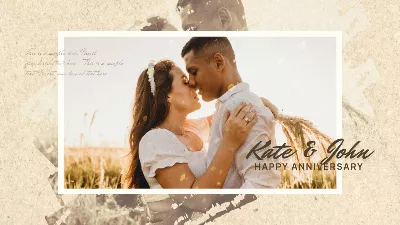 Love Romantic Wedding Anniversary Memory Floral Slideshow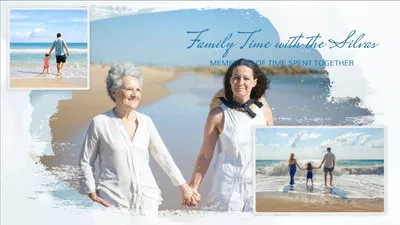 Simple Family Photo Collage Memory Slideshow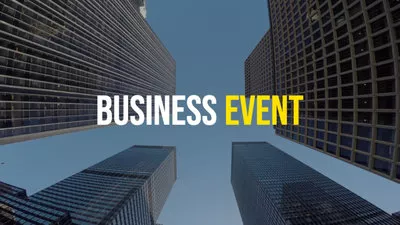 Business Conference Promo
Football Competition Promo Youtube
7 Best Video Editor for PC You Must Try
1. FlexClip
FlexClip is a timeline-based AI video editor for PC that allows you to create and edit videos in minutes, offering more flexibility without editing experience requirements. The workflow is seamless and straightforward: you can import videos, use one of the ready-made templates or edit somehow from scratch without the headache standard editing gives you.
This tool has a clean interface and a variety of AI features like text-to-speech, auto subtitle generator, AI image generator and more, helping you create stunning videos with the power of AI technology. Besides, you can leverage its extensive media stock and editing tools to make your video into perfection.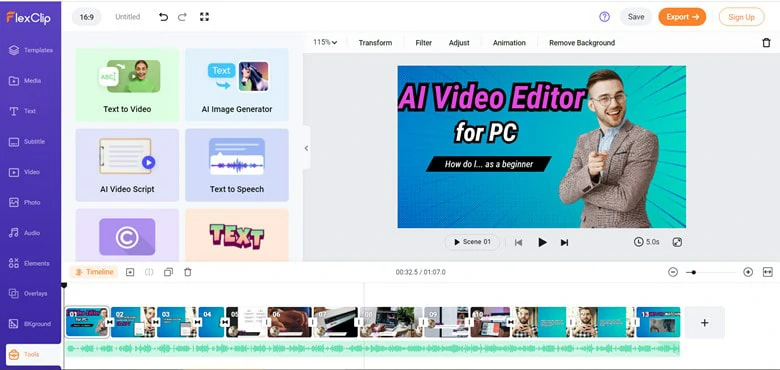 Best Online AI Video Editor for PC - FlexClip
Whether you want to create a warm family video for an upcoming family event or you're looking for ways to edit eye-catching prom videos for a small business, FlexClip will get you covered with its seamless process.
Features:
FlexClip's
text-to-speech
tool can transform any text you entered into natural-sounding human voices in a click operation. It supports over 400+ voices in more than 140+ languages with different voice styles to choose from and the accuracy rate is up to 95%, which makes it a one-stop text- to-speech tool for all your needs.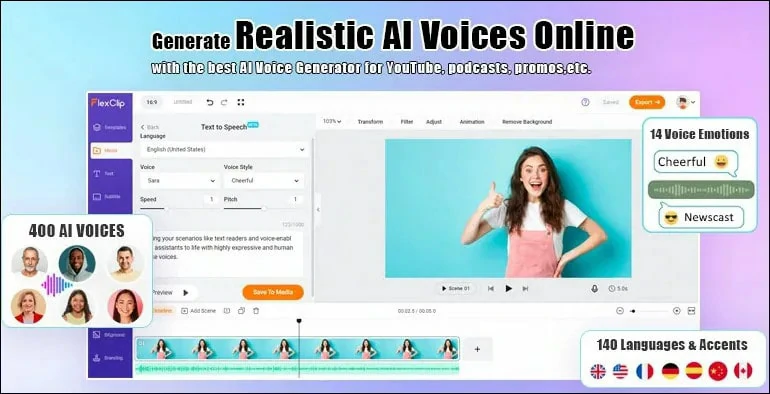 Text-to-speech Feature of FlexClip
Say goodbye to adding subtitles manually. Using FlexClip's AI subtitle generator, you can easily get a transcript from your video and change the text style as you like. Additionally, you can download the generated subtitles as an
SRT file
or directly combine an existing subtitle file with your video.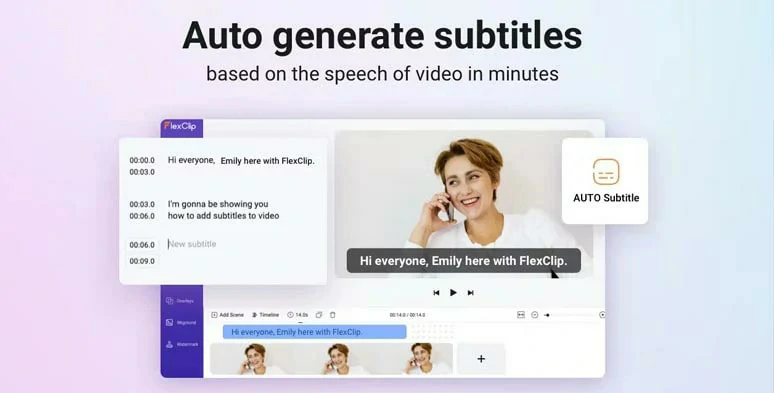 Auto Subtitle Generator of FlexClip
FlexClip makes it possible to generate professional-looking videos with mere text prompts. Simply describe the video content you want and this AI tool will do the rest for you, producing a stunning video with pictures, subtitles and background music. What's more, you can also leverage this tool to get a summary of your article, blog and thesis by pasting it or entering your URL.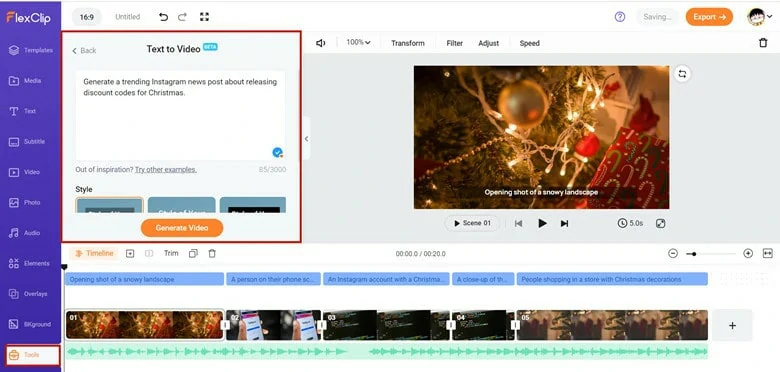 Text to Video of FlexClip
When it comes to photo edits, there are two AI image tools you can rely on: use the AI image generator to turn your creative ideas into visuals and the AI image background remover to remove unwanted background. All the processes can be done in a one-click operation.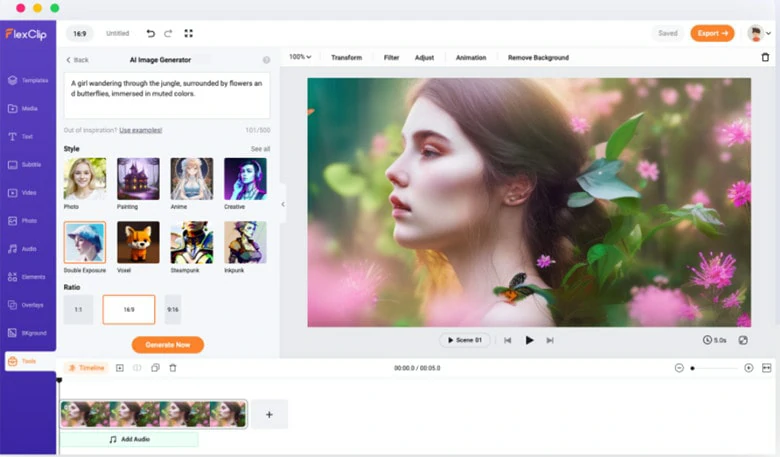 Text to Image Feature of FlexClip
Writing a script for your next video won't hassle you anymore! For many content creators, a script is half the battle. Now, with some keywords, you can get a complete video script that you can directly use without any modification.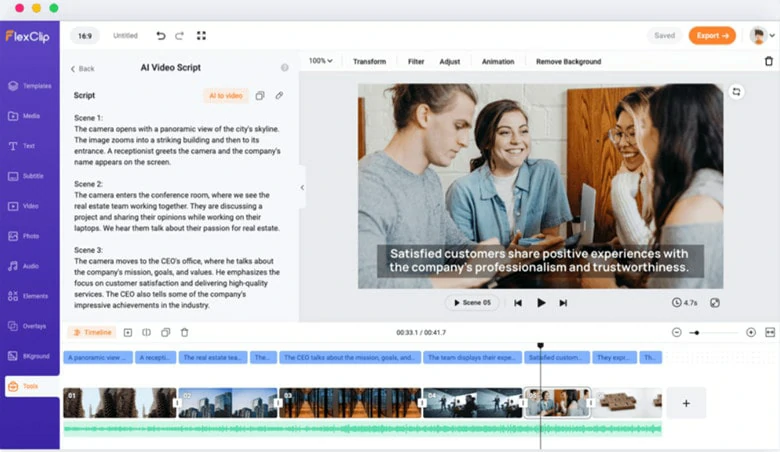 Video Script Generator of FlexClip
7M+ Royalty-free resources like soundtrack, photos and videos and 6000+ designer-made templates are at your disposal, allowing you to unleash creativity. Besides, you can take advantage of various editing tools to perfect your videos like transitions, filters, sound effects and more.
Team collaboration
is available in FlexClip which makes your workflow effective and efficient. All the members will know the process as any changes will be automatically updated.
Pricing:
FlexClip has a free version as well as two paid plans:
Free: 1 stock video per project with a max of 12 projects; 720 HD download; Free AI credits
Plus: $9.99/month for up to 5 stock videos per project and 1080p HD downloads.
Business: $19.99/month for unlimited stock videos and video length.
Warp up
Suppose you're looking for an easy-to-use yet powerful AI video editor for PC. In that case, FlexClip is your best bet that fits your different editing purposes and always produces satisfying results, even for the beginner.
2.LightCut
LightCut is a free video editor powered by AI technology with rich video templates and video effects that empowers you to make stylish videos and vlogs effortlessly. It used to be a bonus for Android users only but now PC users can also benefit from this AI video editor. To create videos in LightCut, you just select the video clips and photos, after analyzing them in a few seconds, the AI-powered One-Tap Edit feature will turn them into a high-quality video.
In addition to the AI editing feature, its Inspire Cam function makes it distinguishable as it offers various creative shooting templates to help you capture fascinating footage, which helps the newbies to shoot like a pro. Whether you're a pro or a beginner, stylish videos are available on this PC video editor within minutes.
Best Free AI Video Editor for PC - LightCut
Feature:
A full set of editing tools to make your videos attractive like trimmer, video cutter and more.
Auto video creator to edit your videos and photos in seconds.
Multiple trendy and creative video templates to make your content stand out.
Provide step-by-step guide to show you how to film and edit.
Various stickers, filters, effects and transitions to enrich your videos.
Pricing:
LightCut is a free PC video editor without ads or watermarks.
Warp up
If you're looking for a free AI video editor without any ads or watermark hassles, LightCut must be your option.
3.Wisecut
Wisecut is a popular automatic video editor on the market, which leverages AI and speech recognition technology to create awesome videos quickly. With Wisecut, you can easily turn your long-form videos into short and attractive clips with music and subtitles perfect for social media platforms like YouTube shorts, TikTok and Instagram.
Additionally, what makes users jaw-dropping is the automated speech feature. Firstly, long and awkward pauses will be identified and automatically removed from your videos. In the meantime, a technique called punch in/out will be added to create an organic flow even if you're using one camera.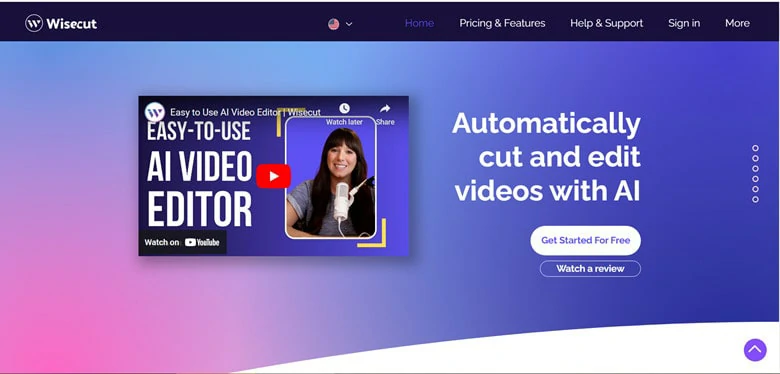 Best AI Video Editor for PC - Wisecut
Besides, with Wisecut, searching for a soundtrack and syncing it with your video will not be a pain anymore! This software will do this by automatically picking a song and adjusting the sound to fit the video style and the audio editing itself as the video is edited. Most importantly, automatic audio ducking is available. This AI video editor will utilize AI to balance your audio, automatically lowering the music when someone is speaking and increasing it when speech is absent. Using Wisecut, video and audio editing is easy as pie.
Feature:
Identify pauses and delete them automatically.
Automatically add background music that fits your video style.
Auto captions and translations are available.
Support AI technology to balance your audio, achieving auto-ducking effect.
Use AI and Facial Recognition technology to do 'punch in' or 'punch out' zoom effects.
Able to change your long videos into short clips with suitable music, subtitles, and auto reframe.
Pricing:
There are three plans you can choose from in Wisecut. Check it in detail.
Free: You can create videos up to 30 minutes per month and a watermark will be added; Basic AI tools like auto subtitles are available.
Starter ($10/m): Ideal for people who want to make videos very often. The maximum length extends to 8 hours per month. Advanced AI features including subtitle auto translation are accessible.
Professional ($29/m): Geared towards people with professional editing skills and significant demands for business videos. The total video length is 30 hours per month, along with 4k resolution and 150 GB storage; All the features are accessible.
Enterprise (custom): Customized plans as per user's needs.
Warp up
For people who have high demands in audio editing, Wisecut will be a flexible tool to help them take the audio elements to the next level.
4.Descript
Descript is an all-in-one desktop editing software enabling you to edit videos like text documents. It leverages AI technology to highlight all the filler words like "um" and remove repeated words. After that, you can edit your videos by deleting the text to make your content concise. Additionally, auto transcription and text-to-speech features allow you to quickly get a transcript from your video or instantly generate an ultra-realistic voice to bring your content to life.
Aside from these, Descript includes an AI Green Screen tool that instantly removes your video background without needing a physic green screen or complicated chroma key editing. With the help of Descript, crisp and clear audio is easy to produce as it automatically removes background noises and enhances your audio quality to a studio-like standard.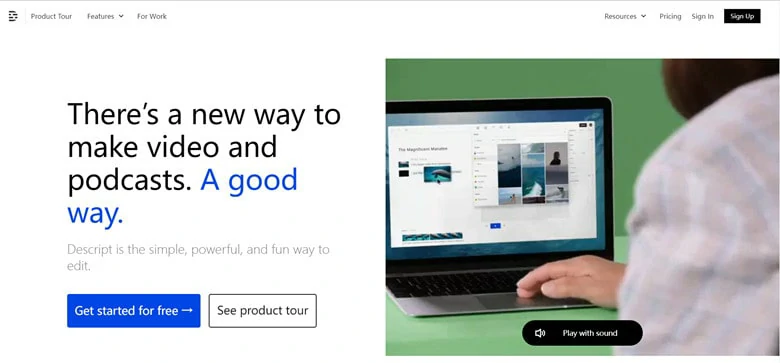 Best AI Video Editor for PC - Descript
Features:
Filler word removal: automatically eliminate the unnecessary "uhs", "ums", and "you knows" along with a dozen other filler words in one click.
Studio audio: enhancing audio quality by removing background noises and improving speech sound in clicks.
AI green screen: able to change the video background without the usage of a physic green screen or the professional tool called chroma key.
AI translation: supported translation in 22 languages, it allows you to add subtitles and captions to your videos without any editing skills.
Overdub: super helpful when you dislike something you said in videos, then you can delete it and have Descript either use your voice to create a speech model or use a stock voice to correct your audio.
Pricing:
Descript has tailored plans based on the number of editors you have to access this AI PC video editor.
For one video editor, it offers four plans as below:
Free: able to export one watermark-free video in 720p per month.
Creator ($12/m): unlimited watermark-free video creation in 4k per month.
Pro ($24/m): support batch file export; all editing features are available.
Enterprise (custom): Tailored plan based on your actual needs.
Warp up
Descript includes many professional AI editing tools like filler words removal and AI green screen, which suit YouTubers and business owners to create professional-looking videos in a few clicks.
5.Clipchamp
Acquired by Microsoft, Clipchamp becomes an in-built video editor for Windows 11 users. Recently, Windows 10 users also have the right to download it from the Microsoft store. If you're not on the list, don't worry, you can also download and install it to your PC.
With Clipchamp, you can directly edit your videos by cropping or trimming and then take them to the next level with transitions, filters and other effects. As for AI technology apply, it includes auto-captions and text-to-speech tools, which are widely used in video creation and perfect your video in minutes.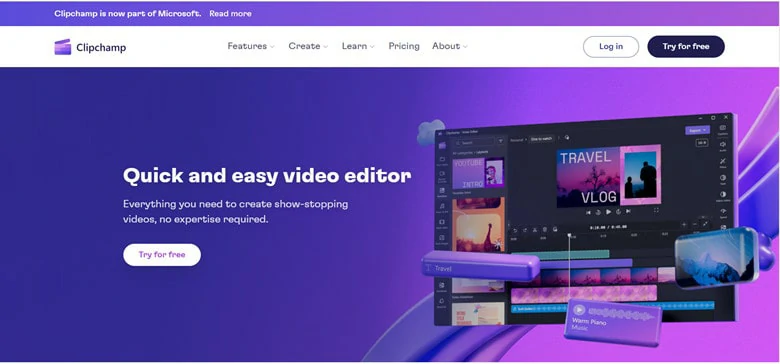 Best AI Video Editor for PC - Descript
It integrates with various overlays, filters, templates and premium royalty-free music stock, allowing you to turn your creative ideas into engaging videos. After editing, you can choose to export videos in high resolution and desired format with ease.
Feature:
An in-built AI video editor for Windows 11 users.
Remove the video background or add special effects with ease.
A large stock of ready-made templates, videos, images and other elements you can use.
400 lifelike voices in a range of accents, ages and even feminine, masculine, and neutral tones.
Able to identify audio in 140+ languages and generate subtitle transcripts with timings.
The price of Clipchamp varies according to the version you use( an online one or desktop software) and here we set the online version for comparison.
Free: access to limited media resources and editing tools.
Essential ($11.99/m): able to export videos in 4K; access to premium media resources and editing features like brand kit.
Warp up
ClipChamp is ideal for Windows users who only need basic editing tools to fine-tune their artwork.
6.Filmora
Filmora is a powerful AI-powered video editor that offers a seamless editing experience to people with all experience levels. As the industry-leading product, it gathers almost all the AI tools you will use when editing videos. From AI audio editing to AI frame adjustment, you can always find a suitable tool to handle your editing problems. Popular AI tools like motion tracking, auto beat sync, text-to-speech, auto subtitle and more are within your reach.
Aside from the AI tool package, Filmora also has features like templates, video effects, color correction and keyframing to help you get inspiration and fine-tune videos with clicks. With up to 100 million users and 4 million social media followers, Filmora has become the optimal choice for editing videos for people with high budgets.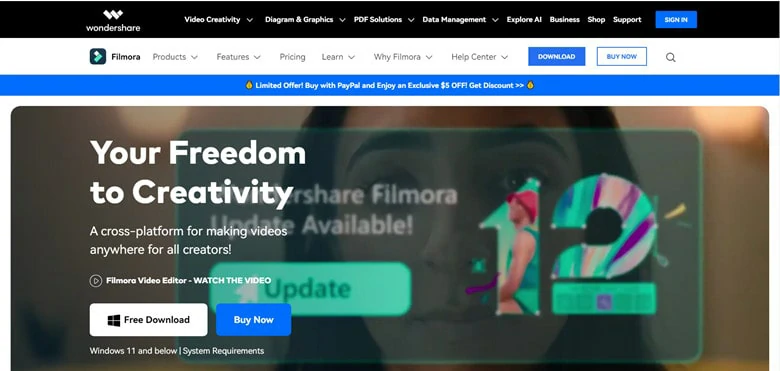 Best AI Video Editor for PC - Filmora
Feature:
It integrates into the ChatGPT chatbot to help you get inspiration for copywriting for the video content.
Various audio editing tools like audio ducking, silence detection, text-to-speech and more are available.
Versatile media stock and ready-made templates to sparkle your creativity.
A flexible yet powerful AI video editor for professionals and social media creators.
Pricing:
Filmora's plan varies depending on the usage situation. For individuals, it offers three paid choices.
Annual Plan: billed $49.99 per year
Cross-platform plan: $ 59.99 per year with multiple platform supports like Mac and iPhone.
Perpetual plan: With a $ 79.99 payment per year, you can use Filmora forever at this version.
Warp up
If you're looking for a professional AI video editor with simple operation and a high budget, Filmora is a nice option for you to have a try.
7.DaVinci Resolve
DaVinci Resolve is an excellent solution for video editing, color correction, visual effects, motion graphics and audio post-production. Its AI face refinement gives you full control in face adjustments, like removing eye bags, touching up skin and sharpening eyes, all the works can be done in clicks. On top of that, text-based editing and automatic subtitles are all accessible to polish your videos.
With a feature-rich interface, it's no exaggeration to say that almost all your editing requirements will be achieved with this all-in-one video editor. If you're an experienced creator or don't mind the curve learning process, Davinci Resolve will lend you a hand to edit videos.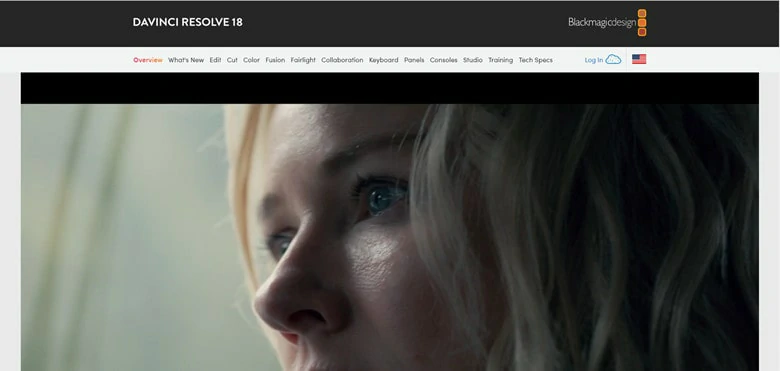 Best AI Video Editor for PC - DaVinci Resolve
Feature:
Able to upscale your video quality from HD to 4K or 8K.
Its face refinement tool can instantly detect faces and perform tasks in clicks.
Support all the basic editing features you will use in video editing.
Removing objects, replacing unwanted things and fixing dead pixels are all available on this AI video editor for PC.
An all-in-one video editor with free version for desktop users.
Pricing:
DaVinci Resolve only has one paid plan: you have to pay $295 to own DaVinci Resolve studio version on your PC.
Warp up
DaVinci Resolve is the top-notch video editor on the market and recently it has updated AI technologies to help users edit video easily and quickly. If you'd like to choose a professional video editor, why not use this tool for help.
The Bottom Line
That's all for the 7 best AI video editor for PC. Now you can make a selection and harness the power of AI to polish your videos effectively. Unleash your creativity with ease now!