Video for sales changes the world of marketing like no other.
According to Forbes: "90% of customers report that sales videos, either a product video review or explainer video via an email, help them make purchasing decisions."
It's the ultimate strategy for sales reps, small and big businesses to seal a deal. Use it or lose it.
In this post, you will learn why video marketing is a must-have nowadays, and which type of sales video is right for you, and how to use online video tools for sales, plus bonus tips to build quality video content.
Let's jump right into it.
Content:
Why Video Marketing Works for Sales?
Decide the Types of Sales Videos for Your Business
a.Record a Personal Video and Send it to Your Client
b.Add Sales Video for Your Email Campaign
c.Record Videos and Post on Social Media
d.Use Video Camera for Live Streaming
Seal the Deal with Online Video Tools for Sales
Build Quality Content for Your Sales Video
a.Know Your Target Audiences
b.Choose the Right Video Platform for Sales and Marketing
c.Keep it Short
d.Be a Great Storyteller
e.Don't Sell But Make Your Video Fun
The Bottom Line
Why Video Marketing Works for Sales?
If you are still struggling to build mutual trust and raise brand awareness to your potential customers, why not drop the plain texts and stereotyped product brochures and look for the right remedy---video selling.
Instead, try making a client's testimonial video or attaching a well-crafted video in the newsletter, inviting customers to attend a product release meeting, etc. The surprising increased response rate will work like a charm.
In fact, based on a recent survey of more than 650 marketers by Wyzowl, a leading video marketing company, that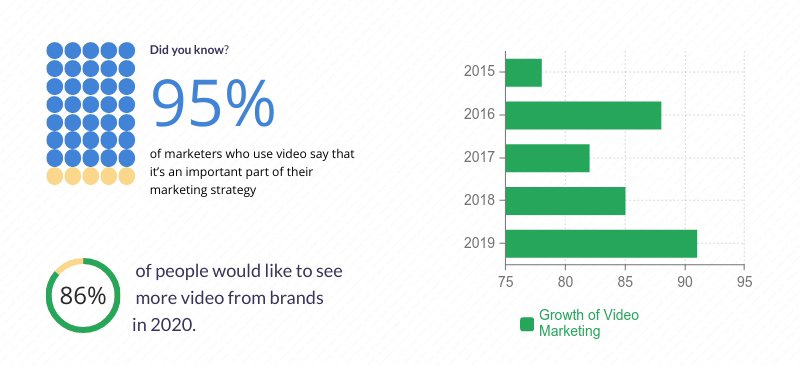 A recent survey of using video for sales
"92% of marketers who used videos say that it's an important part of their marketing strategy."
"People watch an average of 16hrs of online video per week—a 52% increase in the last 2 years."
"86% of people would like to see more video from brands in 2020"
The sheer video statistics for sales echo the success of business success via video marketing. Understandably,no one wants to be served by an avatar. we, human beings, love to have an intimate and harmonious relationship.
Your sincere smiles, caring voice and eye contact, and friendly body language, plus the client's review, etc. shown in the video will break the ice between you and the customer and shorten the sales cycle.
Besides, believe it or not, psychologically, our eyes are drawn more to dynamic videos than static texts and graphics. According to the research conducted by Medium that

Videos can effectively engage potential customers.
"Users spend 88% more time on a website that has video".
"Video generates 1200% more shares than both images and text".
"Videos up to 2 minutes long receive the most engagement".
To simply put, to boost sales you gotta equip yourself with sales videos and techniques of video marketing to close a deal quickly.
Decide the Types of Sales Videos for Your Business
Wait, hold your horses. Before you get started making your sales videos, it's vital to know how and where to use your video.
Currently, there are 4 ways to strike a deal with sales videos:
a.Record a Personal Video and Send it to Your Client
This is one of the most common ways to engage your customer and build trust. Find a place with ample lighting and use your smartphone to record a small video.
The content can be a kind reminder of "the special sales" of your product or a sincere invitation for a meetup in your company, etc. Keep it short in around 2 mins and add dynamic texts in your video to grab the customer's attention.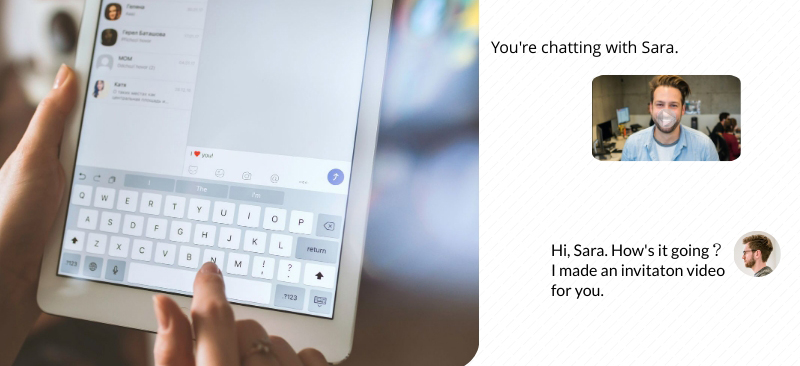 Send sales video via apps to customers
Then send it through Whatapps, Facebook messenger or Wechat, etc. Your clients will find you so considerate and feel deeply valued. A rapport relationship is built and now you are one step closer to seal the deal.
b.Add Sales Video for Your Email Campaign
Using emails like a newsletter to keep your customers in touch is never new.
However, the feedback in most cases is far from satisfactory and unstable, with emails either being ignored or dumped as spam.
But, when you can make a tailor-made video and embed it to your email and later send it to your client, the result will be a completely different picture.Check 2020 top video content marketing strategies to help you double views.
According to the actual survey by Covideo, "using video sales through emails help to increase the open rate by 19% and click-through rate by 65%". Highly recommended.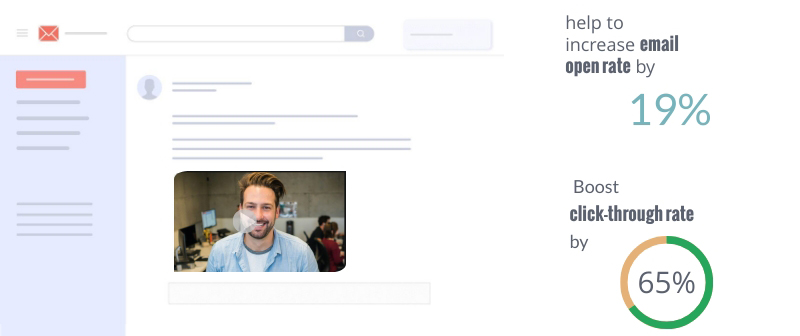 Using sales videos for email campaign works well.
Tips

Before you attach the video in your email, don't forget to type "[Video]" into the subject line to remind your prospective customer that a customized video is for them inside the inbox.
c.Record Videos and Post on Social Media
Well, nowadays, videos for sales are everywhere on various social media. On Facebook, Youtube, Instagram, Twitter, or, Tiktok, Whatapp, etc. you name it.
And each social platform has its unique video format and algorithm, and wider viewers. So, before you decide to post your sales videos on a particular social media, do a bit of research is highly recommended for sales prospecting.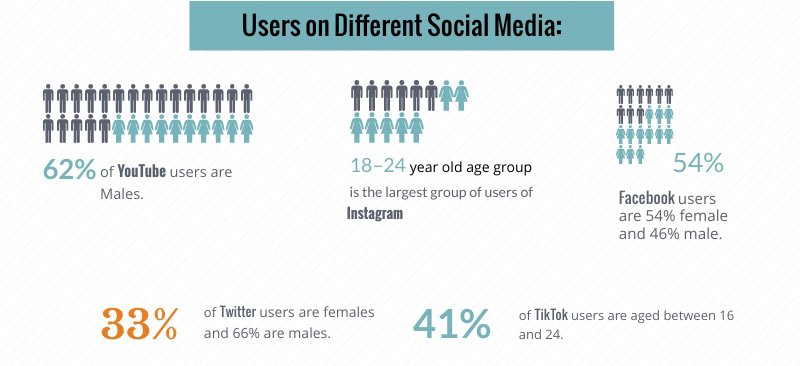 Users on different social media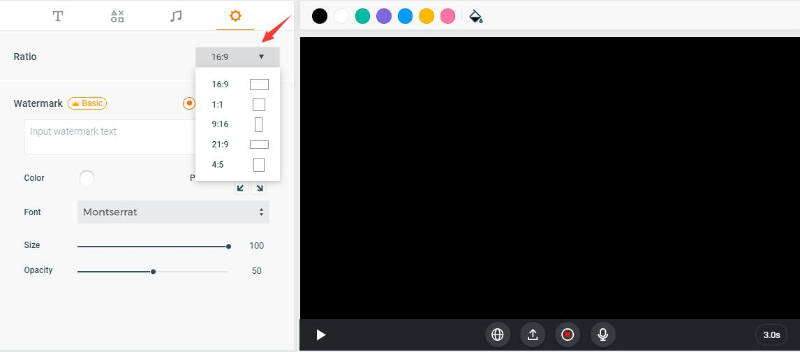 Press the ratio adjustment tool to crop your video
d.Use Video Camera for Live Streaming
Technically, live streaming or webcam chat by using the camera on a smartphone or pc is the newest invention of video selling, esp. seen in Tiktok in China.

Live chat with clients
Pros:
Cons:
Face-to-face communication
Time-consuming
Instant problem solving
No do-overs
Anytime, anywhere
Can't share the video
Build mutual trust
Perhaps, the biggest drawback of a live chat is that both parties should arrange a time for the chat, and sometimes it's hard to find a proper time.
Besides, clients can share the video with the third party, like their family members or friends, who can be potential clients. Other than that, it is still worth trying.
Seal the Deal with Online Video Tools for Sales
Now, you must have a clear clue of how and where you gonna use video for sale. It's time to focus on how to edit it.
If you are an amateur of video editing or a small business with limited time and low budget, then edit your online free with Flexcip would be a worry-free solution.
The intuitive interface of Flexclip is user-friendly to computer novices.
All you need to do is:
Step 1 Get a Flexclip Account by Signing Up for Free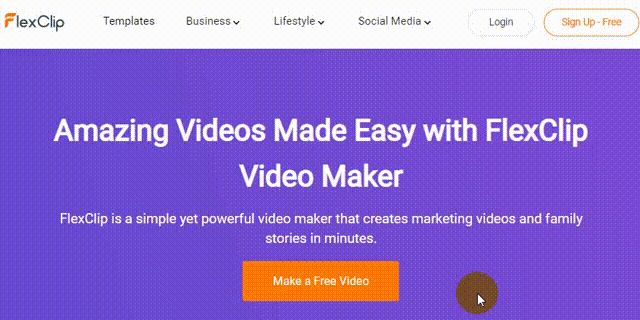 Sign up for Flexclip for the free use of it
Step 2 Choose an Ideal Template or Start a New Project from Scratch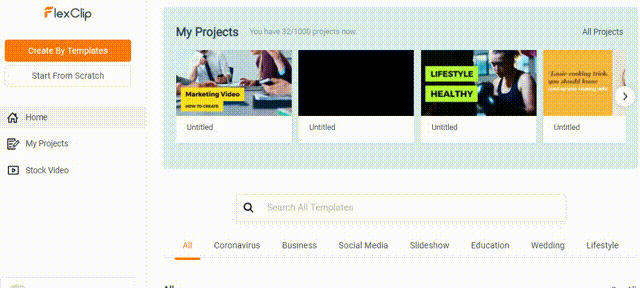 Start a new project for video editing
Step 3 Customize Your Sales Video
You may upload your sales video or use tons of royalty-free stock videos, photos, and background music, and widgets and animated fonts, etc. to make your video arresting.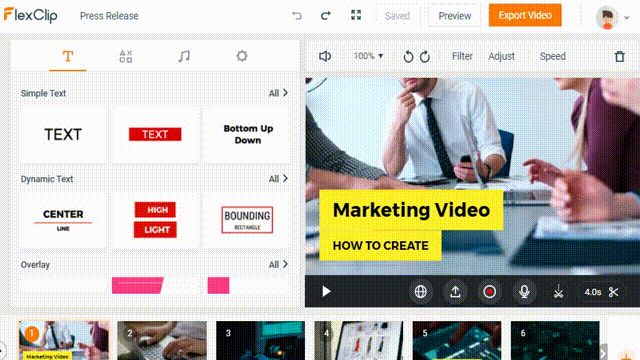 Customize your video by changing the font, widgets & music, etc.
So, how helpful is Flexclip? Please check its user's testimonials:
User shares his experience when using Flexclip
Still have questions for using Flexclip, please feel free to email us for the professional help from our friendly video editing experts.
Build Quality Content for Your Sales Video
For newbies who just start making sales video for video marketing, we offer you the top 5 bonus tips to help you create quality content to drive sales.
a.Know Your Target Audiences
Before making videos, survey the needs of your target customers in detail.
What are their pain points are? Which age group they belong to? What particular services your products or services can offer? etc. Look for all-in-1 marketing video guides.
Then, record these customer-concerned issues in your video and clearly explain how can you solve their problems with your products or services.
Nike's sales video "Dream Crazier"
A case in point is Nike's sales video "Dream Crazier", in which the narration resonates with Nike's brand slogan of "Just Do It" for all athletes and highlights Nike's concern for gender equality.
b. Choose the Right Video Platform for Sales and Marketing
As mentioned above, different social platforms have unique preferences and algorithms. Do figure out what audiences are, video format, and even the ideal timing for posting the video in a particular platform before posting your sales video.
c.Keep it Short
Time is money. Nobody has the patience to watch a lengthy sales video, esp. in a world where people are constantly updated with dazzling information from all directions.
According to a study by Microsoft, "the average human being now has an attention span of eight seconds." Some even have an attention span of a baby.
So, do make it short and to the point.
As HubSpot suggests that the length of videos on the different social platforms: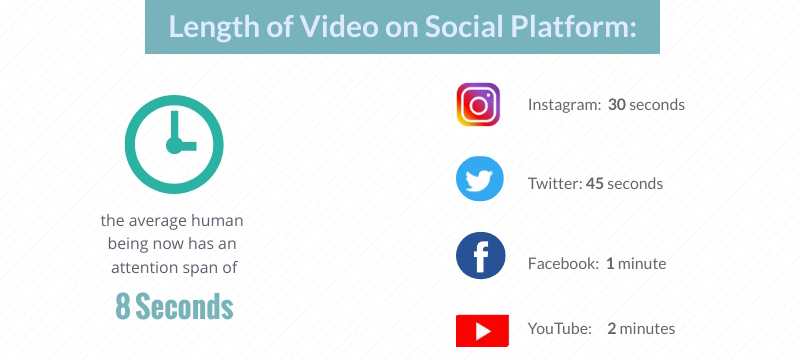 The ideal time to grasp the attention of your audience
We suggest you around 2min video is the best video length for an email campaign or a post on Facebook.
In this respect, Flexclip offers you easy editing tools to fix video ratio and combine video clips with photos and slideshow to make a lovely video for your customer.
d.Be a Great Storyteller
Engage your customer with a touching story they can relate to.
No one wants to hear how amazing your products are. But when the products and services are woven through a compelling story. You will be surprised to find how much easier to evoke emotions and strike a chord with your audiences.
A great example is how Google uses a little girl's "birthday letter" to promote its brand and the care for its employees.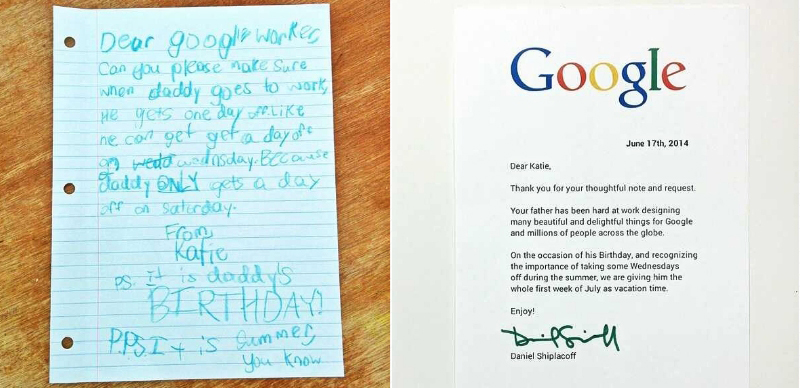 Letter to google for a birthday leave
Such a touching story truly touches the audience's heart and build google's brand in a magic way.
e.Don't Sell But Make Your Video Fun
Hard sell never works. It only irritates the customer.
So, please fill your video content with fun stuff and aim to entertain your audiences. Remember, statistics show that the videos that go viral are often those funny, informative, and shocking videos.
Just give full play to your creativity, you can move your audiences with your well-made video content.
The Bottom Line
Using video for sales (or video marketing) is the trendy way for promotion in the world of today. You need to choose the ideal platform and carefully design your video content.
Most importantly, choosing an easy-to-use video editor like Flexclip will save your time and help you impress your customer and sear a deal soon.
If you still have questions as to sales video or video editing, please feel free to reach us. Our friendly video experts stand ready to help you out.
Hopefully, this post will give you new inspirations. If you enjoy reading it, don't forget to share it with your friends or on social media.