There's a new trend on social platforms like TikTok and Instagram that has led to a frenzy of pet lovers. You've probably seen it, that is the funny talking animals videos: for a talking dog, or a funny talking cat, and more!
If you've ever wanted to do a dog voice on your video to make a talking dog, here are the easiest ways for you to do the dog voice over on TikTok and make a talking dog video online.
Contents:
Also Read: 3 Best TikTok Voice Generators to Convert Text to Speech for TikTok >
How to Do the Dog Voice on TikTok
TikTok itself provides you with powerful audio editing tools and voice effects to help you do dog voiceover and make a funny talking dog video on TikTok easily.
Step 1
Record your TikTok dog video as you normally would or upload one from your camera roll directly, then continue to the editing screen.
Step 2
On the editing screen, click the "Voiceover" button in the corner, indicated by a microphone icon. (On some devices, you may have to click "audio editing" in the right-hand bar instead of "Voiceover" to record the voice and apply voice effect.)
Step 3
Find the section of the video where you want to add voiceover to the dog and make it talk, then click the "Record" button to begin.
Step 4
Once your voiceover is recorded, you can enhance it with a variety of voice effects to make your voice over much funnier, tap the "Voice effects" button to access a range of effects and find your desired one.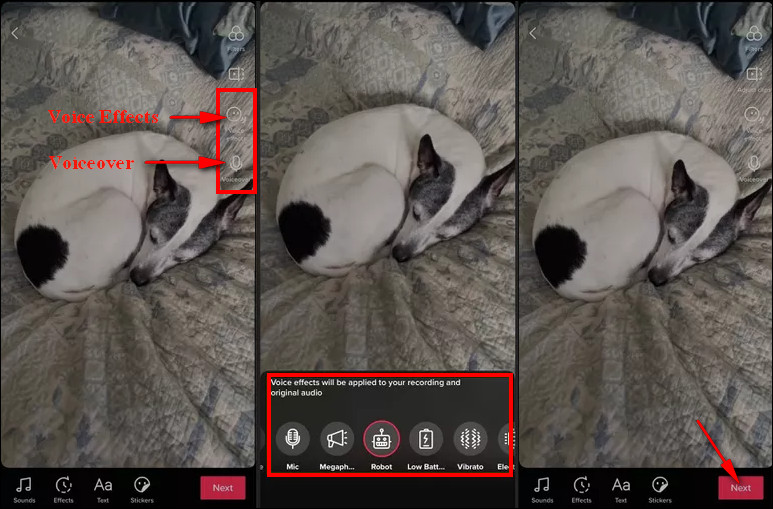 How to Do the Dog Voice on TikTok
Step 5
When you've finished recording and editing the voiceover, you can adjust the volume using the "Volume" tool and moving the "Original sound" toggle.
Well, there is another way to do the dog voice over without recording by yourself - convert any text to speech with any voice your want for your dog voiceover on TikTok is by using TikTok's native text-to-speech voice generator.
It's pretty simple to generate a dog voiceover with the TikTok's text-to-speech voice generator. All you have to do is record or upload your talking dog footage first, then click Aa text tool to write out the words. Now, you can click the little face speaking, the text to speech icon, then scroll over to choose a voice for your dog voiceover.
How to Do a Dog Voice on Your Video Online
Here, we also share a powerful online tool, FlexClip, to help you do the dog voice and make a talking dog video with great ease. Editing your talking dog video and dubbing your pets with help from FlexClip is actually very easy, here we show you the whole process with detailed steps.
Within FlexClip, you can make funny dog voice over for your TikTok or any social platforms simply by dubbing your dog with your own voice or generating ai voice using it advanced text-to-speech voice generator. Once done, you can make use of FlexClip's powerful editing tools to edit the talking dog video with various effects. Once done, you can seamlessly share the talking dog video via a link, or post to TokTok or other social media.
Step 1 Add Your Talking Dog Footage
Access FlexClip and upload your pre-recorded videos, images, and audio files from your PC, phone, Google Drive, Dropbox, One Drive, or Google Photos. Then set the video aspect ratio according to the different platform's preference, here we choose 9:16 for the TikTok platform.
Once uploaded, apply the footage to the timeline. There may be some unnecessary parts in your clips, you can cut them down using the simple trimmer or make any raw edits on the footage.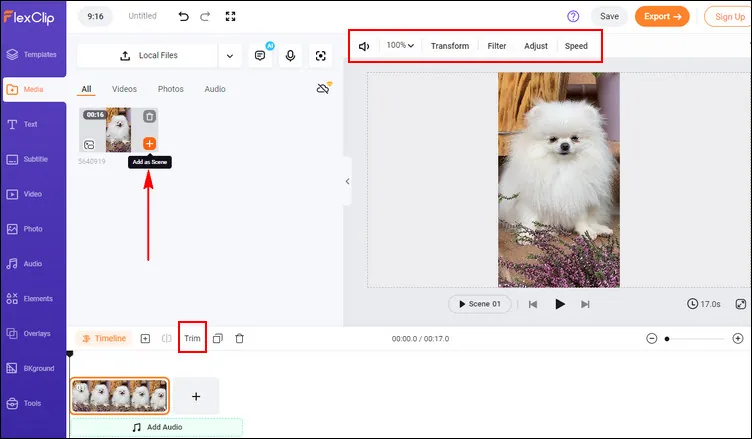 Image Board: Make a Talking Dog Video Online - Upload
Step 2 Record Voice or Generate Voice from Text for the Dog Voice Over
To do the voice over for the talking dog video, FlexClip allows you to record your own voice directly or generate any voice from text using its text-to-speech tool.
Record voiceover to dub your pet - Go to the Media part, click the Record Voice button, and choose the Devices that you want to record and mute other audio tracks while recording, and then click the red button to start recording after a 3-second countdown. Once finished, click the red button again to stop recording.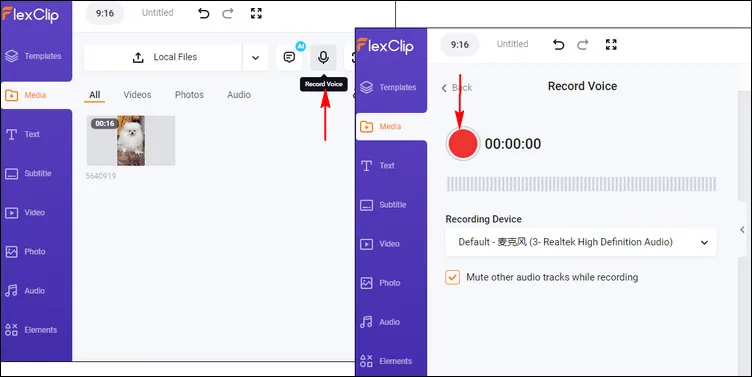 Image Board: Make a Talking Dog Video Online - Record Voice
Generate voice from any text - Also switch to the Media tab, find the text-to-speech icon, then choose a language, voice, voice style, etc. for your talking dog. Once selected, you can type in your text and click Preview to check the the TTS voice, once satisfied hit the Save to Media to save the vocie. Then, FlexClip shall automatically convert text to speech and add it to the Media Library for you to add to your video.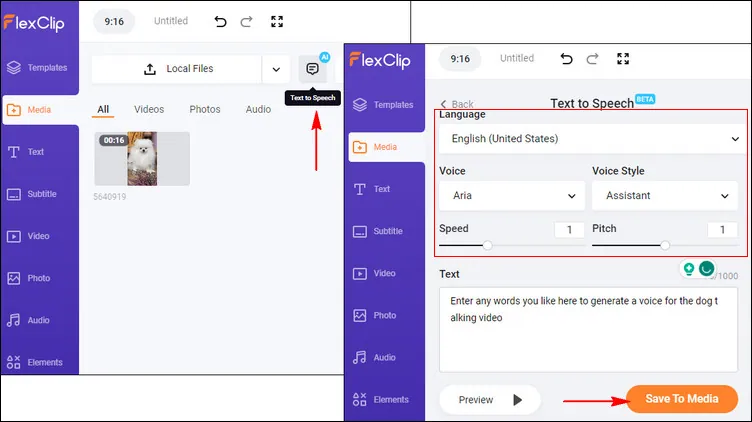 Image Board: Make a Talking Dog Video Online - Generate Voice from Text
Step 3 Edit the Voice and More
Once you've done the voice and added it to the video, you can adjust volume of the voice, apply the fade in/out effect, etc. You are also able to mix the voice with the background music or sound effects to highlight the theme and create an auditory feast
If there is too much background noise in your video clips, you can mute it directly or extract the original sound from the video.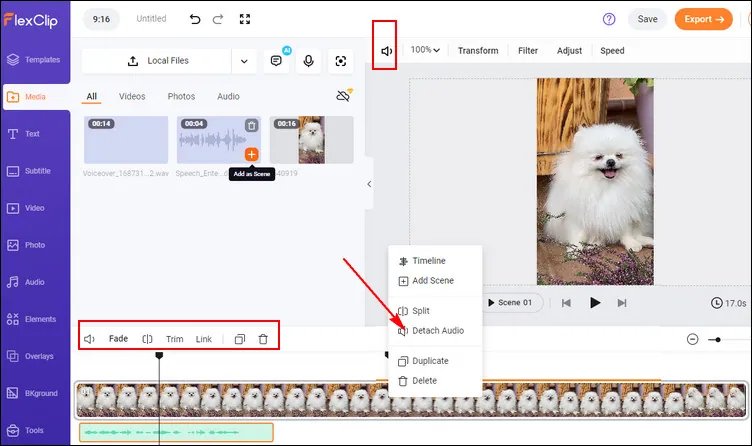 Image Board: Make a Talking Dog Video Online - Adjust Voice
Final Words
A talking animal video is a fantastic way to show people your awesome pets and attract tons of views. Just try funny talking animals videos on TikTok or using FlexClip right now: for a talking dog, or a funny talking cat, and more!