Wow! Snapchat is adding a new dual camera feature to its main camera for iOS devices. So when you open your Snapchat on your iPhone, you'll see a new icon in the camera toolbar, and that is the dual camera, which allows Snapchat users to capture content using the front and back iPhone cameras simultaneously.
Now, just follow us and learn more about the dual camera on Snapchat.
SnapChat Dual Camera Feature
Contents:
Also Read: How to Record Hands-Free on Snapchat >
Part 1 What is the Dual Camera on Snapchat
The concept of the Dual Camera is pretty straightforward. As its name suggests, dual camera allows users to record or take photos on Snapchat from the front and back cameras at the same time on the phone.
It sounds similar to BeReal, and Instagram's new Dual/Candid options, but Snapchat takes on the dual-camera feature with more versatile options.
When you try the dual camera on Snapchat, you can choose from four layout options to take a snap, including vertical, horizontal, cutout, and picture-in-picture.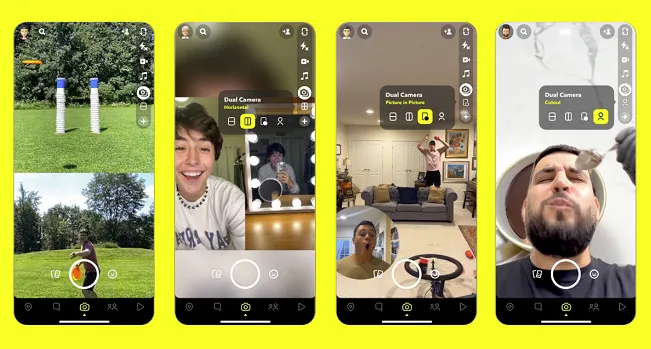 Snapchat Dual Camera Options
Part 2 How to Use Dual Camera on Snapchat
The Dual Camera option can be simply accessed from the camera toolbar, and it is available for Snaps, Stories, and Spotlight videos. Just check the simple step below check how you can use the dual camera on Snapchat.
Step 1
On Snapchat's camera screen, tap the Dual Camera icon on the right side of the screen.
Step 2
Here are four layouts for you to choose from, just select the one you want to use and then tap the camera screen outside of the layout selection window to close the window.
Step 3
Now, you can tap the capture button near the bottom of the screen to take a Snap with the dual camera as you usually do.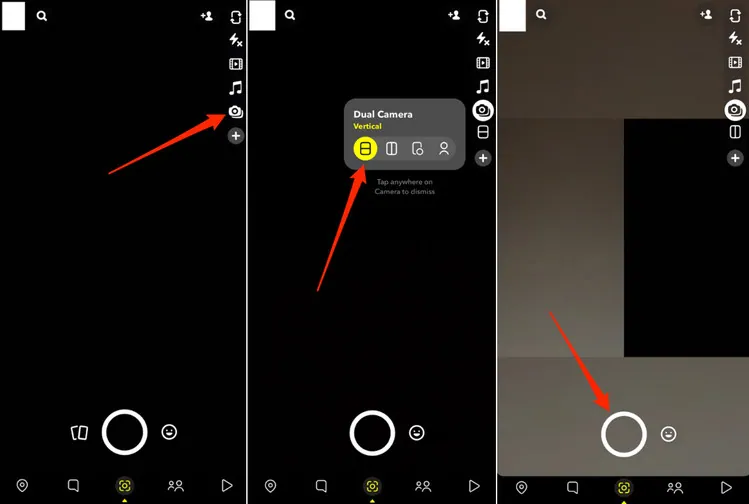 How to Use Dual Camera on Snapchat
Pretty easy to use, right? So, What are you waiting for? Get creative with Dual Camera on Snapchat now!
But wait! ! I can't access the dual camera on my Android phone!?
That's right… The Dual Camera feature is now only available for iOS users and it will be released for Android users in the future.
So how can you add dual content to your Snapchat video if you're not an iPhone user? Keep reading to find the way.
Part 3 How to Make Dual View Video for Snapchat Online for Free
In fact, many video makers allow you to make a dual-view video with ease. FlexClip is just one of them. It is a free and feature-packed online video maker that easily allows you to make a dual-view video simply with its PIP feature and offers you tons of user-friendly video tools to help you edit and make your Snap video on a computer with great ease.
What's more, FlexClip offers various beautiful video templates to help you make a dual-content video with great ease.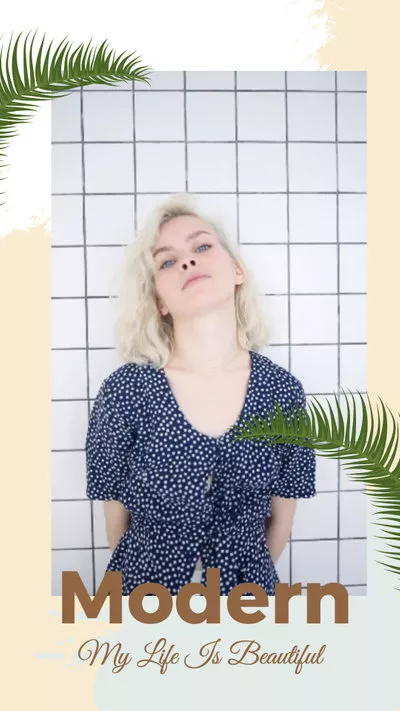 Summer Fashion Intro
Daily Life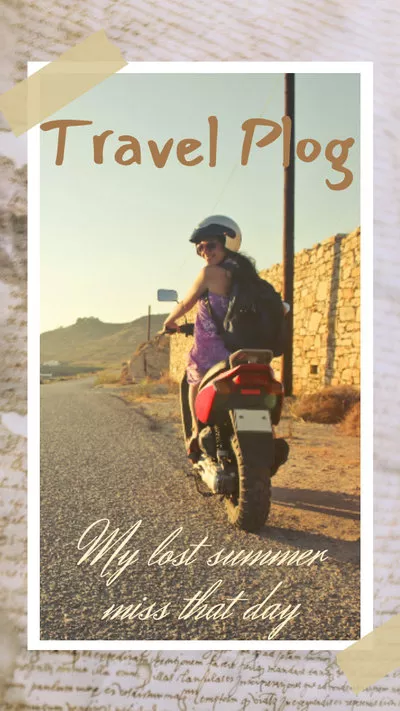 Photo Blog
Now, we'll show you how to make dual-content videos for your Snapchat and more on your computer. Just click the Get Started Now button and follow us to start making a dual-view video.
Step 1 Get Your Dual View Content Video Footage Ready
Go to the Media section to upload all your video footage to FlexClip. You can upload from the local file on your computer directly, choose the prerecorded clips from your phone, or even record a new clip at FlexClip.
Here, remember to check the ratio icon on the top left corner to change the aspect ratio for Snapchat.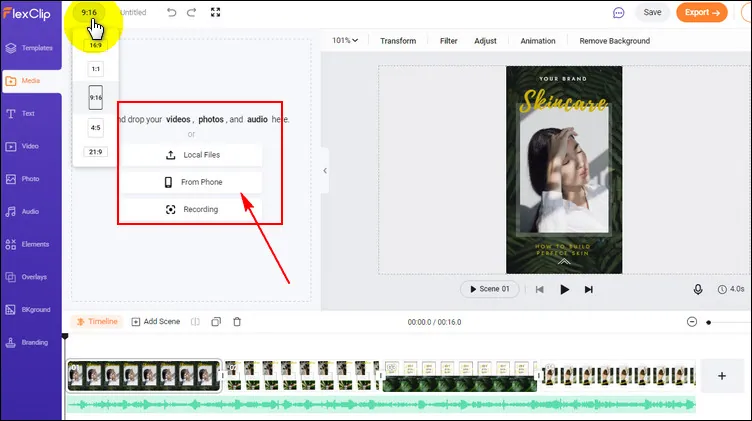 How to Make Dual-View Video - Upload
Step 2 Apply and Adjust Your Video Footage
Now, add the first clip or image to the Timeline as scene, and then add the second clip as a layer on the former.
Then you can customize the layer video freely to make your dual snap video. You can adjust its location and size simply by drag and drop; crop it into creative shapes, like circle and heart shapes, and more; you can also add various motions to the layer video, such as fade-in and fade-out.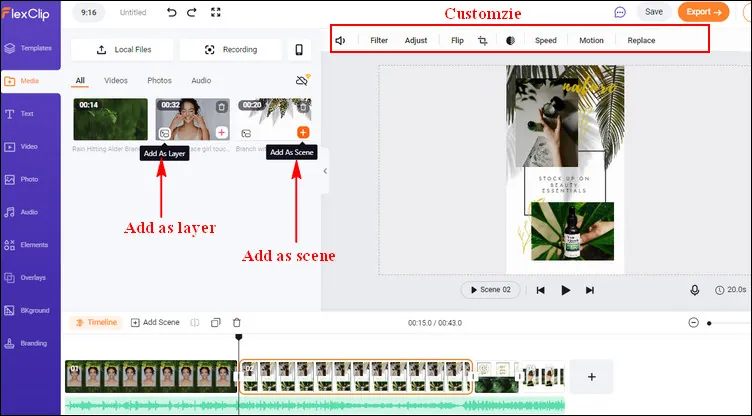 How to Make Dual-View Video - Apply & Adjust
Step 3 Make More Edits to Level the Dual-View Video
Make more edits to level up your dual snap video with animated text, funny stickers, dynamic elements, cool filters, overlays, various shapes, etc.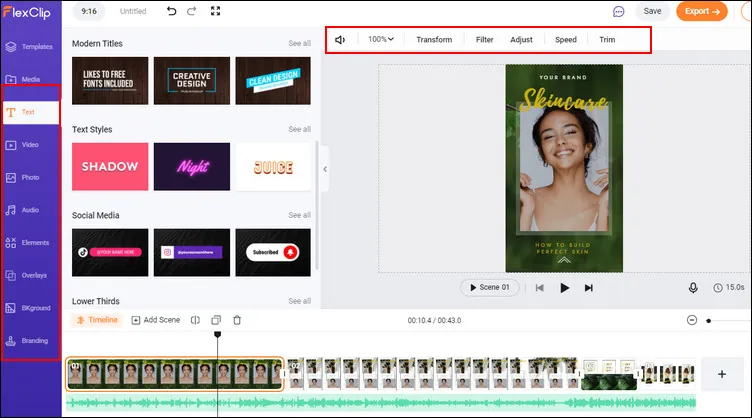 How to Make Dual-View Video - Edit
Once done, you can click the Preview button to preview your final dual snap video through the previews window and then export it for sharing to your Snapchat.
Final Words
That's all for the Snapchat new feature - dual camera. Hope this tutorial is helpful to you. By the way, if you want to make a dual camera video for your Snap on your computer, Windows or Mac, try to make high-quality and original dual content videos with FlexClip. Give it a try now!