Scary sound effects are sounds made to send shivers down your spine. Not only can they build up tension, anxiety, and suspense for the narratives in horror films, but also trigger our primal fears of the unknown and create an unnerving auditory experience for the viewers.
In this post, we will walk you through the 6 best sites to get great scary sound effects for your video projects. So, you can easily add scary sound effects to your movie intros, trailers, Halloween pranks, jump scare videos, etc. to evoke the spooky vibes needed.
Here's what you'll learn:
1. FlexClip
With 74,000+ royalty-free music tracks and sound effects, FlexClip online video maker offers you a one-stop solution to add studio-like scary sound effects to your footage within your browser in clicks away.
Add high-quality scary sound effects to your footage with FlexClip online.
You can directly upload your footage to FlexClip's in-browser video editor and match your clips from thousands of high-quality scary sound effects, which makes your edits 10x faster for YouTubers and other content creators.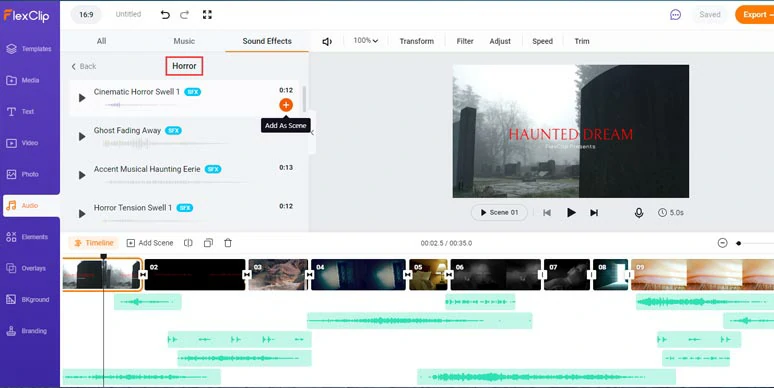 Add royalty-free scary sound effects to footage by FlexClip online.
From the instantly-recognizable sharp string sounds in horror films to ominous scream reverb, dark & spooky resonant ambience, ghostly whine and rumble, off-key scary metal sound effects, and unnerving drone ambience, horror impact, strange winds sound effects, demon's chanting, and the long door creaking that gives you goose pimples, etc, you can find exact scary sound effects needed for your horror films, podcasts, movie intro, trailers, Halloween pranks, and
jump scare videos
.
Haunted Dream: a sound design using scary sound effects from FlexClip.
Another feature worth mentioning is that FlexClip also offers you tons of designer-made and fully-customizable
video templates
. So, you can easily drag and drop your footage and add scary sound effects to create spine-chilling videos in minutes within your browser. Extremely user-friendly to the beginner.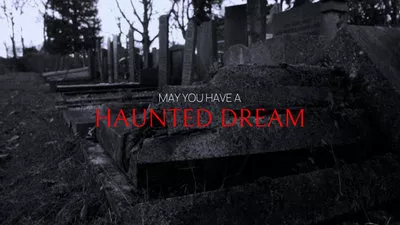 Horror Book Trailer
Suspense Trailer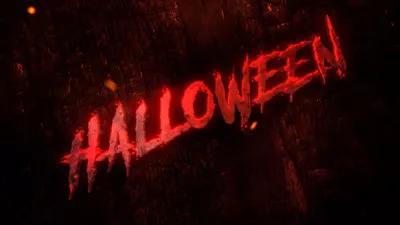 Halloween Intro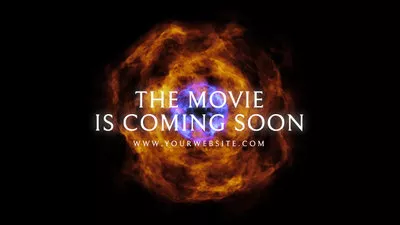 Cinematic Intro
2. YouTube
Well, to YouTubers, one of the easiest ways to get copyright-free scary sound effects is from YouTube itself. Simply search for "free scary sound effects" in YouTube's search box, then you can get loads of non-copyrighted scary sound effects shared by generous global YouTube content creators.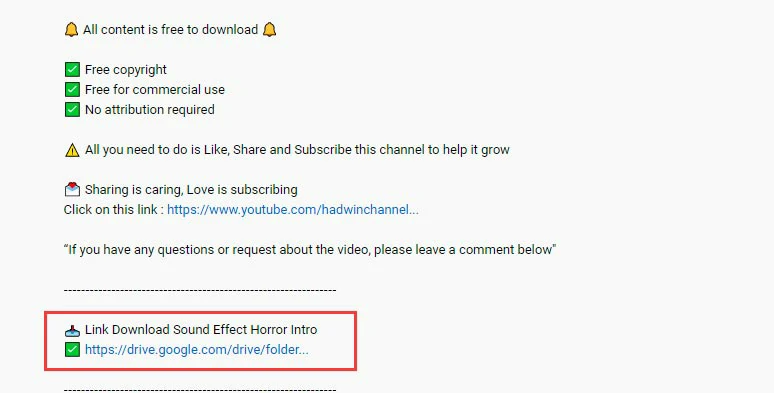 Download copyright-free scary sound effects from YouTube.
Very often, the YouTube contributors would link the scary sound effects in the video description. So you can follow the link to directly download the scary sound effects in Google Drive or Dropbox.
The obvious downside of using YouTube to get free scary sound effects is that it does take tons of time to check and verify these downloading links and sometimes some of the links can be a clickbait.
Besides, since many of the free scary sound effects are randomly listed and are limited in number in a specific category, it takes time for you to search for the ideal scary sound effects and later sort them out. Also, read the 9 best sites to get royalty-free YouTube sound effects.
3. Pixabay
As one of the valuable stock media sites offering free stock photos, videos, and audio files, Pixabay offers you another workaround to download free scary sound effects online.

Download free scary sound effects from Pixabay.
Search for "scary" or "horror" keywords in Pixabay's search box, then you can get hundreds of scary sound effects for preview and free downloads. You can find creepy dark drone ambience, horror piano hits, squeaky door open, scary horn, monster howl, screaming girl sounds and scared male breathing, dark choir singing, etc.
The great thing with Pixabay is that all of the scary sound effects are free to download in MP3 format and be used for both personal and commercial purposes without attribution. One noticeable drawback is that most of the scary sound effects found on Pixabay are a bit cheesy, some even sound vintage. However, given the free use and downloads, Pixabay can be a viable option.
4. Adobe Audition
As the king in the digital world, Adobe's stock audio promises Hollywood-like sound quality and is often sold at an unreachable price tag for most content creators. However, Adobe also offers freebies for beginner videographers to practice audio editing and create compelling videos with free and quality sound effects.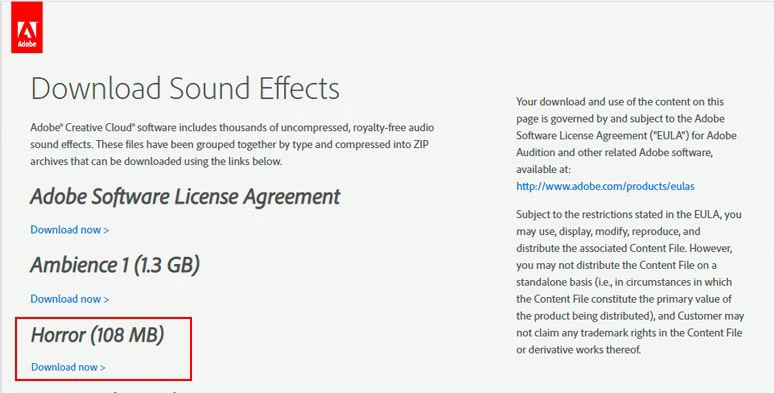 Download free scary sound effects from Adobe Audition.
To encourage users to use the Adobe Audition sound editor for sound edits, Adobe offers you free sound effects for downloads and uses. On Adobe Audition free sound effects page, you can download free Horror sound effects (108MB) for personal uses.
These scary sound effects include a total of 246 scary sound effects in WAV formats, covering beast screech, body droop, demon hissing, scary bone beak, ghost moan, human guts smash, witch laugh, werewolf howl, Halloween sounds, etc. They can be very helpful for Halloween pranks or used in monster films. The only downside is that no scary sound effects ambience can be found in the zip file.
5. Epidemic Sound
Unlike Adobe stock audio' pricy price tag, Epidemic Sound, a professional music and sound effects providing site, offers most YouTube content creators a more affordable solution for getting high-quality and royalty-free scary sound effects.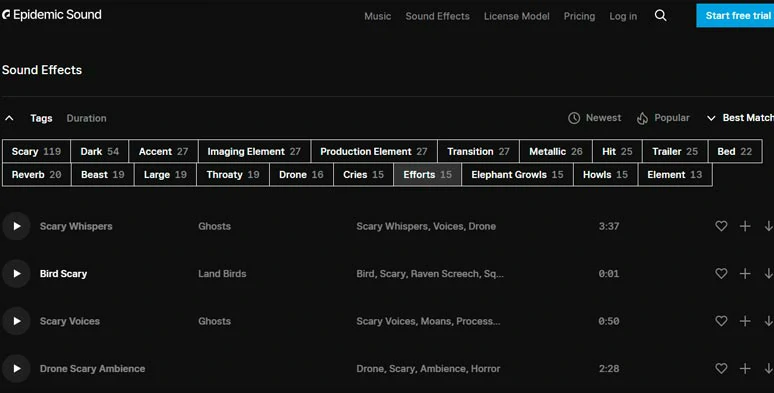 Get cinematic and royalty-free scary sound effects from Epidemic Sound.
As you search for horror or scary sound effects in Epidemic Sound, you get 1200+ scary sound effects to choose from, such as scary whispers, drone scary ambience, horror metallic whoosh, horror ghostly, etc. Besides, each piece of scary sound effects is of studio-like quality and marked by its tonalities and purposes.
Another user-friendly feature is that you can use 20 tags like dark, transition SFX, Erie, ambience, trailer, accents, and filters such as the Newest, Popular, and Best Match to quickly find the scary sound effects that work best for your footage and theme.
As to the pricing, the personal subscription is currently at $15/month and then you get unlimited downloads and can monetize on one channel on YouTube, Facebook, TikTok, IG and Twitch, and podcasts. Besides, you can use the Epidemic Sound mobile app sell.
The only downside is that once your subscription ends, the previously download sounds and music can't be used for the new video project. And you can't directly download the music and SFX from the Epidemic Sound mobile app to iMovie.
6. Artlist
Another great source for high-quality scary sound effects is Artlist, an Israel-based tech company specializing in offering royalty-free music, sound effects, and footage for videographers and filmmakers.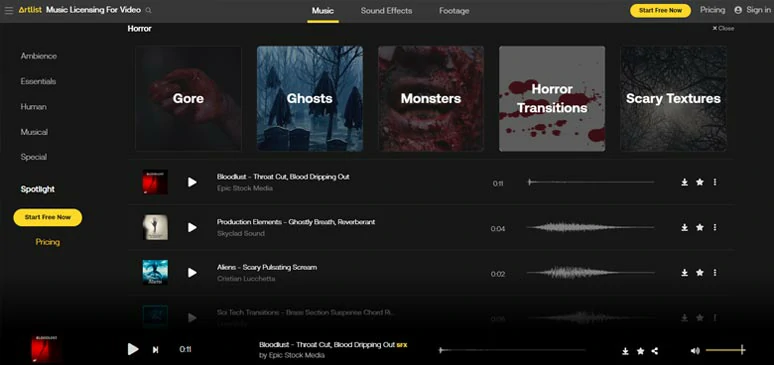 Download royalty-free and high-quality scary sound effects from Artlist.
What will impress you most is the amazing UX and UI. By clicking the horror sound effect catalog, you get Gore, Ghosts, Monsters, Horror Transitions, and Scary Textures categories to search for the exact scary sound effects needed for parts of your footage.
The horrifying scream riser, ghostly breath, spooky ambience, screaming ghost, short horror violin chord, Halloween lighting blot, ominous rumble, and scary tension atmosphere, etc. are creepy enough to send you chills up your spine even when playing these high-quality scary sound effects.
Besides, as you preview each scary sound effect, Artlist will add new filters like strings, haunted, spooky, metal, heartbeat, and atmosphere to inspire and broaden your search, which is also another user-friendly feature, esp. when you are not sure what to search for.
As to the pricing, for social content creators, you can spend $14.99 for a monthly subscription, which covers YouTube, Facebook, IG, Twitch, Podcasts, and TikTok, and one channel per platform. With new music and SFX updated daily on Artlist, it can be money well-spent for most content creators.
FAQs about Scary Sound Effects
1. What scary sound effects are often used in horror films?
Well, most commonly known scary sound effects include alien or demons' screaming, ghostly breath, horror metallic riser or accent for transition, spooky sharp or low strings sounds to build ominous atmosphere, human's heartbeats and screaming SFX, creepy kids chanting lullabies, ghosty whispers, witches' wicked laugh, squeaky door open, spooky organ music for the haunted house, howling winds, etc.
As to which scary sound effects work best for your footage depends on your theme, the visual and the emotions needed.
2. What instruments are used to make scary sound effects in horror films?
Interestingly, many of the scary sound effects are made by foley artists using things you would never associate with horrors.
For example, the most classic spooky string sounds are made from rubbing waterphone with a metal rod or violin bow; metal rules can produce low chiming scary SFX and low string sounds as well; reverb tank can produce unnerving metal clanking sounds while the EBow can make ominous, high-pitched whine and off-key string sounds.
So, check how the scary sound effects are produced by the movie composer—Mark Korven, using his Apprehension Engine.
Make scary sound effects using "Apprehension Engine".
Now, It's Your Move
Scary sound effects are a crucial auditory experience to create tension, and suspense and evoke hair-raising emotions for viewers in horror films and videos. Hopefully, you can find ideal scary sound effects for your YouTube videos, movie intros, trailers, podcasts or Halloween pranks, etc. If you find this tutorial helpful, share this post on your Facebook, or Twitter and leave your comments for us. See you there!