OBS is an open-source application with a straightforward interface and it features powerful editing tools that enable you to record screen effortlessly. However, whether you're a new starter or an old hand, it's possible to encounter the annoying problem of OBS not recording audio.
If you're facing this problem, you may wonder how to get rid of this trouble. Don't worry as here you will learn ten feasible solutions to solve this issue. Let's dive in!
10 Solutions to Fix OBS Not Recording Audio Issue
The Main Causes of OBS Not Capturing Audio
OBS is the must-go choice for many young people who play games. However, sometimes it fails to record audio suddenly, making your recording lose its luster. The causes are difficult to pinpoint since the problem occurs unexpectedly. Therefore, we conclude the crucial and common causes to help you solve this issue faster and more efficiently. Let's explore it.
Improperly sound settings
Conflict with other software
Mute this application by mistake
The system is compatible with the installed OBS version
Solution 1: Unmute OBS Studio
There is a chance of facing this problem when OBS is completely muted in the Volume Mixer. Therefore, unmuting the audio from the application is the first solution to fix the OBS not capturing audio issue.
Step 1
Type the speaker icon in the right-corner of your screen and choose Open Volume Mixer from the drop-down menu.
Step 2
Click on the speaker icon under the OBS application to unmute the audio in the new window.
Step 3
Test whether OBS is recording audio. If it fails to capture audio, go ahead to the next solution.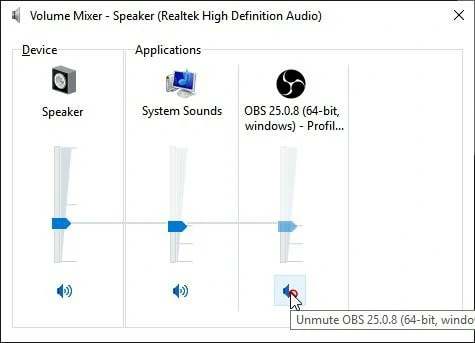 Fix OBS Not Recording Audio by Unmuting OBS
Solution 2: Reinstall OBS Application
Sometimes the problem may be caused by unknown errors or bugs during the installation process. Under such circumstances, it's feasible to reinstall OBS and restart it to stop its audio capture problem.
Solution 3: Set Speaker as the Default Device
Step 1
Right-click on Speaker icon and choose Sounds.
Step 2
In the window that pops up, select the speaker on the Playback tab and then click "Set Default".
Step 3
Click the Apply button to save all changes.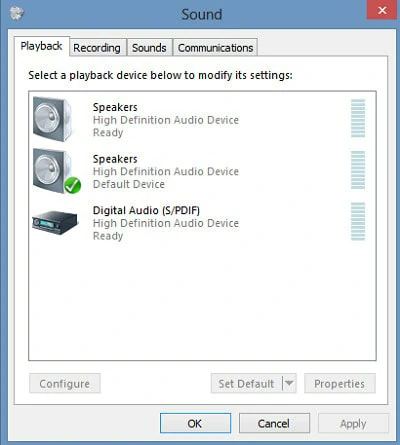 Set Speaker as Default Choice to Fix OBS Not Recording Audio Issue
Solution 4: Check Audio Settings
OBS won't capture audio if some of the audio settings have not been configured correctly. Hence, you can check audio settings to avoid OBS not recording audio issue.
Step 1
Open OBS on your computer, click File and select Settings in the drop-down menu.
Step 2
In the left menu, click the Audio section. In the right interface, tap Channels to set it as Stereo option.
Step 3
Under the Desktop Audio Device tab, select the device you want OBS to use from the drop-down menu. The same is for Microphone/Auxiliary Audio Device menu if required.
Step 4
Apply all the changes made and restart OBS to check if the OBS not recording desktop audio issue works out. If not, try the next solution.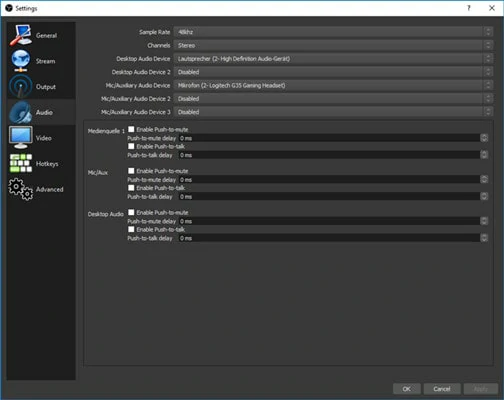 Add Text to Your Video to Fix OBS Not Recording Audio Issue
Solution 5: Check OBS Audio Tracking Settings
Sometimes, sound can disappear from OBS if you have selected multiple tracks or mistakenly saved video and audio of the same clip to different places. In this way, you need to check your OBS track settings as below:
Step 1
Launch "OBS" from your desktop and click on the "Settings" button in the bottom left.
Step 2
Select Files > Output > Recordings to confirm that you've selected the same tracks from the recording.
Step 3
See if you get rid of OBS not recording audio error. If not, continue testing.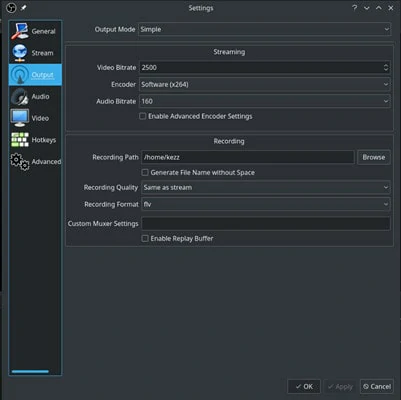 Check OBS Audio Settings to Fix OBS Not Recording Audio
Solution 6: Configure the Encoding Settings
OBS not recording audio happens when the application is using improper encoding settings. To adjust the encoding settings, you can follow steps below:
Step 1
In the OBS interface, click File option.
Step 2
Click the Output feature from the left panel. Here set Bitrate to 128 and type 3500 in the box.
Step 3
Next, uncheck the Use CBR option and hit the OK option to apply all the changes.
Step 4
Close all the interfaces and restart OBS to see if the OBS not capturing audio problem is solvable.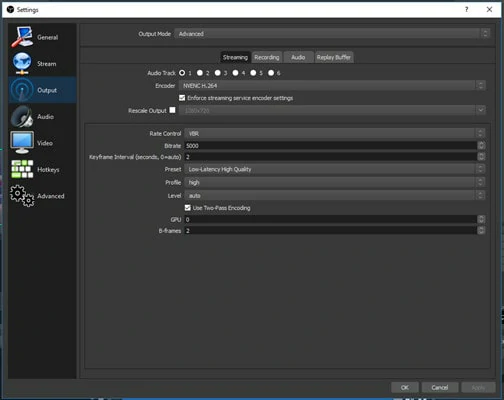 Configure the Encoding Settings to Fix OBS Not Recording Issue
Solution 7: Update the Audio Driver
Updating the audio driver is another solution to fix the problem of OBS not recording sound. If the driver you're using is installed incorrectly or it meets malfunctioning, follow the steps to update your audio driver.
Step 1
Search for  "Device Manager" and click to open it from the search results.
Step 2
Expand the "Audio Inputs And Outputs" section and select the audio driver you want to update. After that, right-click the driver and select the Update Driver option in the drop-down menu.
Step 3
In the following interface, select "Search for Drivers Automatically" option. Windows will check the latest version of the driver and install a new one if there is an update.
Solution 8: Run OBS as An Administrator
Running OBS as the administrator is a solution to avoid the problem as it will provide all the administrator account's rights. Set OBS as the administrator with steps below:
Step 1
Click the "Start" menu in Windows and type in OBS in the search box.
Step 2
Right-click OBS and choose Run as administrator in the menu.
Step 3
Run OBS and check if it's able to capture audio now.

Set OBS as Administrator to Fix OBS Not Recording Audio Issue
Solution 9: Disable Conflicting Software
Some users report that similar applications like Nahimic audio manager and Xonar Sound Cards will lead to a conflict, which causes the OBS not to record audio issues. Therefore, disabling them from Audio Control can benefit you to avoid the trouble in OBS not recording audio. Here you just need to go to the Settings application to disable it.
Solution 10: Use OBS Alternative
If none of the tips listed above help you get rid of the OBS not recording audio problem or you're lost in those hard-to-understand items as a beginner, the easiest way is to use an OBS alternative. Here FlexClip is the top choice thank to its concise interface, flexible recording modes and powerful editing tools. No installation is needed since FlexClip is an online video editor & recorder compatible with the Chrome browser.
Besides, it helps you record screen, audio and webcam without losing quality. After recording, its inbuilt editor enables you to perfect the raw clips by adding transitions, text, overlays and more. Moreover, there are various video formats and sharing methods you can choose. With FlexClip, screen recording with audio is such an easy project.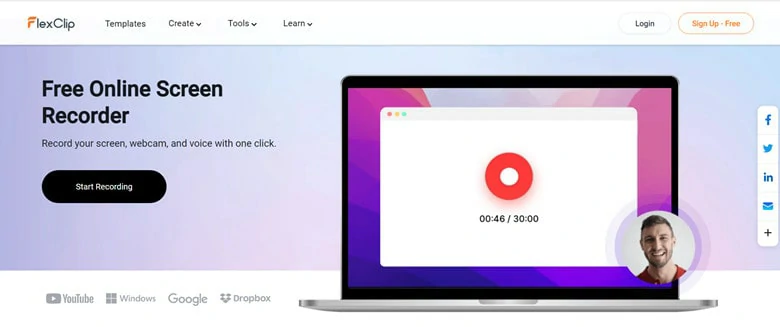 Use an OBS Alternative
Frequently Asked Questions
1. Is OBS Completely Free?
OBS is 100% free and you don't have to pay for it at all. It is a great, high-quality program that excels at streaming and recording. Besides, it's completely virus and malware free.
2.How to Get Rid of the Black Bars During Recording
Black bars occur if you don't fit the source to the full size of your stream or choose the wrong aspect ratio/resolution. For more information, please refer to this article: How to Fix OBS Not Recording Full Screen.
3.How to Record Discord Audio Only Using OBS
Start OBS Studio and go to Sources.
From the drop-down list, choose Audio Output Capture to select your desktop audio output for recording.
Click on the Create/Select Source option and name your desktop audio source.
Go to the Properties menu and select Device.
Select the appropriate output device, for example, your speakers or headphones.
Press OK to save all changes.
You can use the Default settings if your system has just one output device.
In the OBS window, go to the Controls section and click on the Start Recording button.
The Bottom Line
Have you resolved your OBS not capturing audio error with either of the life-saving solutions above? If you have any other helpful ideas we have missed here, please feel free to let us know via our email.