Non-linear editing is the new high-tech editing process that allows editors to access any frame in a digital video clip irrespective of its sequence. It is similar to the 'cut and paste' technique that lets you add fades, effects, and transitions to different video parts.
Non-linear editing software has made the editing process easier compared to the older linear editing processes. It is because linear editing software has only one track, whereas non-linear ones have multiple tracks. Once uploaded, you can drag and drop them on the timeline at different locations. You can even edit your videos directly from your mobile phone.
This flexibility allows the editor to try out different formats and choose the ones they like most. This method lets editors be more creative and experimental than the older linear editing. Most of the video editors available today are non-linear with their respective pros and cons, but which is the best will depend on your skills, experience, and goals.
Today, we will review some top-rated non-linear video editing software to help you create the magic you have always dreamed of.
Best 7 Non-Linear Video Editing Software
The following non-linear editing software are the best ones, tried and tested by our team. All these apps are loaded with remarkable features and professional quality results. Most of these programs are often used by professionals so that you can expect perfect results and nothing else.
So let's get started.
Product 1: FlexClip
G2 Rating: 4.4 out of 5 stars
Price: Free, $9.99/mo. - $29.99/mo.
Available for: Windows, Mac, and Linux
If you need the highest quality editing software but are overwhelmed with all the choices available, then FlexClip is your biggest savior. Its thousands of excellent video templates let you kick start your creative work without exhausting your brain cells. In addition, there are all sorts of templates suitable for education, real estate, business, product promos, weddings, and much more.
Its best aspect is it gives access to tons of creative assets, including 4,000,000+ stock videos and pictures, 74,000+ music tracks and soundtracks, and the mind-blowing 3,000,000+ animated elements to add that Wow element to your videos.
Top Features of FlexClip
Simplest and easiest to use with professional-level results.
Offers 1000GB of cloud space to work on video projects flexibly.
No need to download any additional software.
Support all popular formats, including MOV, WEBM, M4V, MP4, AAC, FLAC, M4A, MP3, etc.
Have stunning special effects like
PIP
, video mask, precise cutting, splitting, etc.
Unlimited audio and video timeline-track creation.
Real-time rendering ensures a smooth editing process, even with large videos.
Audio mixer for fine-tuning sound for professional-quality output.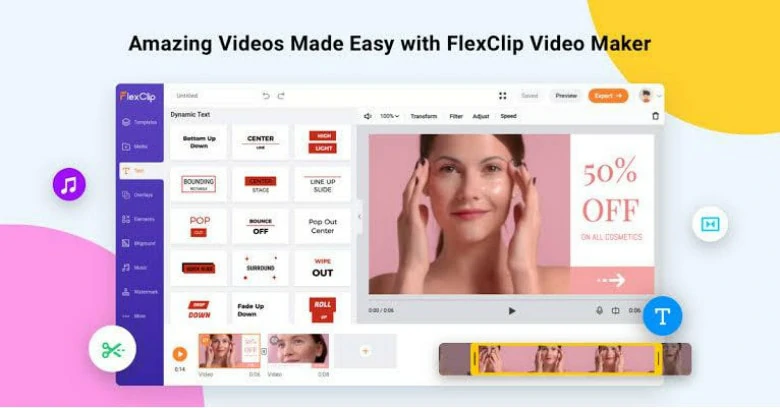 Non Linear Video Editing Software - FlexClip
Product 2. DaVinci Resolve
G2 Rating: 4.6 out of 5 stars
Price: Free; $269 for the full Studio version
Available for: Windows, Mac, and Linux
DaVinci Resolve is the non-linear editing software highly recommended by filmmakers and even Hollywood producers. Its crazy popularity is the extraordinary color correction features and other quick editing features that allow for working on numerous footage in one go.
Its pro-grade features include 3D tools and 8K editing, an impressive suite of video effects, and a well-designed interface DaVinci Resolve is one of its strongest aspects. Its intelligent auto-editing lets you sync audio and video clips for you. In addition, its facial recognition detects faces in your clips and automatically creates bins based on the people in each shot.
It allows for offline and online editing. Its dynamic playback engine lets you exit and trims your videos in an instant. The software is ideal for filmmaking studios and might be too much for beginners.
Pros:
Driven by solid artificial intelligence.
A powerhouse of great features.
Brings motion graphics, audio editing, and post-production in one place.
Cons: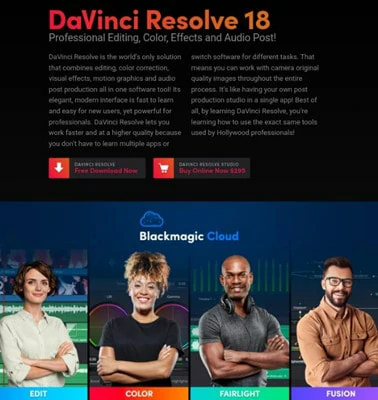 Non Linear Video Editing Software - DaVinci Resolve
Product 3: Lightworks
G2 Rating: 3.2 out of 5 stars
Price: Free; $24.99 per month for the Pro version
Available for: Windows, Mac OS, Linux
If DaVinci feels too complex to you, but you still need software to help you become a pro editor, then Lightworks is what you need to try. It is a great video editor with even more significant video effects. It was the same editor used to make box office hits like Pulp Fiction, 28 Days Later, and Congo.
The main interface is divided into four primary tabs: log, edit, VFX, and audio. With Lightworks, you can edit 256 videos, audio, and pictures. Its simple interface and detailed video tutorials make it easy to ace this software. In addition, its original stock videos and licensed music clips are handy features.
The free version of Lightworks only allows the export of videos up to 720p, whereas Pro allows for other formats and resolutions. It supports MP4, MXF, QuickTime, AVI, MTS, MPG, and M2T video formats.
Pros:
Easy timeline editing and trimming.
Automatic QC, filters, and LUTs.
Cons: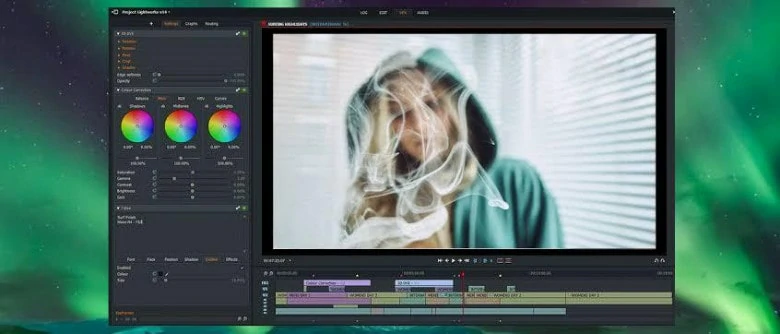 Non Linear Video Editing Software - Lightworks
Product 4: VSDC Free Video Editor
G2 Rating: 4 out of 5 stars
Price: Free, Premium version is $19.99
Available for: Windows
VSDC is the desktop edition of the best video editing software in town. It comes in both free and paid versions. Its free version contains valuable editing features, including the marking tool and chroma key for green screen video effects.
The paid version gives you access to video stabilization, the post-production effects, 3D diagram templates, and direct sharing to all your social media accounts. In addition, the software is easier than its other professional-level video editors. With VSDC working on chats and preparing presentations becomes an easy task.
The exciting range of filters, overlays, transition effects, and color correction ability makes VSDC a powerful non-linear video editing software. The best thing about VSDC is that it has no trial period, irritating watermarks, or ads.
Pros:
Cons:
No free technical support.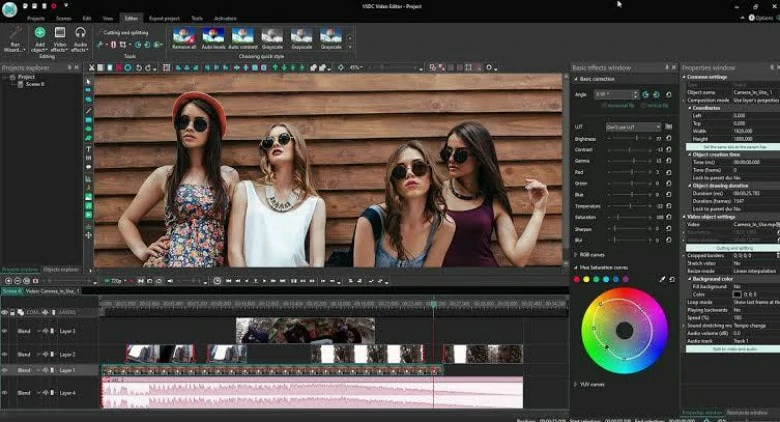 Non Linear Video Editing Software - VSDC
Product 5. iMovie
G2 Rating: 4.3 out of 5 stars
Price: Free
Available for: Mac
Like all Apple apps, iMovie is neither complicated nor requires intense training to ace the software. Instead, it has the simplest drag-and-drop interface that allows users to focus on their creative process rather than wasting time learning the editor.
As iMovie saves all its files to the Apple cloud, it increases your work flexibility and lets you work on your other Apple devices. It has extraordinary support for 4K resolution, cloud storage functionality, and dozens of studio-quality title animations. In addition, it allows you to control speed to make even the high-octane action scenes faster, and sports highlights slower.
Pros:
Available for free on all Apple devices.
Facilities the novice editors with professional results.
Supports 4K UHD resolution.
Cons:
Templates cannot be customized.
Only works on Apple devices.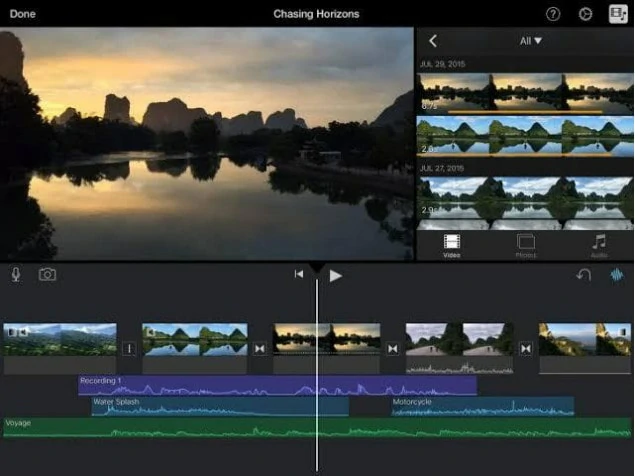 Non Linear Video Editing Software - iMovie
Product 6. Adobe Premiere Pro
G2 Rating: out of 5 stars
Price: A 7-day free trial
Available for: Windows, Mac, and Linux
Adobe Premiere Pro is the pro for post-production work. Since its advent in 1991, it has remained the top choice by video editors worldwide. With its powerful hardware acceleration, transitions, audio mixer, and various plug-ins, Adobe Premiere Pro is the master of all editors.
It allows beginners to learn to edit simple videos, whereas the premium version offers a customizable set of professional editing tools to make videos like Oscar nominee Mank. In addition, many designers, animators, and VFX artists use Adobe Premiere Pro as it enhances their productivity and creativity through its unique interface.
The software supports 4K, 8K, and VR formats along with trimming and editing tools to bring the highest degree of precision and control. Like Creative Cloud software, Premiere Pro is updated frequently without additional charges.
Pros:
Caters to both beginners and advanced users.
Advanced stabilization tools.
Initiative workspace and excellent color grading features.
Loaded with great editing tools and features.
Cons: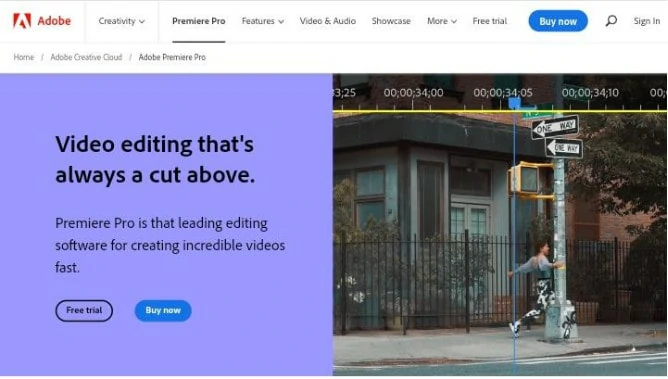 Non Linear Video Editing Software - Adobe Premiere Pro
Product 7. Vegas Pro
G2 Rating: 4.2 out of 5 stars
Price: Full-stack production $249
Available for: Windows
Vegas Pro is a Sony-produced Windows video editor now managed by Magix. Its video editing tools are one of a kind, but the complex interface is often a hurdle for beginners. Vegas has a traditional three-panel workspace Source, Preview, and Timeline that lets you work easily. Its rendering performance, excellent color grading tools, and free stock audio and video clips are highly hailed by the users.
Its advanced features include motion tracking, Multicam editing, and 3D editing making collaborative editing easier. One of the most praised advantages of Vegas Pro is its AI algorithms that let you achieve flawless results and learn from its informative tutorials on its website.
Pros:
A unique suite of editing tools.
Frequent software developments and updates.
Cons:
Limited texts and title options.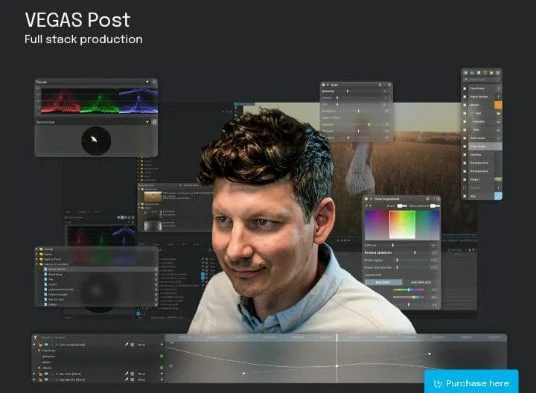 Non Linear Video Editing Software - Vegas Pro
Product 8. Final Cut Pro
G2 Rating: 4.2 out of 5 stars
Price: $299.9
Available for: Mac
If iMovie feels too basic, it's time to upgrade to Apple's more advanced non-linear editing software Final Cut Pro. Final Cut Pro has a simpler interface, better rendering speed, and a price tag lower than other editors for Mac. You only pay once to access Final Cut Pro; no subscriptions are included.
Final Cut is famous for its Magnetic Timeline, multi-cam editing, grouping tools, mesmerizing effects, and simpler ways to edit audios. More of its advanced features include 360° video, HDR, and intelligent color balancing tools. The software has excellent resources for newbies to get started. It is efficiently integrated with the other parts of Apple's ecosystem, including Photos and iTunes.
Although a lot of users have reported that Final Cut Pro is user-friendly but might not be sufficient for professional use.
Pros:
Specially designed for Mac.
Handy features and robust software.
Cons: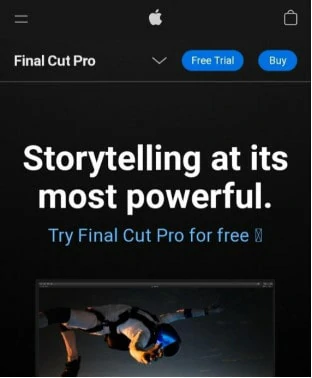 Non Linear Video Editing Software - Final Cut Pro
The Bottom Line
All the fantastic Non-linear editing software available online has its fair share of pros and cons. While some are too expensive, others are complicated enough to require special training and guidance. For your Non-linear editing, using FlexClipsaves you from the mind-boggling video editing procedures and lets you enjoy professional-quality results free of cost.
Check out the above software and let us know your favorite ones.