Say goodbye to the rookie title of video editing! You can easily make a professional-looking video using the fade effects without any editing experience. These effects are almost used in nearly every project, whether you're transitioning between clips or gently fading the music away at the end of the video.
Here we'll take you through three different types of fading in and out: in videos, elements and audio tracks. Let's dive in right now.
Free and Customizable Fade Video Templates for You: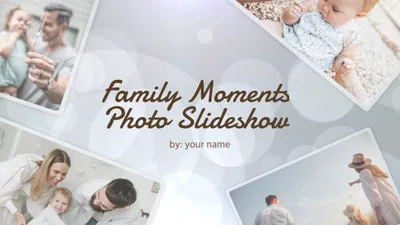 Family Moment Collage Slideshow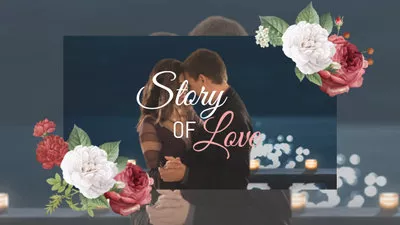 Romantic Happy Anniversary Slideshow
3 Ways to Create Fade-in/Fade-out Videos with FlexClip
Also Interested in: How to Make Audio Fade out in Premiere>
What Are Fade Videos?
A fade video usually has two forms: fade in and fade out. The fade-in effect is used to introduce a new scene to the viewer smoothly and works as a seamless transition effect between two shots. While the usage of the fade-out effect commonly implies the end of the sequence or the finishing of the video. In an awesome fade video, two forms often appear in combination. What's more, this effect can also be applied to your soundtrack.
How to Make Fade-in/ Fade-out Videos Online?
To make fade in & out videos online, all you need is an all-in-one tool that allows you to add fade effects with ease. Among numerous video editors, FlexClip is the best option to help you create fade videos a breeze.
Firstly, it includes the fade transition effect that can be applied in your videos, single elements and even audio segments in minutes. Besides, there are 4000+ designer-looking templates for reference if you don't know how to make a professional fade video. Aside from fade effects, you can also access powerful editing tools and rich media resources to polish your videos for free.
Free Customizable Fade in/out Effect Video Templates: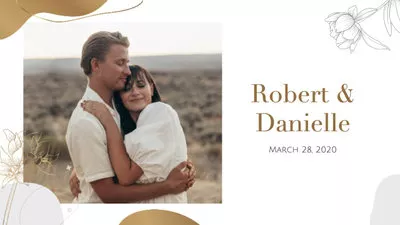 Save The Date Slideshow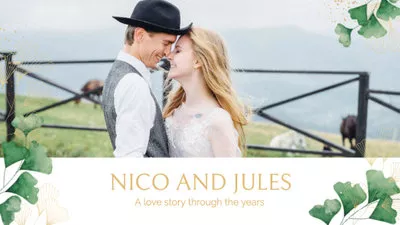 Wedding Congratulation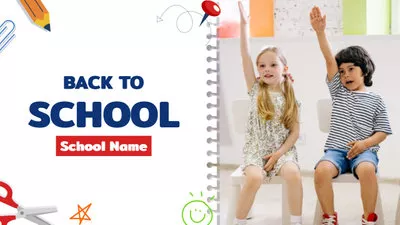 Welcome Back To School
Wedding 50th Anniversary Slideshow
Key Features of FlexClip:
Able to add fade effects in video, elements and audio track
High-quality and free fade video editor online
Thousands of stunning
templates
with awesome fade effects
Powerful editing tools and rich media resources within your reach
User-friendly interface and simpler operation
3 Ways to Make Video Fade out Online with FlexClip
Now let's take a look at how to quickly make a fade video with this tool.
Way 1: Add Fade Transitions to Video in Fade-in and Fade-out Footage
The first way to make a fade video is by using fade transitions. It's often used when two different scenes switch in the dissolved way, which means one scene starts to disappear and the adjacent scene begins to appear naturally. Whether you want this video to fade to white, fade to black or fade gray scale, jaw-dropping results will come in handy with a few clicks.
Step 1
Go to
FlexClip's editor page
and upload all your media assets. If you don't have any resources to use, simply select a ready-made template to start.
Step 2
Once they're loaded, add them to the timeline and arrange the sequence if you're making a storytelling video.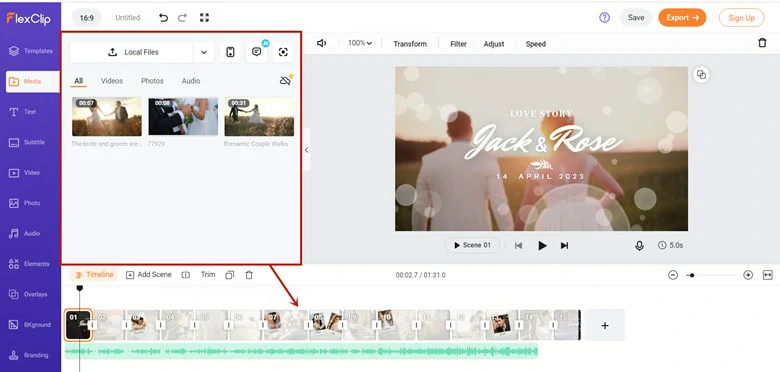 Drag Footage to Timeline
Step 3
Place your mouse between two clips and the Transition will pop up and click on it.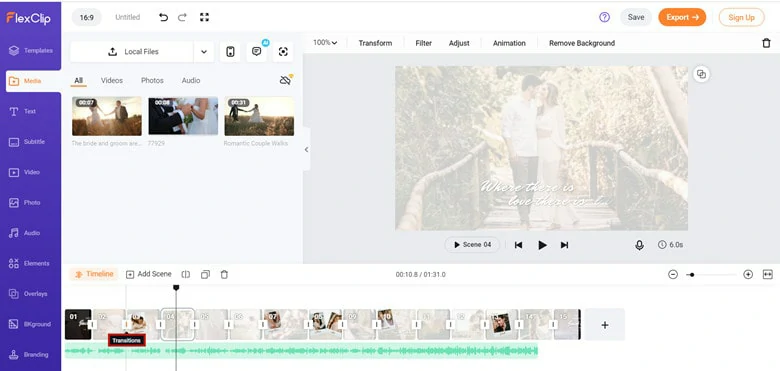 Find Transition Button
Step 4
Find "Fade" tab under the Popular section and select one fade effect to employ. Here you can edit the duration and effect category of your fade transition.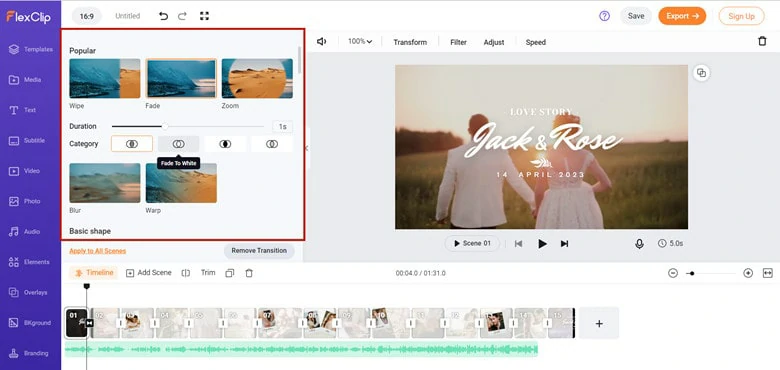 Add Fade Transition to Your Video
Step 5
Repeat the operation until you've added fade effects to all clips. When it's over, tap Export icon to save or share your video.
Way 2: Apply the Fade Motion to Your Fade Video
If you want to fade part of your video or add fade effects to your video elements, you can turn to fade motion function. There are five available fade-in/fade-out effects for video clips and you can choose how your clip presents.
Step 1
Upload your video footage from your local drive and drag it to the timeline with your mouse.
Step 2
Hit Add As Layer icon to add the element you wish to fade and find the "Motion" icon on the upper area of the editor page.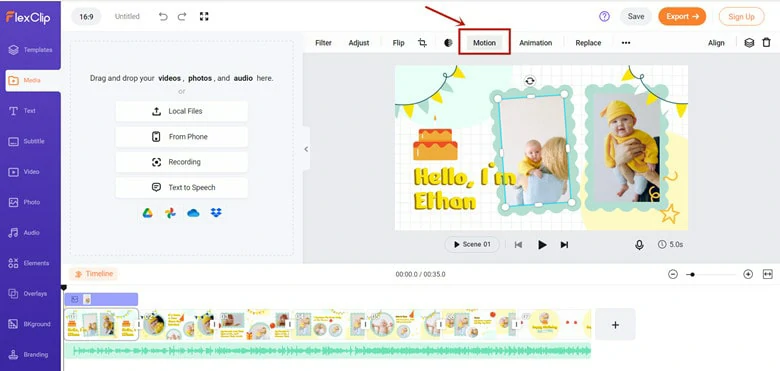 Find Motion Button to Apply Fade Effect
Step 3
Decide the fade way you want your video to appear from several options. After that, make more edits like
changing speed
, adding text, applying filters and more to perfect your video.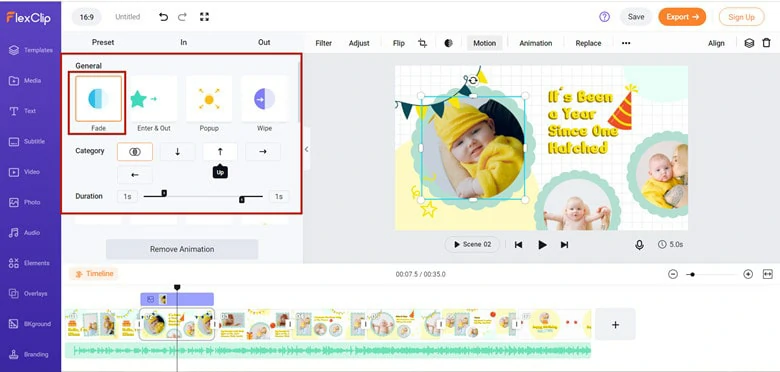 Select One Fade Effect
Step 4
Export the fade video and it will be saved in MP4 format.
Way 3: How to Fade in and out Audio of Your Video
Aside from visuals, fading audio segment is also widely used between different soundtracks to avoid abrupt or confusing shifts. To create fade-in and fade-out audio in FlexClip, check the following guide.
Step 1
Select the audio track you want to fade into and import and drag them to the timeline.
Step 2
Double-click the audio track and the Fade icon appears where you can edit the fade effects. You can set the duration of fade-out effect or split/trim the audio with ease.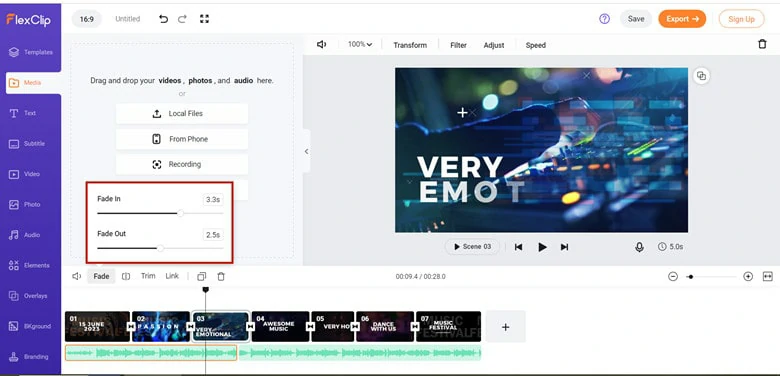 Find the Fade Icon for Audio
Step 3
Export the video with audio and share it with ease.
Bonus Tips: How to Fade Video in Premiere Pro
Premiere Pro is an industry-leading application for professionals to create stunning videos. It offers various ways to fade video smoothly like Film Dissolve transitions and here we'll focus on this method.
If you want a quick way to apply fade-in effect in your video, the Film Dissolve transition will provide the effect you're looking for. Follow the steps below to add it to your video.
Step 1: Import your video to Adobe Premiere and drag it to the timeline.
Step 2: To enable Film Dissolve transition, follow the path Effects > Video Transitions > Dissolve > Film Dissolve. Click on Film Dissolve and drag it to the beginning or end of the clip for a fade effect accordingly.
Step 3: Preview the effect you've added and export the video to the local.
You can also use keyframes to create a fade-in/out effect in Premiere Pro but it's a laborious task. To learn more about this feature, check the video tutorial below.
Conclusion
That's all for how to create a fade video online using the best video editor - FlexClip. Just try them out to apply fade-in and fade-out effects to the music and smooth your video to make a better one.