Have you ever seen a video with the cool neon light effect or neon overlay in it, whether it's on Twitch Stream or on YouTube?
Well, if you have and are also interested in how to make neon effect videos using the neon light overlay, in this article, we will share the best free online neon effects video editor with cool neon overlays to help you add the neon effect to your Twitch stream or any video. Read on.
Neon Overlay Effect Video Templates Free Download: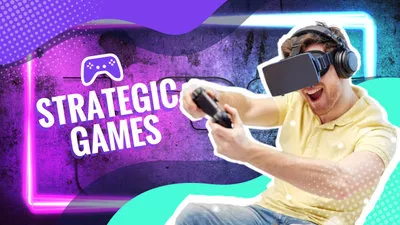 Game Blogger Intro Outro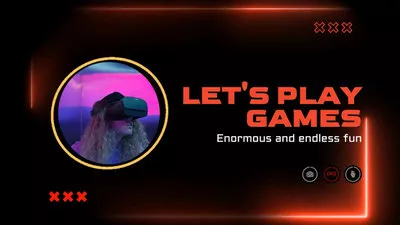 Vr Glasses Game Intro Outro
Also Read: How to Add Free Snow Overlay to Pictures and Videos
Online Neon Video Editor with Free Neon Overlay Effect
Many neon effects video editors let you add neon overlay effects to a video for free. Here we share the best and easy online one with neon effect overlay so you can do that on your computer, whether a Windows PC or Mac.
FlexClip is a perfect online tool for adding neon overlay effects to your videos. Whether you're a Switch streamer, YouTuber, or other content creator, FlexClip online video maker offers a one-stop solution to add neon overlay over your footage with one click. Besides the neon overlay effect, it also offers cool neon text effects for you to make a stunning neon video. What's more, there are numerous text animations, free transitions, filters, and animated elements to make your video look natural and professional.
How to Add Neon Overlay Effect to Your Video
As you can see, such a powerful online video editor FlexClip is! And it comes with a user-friendly interface, allowing you to add a neon overlay and make an excellent neon effects video with great ease.
Step 1
Access FlexClip and go to the Media section to upload your footage from your computer or phone, and then click the "+" icon to add your footage as the scene to the timeline.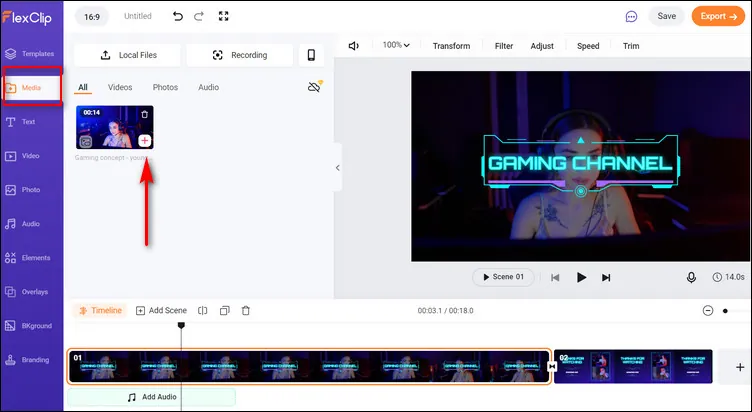 Add Neon Overlay Effect to Your Video - Add Media
Step 2
With the footage added, click Overlay > Effect Overlays and scroll down to find the neon overlay you want. Besides the neon overlay effects, there are many more other beautiful overlays you can try out in your video, including snow overlay,
film grain overlay
,
fire overlay
, etc.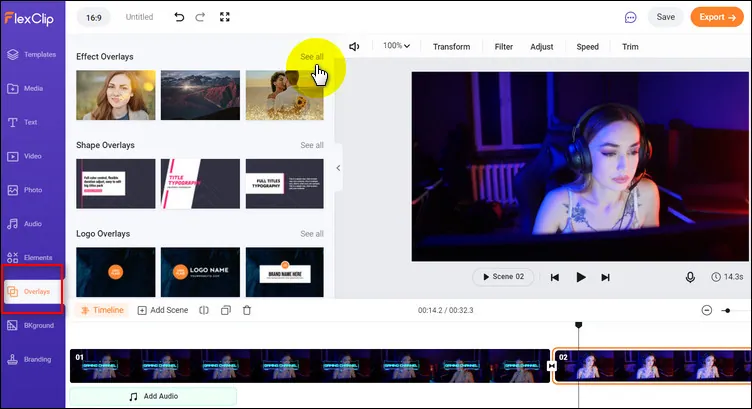 Add Neon Overlay Effect to Your Video - Overlays
Step 3
Once you have selected the desired neon overlay effect, you can click it to over it on your footage, and then you can use the editing tool on the top bar to customize the neon overlay freely. Here, you can also drag and drop the overlay to change its location or size to make it a Twitch
webcam overlay
.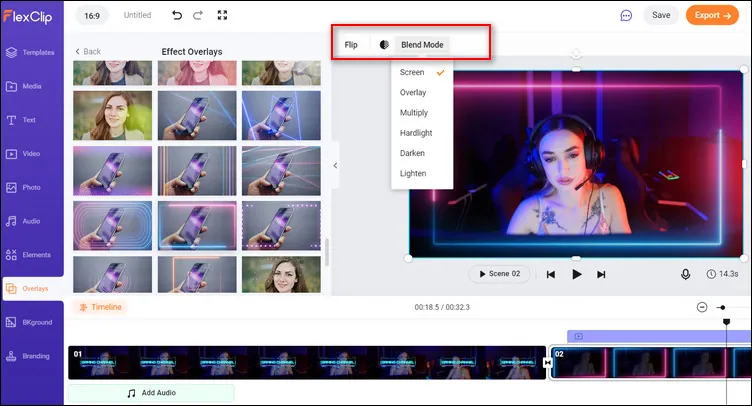 Add Neon Overlay Effect to Your Video - Adjust Overlay
Step 4
(Optional) Feel free to level up your neon video with filters, music, shapes, and animated text.
Add Neon Overlay Effect to Your Video - Edit
Have no ideas to customize your video? FlexClip offers various beautiful pre-made templates for your inspiration:
Game Review Intro Outro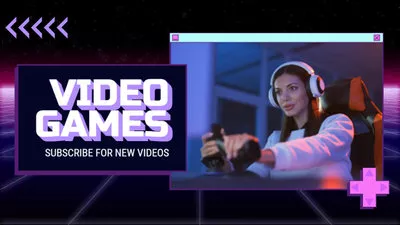 Video Games Day
Final Words
Adding neon overlay effects can give your videos a unique look and feel and make them far more attractive. Ready to put this into practice? Then go ahead - turn to FlexClip and start adding neon light overlays to your video for free right now.