The consumer can attach the camera stream to the primary video using the Webcam Tab. Webcam overlays are designed to suit your webcam (or underneath, utilizing a green screen). This overlay assists in generating aesthetic value for the stream by separating your camera display from the remainder of your material. An overlay is a crucial aspect of any stream that improves the aesthetic appearance of the stream as well as the stream's viewer interaction. They aid in the differentiation of experts from beginners. Others offer invaluable visual and marketing advantages, thus stimulating the audience's interest.
Since the variety of broadcasters and gamers is growing at an accelerating pace, it's critical to make sure your network is notable visually and in terms of value. We are confident you probably possess a broadcaster that you regularly monitor or support, and one of the aspects of their broadcast that distinguishes them aside from the rest is the attention they invest into the visual aspect of their network. We believe, likewise, to make your video outstanding and catch your target audience, you should also get your hands on webcam overlay.
How to Make a Webcam Overlay
To learn something new and to utilize it is considered a form of art. Likewise, learning to make webcam overlays can be quite interesting and fun to get started with Pixlr. Here are several steps which you can follow.
Step 1
Initially, you will have to open Pixlr, which you don't have to download as it is free software that you can directly access.
Step 2
Once you've accessed the browser, next you need to set the height and width according to your choice. Tap the create button to get further started.
Step 3
On the right-hand side, you will find an option of zoom, which you can optimize accordingly.
Step 4
On the left side, amongst various options, you'll need first to pick a color from the color picker to learn how to make a facecam border.
Step 5
Afterwards, you'll need to use the shape tool and select any shape of your choice.
Step 6
You can further edit by clicking on arranging to move, transform, and change layer settings.
Step 7
This is how you'll have your first facecam overlay.
Step 8
Now, you must be wondering how to make a facecam border once again. To do that, you'll need another layer by tapping on the plus icon on the right side.
How to Make a Facecam Overlay for Free
How to Add a Webcam Overlay Directly to Video?
We are confident it might sound easy, but getting yourself making a webcam overlay, gets quite hectic and chaotic along with various technical disasters. However, you don't have to worry much, as we have FlexClip available for you as a life changer and savior. FlexClip provides numerous overlays to add to your webcam video, thus making it non-technical and less complicated.
Here, we have several steps noted down for you to follow and learn how to add a webcam overlay to video with FlexClip without any hustle and bustle.
Step 1
First, you need to open the FlexClip application or browse through it on your gadget. Once you have opened it, you need to upload videos to the Media section next. After clicking the Stock Media option, you may browse the library for various clips and photographs. Identify appropriate videos/photos and click the Plus symbol to insert them into the media library. You may drag or press the + symbol to insert the file to the storyboard when you've added sufficient files to the media.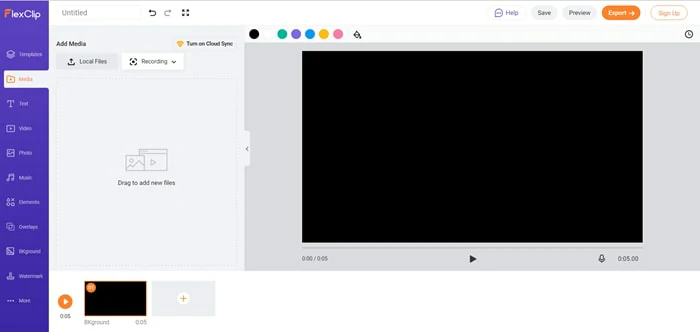 Upload Media Resources to FlexClip
Step 2
Now, you may navigate to the Elements tab and select either Mask or Frame for your picture overlay, then pick the one you like and add it to your video.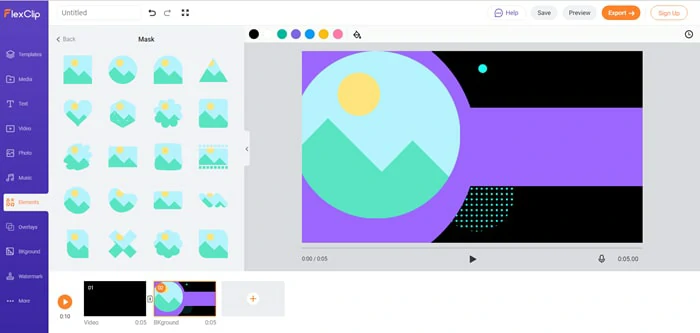 Add a Frame or Mask to Your Video
Step 3
Drag and drop the webcam video to the overlay form you've chosen. Following that, the overlay will be updated with your video.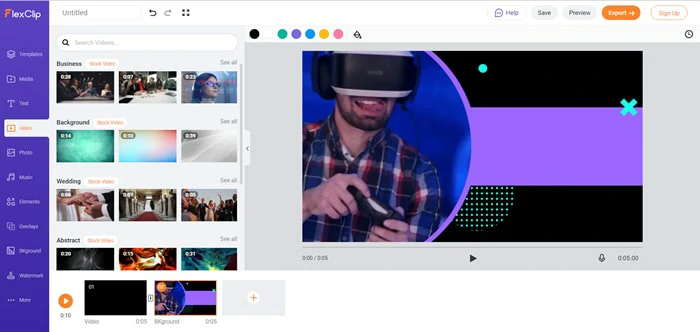 Insert the Webcam Video
Step 4
Now, head over to the shapes to apply a text which would further make the overlay look enriched along with transparency, size, color, and animation.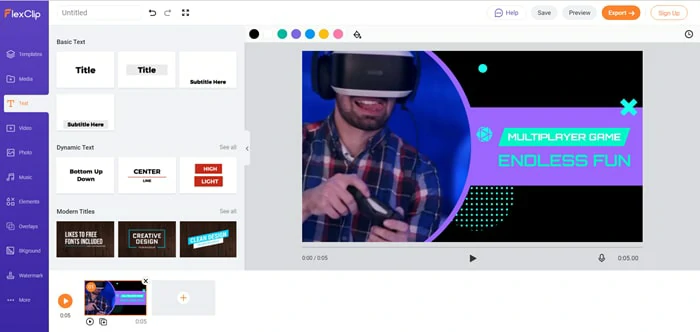 Add Text to Your Video
Step 5
Once you are done making your webcam overlay, you can download it and save it in your gadget, or you can directly share it as well
The Bottom Line
We apprehend webcam overlay makes you look cool, and knowing how to make them, gets even more convenient for you to engage with your audience and to make your feed look aesthetically pleasing. We comprehend GIFs are a lot of entertainment to make, and they spare us time when we use FlexClip to make a lot of them. This video processing tool enables you to create incredible videos in a short amount of time. With various video palettes, unique sequences, and a massive stock material library, the FlexClip editor makes the flawless process faster and easier than ever. You can also crop your movie into any shape or size that you like, giving it a unique taste and texture. Remember to give it a try!