Vlogmas is a trending means of vlogging on YouTube during the Christmas holiday season. YouTubers carefully plan a series of fun Christmas video blogs and post them in sequence on YouTube until Christmas to get more subscribers and build their brand.
If you have no idea what Vlogmas is or plan to join this year's Vlogmas marathon on YouTube yet lack Vlogmas ideas or simply don't know where to start, in this post, we've got you all covered.
We will walk you through the essence of Vlogmas, and offer you 27 actionable Vlogmas ideas and proven strategies to create scroll-stopping Vlogmas with ease. So, let's get into it, now!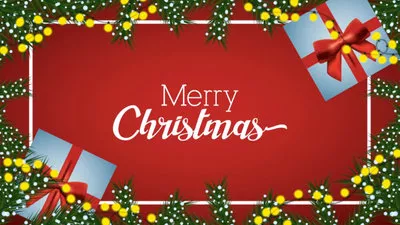 Christmas Logo Reveal
Here is what you will learn:
1. What is Vlogmas
Well, Vlogmas is a blended word with "Vlog" and "Christmas" combined. It's a series of vlogs made particularly for welcoming Christmas.
Who Started Vlogmas Trend
In the cyber world, the word Vlogmas is believed to be first coined and used on December 1, 2011, by the YouTuber Ingrid Nilsen, who decided to post a series of Vlogmas as a sort of video advent calendar leading up to Christmas.

Ingrid Nilsen, the creator of the first Vlogmas on YouTube
When to Vlogmas on YouTube
Usually, you need to plan ahead and announce your Vlogmas plan at the end of Nov. on YouTube to give a heads up for your subscribers. Then, you start posting Vlogmas on YouTube every day till Christmas (Dec, 25th).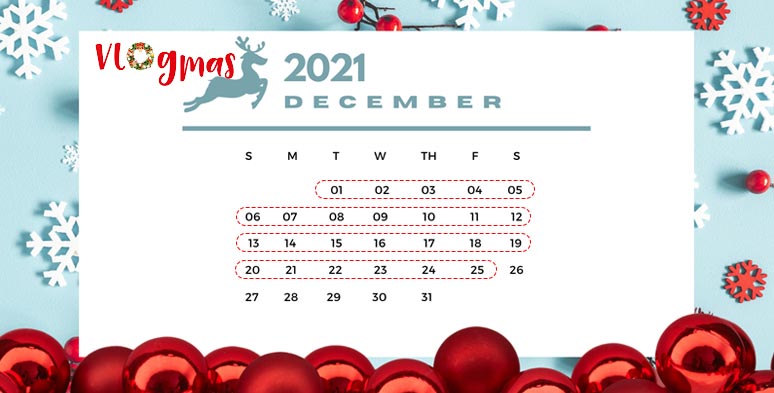 Days to make Vlogmas in Dec 2021
However, nowadays, many YouTubers would keep updating Vlogmas until the end of Dec (Dec, 31th). That's why it is a long and challenging Vlogmas marathon for all YouTubers since you will be competing with others to make fun, helpful, and entertaining Vlogmas content in this hectic Christmas holiday season.
2. 27 Actionable Vlogmas ideas You Need
If you are scratching your head for some Vlogmas ideas, the following 27 actionable Vlogmas ideas in chronological order will ease your anxiety and help you kickstart your Vlogmas project.
Whether you wanna reveal your secret Christmas recipe or offer home décor tips or date night ideas on Christmas eve, etc, the key to successful Vlogmas is that your Vlogmas should be aligned with your channel's category like travel, health & fitness or beauty, etc. and it shall be both helpful and entertaining to viewers.
"Decorate with me for Christmas"—Vlogmas ideas
Vlogmas Before Christmas Day
1. Decorate with me for Christmas
2. Top 3-5 Christmas cocktails/mocktails Recommendation
3. Run Christmas Giveaways
5. Make a Gingerbread House with Me (Dec 12)
7. Come Christmas shopping with me
8. Christmas stocking stuffer ideas
9. Share your secret home-made hot chocolate recipe
10. Wrap Christmas gifs with me
11. Tips on enjoying Christmas on a budget
12. List your Christmas all-time favorites
13. 10 Dollar Christmas tree challenge
Use 10 dollars to buy Christmas gifts, decorate your home, as fun and creative as possible.
Vlogmas During Christmas Eve, Christmas Day, and Boxing Day
1. Festive date night idea (Christmas Eve)
2. Christmas morning routine at your family
3. Enjoy Christmas lights with me (at home or outside in the city)
4. Christmas day Vlogmas—opening presents (Boxing Day)
5. Christmas charcuterie board ideas for Christmas party
Vlogmas Till End of Dec
1. Tutorial on how you prepare for Vlogmas (sum up)
2. Christmas photoshoot with my dog/family/ couples
3. Taste/ make Eggnog for the First time
5. Christmas in your city Vlogmas
6. Go Ice skating with me
7. Christmas Wish Lists for the Next Year
8.Make Christmas feast spread (share Christmas recipe)
9. Christmas outfit guide book
3. How to Easily Edit Vlogmas
Well, since making Vlogmas involves long and arduous efforts esp. during the busy Christmas holiday season, to be able to film, edit and post Vlogmas on time is so essential.
So, an easy solution to editing your video footage is using the fully-customizable Vlogmas video templates and being able to edit your Vlogmas anywhere you can with versatile video editing tools.
To that end, FlexClip, a free and feature-packed online video maker, could be a great choice to create thumb-stopping Vlogmas in minutes. All you need to do is select a Vlogmas video template and replace the video elements with your video and photo assets and customize texts animation and music and export it to MP4. Done. It is extremely easy-to-use and verstatile for all.
Use FlexClip online video maker to quickly edit Vlogma
For some reason, if you can't physically film some of the scenes for Vlogmas, the 4M+ royalty-free high-res videos, photos, and music, and sound effects in FlexClip's media library will help you a lot.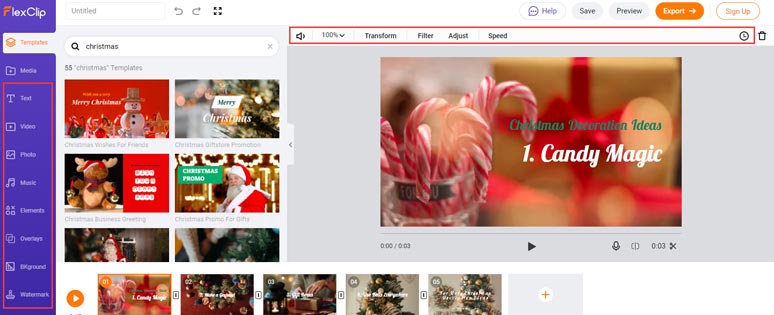 Select a Vlogmas video template and easily edit text animations and add music
After you are done with the editing, you can directly download it as an MP4 (1080P) or share it to your YouTube channel or save it in your Dropbox, or even export it as an animated GIF for the trailer of your Vlogmas.
4. Proven Strategies for Making Vlogmas
As many YouTubers are expected to participate in this Vlogmas marathon, here we'd also like to offer some proven strategies for you, esp. the small YouTubers to make winning Vlogmas.
1. Plan Ahead
You may use Tube Buddy or other free YouTube SEO tools online to look for the most trending topics of this year's Christmas. It's better to map out the entire 25-31 days' Vlogmas contents in mid-Nove. Handpick the filming scene and write your script, and prepare the gears needed.
2. Give a Heads up to Viewers on Your YouTube Channel
You can make a 3-min video explaining your Vlogmas plans and post it on YouTube. This will help you create the buzz for your upcoming Vlogmas. You can even run a Vlogmas giveaway to gather viewers' most-wanted Vlogmas content for this year's Christmas.
3. Your Vlogmas Content Shall be Consistent with Your Channel
The last thing you want is to create unrelated Vlogmas content on your YouTube channel.
For example, if you are running a photography YouTube channel, you may choose topics like "How I Shoot My Family for the Christmas Morning Routine", or "Top 6 Best Places to Shoot Christmas lights in Your City", or "How to Master the Color-grading for Your Christmas Photos" as the content of your Vlogmas.
Meanwhile, try to add personal flair to your Vlogmas and make your Vlogmas as helpful and fun as possible.
4. Keep Tracking Your YouTube Analytics
Pay close attention to the watch time, engagement, and new subscribers and spare time to reply to the comments and give likes. Be ready to make adjustments when needed.
5. Don't Get Stressed-out too Quickly
Don't feel defeated, if the initial viewing number and watch time are not that satisfactory. Ask for genuine feedback from your friends and YouTuber friends and keep posting. All the applause and cheering are on the way for you.
Now, It's Your Move
Hopefully, our suggested Vlogmas ideas and proven strategies will shed new light on your Vlogmas endeavor. Make sure your Vlogmas content serves your business purposes and viewers' intent. So, start planning and creating your first Vlogmas with FlexClip now.