A photo montage video is a photo montage slideshow that integrates a bunch of still images with motion graphics, animated texts, video clips, music, transitions, and other effects to relive your photo memories.
If you are looking for an easy way to create photo montage videos for wedding anniversaries, birthday parties, memorials, valentine's days, graduations, or anything worth remembering and to be told, we've got you covered!
Here, we will walk you through the 5 best online photo montage makers that can transform your images and footage into a mesmerizing photo montage video in clicks way. So, you can share the well-made photo montage video with friends and family and walk down memory lane.
Romantic Pink Wedding Slideshow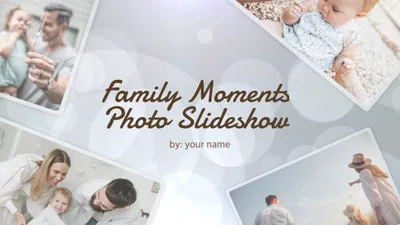 Family Moment Collage Slideshow
Here's What You Will Learn:
Also, read the top 5 memorial video makers online.
Best Photo Montage Maker to Make a Timeless Photo Montage Video
If you have a huge stack of photos to be put together for a wedding, birthday, memorial, etc, yet couldn't afford the time to do it from scratch or lack the design experience just like me, then the FlexClip online photo montage video maker can be your best bet to create a timeless photo montage video in a breeze.
Make a memorable photo montage video with the feature-rich FlexClip photo montage maker online.
FlexClip's Best Features to Create Photo Montage Videos:
With 1,000+ designer-made and fully-customizable
photo montage video templates
covering weddings, anniversaries, birthdays, memorials, family, festivals, promo, sports, romance, travel, graduation, travel, pet, etc, you can easily drag and drop your photo and video assets to create a riveting photo montage video in minutes.
Lovely Love Story Slides
Warm Family Memories Polaroid Slideshow
Pink Cute Heart Friend Happy Birthday Message Slideshow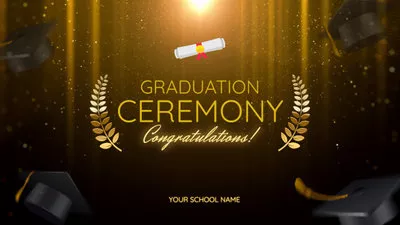 Glod Graduation Ceremony Slideshow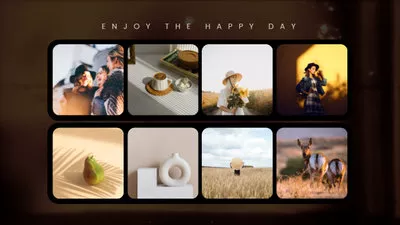 Universal Film Memory Photo Collage Slideshow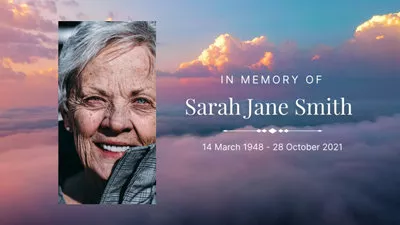 Cloud Funeral Memorial Slideshow
Easily import photos, audio, and video files from your PC, phone, Google Drive, Dropbox, One Drive, or Google Photos.
Support multiple video aspect ratios (16:9, 9:16, 4:5, 1:1, 21:9) for YouTube, Instagram Reels, TikTok, Facebook, etc.
Use a crop mask to crop your images and clips into any shape imaginable and easily animate images, texts, and motion graphics on the intuitive timeline, without using keyframes.
Apply creative effects overlays like
lens flares
,
film grains
, ink splash, fire, bokeh, snow, sparkles, etc. to add a cinematic touch to your photo montage video.
Access 74,000+ royalty-free music and sound effects and easily
do audio mixing
on multiple audio tracks on the timeline.
Add a personal flair to your photo montage video with 200+ video transitions, GIPHY GIFs, animated texts, illustrations, emojis, dynamic video backgrounds,
polaroid frames
, etc.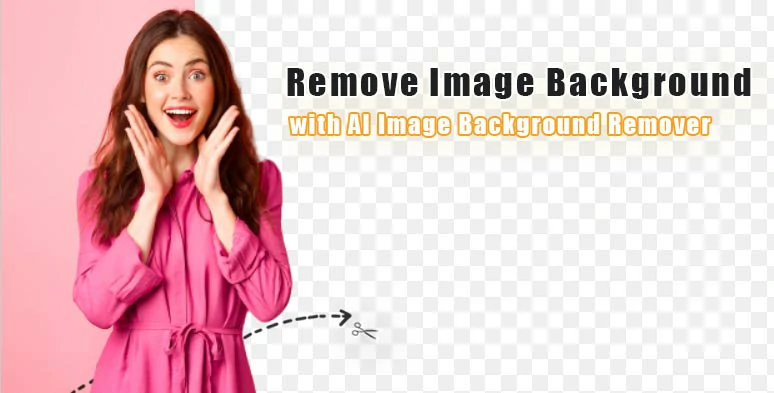 Use AI image background remover to remove image background for photo montage video.
Ease of sharing: PC, YouTube, Google Drive, Dropbox, One Drive, TikTok, a clickable link for blogs, newsletters, and other repurposings.
How to Make a Photo Montage Video by FlexClip Montage Maker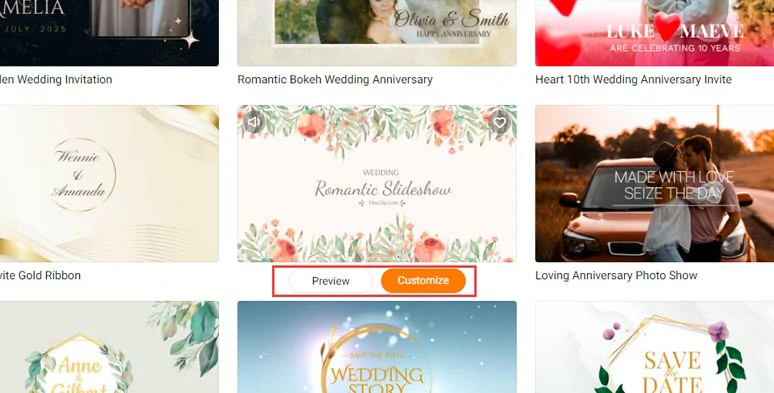 Select a photo montage template.
Step 2
Upload your photos and other video assets from your PC, phone, Google Drive, Dropbox, One Drive, or Google Photos.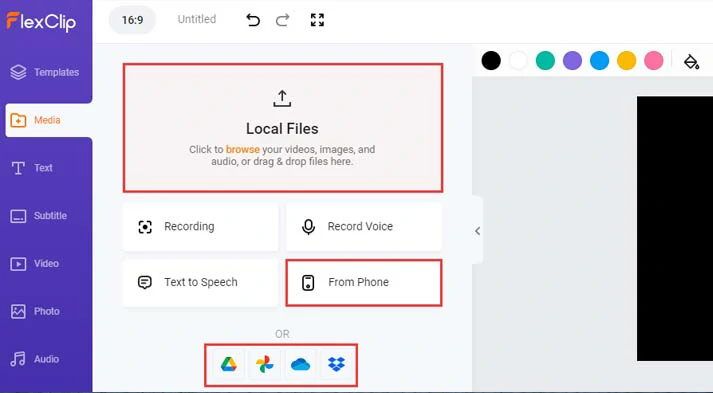 Upload your photos and other video assets to FlexClip.
Step 3
Drag and drop your photos or footage to replace premade video elements. If you don't like the readymade photo or video shape, you can use a crop mask to customize it or click the Motion or Animation tool to animate images to your liking.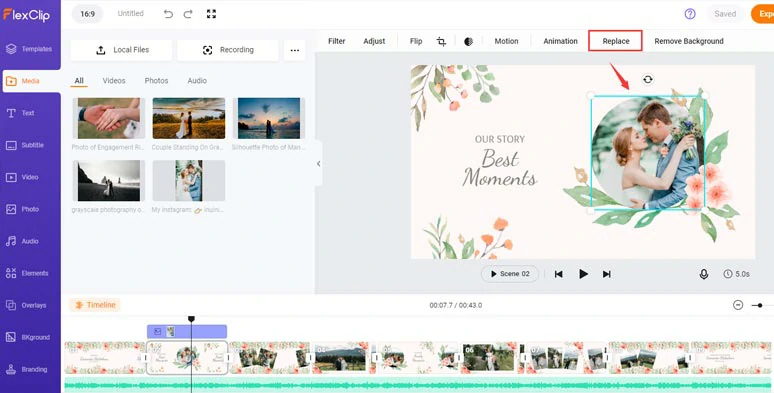 Replace premade video elements with your photos or videos.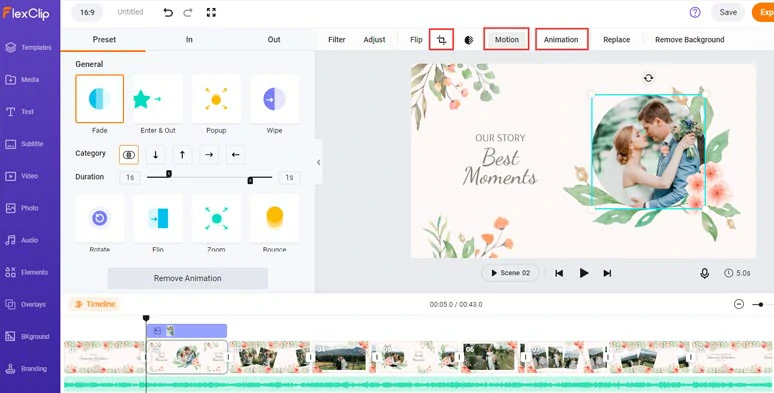 Crop or animate your photos with styles.
Step 4
Spice up your photo montage video with more effects.
Click the Overlay tabs > Effect Overlays > browse through creative effect overlays and add one like ink splash or lens flares, etc. to add styles to your photo montage video.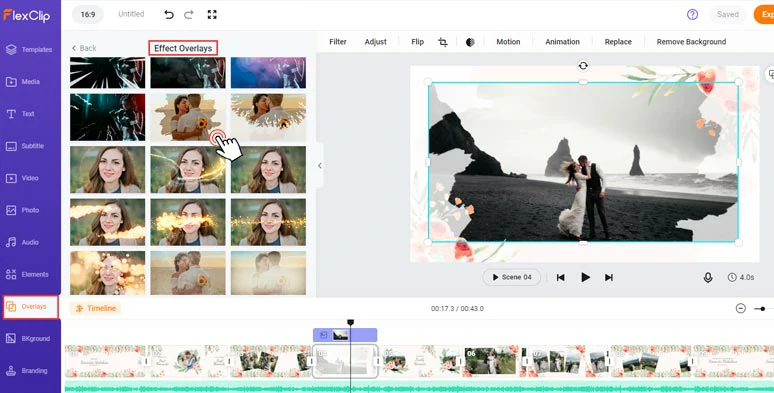 Add creative effects like ink splash to enhance the vibes of the photo montage.
Click the Elements tab > scroll down to handpick animated floral illustrations, confetti, birthday or festival elements, animated emojis, etc. to make your photo montage video second to none. You can animate and control the duration of the animated elements on the intuitive timeline.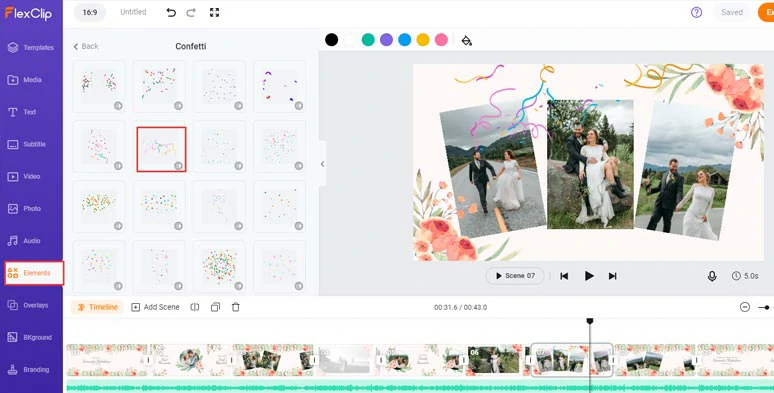 Add confetti or other animated elements to take photo montage to the next level.
Step 5
Add seamless transitions to your photo montage video.
Click the Transitions between each scene, you can select from 200+ trendy video transitions like liquid, circle, glitch, etc with controls to the speed, duration, and direction, and color of many of the transitions.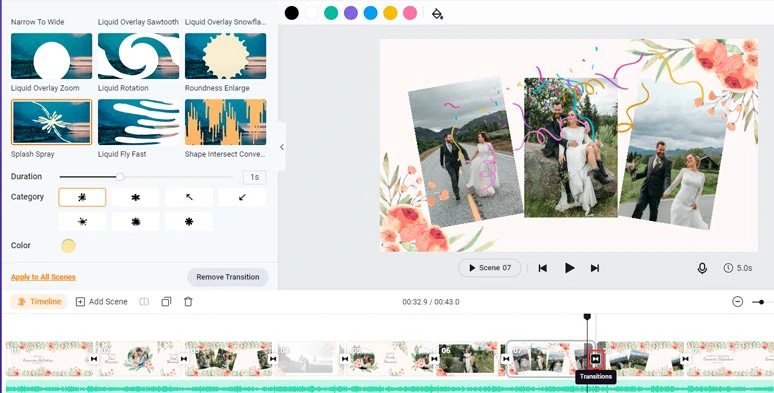 Add trendy transitions to connect different scenes.
Step 6
Use custom music and sound effects to create the vibes and depth.
Well, each photo montage template has a piece of ready-made music. Click the Audio tab > search from 74,000+ music and sound effects for your need. You can upload your audio files as well. You can trim and split the music or apply a fade in/out effect to make a smooth audio transition or link music to a specific scene for easy edits.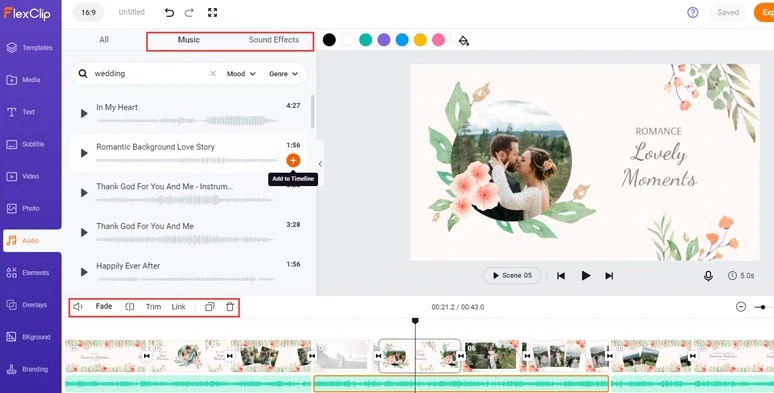 Add royalty-free music and sound effects to create the vibes.
Alternatively, if your audio tracks contain lyrics or voiceovers, you can use FlexClip's AI auto subtitle generator to automatically generate burned-in subtitles in your photo montage video with one click and up to 95% accuracy.
Just click the Subtitle tab > Auto AI Subtitle > identify the language in your photo montage > set the style of subtitle > hit the Generate Subtitles button.

Automatically add subtitles to your photo montage video with one click.
Later, you can proofread the auto-generated subtitles and correct any wrong spellings. Or adjust the text fonts, text color, text size, background fill, alignment, etc. If one subtitle seems too long, you can press "Enter" to split it or merge two short subtitles with ease.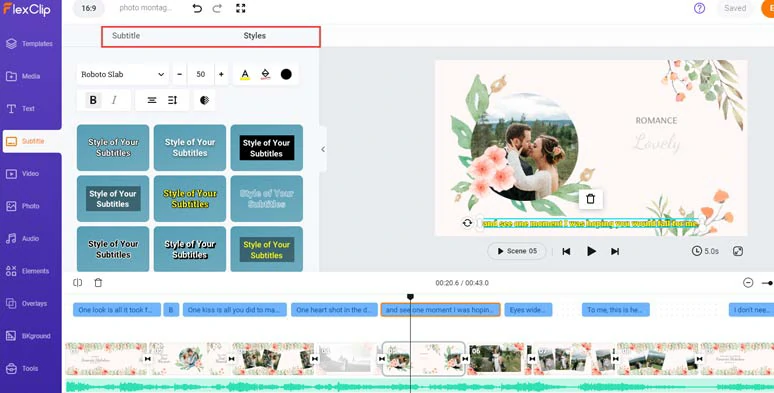 Proofread the auto-generated subtitles and customize the text style.
Besides, FlexClip also offers you a voice recording feature and a free text-to-speech generator. So, you can easily add voiceovers to your photo montage video to your liking.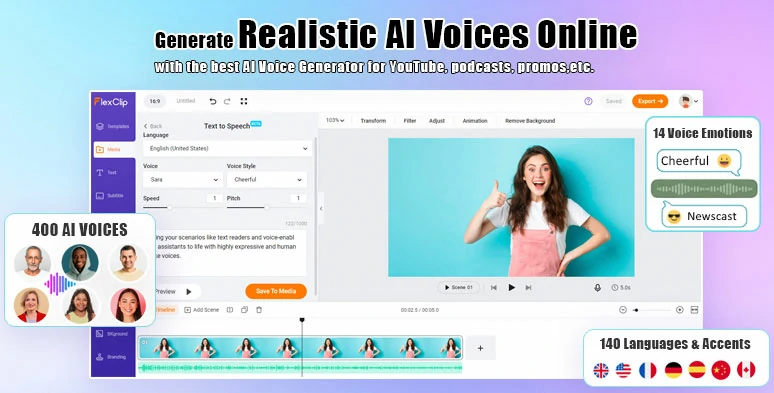 Create realistic AI voiceovers for your photo montage video or other video projects.
Step 7
Preview and share.
Done with the editing. You can directly download the 1080P FHD photo montage video to your hard drive or directly share it to your YouTube, Google Drive, One Drive, Dropbox, or TikTok; a clickable link is also available for your blogs, newsletters or another repurposing. Pretty helpful!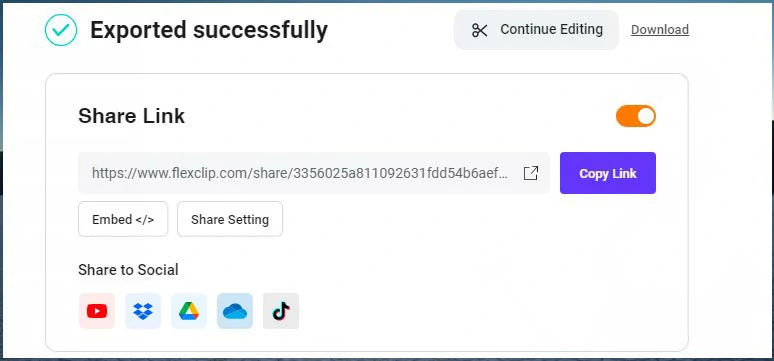 Easily share your videos for repurposing.
4 Other Alternatives to Making a Photo Montage Video
Apart from the versatile FlexClip photo montage maker, the following 4 online photo montage makers may also help you create great photo montage videos with their distinct features. Likewise, all of them offer you premade photo montage video templates, to begin with.
1. Canva
With its headquarter based in Syndey, Canva is the most prestigious graphic design platform worldwide. Sign up for its free member and select a free photo montage video template in its powerful video editor and customize all the elements like texts, animation, transitions, and multiple pieces of music or sound effects to create an original photo montage video in minutes. Some of its free photo montage video templates can be used and downloaded in 1080P MP4 without a watermark. So, it's also worth a shot.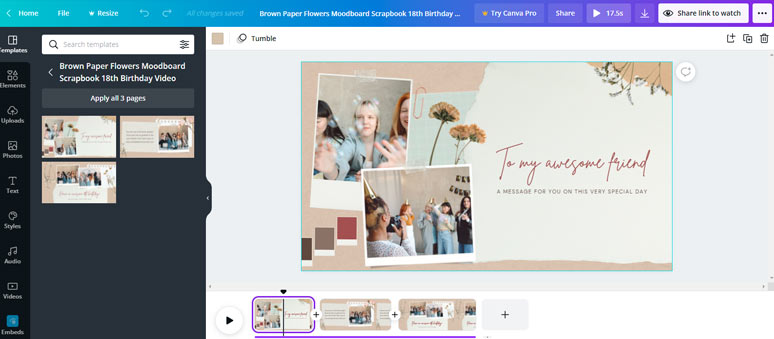 Use Canva's free photo montage template to make photo montage videos
2. Clipchamp
Dedicated to empowering everyone to tell their stories worth sharing, Clipchamp is another feature-packed online video editor that can create eye-catching photo montage videos in a snap. Like Canva, Clipchamp uses a user-friendly timeline for video editing.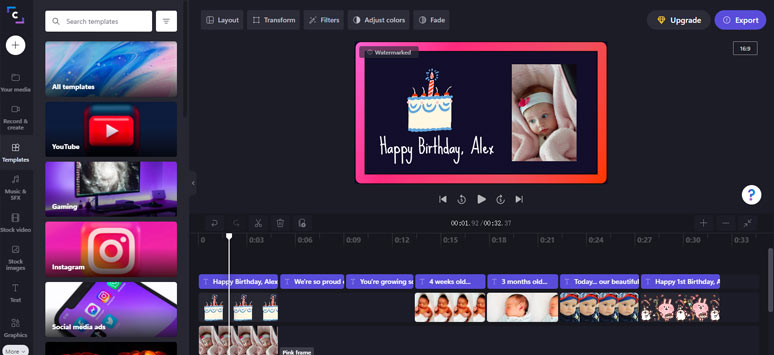 Make a photo montage video by Clipchamp
You can select a video montage template and easily customize the fonts, color, and motion of text or add music from the music library. The only drawback is the number and categories of photo montage templates are so limited because most of the templates are social or promo video templates. Other than that, it works flawlessly for making a photo montage video.
3. Animaker
Though mostly known as one of the best online animation makers, Animaker does offer you a chance to create photo and video montage videos using its ready-made birthday, travel, or road trip video montage video templates. The biggest feature of Animaker is that you can easily create many animated characters with vivid and fully customizable facial expressions and different gestures, outfits, and props to be added to the photo montage video. Meanwhile, you can easily tweak between a Full and Lite mode for editing, which makes it easier for users of different editing levels.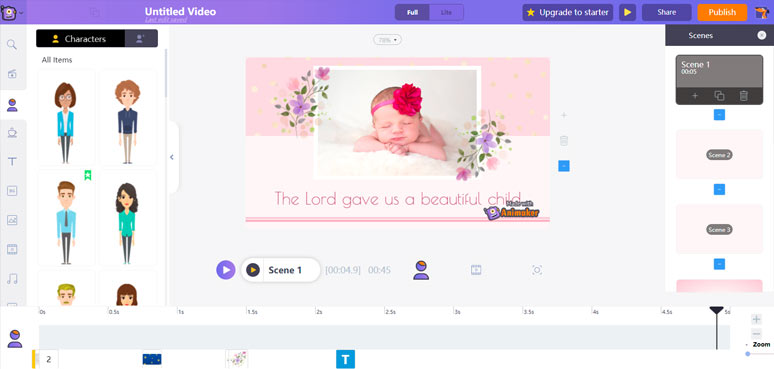 Create a birthday photo montage video by Animaker
Text animations, video, image, and audio stock are also available. If your target viewers are mostly children, Animaker can be your go-to choice. For free users, as you download the photo montage video, there will be a visible watermark attached to the right corner of the video.
4. Animoto
Animoto is another simple and handy online video editor for making photo montage videos. It offers you plenty of classy and vintage photo montage video templates with music, ranging from wedding, memorial, anniversary celebration, graduation, father's day, graduation, family reunion, etc.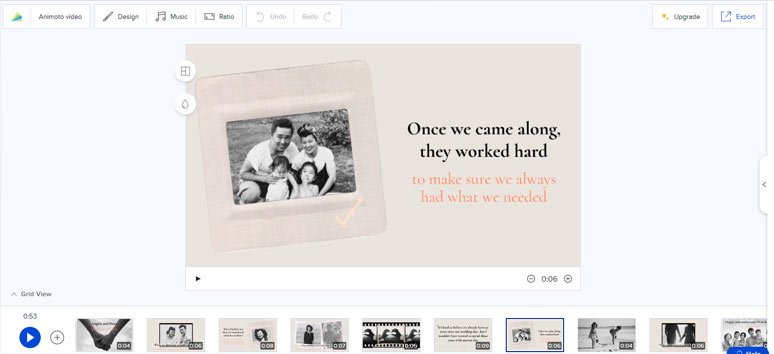 Make an anniversary photo montage video by Animoto
You can easily replace premade photos with yours and customize the text animations, music and download the photo montage video. However, the drawback is you can't customize the video transitions and motion of texts while the lengthy video rendering time can be frustrating to some point. While for free users, you do expect to have a watermark on your photo montage video.
Now, It's Your Move
To sum up, a timeless photo montage video is more than simply compiling a stack of still images. It's the combination of text animations, well-designed motions, video transitions, proper music and sound effects, and decorative elements that bring static images to life and help viewers relive the joint memories through these precious photos. While FlexClip offers you the exact tools and resources to bring your photo memories to life with ease. So, start creating your first photo montage video with FlexClip now.